May was a good month for my entertainment. I've been biding my time until we start really kicking things into gear for our move, which means I needed something to keep me busy and distracted.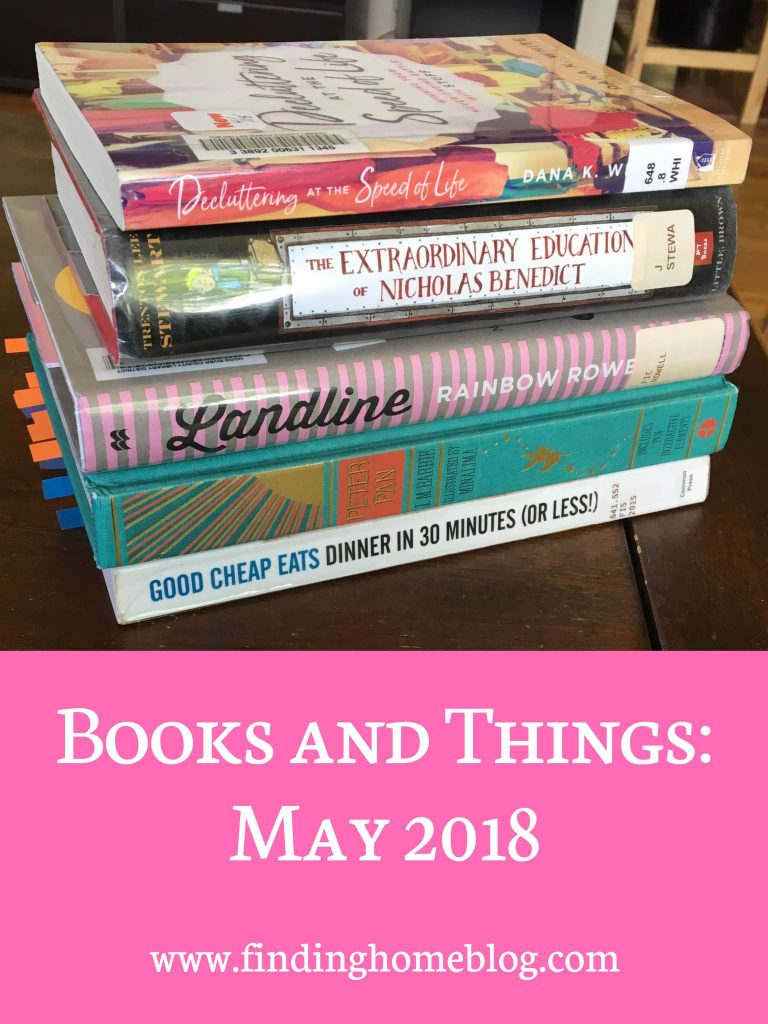 Books
Peter Pan by J.M. Barrie. I won this fancy illustrated edition in a giveaway from Donna of I Am Your Rabbit. It came with 4 gifts, to be opened at certain points in the story as marked by little post-it notes. This was such a fun prize!  It actually got me reading faster because I was curious what the little gifts would be.
I don't think I had read the actual Peter Pan story before; I've just seen the Disney movie.  It was an okay story, although Tinker Bell has a potty mouth and Peter Pan is a little bit more of a jerk than is depicted in the movie.  Overall it's a fun story about imagination and dreams and what makes something real – fact or belief?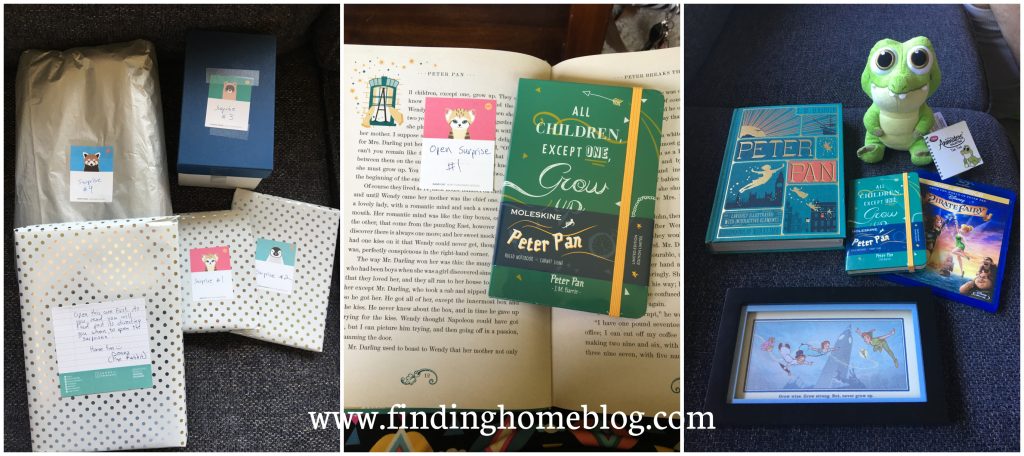 Landline by Rainbow Rowell.  I got this one from the library. The only other Rainbow Rowell book I've read is Eleanor & Park, which I enjoyed for the writing style, but it was a little teen angsty for me. (Which is kind of funny, because usually I'm cool with teen angst.)
So it may have been the timing of my reading – I read this during Royal Wedding weekend – but it totally reminded me of The Royal We. Especially the flashbacks to when Georgie and Neal first got together, it really felt like when Bex and Nick first got together. And I really liked that book, so it's a good comparison.
This was a really cute story without being annoyingly cutesy. And Rowell got me really invested in the characters and wanting to see how the story turned out. Basically, she got me to choose reading over mindless internet scrolling, which is a sign of a good book for me.
Decluttering at the Speed of Life by Dana K. White. This one kept popping up for me, so I requested it from the library. Does that ever happen for you? You keep hearing about the same book over and over?
My favorite part about this one was Dana's description of cleaning being in 3 layers: daily stuff (dishes, picking up, etc.), decluttering, and actual cleaning like scrubbing things. I also appreciate that Dana's decluttering method is something you can start and stop at any point without having a bigger mess than before. It truly is decluttering at the speed of life.
The Extraordinary Education of Nicholas Benedict by Trenton Lee Stewart. I got this one from the library because Jonah has gotten into this series, and I wanted to finish it so we could talk about it together. It was another fun kid-friendly adventure similar to the other Benedict books, but the prequel. Stewart kept true to the character he had created in the other books, and it was an entertaining look at what made Mr. Benedict the man he was.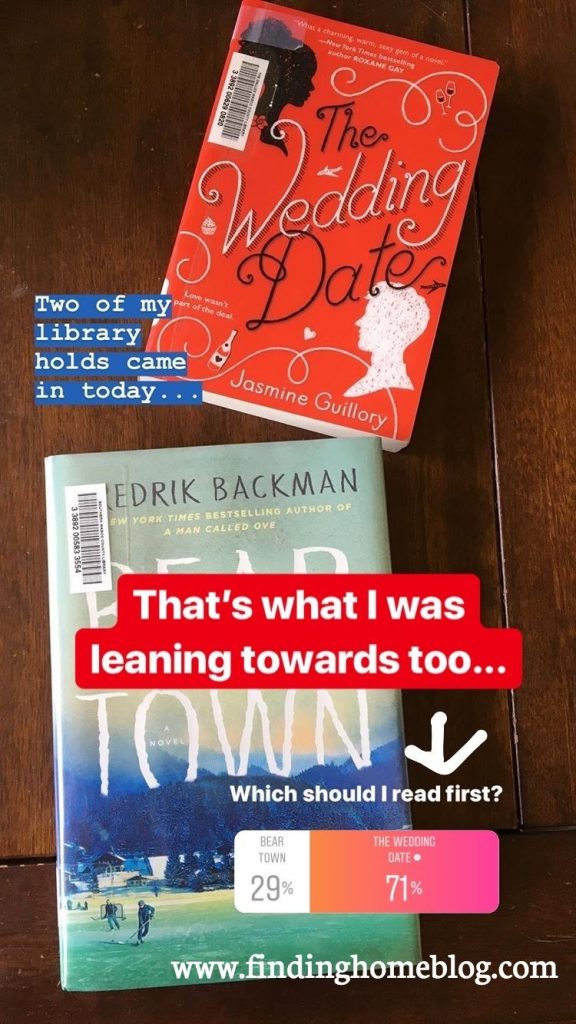 The Wedding Date by Jasmine Guillory. I got two more requests from the library, (I'm taking some suggestions from Modern Mrs. Darcy's Summer Reading Guide) and most people agreed with me that I should read this one first. This book totally read like a rom com movie.  From the initial meet cute to the emotional drama in the middle to the fairly predictable ending, it was very much like a movie.
And that made it a perfect summer fluffy read, except for one thing.  There was so much sex.  Like any description of Drew and Alexa together involved a sex scene. Which really brought this one down for me.  I'm not a prude in my reading life, but I just couldn't with this one.
I also got Good Cheap Eats: Dinner in 30 Minutes or Less by Jessica Fisher from the library. We tried several of the recipes, and I had fun flipping through and reading the text. Does anyone else read cookbooks for fun?  I'm definitely adding this one to my wish list, because the food was simple and delicious, and made enough for our whole family without having to double things.
Other Entertainment
One of my favorite shows, Once Upon A Time, came to an end after seven seasons.  I really liked the return of several characters from past seasons in the finale, although there were several characters who were there for good chunks of seasons that I was surprised didn't come back (Elsa, Hades, Tinker Bell, and others).  Still, it was a good full circle ending to a fun show.  Definitely one that would be fun to rewatch.
I also spent time watching the More Than Mom video summit. This was hosted by Renee Fieck, and there was one video each day for about a month, dealing with topics relating to motherhood, but also being more than "just" a mom.  I only knew one of the speakers going into it, so it was nice to hear from some people I had not heard of before.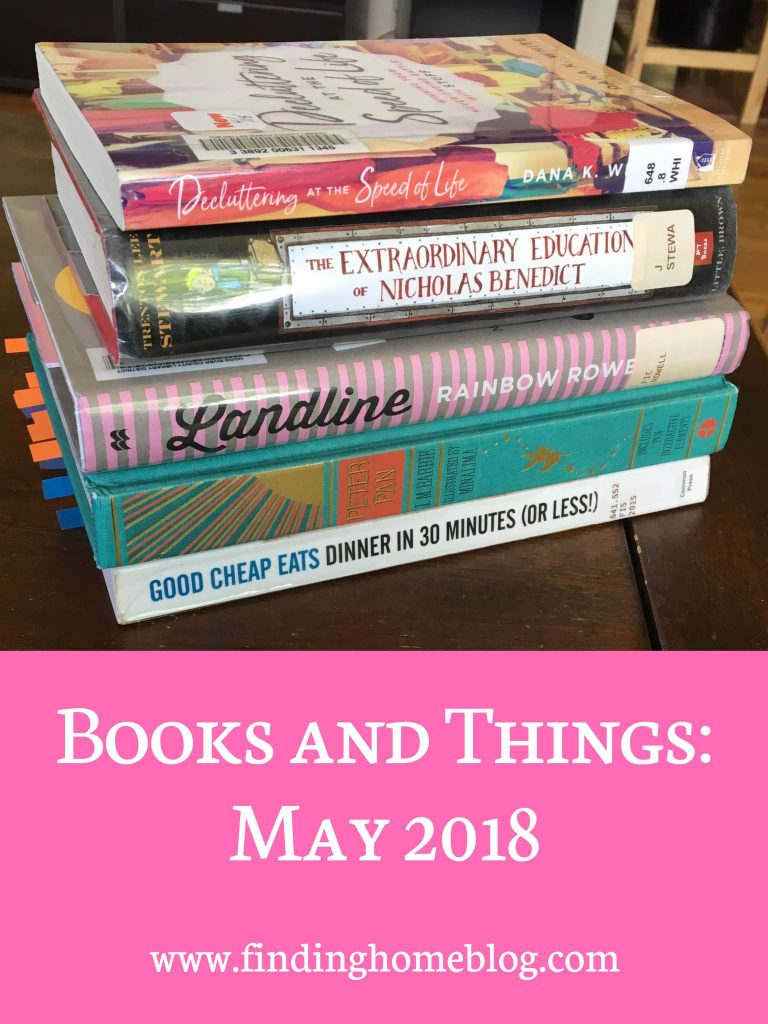 I actually read more books this month, and I know why: tv shows hit their finales. Ha! Jesse and I started reading at night instead of watching tv. That's neither good nor bad. Just an observation.  Normally heading into the summer we pick Netflix back up and find a show or two to watch through, so we'll see if the reading continues, or if we start watching something new.
What's on your summer reading list? (Or Netflix list…I'm not picky)
Disclosure: Some of the links in this post are affiliate links. If you make a purchase through these links, I receive a bit of a commission at no additional charge to you.