Armchair traveling means visiting a culture outside your own without leaving your chair.  Being immersed in the sights, smells, tastes, and feelings of a particular place, sometimes to the point that you lose track of where you actually are.  This month's reads definitely had me doing some traveling.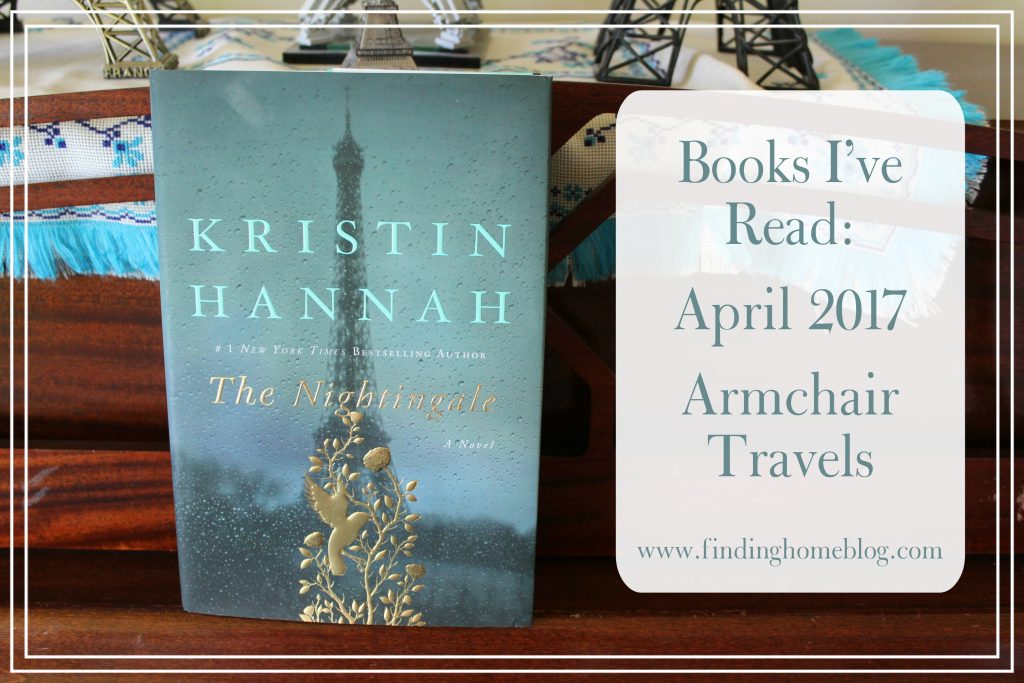 At Home in the World: Reflections on Belonging While Wandering the Globe by Tsh Oxenreider.  I was part of the launch team for this book, so I got the ebook a few weeks ahead of the April 18th release date.  I loved this book, but not for reasons I expected.  I expected to like Tsh's witty prose.  I expected to like her realistic but still optimistic look at life on the road with three kids.  I didn't expect to find a kindred spirit in someone who has a fluid definition of home.  But I totally did.  (I wrote more about my feelings about home here.)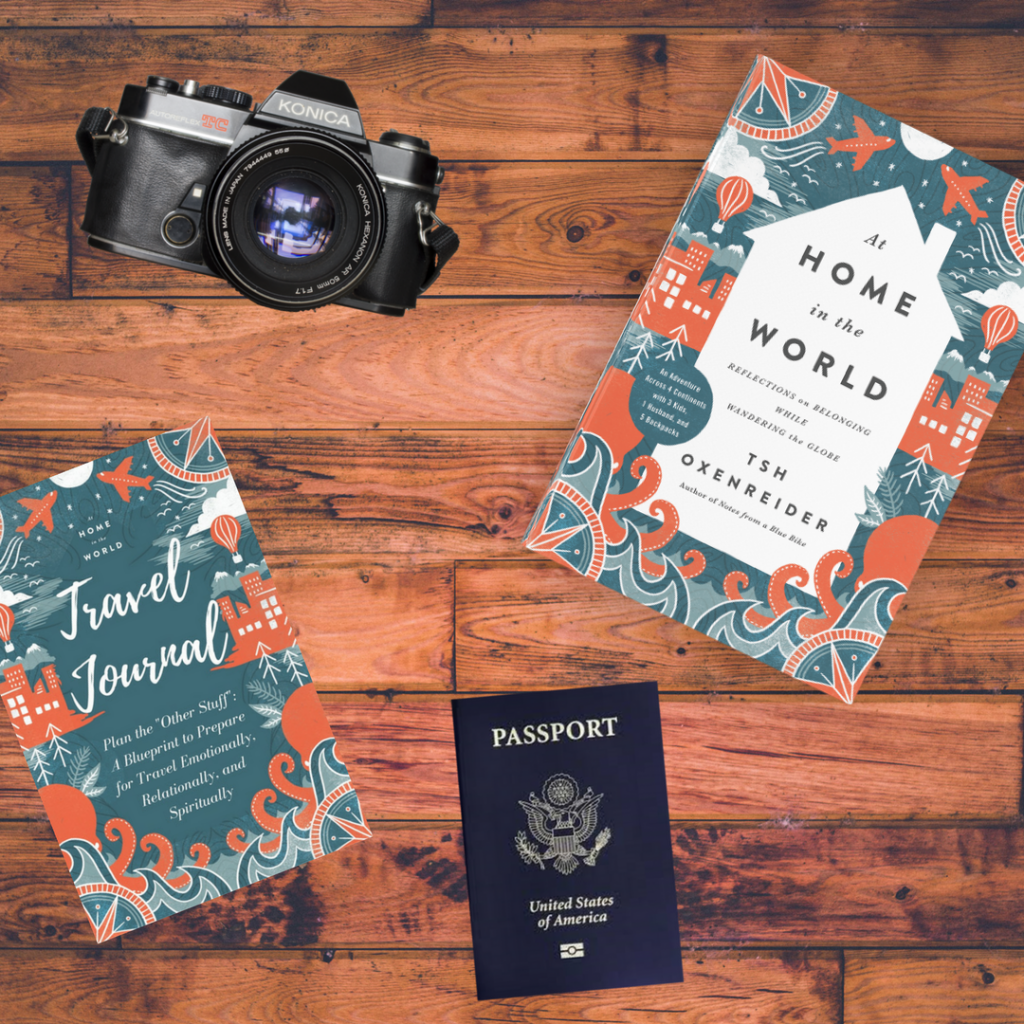 photo from Tsh Oxenreider, used with permission
This book both makes me want to pack my suitcase and hop a plane to Europe with all of my little people in tow, and also cozy up with a mug of coffee on my couch.  Monetarily, one of those is obviously going to win over the other right now, but I loved being an armchair traveler along the way as Tsh and her family journeyed around the world for nine months.  Definitely a great read for those who love traveling, and for those who are looking for their place in the world.
The Nightingale by Kristin Hannah. I received this book for free from SheSpeaks. When I choose historical fiction, I'm not normally a World War 2 era person, but this book came highly recommended. As in, I feel like everyone else has already read this book but me.
From the first chapter, I was intrigued and wanted to continue reading, and I found that to be true for most of the story. Each chapter left me wanting to read "just one more", and I finished the book in just a few days.
One thing that makes a piece of fiction really great for me is well-developed characters, and Kristen Hannah does a great job not only with Isabelle and Vianne, but also with some of the supporting roles as well. Her descriptions of events and the characters' reactions to them and the choices they made all helped to make a truly strong cast. They were really consistent, which was nice – it's one of my big bookish pet peeves when a character does something that doesn't fit with their previous actions and motivations at all!
This was a great story of a side of the war I hadn't given much thought to before.  I've heard plenty about the American side of things, and even the American women left behind side of things, but not so much about the European side, and definitely not about the women and families.  And of course, Paris!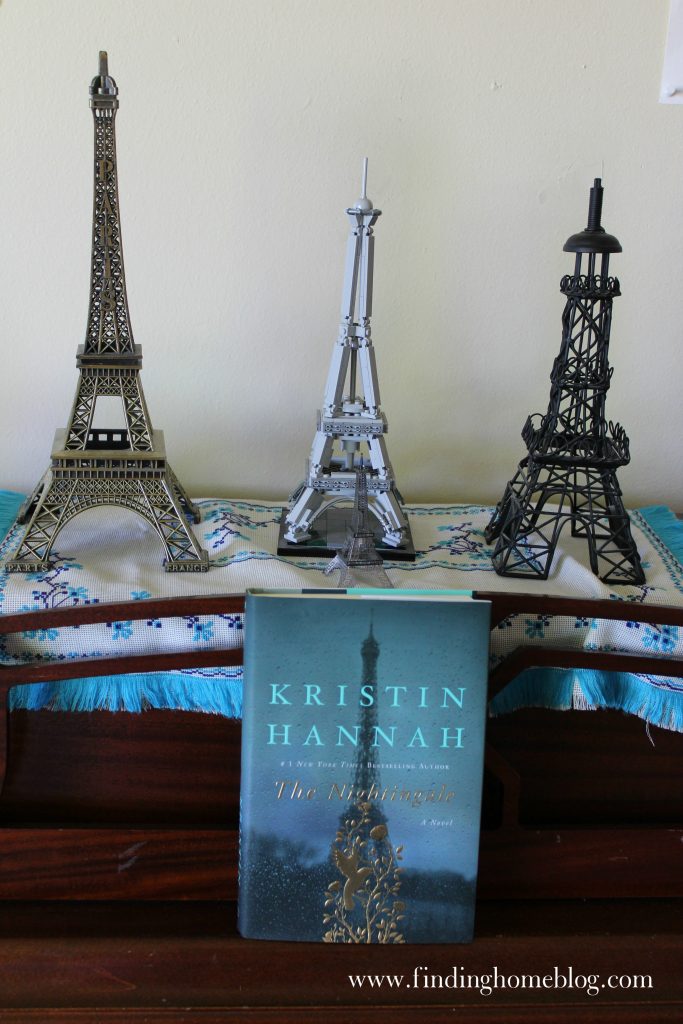 For May, I'm planning on diving into some more contemporary fiction.  This and this are next up…
Disclosure: Some of the links in this post are affiliate links.  If you make a purchase through these links, I receive a bit of a commission at no additional charge to you.  Thank you for your support!