Chompo Bars are fun to get!
Chompo Bars taste better yet
When they're someone else's.
So goes one of the songs in A Birthday for Frances, one of the current favorite books in our house.  Recently, the girls have been loving all of the Frances stories by Russell Hoban, and I enjoy them too (although they're a little long sometimes).  And I've discovered that 90% of the songs can be sung to the same tune as "Twinkle, Twinkle Little Star", which makes them easy to remember.  And it's adorable when the boys read these books to the girls and sing the songs too.
So for Valentine's Day this year, I wanted to give the kids something a little bit special and Frances-related: their very own Chompo Bars.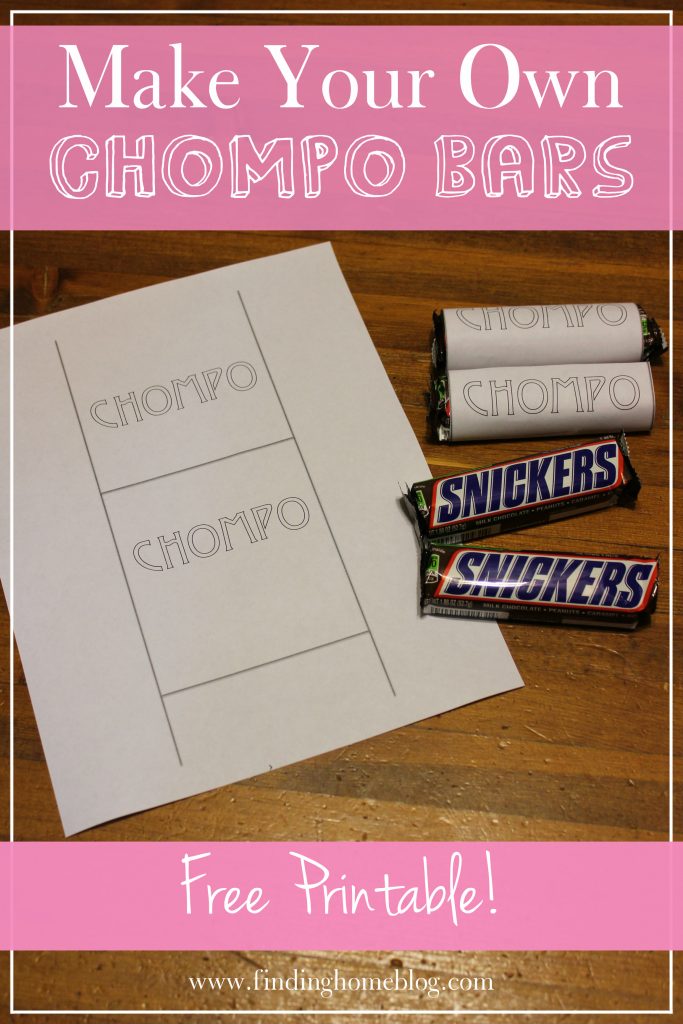 In A Birthday for Frances, a Chompo bar is described as nougat with caramel and chocolate.  I went with Snickers for ours, because they were on sale.  Milky Way would also work.  (From what I can tell, nougat is gluten free, but double check your labels, or grab one of these allergy friendly chocolate bars instead).
I went searching on Pinterest to see if anyone had made any Chompo labels, and I found a couple examples, but no free printables.  So I made one of my own.
And I even added lines for cutting them out so that it's super easy.  You're welcome.
These labels print two to a page.  Cut them out on the lines, tape them onto the candy bars, and you have instant Chompo Bars.  These were a hit for a Valentine's Day snack for my Frances-loving girls, but they would also be super fun for a Frances-themed birthday party (along with some bread and jam, of course).
Grab Your Chompo Bar printable here.

Do you have any Frances fans in your house?  Which little song is their favorite?
Disclosure: Some of the links in this post are affiliate links.  If you make a purchase through these links, I receive a bit of a commission at no additional charge to you.  Thank you for your support!
A Birthday for Frances photo from Amazon.