I received this product for free from Moms Meet to use and post my honest opinions. Compensation for this post was provided and this page may contain affiliate links.  As always, all opinions are my own!
We've been on a real food journey for several years now, and I'm getting pretty good at noting which ingredients and foods are healthy for us, and which ones we want to avoid.  But personal care products?  I get lost pretty quickly when it comes to those.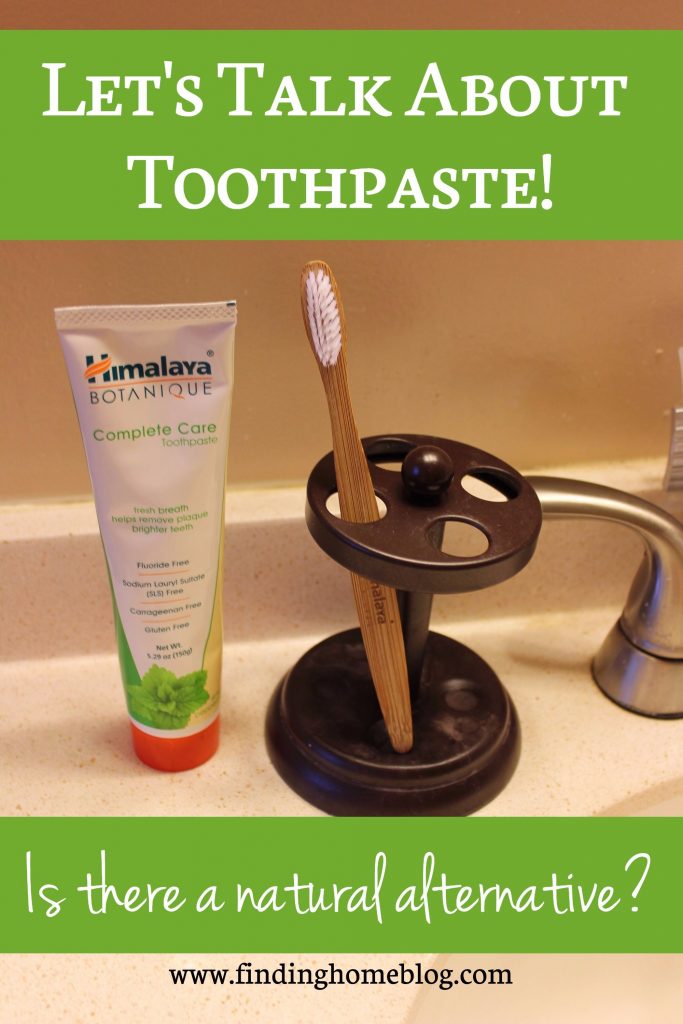 So I was really excited to get to try Himalaya Toothpaste.  One of the first things I noticed on the label was that all of the toothpastes are gluten free.  Hold the phone – my toothpaste could have gluten in it?  I don't know about you, but when it comes to gluten intolerance, toothpaste is not something I thought I would have to check.
Taking a peek at the ingredients list on a standard tube of toothpaste made me feel lost pretty quickly.  The Himalaya Toothpaste had a shorter list of ingredients, although there were still a few I didn't know, or if I had heard of them, I didn't know what they had to do with teeth.
Neem leaf helps clean teeth and make them shiny.
Pomegranate extract supports healthy gums.
Xylitol is a tooth-friendly sweetener (as opposed to some other sugars that are not good for teeth!)
Papain and bromelain, enzymes from the papaya and pineapple fruits, help with whitening.
I don't know about you, but I feel a lot better about brushing my teeth with plant extracts than I do with a bunch of multi-syllabic "ites" and "ates" and words I can't pronounce.  And just like with food, a shorter ingredient list makes me happy.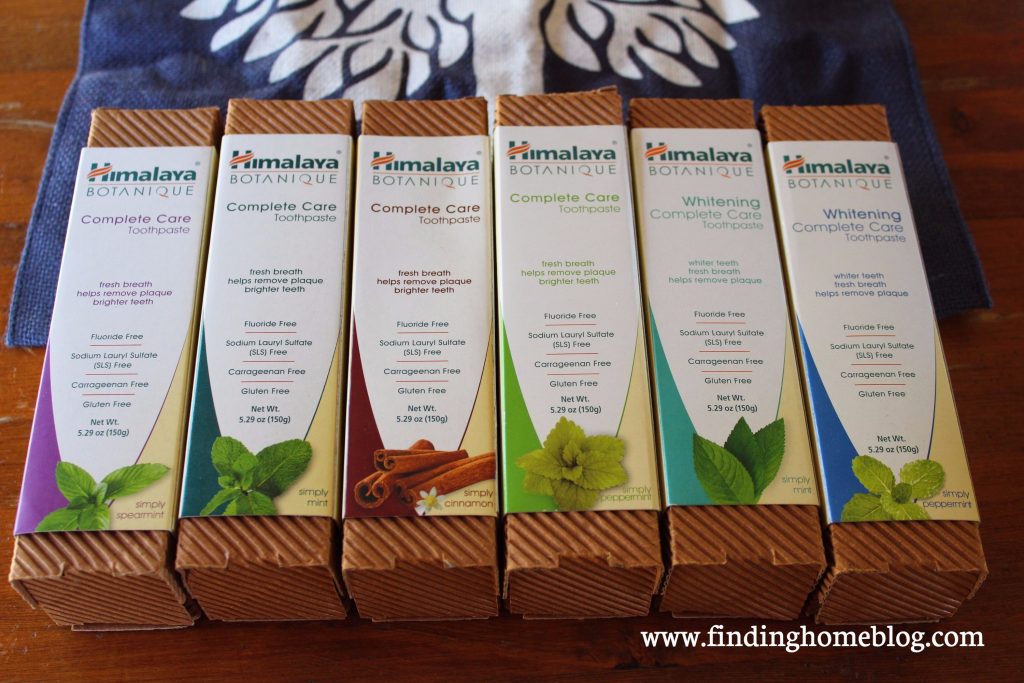 So how did they taste?  How did they work?  After using the Complete Care Simply Peppermint for a few weeks, my teeth feel clean after brushing.  There's a little less foaminess during brushing than with a standard toothpaste, but I'm actually okay with that.  I ended up switching back to what we had been previously using for a few days, and I had to spit multiple times while brushing because there was just so much foam!  So for me, that was a perk.  It may take some getting used to, especially if you're expecting all that sudsiness.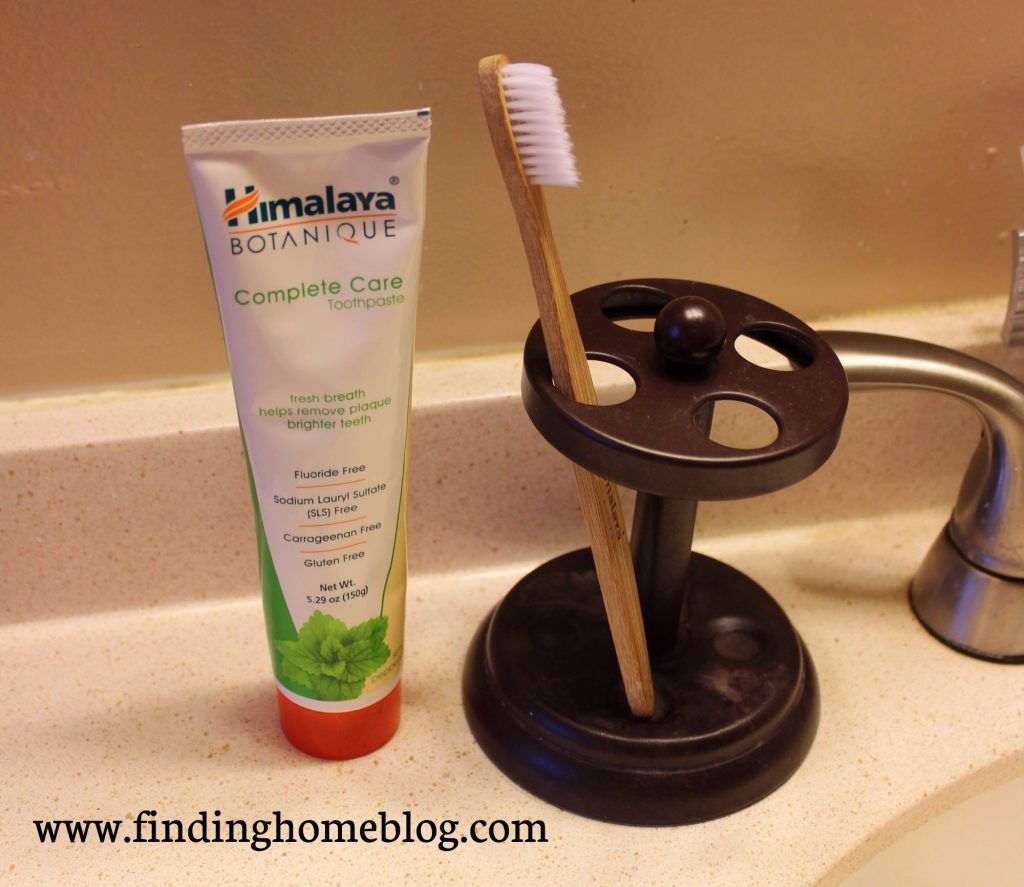 Himalaya Toothpaste comes in seven varieties:
Whitening Complete Care Simply Peppermint
Whitening Complete Care Simply Mint
Complete Care Simply Mint
Complete Care Simply Peppermint
Complete Care Simply Cinnamon
Complete Care Simply Spearmint
Complete Care Original Neem and Pomegranate
The kids thought the cinnamon was too spicy, but if you like cinnamon gum, you'll probably like that flavor too.  And each of the mint flavors has a slightly different minty fresh taste to it, so you'll just have to try them all to pick your favorite!  (Mine is the Simply Spearmint.)
You can purchase Himalaya Toothpaste at Whole Foods, Sprouts, and many smaller natural food stores, or online at Himalayausa.com or on Amazon.  To learn more about them, head to the Himalaya Toothpaste site, or find them on Facebook.
And as a special bonus for my readers, you can use the code 8KJXLFW5 on Amazon to save $1.50 off your first order of Himalaya Toothpaste.  I love when I can save on household items!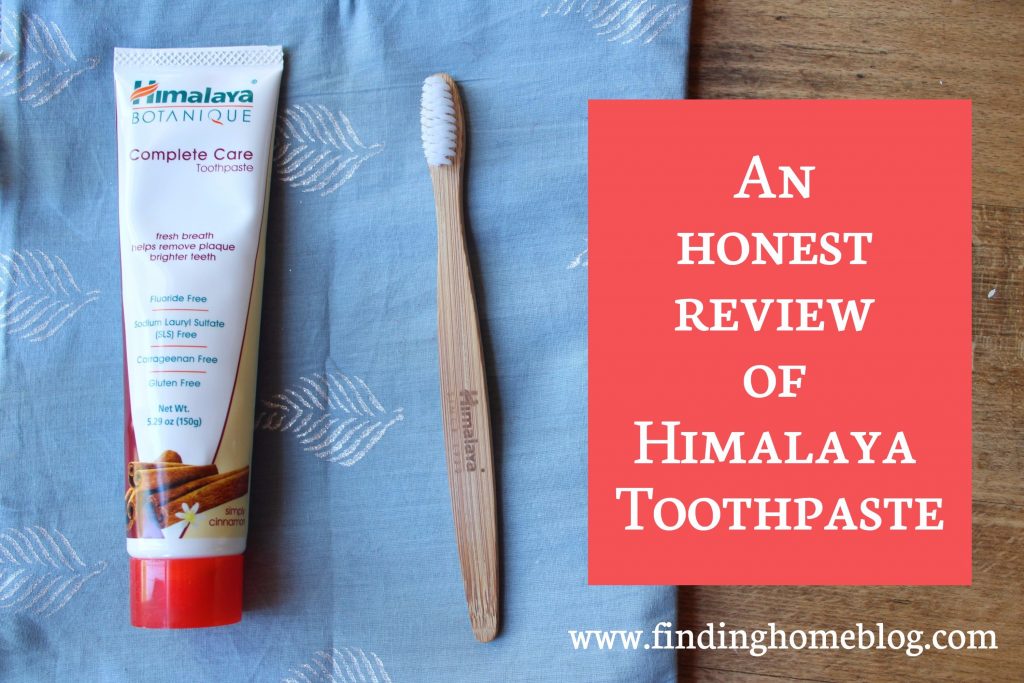 Have you ever thought about the ingredients in your toothpaste?