Disclosure: Some of the links in this post are affiliate links. If you make a purchase through these links, I receive a bit of a commission at no additional charge to you.
I didn't always have a morning routine. I woke up whenever one of my kids started calling for me. I rolled out of bed and attempted to scroll through a few things on my phone, while my kids wanted to know what was for breakfast. Even though we homeschooled, it felt like we were always in a rush to get everyone dressed and get the books on the table to get our day moving.
It took me far too long to realize that certain things needed to happen in order for us to have a peaceful morning, and even longer to realize that I needed to include something joyful in my morning routine.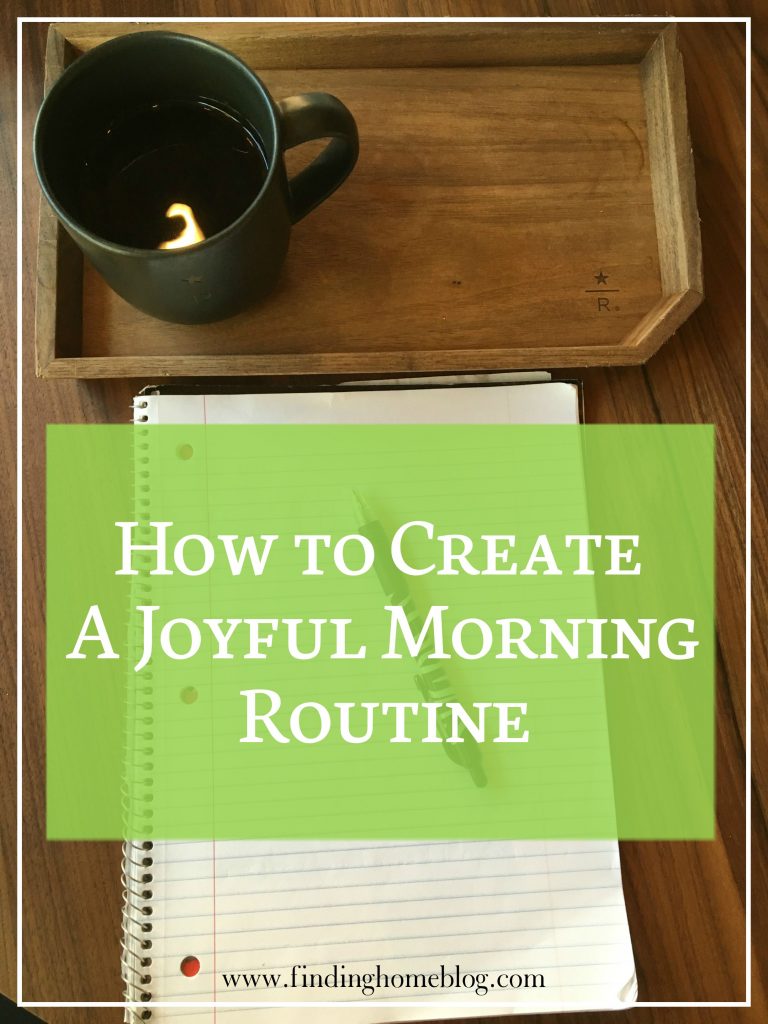 Here's what our current morning routine includes:
We are in our last week of the school year, so this routine will shift a bit for the summer, and who knows what it will look like once we start school again. However, for this school year, it has been the perfect routine for starting my day, so I thought I'd share it as an example of what's working and why.
I wake up between 6:30-7:00AM. Everyone else in my family is already awake.
We eat breakfast at 7:30AM. I'll talk more about this in a few weeks when we talk menu planning, but if my kids know what day of the week it is, they know what's for breakfast. I don't have to answer that question any more.
After breakfast, everyone gets dressed (including me). Teeth get brushed, and the kids are free to play for a little while.
While they play, I clean up the kitchen. I wipe off the table, I do a load of dishes (usually only the breakfast dishes, but occasionally there are a few from the day before). I also make a pot of coffee. I wouldn't necessarily want or need to do dishes in the morning, but our current kitchen has one countertop. And I've discovered that if I'm going to get schoolwork ready, or have space to make lunch or snacks or do anything in the kitchen later on, it's really important to do the morning dishes. I don't like doing dishes. But I turn on some 90s boy bands (my favorite!) and get them done.
After dishes, I get the schoolwork ready for the day. By this time, it's usually about 8:30AM.
And then, I drink an entire mug of hot coffee. I take my time with it too. This is easier now that I have my Ember mug, which keeps my coffee at the perfect drinking temperature.
This is not a splurge. This is something that I enjoy, that I am purposely including in my morning routine. Yes, there are chores to be done. Yes, we have to get ready for the day. But I am also embracing the little ordinary bits of my routine that give me joy. And for me, that's a hot cup of coffee.
You'll notice that my morning routine includes both things that need to get done and things that I enjoy.
If your morning routine is only the necessary chores, it will be a struggle to consistently do it. You need to include moments that make you smile. Even if it's something small, make sure you are doing something solely because you want to.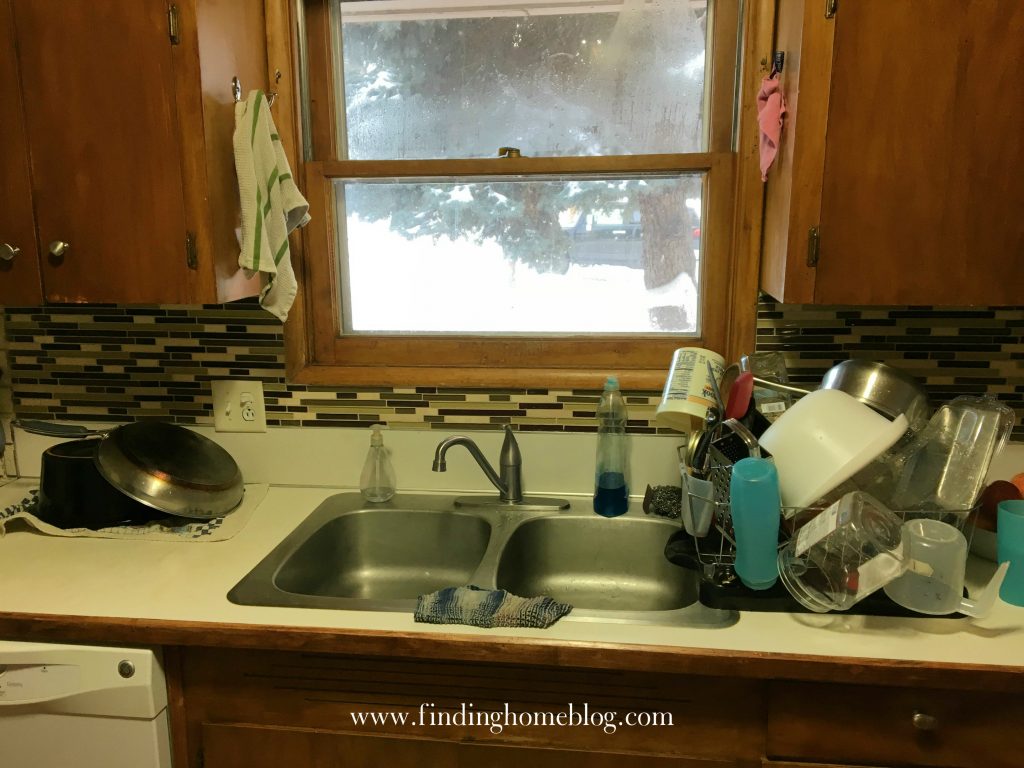 So what should your morning routine include?
Start with your time frame. Do any or all of you need to be out the door by a certain time? That will limit what can get done.
Are you morning people or slow starters? I am a slow starter in a family full of morning people. Which means that even though I would love to be one of those high-energy moms who wake up an hour before their kids, I'm not. The rest of my family is usually awake before 6AM. I sleep as long as I can and jump right into my day at that point, because I value sleep more than trying to get something done at 5:45. It wouldn't be realistic for me to try to cram 2 hours of productivity into that time.
What truly needs to get done? If anyone needs to leave, they'll need to get dressed. (Unless you have pajama day every day, you'll all need to get dressed. I personally love a pajama day, but not every day.) Do you need breakfast? Does anyone need a packed lunch? What needs to be done to get the day going?
Of those things you just thought of, what can you get done ahead of time? We'll talk more about evening routines next week, but I bet there's at least one or two things you can check off that list the night before.
Maybe you make grab-and-go breakfasts ahead of time so you don't have to cook in the morning. Maybe you lay out clothes. Maybe packed lunches are in the fridge. Pick something that needs to be done by the morning and see if you can do it the night before.
Don't forget the joy! What's one thing you'd like to include in your morning routine simply because you like it? It can be music, a podcast, a Bible study, a cup of coffee that you drink while it's still hot. You can pick more than one! Just keep your timeframe in mind and be realistic about what you will be able to do.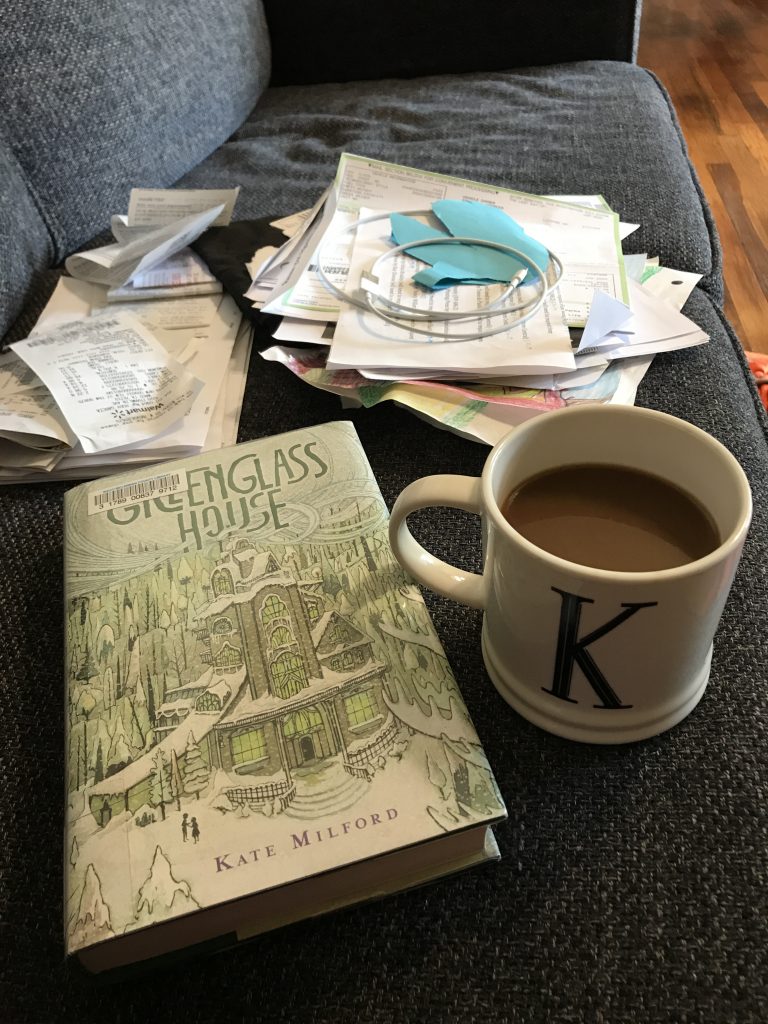 You have a time frame. You know what type of person you are, and what type your family members are, which means you have an idea of what you can expect from them. You know what needs to get done. And you have at least one thing to include that brings you joy.
The beauty of a routine is that it isn't permanent. You can come up with a list of things you want to include, you can try them in a certain order, and you can change it up if it isn't working for you. And like I mentioned, my routine will shift with the season, because I won't have school there, but I also know myself, so I need to have something planned so I don't sit down with my coffee and then just waste my morning scrolling on my phone. Which means my routine will be changing.
Do you have a morning routine? What is your favorite part?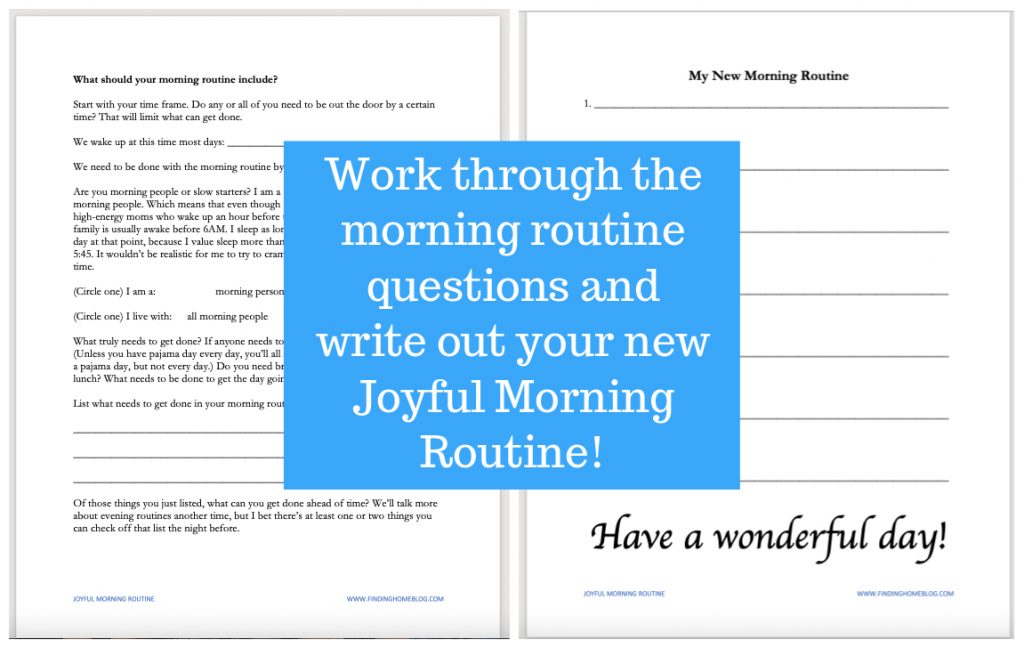 If you need a little help figuring out what to include in your morning routine, I've got a printable worksheet version of the steps in this blog post to help you walk through what needs to happen, what you want to include, and how to best do that with the time that you have. It's a quick 2 pages of questions, and then a page to write out your new routine!
To get that printable, you can head to the subscriber freebies page and enter the password. The subscriber freebies page is available to everyone on my email list, and the password is at the bottom of every email newsletter I send. If you're not on the list, you can sign up here to join, and you'll also get my 5 free muffins ebook!