Amazon Prime Day starts July 16!
My favorite deal is a little bit complicated, but worth the effort (I think). You'll end up getting around $40 of Prime Pantry items for $15-$20 (depending on which items you pick).  If you choose items you need or would purchase anyways, this is a great deal!
Here's how to get it.
Use this link to sign up for a Prime Pantry 30-day free trial.  If you decide to continue with the Prime Pantry boxes, you'll be charged $4.99/month afterwards, but it's really easy to cancel in your account settings. (You'll already need to be signed up as an Amazon Prime member, so if you're not one of those, sign up here to take part in the Prime Day deals! That's a 30-day free trial you can cancel as well.)You'll enter the code "PANTRY" at checkout to save $10 off your $40+ order. And you'll save the $7.99 shipping charge by hitting the $40 as well.
Add this box of Honey Nut Cheerios to your cart.  This will be free after you hit $40 total. It's included in the $40.
Choose 5 items from this page to add to your cart.  You'll save $6 by choosing 5 participating items. (If you're not sure if you've got the right stuff, refresh the page and look for the little green bubbles at the top. You want to get just over $40 worth in your cart.  Look for items that have additional coupons or percentages off as well.
I grabbed:
My initial total was $42.76, but it came down to $18.43 after all the discounts. Note that Amazon prices do fluctuate, so your total may be slightly different.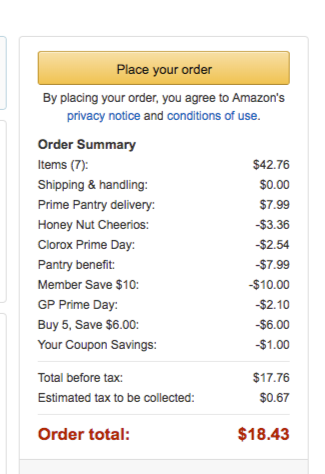 I went with a few easy snack options, plus a few household items we needed.  You choose what works for you.  Play around with your cart items until you get an amount you like (or just copy mine – no shame in that!).
Happy Prime Day!
Disclosure: The links on this page are affiliate links. If you make a purchase through these links, I receive a commission at no additional charge to you.