I'm Katherine, Katy for short.  I love a good cup of coffee, and I like baking muffins.  My husband is a grad student at Baylor in Waco, and I stay home with the five kids.  I homeschool Jonah,  Matthew, Hannah, and Elizabeth, and party with Sarah.  We do real food (mostly gluten free), KonMari, and lots of reading!  So that's me.  For more on why I started Finding Home, read on…
It's about the practical – how to clean that stubborn pot and pan, organize the Legos, and cook some awesome caramelized onions.
It's also about the more philosophical – how to find contentment where you are, how to help your children thrive as themselves (and not as mini versions of you), and how to make your house really feel like home.
And it's about Jesus.  Because really? home is only ever found with Him.
If you like what you see, be sure to sign up for your free cookbook, Recipes from Finding Home, below.  You'll also get updates from me with a bit of a behind-the-scenes look at what's going on in my life, plus occasional opportunities to do fun things like test recipes and get bonus printables.  Sound good?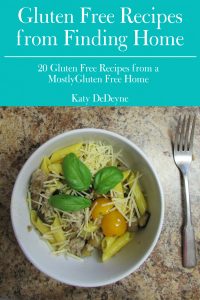 Legal:
All pictures are my own, unless credited specifically in the post.
Finding Home is a participant in the Amazon Services LLC Associates Program, an affiliate advertising program designed to provide a means for sites to earn advertising fees by advertising and linking to amazon.com.  Thank you for ordering through these links – you help keep this site up and running!