Every Thanksgiving, for as long as I can remember, we had the standard green bean casserole with the can of cream of mushroom soup and the French fried onions.  But when you're eating gluten free, that just doesn't work any more.  Instead, you need a more allergy-friendly version.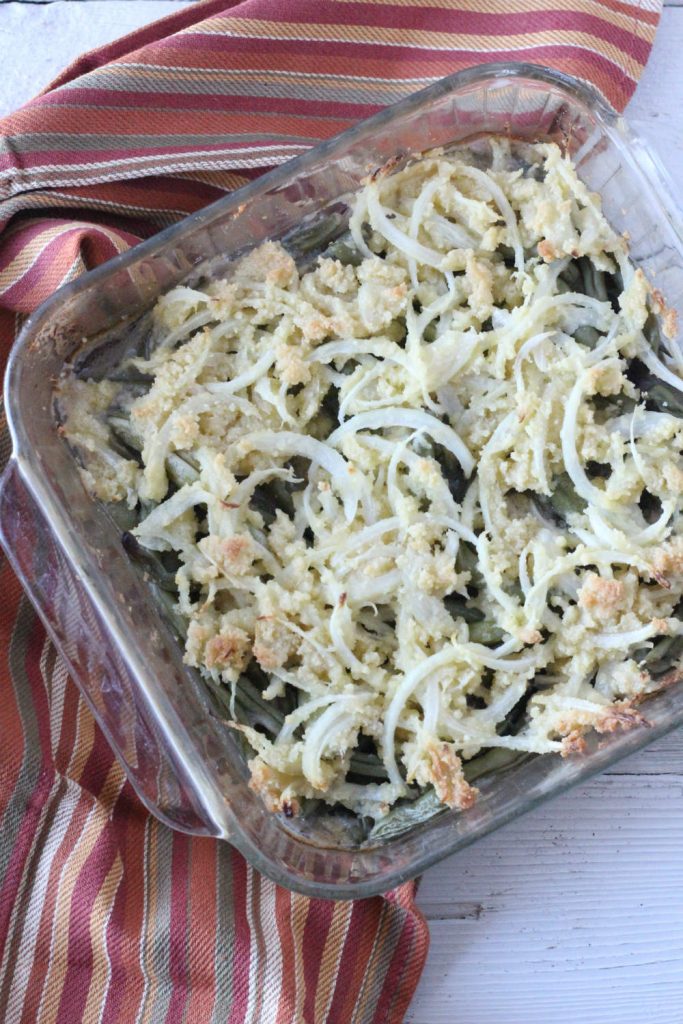 Allergy Friendly Green Bean Casserole
Serves 6-8
Ingredients:
1 lb. green beans
1 cup cream of mushroom soup (see below)
3/4 cup blanched, finely ground almond flour
1/2 cup thinly sliced onion
2 tbsp. melted butter (replace with palm shortening for dairy free option)
1 tsp. salt, divided
1/4 tsp. garlic powder
Directions:
Preheat oven to 350°.
In a large bowl, combine butter, almond flour, and 1/2 tsp. salt and stir.  Toss the onion slices in the mixture to coat them.
Place the green beans, remaining salt, garlic powder, and cream of mushroom soup in an 8×8 baking dish and stir.
Top green beans with onion mixture, then cover and bake for 30 minutes.
Remove the cover and bake for 20-30 minutes longer, until almond flour becomes brown and slightly crispy.
Cream of Mushroom Soup
Ingredients:
2 cups meat stock
2 cups chopped cauliflower florets
1 cup diced fresh mushrooms
1 clove peeled garlic
1/2 tsp. salt
1/4 tsp. ground black pepper
Directions:
Simmer meat stock and cauliflower florets in a large saucepan over medium heat about ten minutes, until cauliflower is tender.
Allow the stock to cool down a bit before pouring the stock and cauliflower into a blender. Add garlic, salt, and pepper, and blend on high until smooth.
Transfer back to the saucepan and add the mushrooms. Simmer for half an hour before removing from heat to cool.
Store in an airtight container in the refrigerator.
This recipe is from Nourishing Holiday by Jaclyn Harwell, reprinted with permission.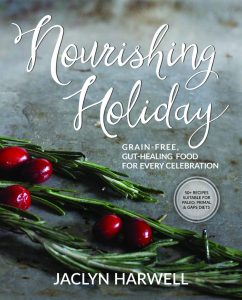 This is just one of 280 recipes included in the Food Allergy Freedom Bundle.
Inside you'll find:
Cakes, cookies, pies and candies that follow a Top 8 Allergen-Free diet
30 deliciously decadent yet healthy desserts free of grains, dairy and eggs
A guide for preparing home-made candy with unrefined sweeteners (and not a drop of corn syrup)
32 gluten-free holiday recipes your crockpot can cook for you
Classic recipes like pumpkin pie, turkey gravy, and even dinner rolls focusing on GAPS diet, primal, and paleo foods
A 4-week meal plan, including desserts and snacks, free of (or with alternatives for) egg, dairy, wheat, fish, peanuts, tree nuts, fish, and shellfish
13 recipes for fresh-baked, grain-free bread made with coconut flour
And much more!
But that's not even the best part.  The Bundles team has decided to do something different this time, and you get to pay what you want.  
Bundles normally sell for $29.97.  You could start there.
If money's tight, maybe $10 will do.  Or $5.  Or even just $3.
Is that worth it to you to be able to have delicious recipes all set for Thanksgiving and Christmas (and any time) that the whole family can enjoy?  I know my answer.
Grab your bundle at whatever price you choose here.
You'll get 9 eCookbooks including 280 recipes for the price you choose.  And if you pay more than $20, you'll also get you'll also get a bonus eCourse full of tips for cooking around major food allergens, so you can transform your favorite family recipes to make them allergy-friendly (worth $40 by itself!), from someone who REALLY knows allergy friendly food.
All of this is backed by the Ultimate Bundles 30 day happiness guarantee – if for any reason you're not happy with your purchase, simply ask for your money back.
But hurry – this bundle is only available until tomorrow night!
Disclosure: Some of the links in this post are affiliate links.  If you make a purchase through these links, I receive a bit of a commission at no additional charge to you.  Thank you for your support!