If you're looking for warm fuzzy feelings after reading a book, this is not the place for you.  Because the main point of this first book is that we're all in trouble, and nobody cares enough to do anything about it.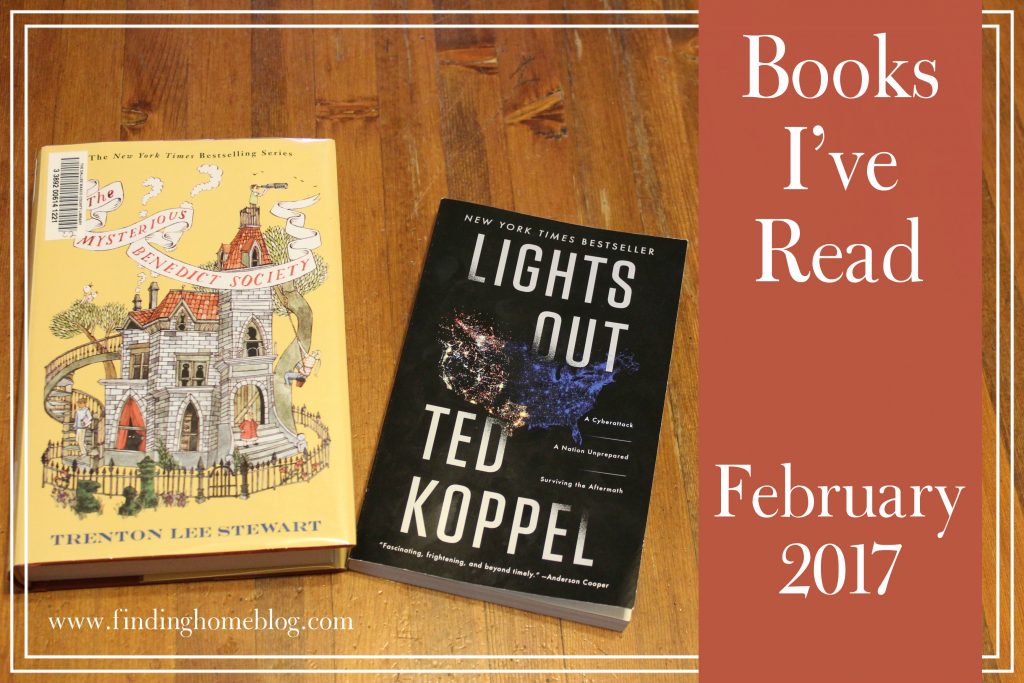 Lights Out: A Cyber Attack, A Nation Unprepared, Surviving the Aftermath by Ted Koppel.  I received a free copy of this book from Blogging for Books in exchange for a review.
The basic premise here is that our nation's electrical grid is very much lacking in security.  It's outdated.  Equipment is aging, we don't have good processes in place, and we're very hackable.  The government and electric companies are aware of this, but don't see it as a real enough risk to actively work on fixing it.  But the risk of our electrical grid being hacked and long-term power outages over large areas is a very real thing.  There's no plan for what to do if that happens.  Feeling uncomfortable yet?
The first section of the book explains the weaknesses in the system as it is. The second section explains just how unprepared we really are.  As in the only plan is a couple days worth of food and FEMA will try to help the worst areas.  And the third section discusses a few limited segments of people who will probably be okay – those who already live in rural areas and have some supplies, some preppers, and the LDS church.  As for the rest of us, Koppel's basic conclusion is that your best bet is to learn some basic survival skills: how to cook food without electricity, how to stay warm, something useful that you can do in the event this happens.  And keeping some extra nonperishables on hand is also a good idea.
I found this book a little bit difficult to read.  I had to really focus to understand what was going on, because Koppel writes very intelligently and has the data to back up what he's saying.  It's just a very deep read.  The first section was by far the meatiest, because he's trying to teach the average person how the electrical system works so he can explain its flaws.

But as I got farther in, my brain started making connections between the possibility of a long term power outage and dystopian fiction and pop culture, and that was fun.  For example, last week's episode of NCIS, "A Many Splendored Thing", included a small reference to someone creating a computer virus to hack old electrical generators and overload them, making them blow up.  Because I had just finished this book, I totally understood that.  Cool!
This season on The 100, the main group of people is searching for a way to ride out the coming radiation from nuclear reactors imploding.  (This is the warm and fuzzy tv I watch, y'all).  One of the recent episodes had them researching a bunker from a cult that was preparing for the end of the world.  They're also working on building up food supplies, and finding water resources and a safe place to live.  While an attack on our electrical grid wouldn't prevent us from being outside and going in search of the supplies we need, there's still some crossover here.
And finally, anyone remember the tv show Revolution from a couple years ago?  Though the cause was different, that show explored what would happen if there was no more power, and it wasn't coming back.  People formed small co-ops, and learned how to farm, and build things, and horses became the elite mode of transportation.  But of course there was conflict, and power struggles, and black markets, and fun things like that.
I haven't read Station Eleven by Emily St. John Mandel yet, although I want to, but the description of that book also reminds me a little bit of this world without electricity.  Someone who's read it tell me if I'm right!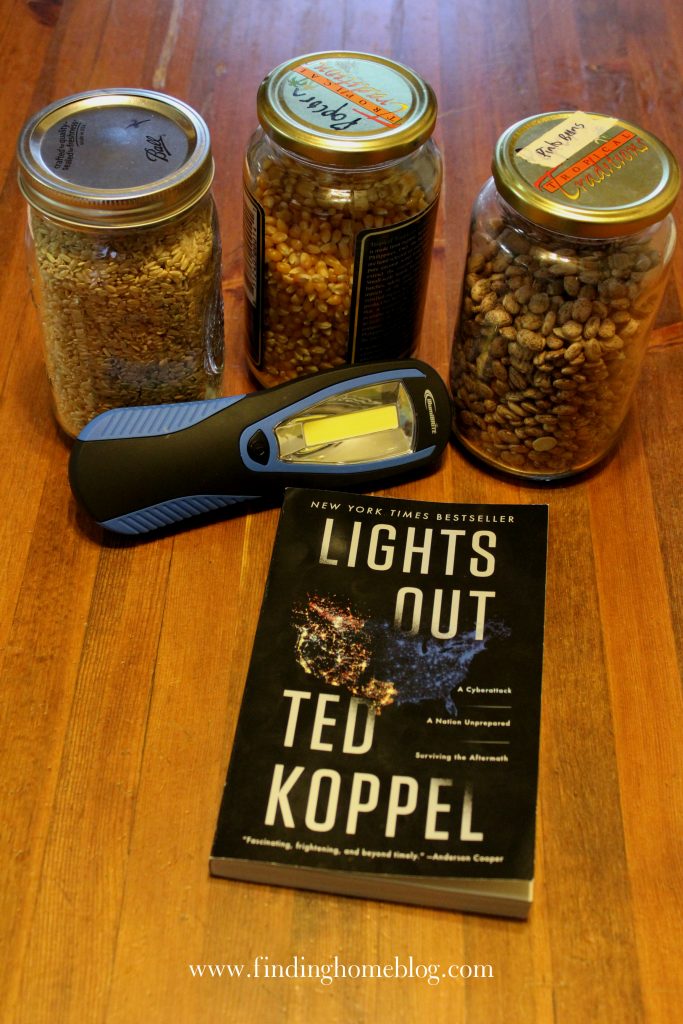 So the book itself was a bit of a trek to get through.  But I feel like a more prepared person just for reading it, and I hope that my cooking skills and my occasional bulk purchases of grains and beans would get me through a big electrical outage.  I've at least got something to offer, and that gives me hope.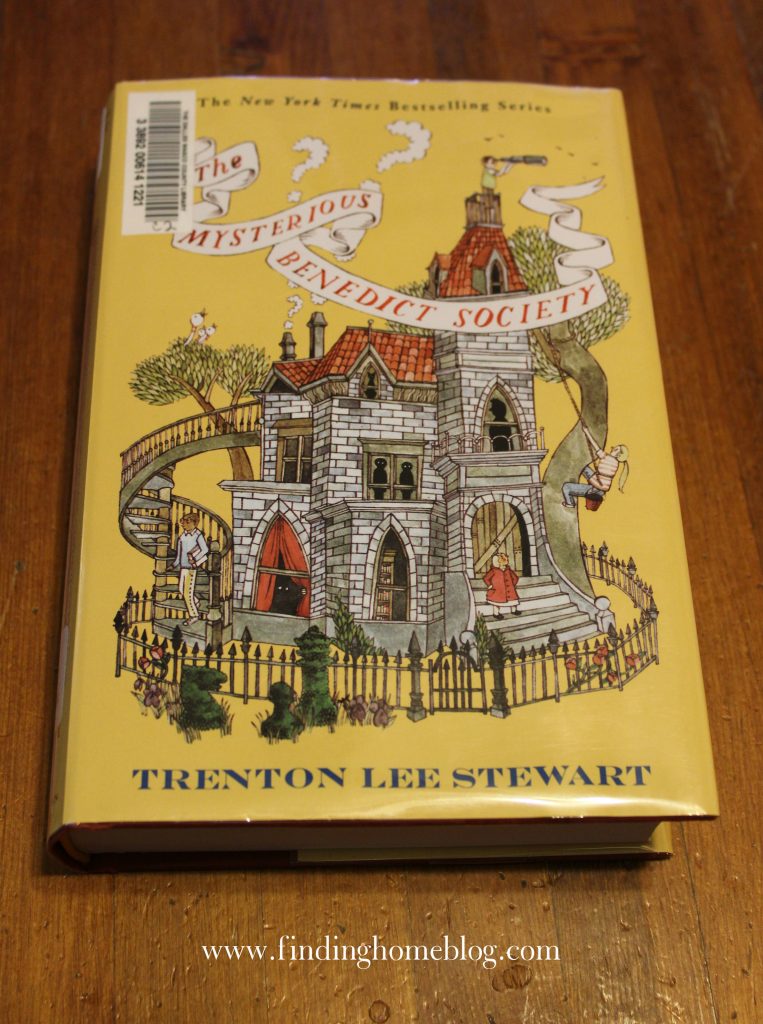 If that was a downer, the other book I read this month will pick you back up.
The Mysterious Benedict Society by Trenton Lee Stewart.  I picked this one up at the library on a whim, although it had been on my radar a little bit before.  And I'm so glad I got it!  I read through this is about 3 days, which should tell you something.
Reynie Muldoon sees an ad in the paper for gifted children looking for special opportunities.  He goes through a series of tests, and is introduced to a whole new world of danger, excitement, and a sense of belonging as a result.  If that reminds you of anything, don't worry – it reminded me too.
This book reminded me of all of the things I love about the Harry Potter series.  The writing style is very similar, the overarching plot themes are the same, and the children are the ones tasked with saving the day.  And I'm not even mad.  Whether the similarities were intentional or not, this book was really well-written. It was such a fun read, and I kept wanting to read "just one more chapter"!
My one caveat is that the whole idea of someone sending out hidden messages using children's voices was super creepy to me.  It's that kind of almost-realistic-but-not-quite-possible-but-still-really-icky-feeling idea that's just a couple steps away from reality.
I kind of want to read this book aloud with my kids, because I think they would like it too, but there are a couple things that I think might still be too scary for them.  But not as many scary things as Harry Potter, so I think we'll read this one first, probably in a year or two.  Overall it was a quick, easy read, and I'm already putting the next few in the series on hold at the library.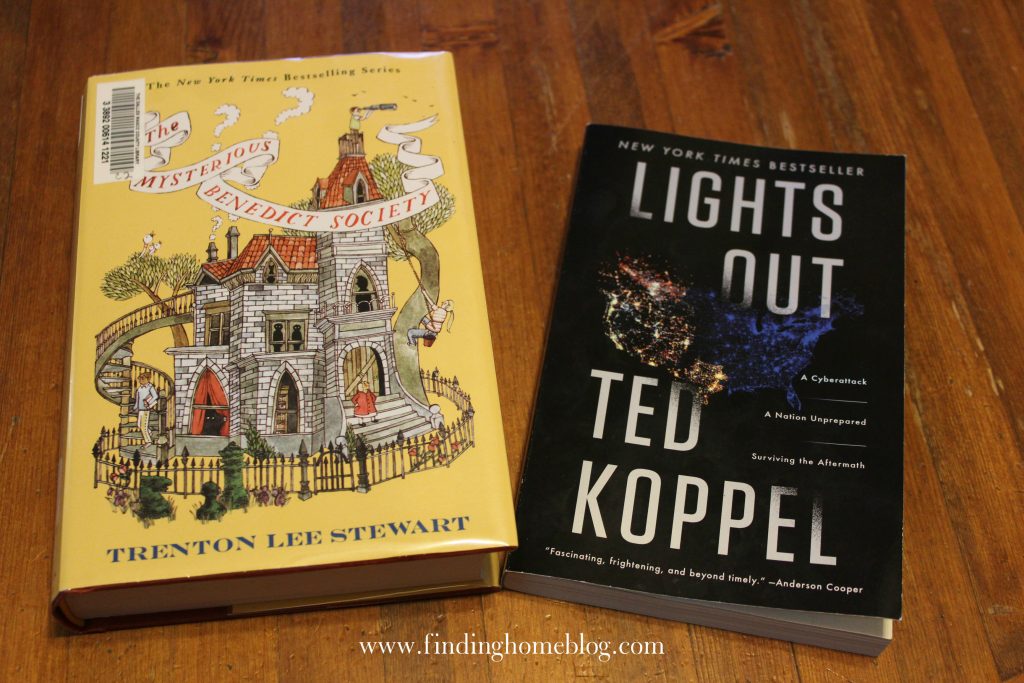 What's your survival skill?  What's going to keep you alive if all the power goes out?
Disclosure: Some of the links in this post are affiliate links.  If you make a purchase through these links, I receive a bit of a commission at no additional charge to you.  Thank you for your support!