The Masque of the Black Tulip by Lauren Willig. I requested this from the library, and was actually able to finish it (barely) before I had to return it. I liked the first book in this series better, but this one was an easy read as well, diving into a few of the characters who were just side players in the first book, and pretty much ignoring the main characters from the first book, except for one chapter.
While there were a few misleading hints to try to throw the reader off, it was pretty obvious after awhile how this one was going to turn out. That's not necessarily a bad thing, but I always appreciate when an author is smart enough to fool me.
The one thing that's a bummer for me is that in both books so far, there has been at least one scene that reads straight out of a smutty romance novel. I can try to overlook that for the rest of the story. I know it's fluffy fiction anyways. It just brings the book down a level for me. Otherwise, I like this series, and I'll probably request the next one from the library next month.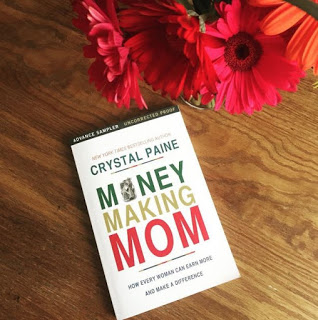 Money-Making Mom by Crystal Paine
. I got a free copy of this ebook for being part of the launch team. The book comes out in a couple days, on November 3! I posted about this book and my fear of failure earlier, but here are a few more tidbits. Crystal is really motivating. She has this way of writing that just lifts you up and inspires you to believe that you can truly accomplish things. I'm a bit of a fangirl, in case you couldn't tell. This book encourages you to find those things you are good at and you care about, and use them to make an income. Each person will have a unique takeaway from this book, because each person is unique.
Crystal is a realist, and she doesn't sugarcoat that things are going to be hard, and take sacrifice. But she also gives plenty of direction for how to accomplish things, and she writes and speaks in a down to earth way that makes it seem pretty easy. I also like the focus in the second half of the book, toward making more money so that you can give generously. "Live simply so that others can simply live."
"Tiny steps in the right direction can add up to big change over time."

"Do what you can, when you can, where you are."
These two quotes got me, because with raising four kids, making real food, and homeschooling, my life is full. I don't have a ton of time to devote to anything right now, although I am trying to be better about carving out moments to work on the things that are important to me, and that fill my tank. Even the little bits and pieces that I do are progress.
Total books read this month: 2 (almost 3). Total books read this year: 16
So here's my big announcement. Hidden and tucked away at the end of this blog post, because I'm still a little bit scared of failing. Okay, a lot scared. I started writing a book. I had a couple ideas for smaller ebooks having to do with food, and I may still pursue those, but I went with my heart, and I started writing what I hope will be a legit printed couple hundred page book.
Right now, I'm just in the get-some-ideas-out-of-my-head phase. I have a very rough outline of chapter topics, and I'm just spewing examples and ideas and bits and pieces onto the page. And it's thrilling. And terrifying. And that's all I have to say about that for now.
Disclosure: Some of the links in this post are affiliate links. If you make a purchase through these links, I receive a bit of a commission at no additional cost to you. Thank you for your support!