October was kind of a slow reading month for me.  I think life just got busy, but also, I wasn't as excited about what I was reading some of the time, which makes it harder to pick up a book.  Which means, for November, I need to find some hard-to-put-down reads again!
The Mysterious Benedict Society and the Perilous Journey by Trenton Lee Stewart.  I finally got this one at the library after reading the first one several months ago.  And it was just as enjoyable and easy to read as the first.  Kids' fiction tends to be that way.
I've heard that the Benedict Society books are a good starter series for kids who aren't totally ready for Harry Potter yet, and I think that's a pretty good description.  Even though you're following a group of children through a series of tests, puzzles, and potentially hazardous situations, you never get the sense that things are hopeless.  There's always this underlying feeling that everything will turn out okay, and then it does.
I also really like that these kids don't have magical powers, unless you consider a photographic memory magic.  They're just really smart and intuitive and think outside the box.  Totally something to encourage in kids.
Jonah turned eight last month, and he's been asking me about Harry Potter.  Honestly, the real reason I've been saying no is because I can't decide if I want to let him experience it for the first time on his own, or if I want to read it aloud with him.  Either way, I think he'll enjoy it.  I'm just not sure yet.  While I decide, I think I'll get him started on this series.  And since I've only read two, and he reads like I did at that age, he'll probably beat me through them…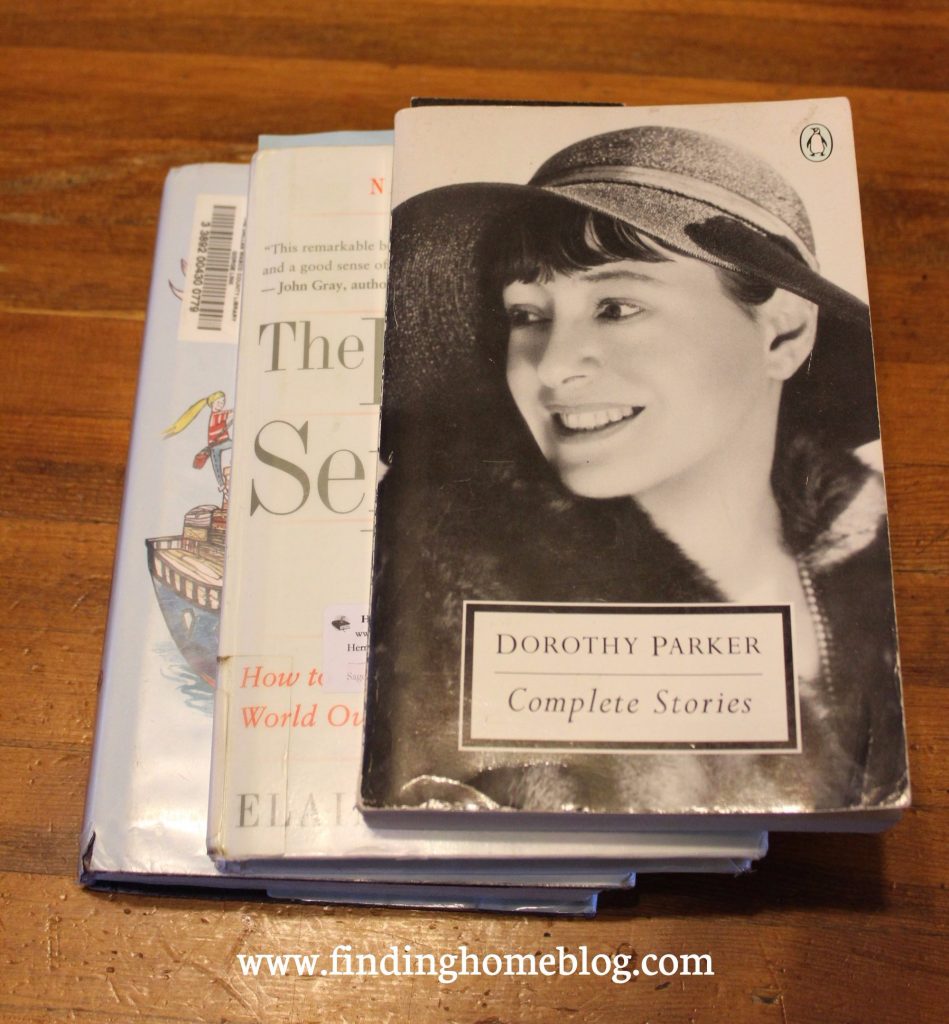 The Highly Sensitive Person: How To Thrive When The World Overwhelms You by Elaine N. Aron.  After finishing Reading People in September, I grabbed this one from the library, since I've been meaning to read it for awhile.  I really enjoy learning more about personality stuff, so I thought this would be a good one.
And…it wasn't as good as I'd hoped.  It was a mix of really dense science-y stuff about how a highly sensitive brain works differently, and some woo woo exercises to help you think about experiences from your past in a different light.  While I can appreciate that aspect of things – that I've reacted certain ways to certain situations because of how I'm wired – I didn't get as much out of this book as I thought, and it wasn't as quick and easy of a read as some other personality books I've read.  Bummer.
Complete Stories of Dorothy Parker.  I was first introduced to Dorothy Parker in college when I did an interpretive reading of one of her stories for a speech competition.  (Being on the speech team was required for a semester for my major – otherwise there's no way you would have caught me there! Thankfully my husband was on the team as well, so I had someone to hang out with at the competitions.)
Parker has a way of writing scathing social commentary in a really fun and snarky way.  She really packs a lot into a few pages.  Even though almost all of the stories are super short, her characters feel well-developed and it's crystal clear what she's targeting.  She lived from 1893-1967, so some of the situations she's writing about are outdated, but some are surprisingly accurate as well.
These were super easy to pick up and read when I had just a few minutes, and I'm glad I finally pulled this one off the shelf again!
Disclosure: Some of the links in this post are affiliate links.  If you make a purchase through these links, I receive a bit of a commission at no additional charge to you.  Thank you for your support!