I started out the month on a roll from last month, reading a book fairly quickly and then starting more.  And then for some reason, I didn't pick up another book right away after this one, and I fell into a non-reading rut.  Hopefully I can change that next month!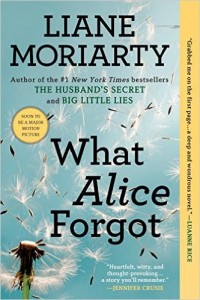 What Alice Forgot by Liane Moriarty.  This was my introduction to Moriarty's books, and, as with Rainbow Rowell last month, this wasn't my first choice, but it was what the library had available, so I went with it.  This was a fast read.  It was an interesting concept for a story: a woman falls at the gym and hits her head, and the last ten years of her life vanish from her memory, including her three kids and the reason she's getting a divorce.
So.  I liked this book, for the most part.  I think Alice with the memory loss was a lot more likable than it sounds like regular Alice turned out to be, although her character growth as a result is pretty much the point of the story, so I get it.  The parts about the kids testing their limits with a mom who doesn't remember the rules made me laugh, because that's totally what kids would do.  Of course we stay up late and eat treats before bed and jump on the couch!
I didn't like Gina.  Maybe it's because the character only shows up in memories and flashbacks, and you don't actually get to experience her at all "in person" (if that makes sense), but she just didn't seem like a fully formed character, and what we did find out about her wasn't exactly the greatest either.
Overall, I liked the book, and I want to read more by Liane Moriarty.
Total books read this month: 1. Total books read this year: 14.
Disclosure: Some of the links in this post are affiliate links.  If you make a purchase through these links, I receive a bit of a commission at no additional cost to you.  Thank you for your support!