When you get back from vacation, the last thing you want to do is spend a ton of time in the kitchen prepping for a meal, am I right?  I know that's the case for me.  So before we headed to my parents' house for a few days this week, I made sure I had a few things ready in the freezer.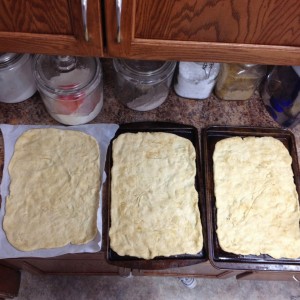 First up, I made pizza crusts.  We had chicken bacon ranch pizza planned for dinner yesterday, the day we were driving back, and I wasn't sure if we would get home around lunch time or right before dinner.  By having the pizza crusts ready to go and the chicken already cooked from last week, I was able to pull out the ingredients and have dinner on the table in about half an hour (and that includes cooking time!)
By the way, look for a frozen pizza tutorial from me sometime soon!  I'm pretty excited about that one…
I had some extra muffins in the freezer from the last batch that didn't get eaten.  I've also started making a double batch of oatmeal pancakes each time we have them, because they're so handy to pull out of the freezer in place of bread for Hannah!  So we had a mixture of those items for breakfast this morning.  Easy!
And finally, for lunch today we had bean burgers from the freezer (are you sensing a pattern here?) and sweet potato fries.  Because the burgers were already made up, this meal came together quickly too.
All this left me time yesterday and this morning to unpack, throw a load of laundry in, and get everything back to normal.  That's a relaxing return from a vacation!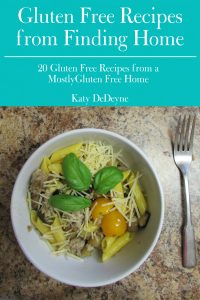 Need some new recipes for your menu plan?  Sign up below to get your copy of Gluten Free Recipes From Finding Home: 20 Gluten Free Recipes From A Mostly Gluten Free Home.