I'm guest posting over at Money Saving Mom today about frozen pizza! Here's an excerpt:
To say our family loves pizza might be an understatement.  If you ask my husband what he wants to eat, the answer will always be steak, tacos, or pizza.
Our favorite homemade pizza crust is this freezer-friendly one that Crystal shared, because we can get everything ready ahead of time.
The original recipe is set up to make two crusts, which you can freeze as a ball of dough.  That works fine, except sometimes we decide we want to eat pizza around dinner time (or for a late night snack), and we don't have four hours for the crust to thaw on the counter.  So I started experimenting…
Read the rest of the post here.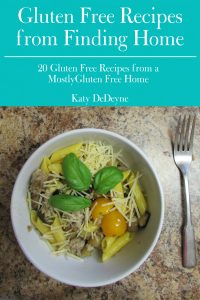 Want more yummy recipes?  Sign up below to get your copy of Gluten Free Recipes From Finding Home: 20 Gluten Free Recipes From A Mostly Gluten Free Home.