It's nearly 70º as I write this, which seems like a silly time to be talking about hot chocolate.  But if you're my children, there is no silly time to talk about hot chocolate.  It's just always an option for a yummy treat.  I can't say that I disagree…
And while we do buy our fair share of kids' hot chocolate from Starbucks, sometimes it's nice (and much cheaper!) to make it ourselves at home.
Since I'm not a fan of all of the extra ingredients in standard hot chocolate packets, I like to make it myself, using just a few pantry staples.  And it turns out, homemade hot chocolate is really easy!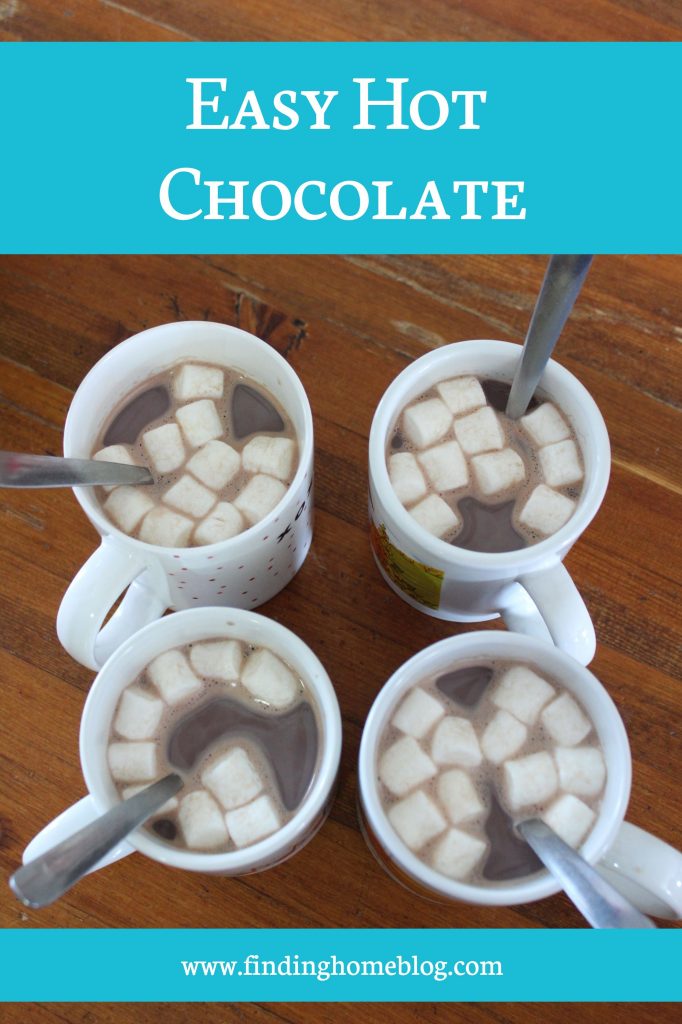 I love this recipe, because you can make a full batch to serve 4-5 people, which is what we normally do, or you can make a single mug all for yourself.  And if you're serving a large group, simply double or triple! You'll just need a bigger pot and a few more minutes to heat it up!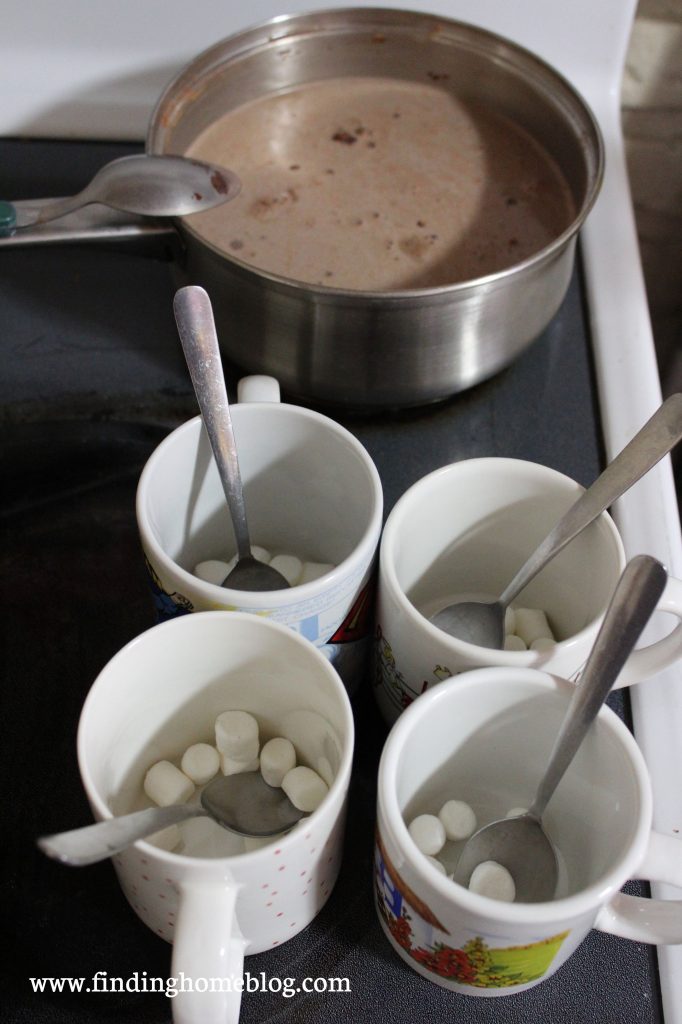 Easy Hot Chocolate
Serves 4-5
Ingredients:
4-1/2 cups milk
1/4 cup cocoa powder
1/2 cup sugar (or sweetener of choice)
Directions:
Combine all ingredients in medium sized pot.  Heat over medium, stirring often, for 8-10 minutes, until warmed to your preferred temperature.  Ladle into mugs and enjoy!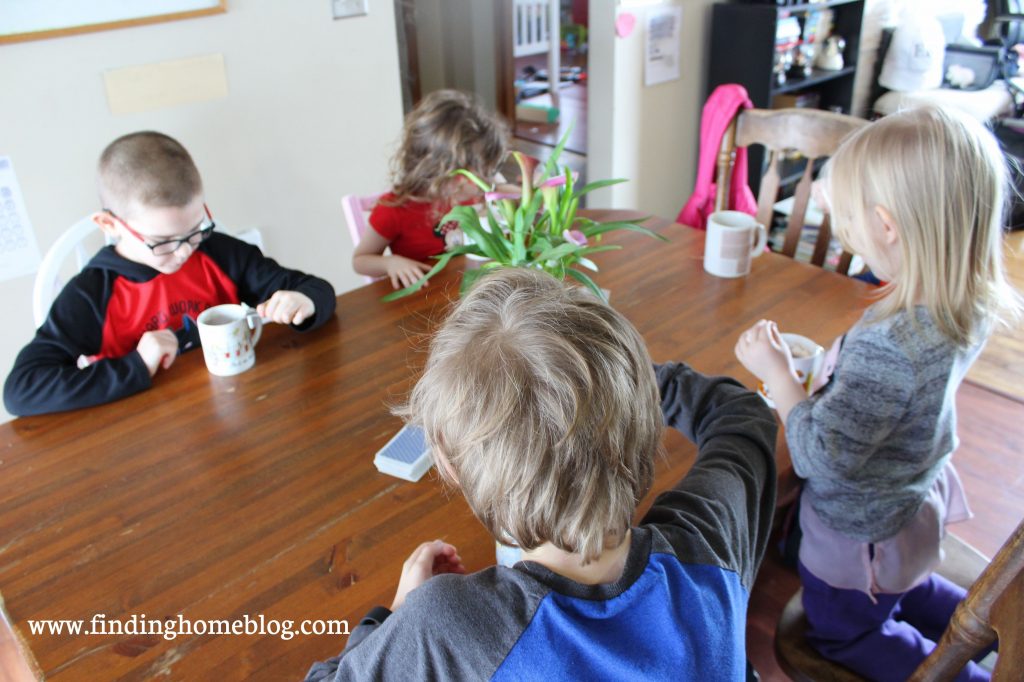 We drink hot chocolate year round for a treat, although the kids' favorite is after a morning of playing in the snow.  But since we live in a place where we've only had snow twice the whole winter, we celebrate with hot chocolate for other things too.
Good morning of schoolwork? Hot chocolate.  A quiet rest time after lunch? Hot chocolate.  Someone successfully tied their shoes on their own? Hot chocolate.
Sometimes it's the little victories…
They each have their favorite mug from our eclectic collection too: Jonah uses a Superman mug, Matthew uses a Joy to the World music note mug I got from my kindergarten piano teacher, Hannah uses a Valentine's Day Starbucks mug (because it has pink on it), and Elizabeth uses a mug with a little folk scene on it that I got in Ukraine.  And I usually tend toward my Mother mug.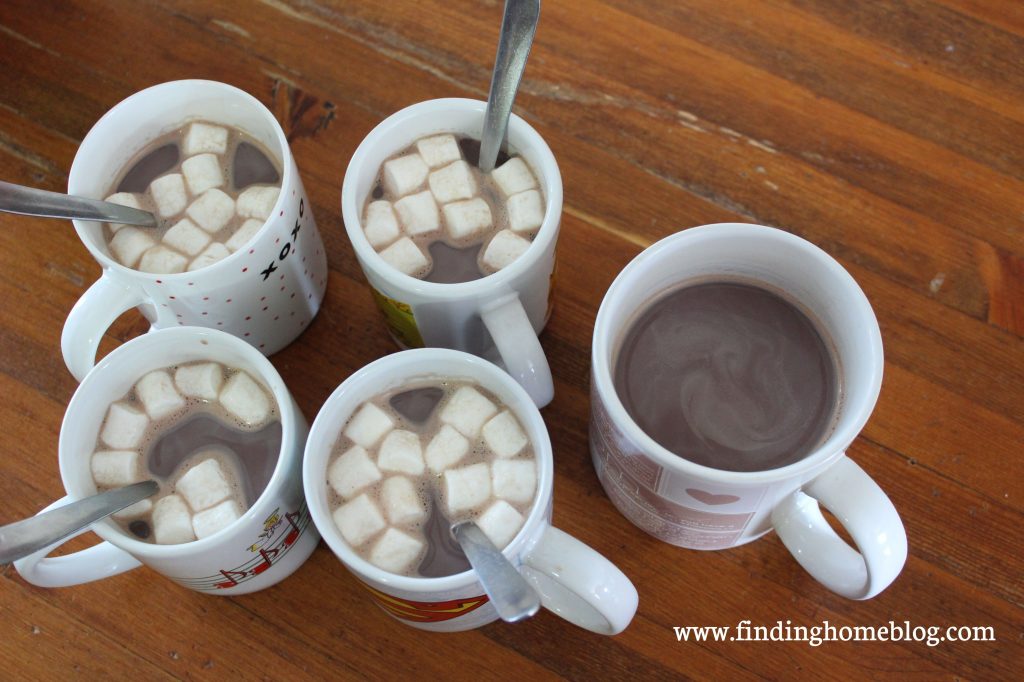 If you're looking to just make hot chocolate for one person, you can also heat a mug of milk plus 1 Tbsp. of cocoa powder and 2 Tbsp. of sugar for 60 seconds or so in the microwave.  (And if that seems like a lot of sugar, realize that it's still less than you'll find in one of the packets! But you can adjust to your liking)
Looking for a little more flavor? Add in vanilla extract and cinnamon for Mexican hot chocolate, or crushed up candy canes for peppermint hot chocolate. Or just add a few mini marshmallows for fun!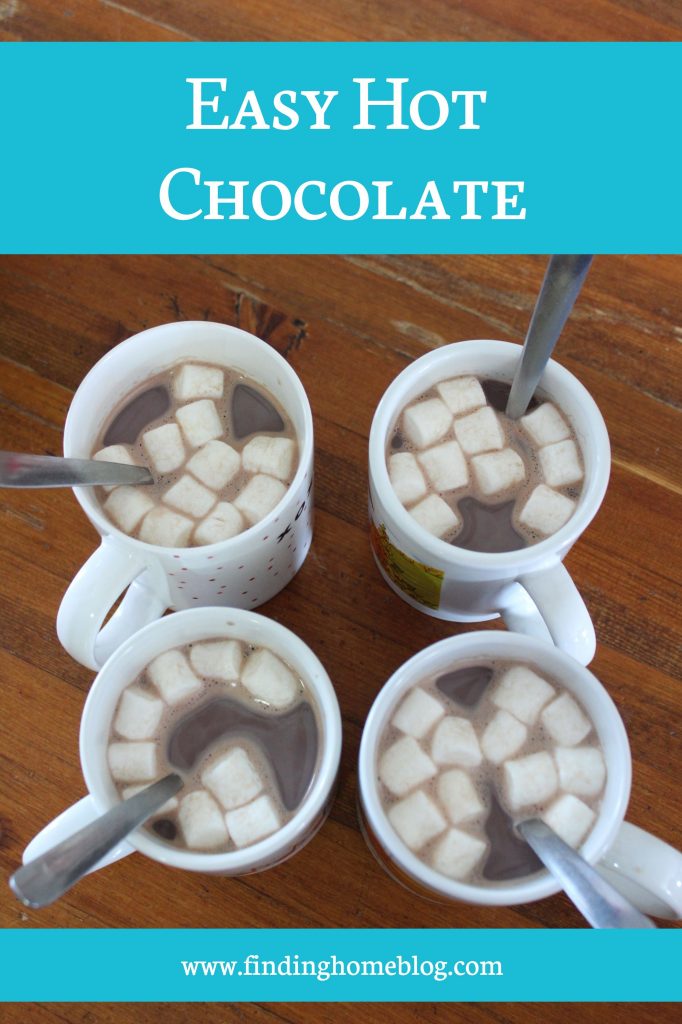 After discovering how easy it is, you can add a hot chocolate treat to your rotation as often as you want.  Whether or not you enjoy hot chocolate on a 70º day is up to you…