I don't know about your family, but my family loooooooves tacos. Those and pizza we could eat pretty much every week and be okay with it. Repeating other dinners? Not so much. But these two are standbys.

And as our family has grown, we've needed to make more taco meat to fill everyone up.  But meat is expensive, and I didn't want to spend a ton more to have taco night. So I started using ground turkey instead of ground beef, and I also started adding cooked lentils to my meat.  Boom. More taco filling for a super low price.

Here are the specifics.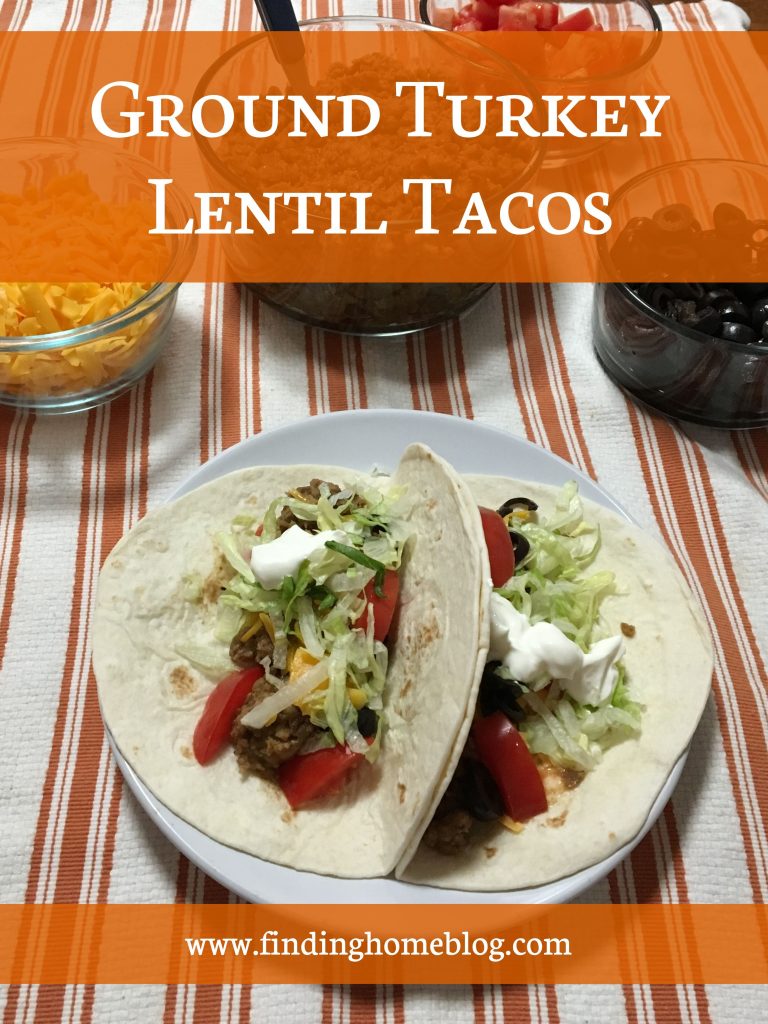 Ground Turkey Lentil Tacos
Serves 4
Ingredients:

3/4 lb. ground turkey
1 cup cooked lentils*
3/4 tsp. chili powder
1/2 tsp. garlic powder
1/4 tsp. onion powder
1/4 tsp. oregano
1/4 tsp. paprika
1 tsp. cumin
1/2 tsp. salt
1/4 tsp. black pepper
pinch red pepper flakes
8 tortillas of your choice
Directions:
Cook ground turkey over medium heat. Drain excess fat.
Reduce heat to low; add lentils, seasonings, and about 1/4 cup water and heat through, about 5 minutes.
Serve in tortillas with your favorite taco toppings.
*Note: I like to batch cook lentils in my Instant Pot.  I just do 2 cups of dry green lentils with about 6 cups of water for 10 minutes on manual.  Then I drain and cool them, and freeze them in sandwich size ziploc bags to pull out for recipes like this, or any recipes to bulk up ground meat a bit.

Whether it's Taco Tuesday, or Taco Friday, these are sure to be a winner at your house too!
But wait! There's more! Through Monday, January 7, 2019, this recipe, along with over 1,000 others is available as part of the Ultimate Healthy Meal Planning Bundle. All of these recipes are made with real whole foods ingredients, and they cover a variety of eating styles. I'm most excited about the gluten free and paleo recipes, but they have so many categories, and pre-made meal plans to go along with them.
Whether you're looking for lunchbox recipes or planning your Easter brunch menu or anything in between, there's a starting point in the meal plans. Or just browse through the categorized recipes yourself. Or use the handy search index to find recipes using ingredients you have on hand. Basically, you have lots of options to feed your family delicious food.
Disclosure: Some of the links in this post are affiliate links. If you make a purchase through these links, I receive a bit of a commission at no additional charge to you.