A couple weeks ago, we had Matthew's Soup for dinner.  Jonah wanted a turn to pick as well, so this week we had Jonah's Soup.  He looks happy eating it, but this one actually didn't go over as well with the kids, although they all enjoyed the cheese on top.  Part of that may have been the texture of the shredded chicken, which they've sometimes had issues with.  I thought it was pretty tasty though!
Ingredients:
3 cups cooked shredded chicken
1 green pepper, chopped
1 onion, chopped
4 garlic cloves, minced
8 oz. mushrooms, chopped
5 cups chicken or vegetable broth
1/2 cup dry brown rice
salt and pepper
1 cup shredded mozzarella cheese
Add all ingredients except cheese to large stockpot.  Heat to boiling, then lower to simmer for 30-40 minutes, until veggies are soft and rice is cooked.  Dish out into bowls, then top each with shredded mozzarella.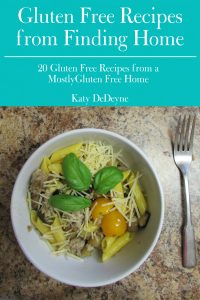 Want more yummy recipes?  Sign up below to get your copy of Gluten Free Recipes From Finding Home: 20 Gluten Free Recipes From A Mostly Gluten Free Home.