I snapped a quick picture of this bread before I ate some for a snack, because it disappeared in under two days!  This is one of those recipes from my cute pink recipe box that Grandma Winter gave all the granddaughters one year for Christmas.  A lot of the recipes are fun to reminisce about, but not necessarily the type of foods we eat too often any more.  Still, when I'm looking for something particular, I can usually find a recipe to start with from Grandma.
Ingredients:
1/2 cup butter, melted
1/2 cup applesauce
1-1/2 cups sugar
3 eggs
1/2 tsp. vanilla extract
2 cups grated zucchini
3/4 tsp. salt
2-1/2 cups flour
1/2 tsp. cinnamon
1/4 tsp. ginger
1 tsp. baking soda
2 tsp. baking powder
Directions:
Mix butter, applesauce, and sugar.  Add eggs and vanilla and stir to combine.  Add salt flour, cinnamon, ginger, baking soda, and baking powder.  Mix just to combine.  Fold in grated zucchini.  Bake in greased loaf pan at 350° for 50-60 minutes.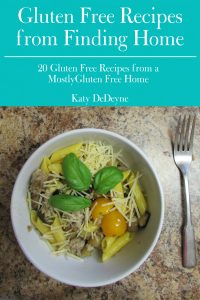 Want more yummy recipes?  Sign up below to get your copy of Gluten Free Recipes From Finding Home: 20 Gluten Free Recipes From A Mostly Gluten Free Home.