Growing up, enchilada night was always one of my favorites.  I loved the warm tortillas full of tasty filling, the plethora of toppings, and I even loved the leftovers.  For real.  This recipe actually tastes even better the next day.
In the past, I've tried different variations on this recipe to try to make it cheaper or healthier.  But they've never quite measured up, and I always wish I had just made these instead.  Because these truly are the best beef enchiladas you've ever had.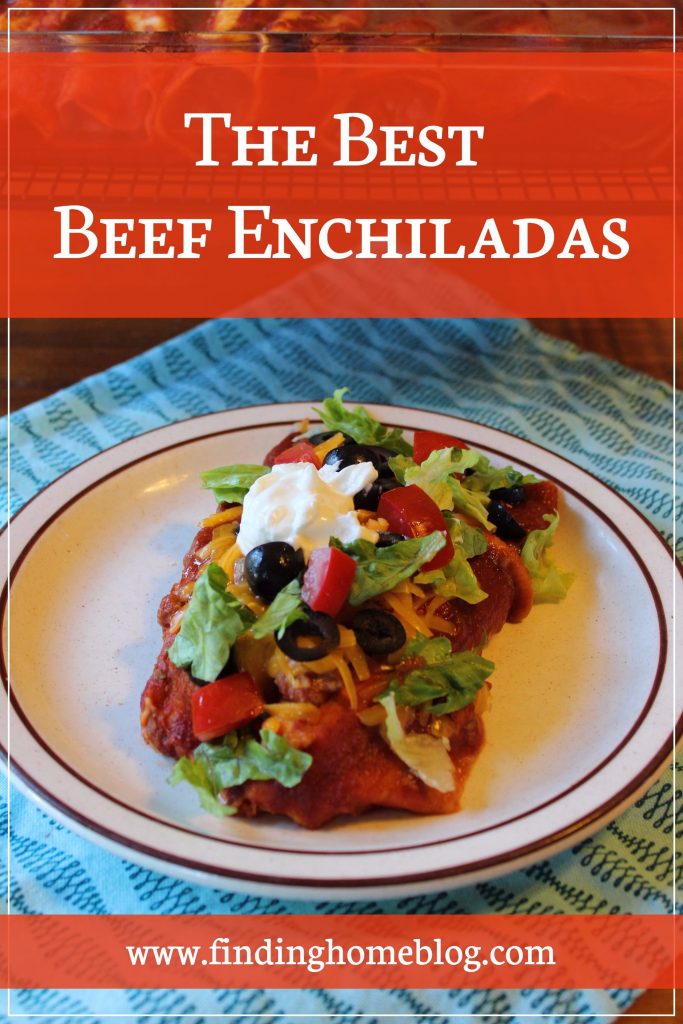 Ingredients:
1 lb. ground beef
4 oz. can green chiles
1/2 cup sour cream
1 can enchilada sauce (or 2 cups homemade sauce – see notes below)
8 oz. can tomato sauce
8-10 tortillas (see notes below)
4 oz. shredded cheddar cheese (about 1 cup) – optional
Toppings: black olives, tomatoes, lettuce, salsa, sour cream – basically anything you would put on a taco
Directions:
Cook ground beef and drain excess fat.  Mix in green chiles and sour cream.
Separately, mix enchilada sauce and tomato sauce.
One at a time, dip tortillas into sauce mixture and fill with beef mixture.  Roll and place in pan.  Pour remaining sauce over the top of the rolled enchiladas.
Bake at 350ºF for 25-30 minutes.  Add cheese during last 5 minutes of baking to melt (or just put a bowl of shredded cheese on the table with your other toppings).
Notes:
My mom's original recipe called for a can of enchilada sauce, but now I make my own.  I use this recipe if I have broth and tomato paste, and this recipe if I only have tomato sauce in the cupboard (and it still tastes good if you use garlic powder and onion powder instead of freshly minced). Both make about 2 cups of sauce, although a little extra is fine too.  Just pour it on.
This recipe is gluten free if you use corn tortillas.  However, they don't generally roll as well for me.  I use fajita sized flour tortillas for those who can eat them, and I usually get around 10 enchiladas.  Using a larger tortilla will mean less enchiladas.
Know that when you assemble these, you will make a mess.  Sauce on the counter, sauce on the plate, sauce on your fingers.  Sauce everywhere.  It's the price of deliciousness.
If you're trying to save money by using half beef and half pinto beans, don't.  If you're trying to skimp and leave out the sour cream, don't.  Make this recipe as written.  Actually, make double so you can have them again tomorrow.  They're amazing.
Elizabeth, who we call LaLa for short, likes to call these "enchi-la-las" and she has claimed them as hers.  The whole family gobbled these down, except for the four year old, because she's four.
Top them with cheese, black olives, lettuce, tomatoes, more sour cream.  Your choice of taco toppings.  Or eat them plain.  And then dig in! Mmmmm…