Although it hasn't happened as often recently, there are still times when my husband is away traveling. When that happens, I like to have something fun or out of the ordinary planned for each day that he's gone. However, because I'm on my own for those times, it has to be as easy as possible. These are some of the fun things we plan for when one parent is away.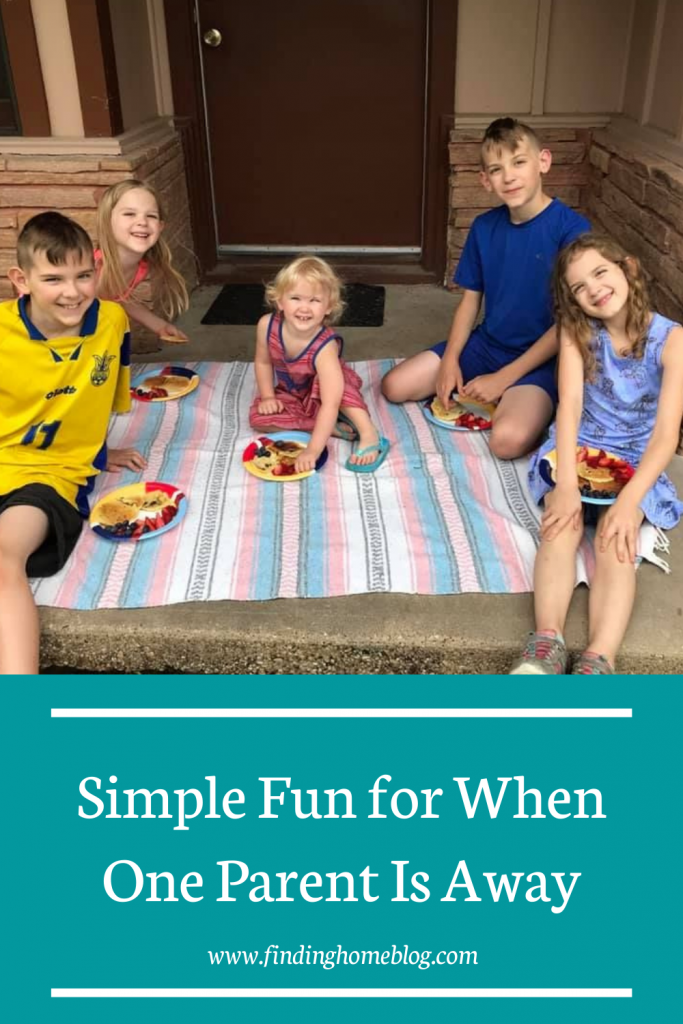 Stuffed Animal Birthdays
Travel doesn't usually happen over one of the kid's birthdays, but we can still have a birthday party. We just have it for their stuffed friends instead! Each kid picks a stuffed animal to sit at the table with them. We make cupcakes or some other yummy treat, we sing happy birthday, and maybe blow up balloons. It's a low-effort treat that the kids think is fun.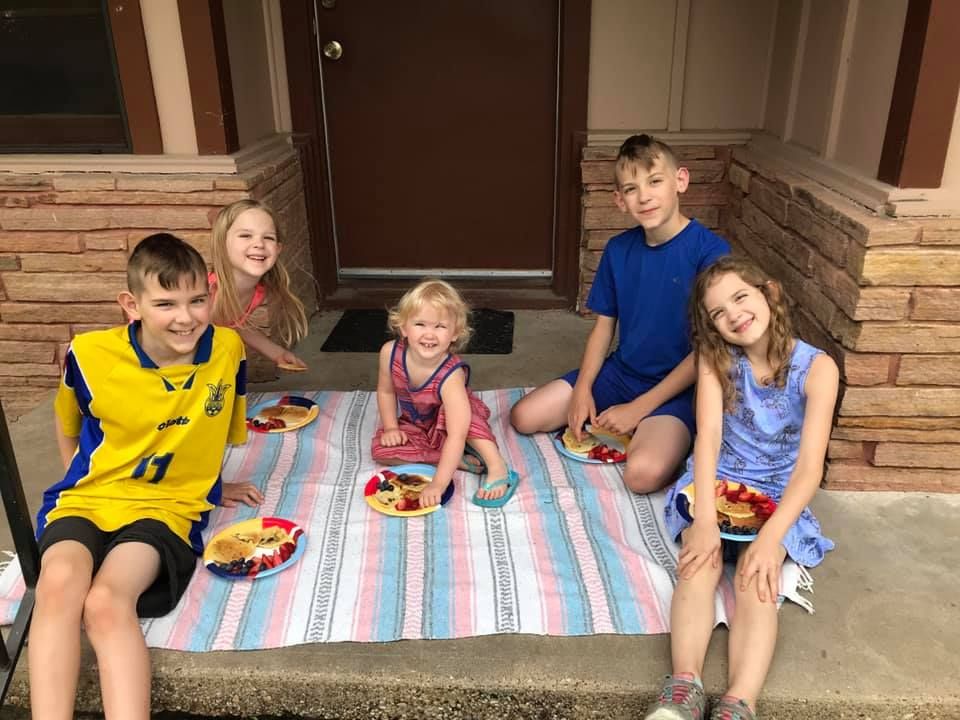 Special Food
Speaking of treats, we usually have some sort of special meal. This could be as simple as grabbing McDonald's from the drive thru, which the kids think is fantastic. Or it could mean ordering pizza, having a picnic, or eating dessert first. My kids were super impressed when I made a big bowl of popcorn and set out a snacky spread, which was actually really easy for me. What special food tradition could you come up with?
Have a Sleepover in the Living Room
I don't know why, but sleeping somewhere different makes the day special. Whether you all bring sleeping bags out to the living room, or siblings pair up in each others' rooms, having a slumber party somewhere not in their own beds is fun.
Have a Movie Night
This can be combined with the sleepover or the special meal, but watching a movie together is always a winner. The hard part might be finding something that everyone can agree on!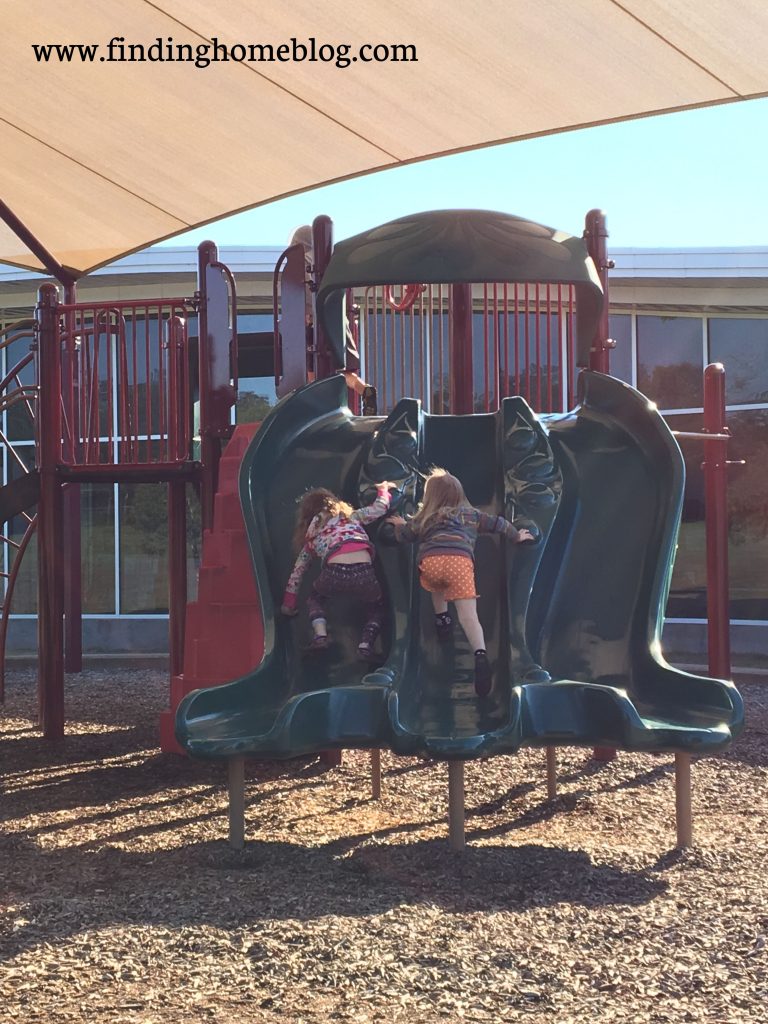 Go to the Park
We actually do this one more than once sometimes, because it gives us a chance to get out of the house and change our scenery. And this one requires zero effort from me other than driving there, which is not that hard. The kids run around for awhile, everyone gets some fresh air, and we're not so stir crazy.
Have a Playdate
This is a chance for the kids to see their friends and for me to talk to another adult, which is helpful when my husband is gone. Sometimes I want to talk about grown up things! We try to put this in the middle of the travel days so we get to see someone besides each other.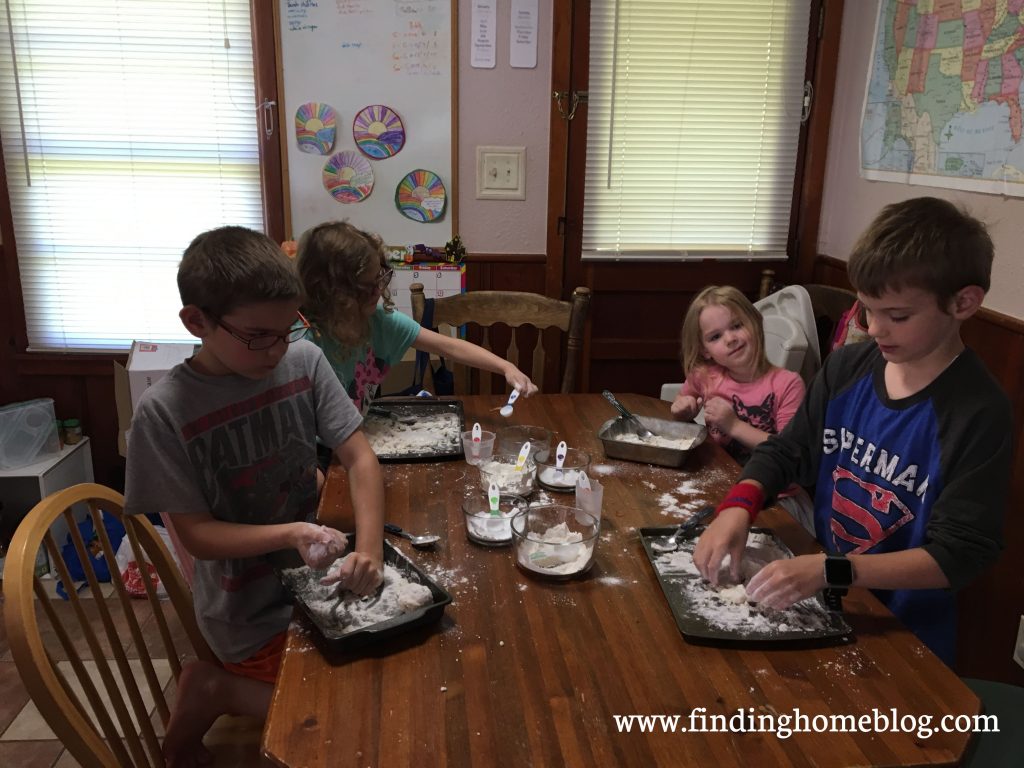 Play Kitchen
I've talked about "kitchen" in terms of homeschooling before, but the idea is to give your kids a bunch of basic ingredients, a bowl and a spoon, and let them create. My kids love doing this, and they range from adding things to see what happens, to actually trying to create some sort of dough. When we're done, I just dump everything in the garbage and wash the dishes. It's well worth the cleanup for the amount of time this entertains them.
Do a Special Craft Project
This is probably the most labor intensive of all the fun activities, but doing some sort of special craft project is a fun way to pass an afternoon. Painting, making something with clay, doing some sort of building kit – you can be as hands on or child led as you want, but a planned activity gives the kids something to look forward to.
And that's really the goal here – having something to look forward to during the day to help distract from the fact that we miss our family member! That way we're not focusing on how long they're gone or when they'll be back. Instead, we're having fun! And it gives the kids something to tell the traveling parent when they talk on the phone.
What's your favorite special activity for when one parent is away?
Related Posts: