Everyone has their go-to recipes. You know the ones. When you're planning out the food you want for the next week (or month, or couple days), these are the ones that make their way onto almost all of your menu plans. If you're not a menu planner, they're the ones that you come back to again and again, because everyone likes them. These are the recipes that need a place in your kitchen binder.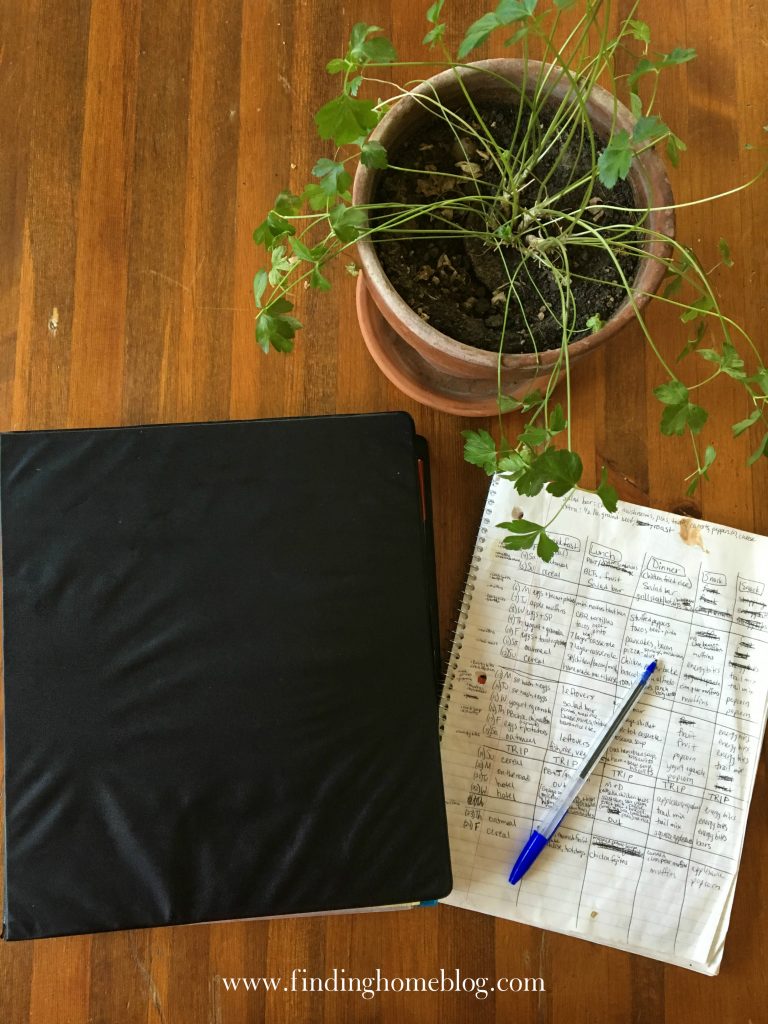 For me, it's just a standard 1-inch binder from Walmart, which cost about $1. I found a couple old blue folders in our office supplies to designate my sections, which are:
Dinner: Soups & Stews
Dinner: Entrees (divided into types of food: Mexican, Italian, etc.)
Other Recipes (which includes muffins, breakfast items, breads and biscuits, and snacks)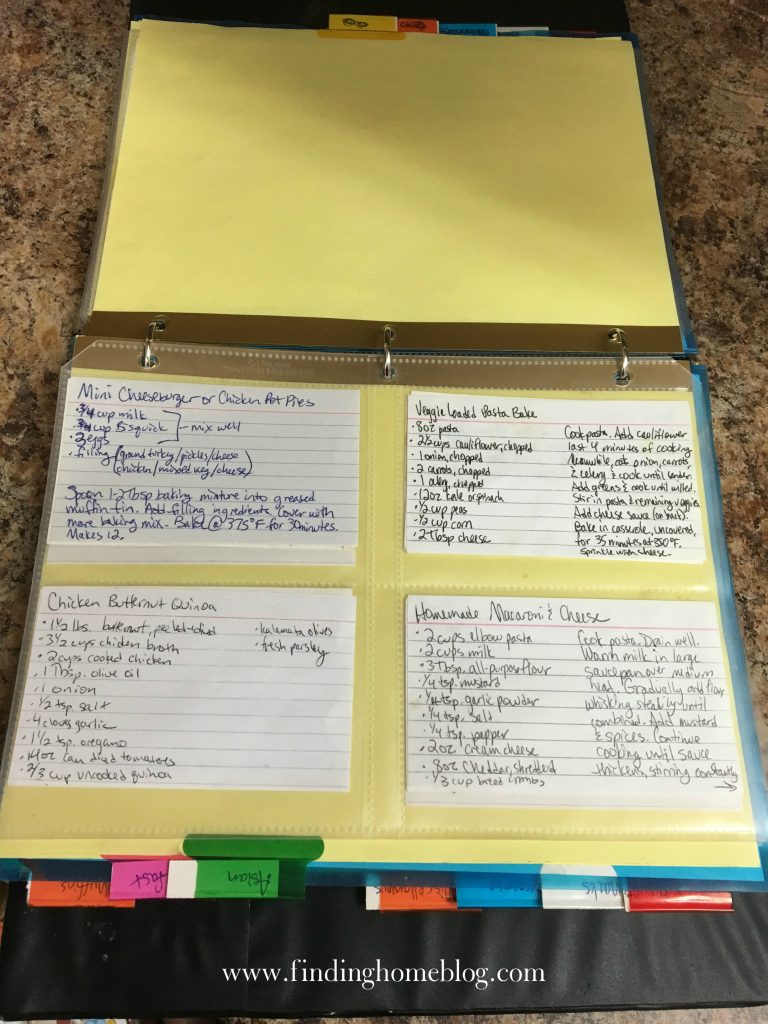 I chose these categories because they work the best for how I menu plan. If you're making your own binder, you'd obviously want to divide by what makes sense for you.

I got a 50-pack of these inserts on Amazon using my Swagbucks. The packs are regularly priced at $11.99 plus shipping. Each sheet holds eight 3×5 cards. I have a mixture of actual recipes, recipe names with corresponding page numbers from my cookbooks, and names of recipes that are either so basic they don't have a recipe, that I've made so often that I just know, or that change each time I make them. I went through a couple of my cookbooks today and I'm not even close to out of space in these inserts.
Every so often, I also go through and get rid of recipes we no longer enjoy as much. When we discovered the girls had a gluten sensitivity, for instance, I went through and took out the cards for recipes with flour. I still kept some of them in my recipe box, but they're not on the rotation regularly right now.
My main goal with this binder is to have all of my regular lunch and dinner ideas in one place, so that when I'm planning out our menu, I can flip through and decide what to make. It's a lot easier to plan when I'm choosing from recipes I already know everyone likes! I'm also attempting more new recipes, and if we like them, they get a card in the binder. Menu planning for a larger family on a budget can be difficult, but little tricks like this make it a bit easier.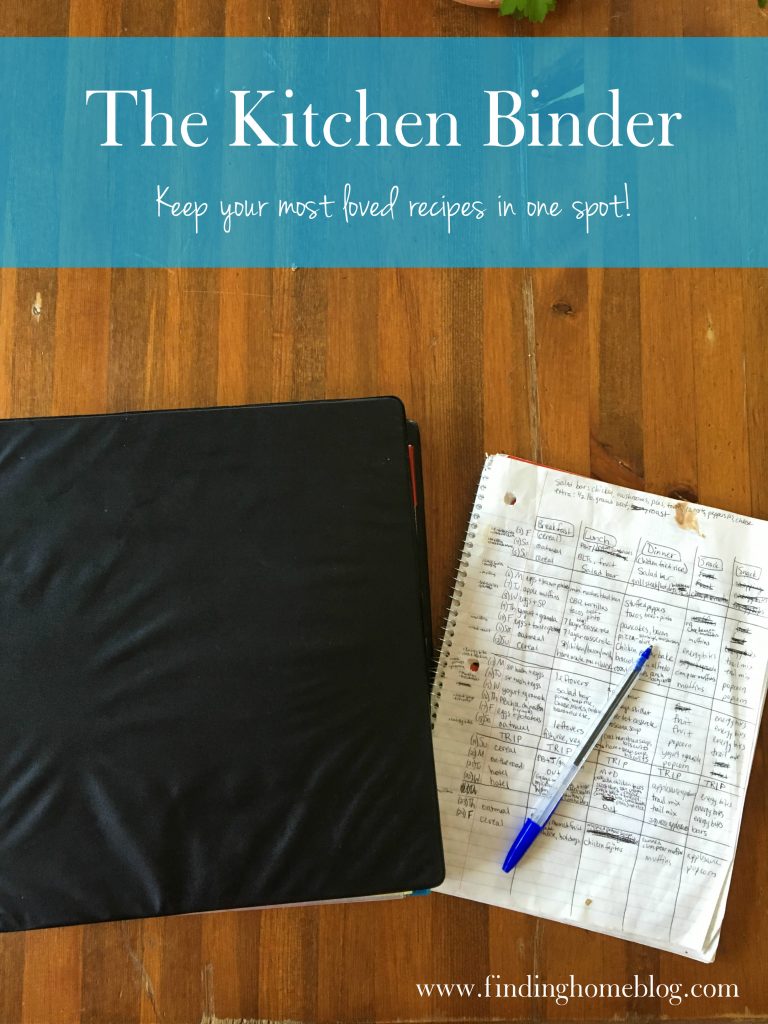 Disclosure: Some of the links in this post are affiliate links. If you make a purchase through these links, I receive a bit of a commission at no additional charge to you.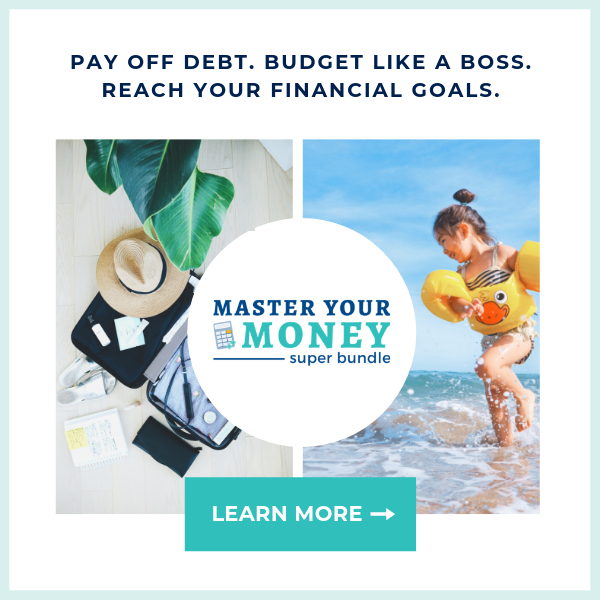 One of the best places to start saving money is in the kitchen. If you're trying to save money, get out of debt, or just keep track of what you're spending, check out the Master Your Money Super Bundle. It's full of resources to help you control your family's finances so that you can tell your money where to go, and reach those financial goals!