Every year after we finish school, I like to look back and think about what worked well and what didn't.  This year, there were definitely some things we really loved, and some things that just didn't happen like I expected them to.
By thinking through what worked and what didn't, I can figure out what to change for next year, so that we can have another successful time of learning!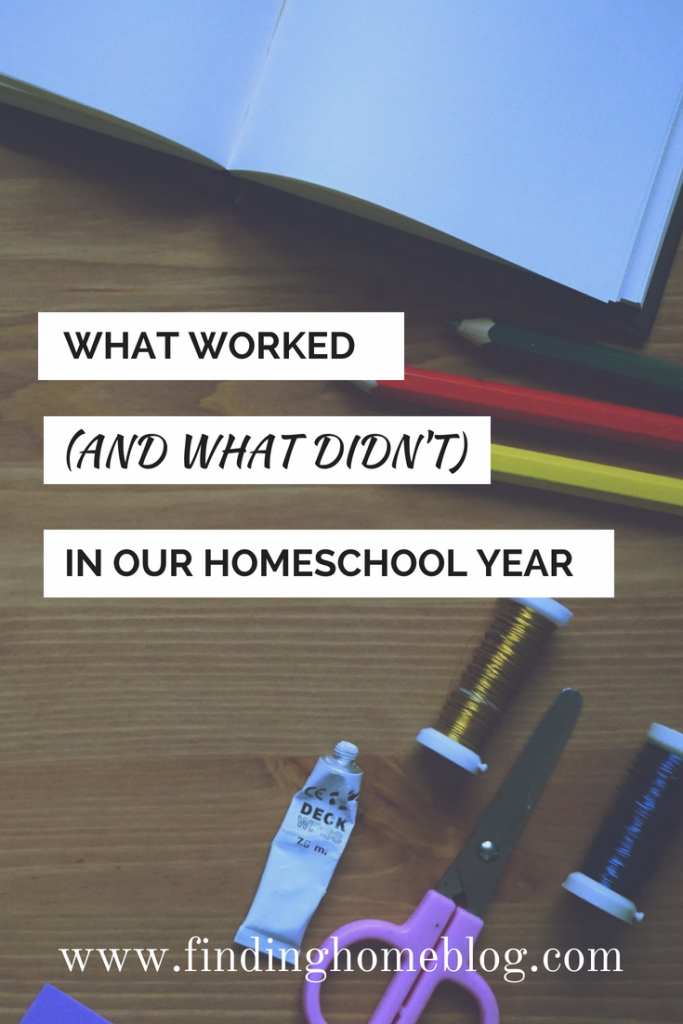 What Worked in Our Homeschool Year
Coffeeschooling. For those who don't follow me on Instagram, coffeeschooling is when we do our structured schoolwork (or at least part of it) at a coffee shop.  Even though there is some extra work involved in getting everything packed up and ready to go, and supervising everyone, we all enjoy the change of scenery, and I get a special coffee treat as a reward. Ha!
This also gives the kids a chance to be a part of the community a little bit – we've chatted with a group of little old ladies who were doing a Bible study, talked to a police officer, and just made friends with the baristas as they made our treats.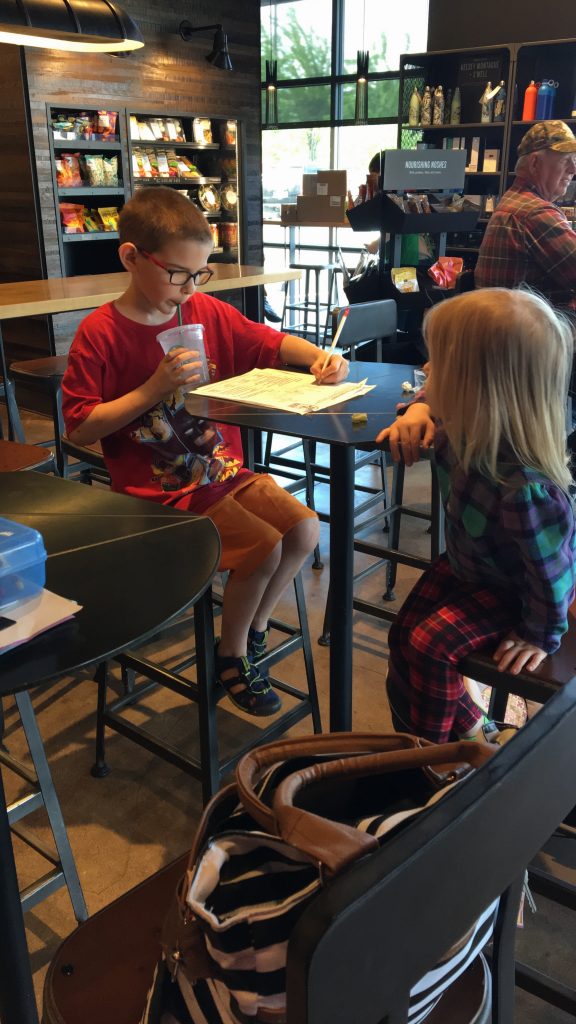 Saxon Math. This was our third year using Saxon, and we really like the spiral learning approach.  The concepts build on each other, and the kids get mostly review each day with a little bit of new.  My worksheet-loving kid flies through the worksheets, and my more verbal kid sometimes talks through them instead.  Either way, they like doing work that they feel confident in their abilities, and this fits that bill.
Our Reading Book with supplements from Pinterest. We use The Ordinary Parent's Guide To Teaching Reading, and so far we've taught 2 kids to read with it.  We work through the lessons slowly, doing 2-3 per week, along with extra activities that I find on Pinterest by searching the concept (like beginning blends or digraphs or compound words).
Jonah is just about finished with the book – he has about 15 lessons to do at the end of summer.  Matthew has about 60 lessons left.  And we'll be starting with Hannah in the fall.  I love something that can work through all of the kids without taking up a lot of space!
Reading out loud: picture books. I had vast plans for reading aloud chapter books at snack time each day, but guess how many we got through? Big fat zero. (More about that in a minute) However, we read picture books every day.  It was mostly me and the girls, but sometimes the boys would sit down and listen too.  I love having a kid doing Letter of the Week for preschool, because it makes it really easy to have a shelf with "school books" each week for the kids to pick from.
What Didn't Work In Our Homeschool Year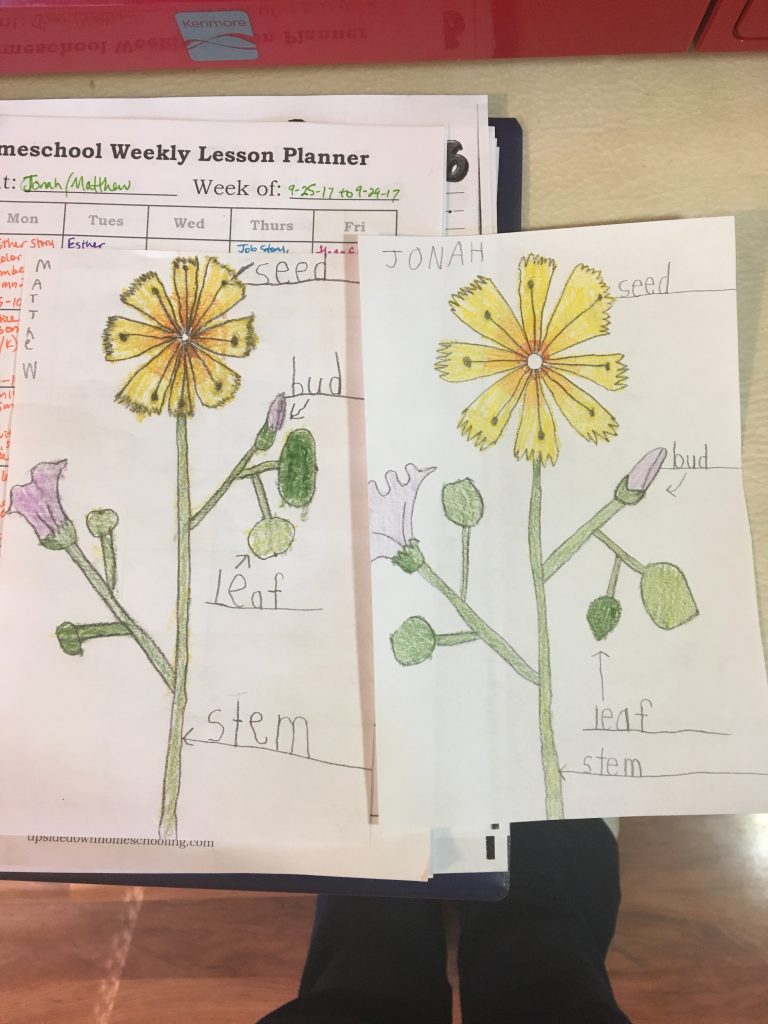 Art. I got a free subscription to Drawn to Discover, and at the beginning of the year, it seemed like a good program that I wouldn't have to teach.  But the pacing was a bit fast for the boys, so I ended up sitting with them so that I could pause it every little bit, because otherwise they got frustrated.  It's definitely still a fun program, and the lessons they completed did result in some pretty awesome pictures, but it just wasn't a good fit for us.
History/Science Schedule. I really liked the History and Science curriculum we picked (see our full 2017-2018 curriculum choices here).  But our kids (and let's face it, me too!) were still in the mindset that structured school time is done at lunch time, so having these lessons fit in after lunch was kind of a losing battle. And when we went down to the bare basics after Sarah was born in January, these got left behind for a little while.
I'm still working on a schedule for next school year that will allow for afternoon school time, but I'm sure there will be an adjustment period as we all get used to it again.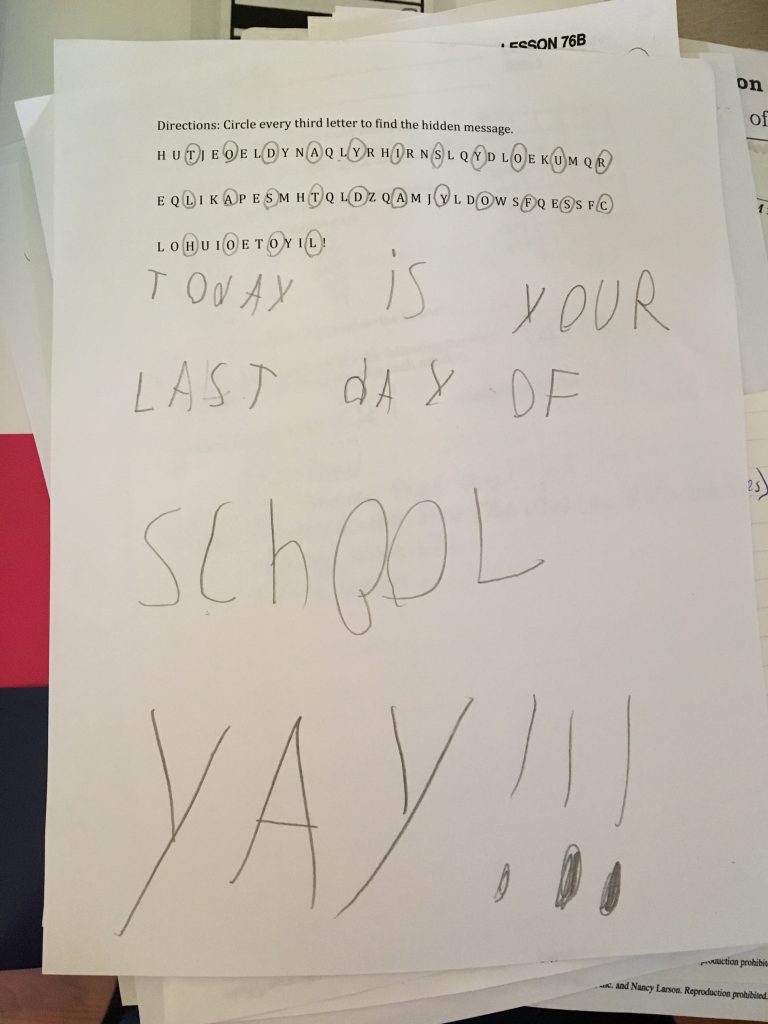 Hands off Bible time (when they didn't know the story).  As with History and Science, we really liked the curriculum we were using for Bible stories. And this one was my own fault, because the boys know a lot of Bible stories, so I got kind of lazy.  I would either print off the story or assign them to read it out of the Bible, depending on what it was, and then have them do some sort of activity to go with it.
But for the stories they didn't know as well, the comprehension just wasn't there when I didn't go through the stories with them.  Again, this was mostly during newborn baby time, but it's a lesson to remember for next year.
Reading out loud chapter books.  I had such good intentions.  And I really enjoy reading aloud with the kids. So far I've had mixed results with the books we've picked to read aloud. Some they've really liked (like Mr. Popper's Penguins) and we've sped through. Some have really dragged and no one really wants to read them.  I think I need to find some really good read alouds and then pick a time to read and be consistent about it.  This was hard to do with a new baby, but hopefully this next year should work better.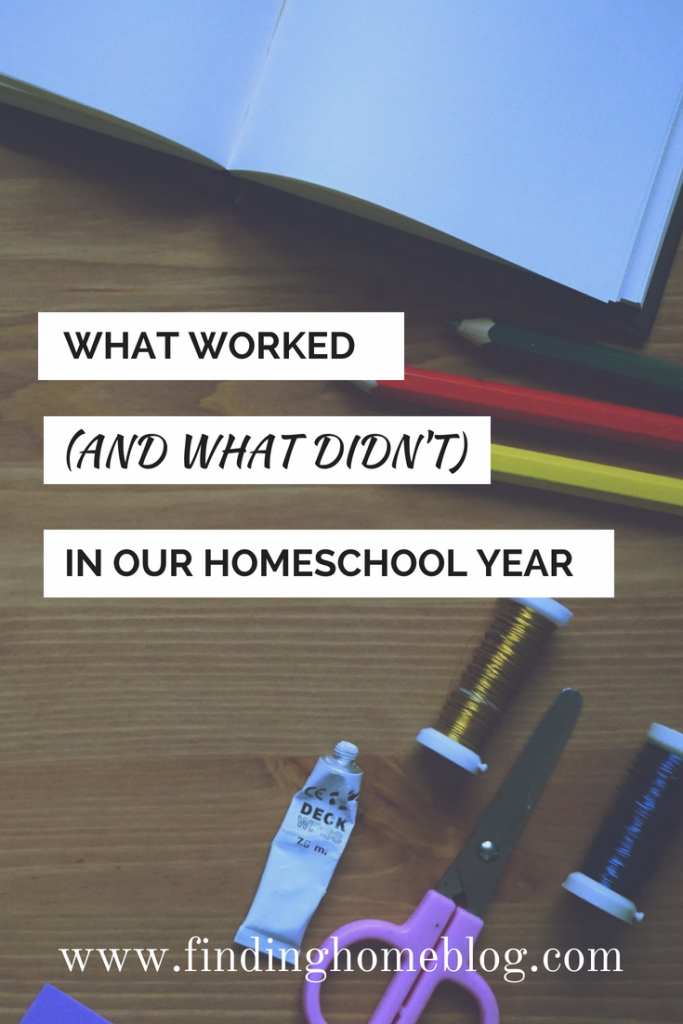 Overall, we had a really good homeschool year, especially with all of the big changes going on in our lives.  We are in the midst of moving right now, but once we get settled, I'm ready to dive into planning for next year. If anyone has a favorite language arts curriculum for 2nd-3rd grade, send it my way!
photo credit top image from pexels.com
Disclosure: Some of the links in this post are affiliate links. If you make a purchase through these links, I receive a bit of a commission at no additional charge to you.