We got a huge zucchini from the Farmers' Market (for only $1.00!) the other day, and I knew I would be making some sort of bread with it.  Have I mentioned I love baked goods?  But I also wanted to make this a healthier version, while still keeping it yummy.  So I lessened the sugar and switched out the melted butter for pumpkin. I also did some wheat flour and some all-purpose flour, and as a result the loaves were a little bit denser than with only all-purpose flour, but still moist and delicious.
Ingredients:
2 eggs, beaten
1 cup sugar
2 tsp. vanilla extract
3 cups grated zucchini
2/3 cup pureed pumpkin
2 cups whole wheat flour
1 cup all-purpose flour
2 tsp. baking soda
1/2 tsp. nutmeg
2 tsp. cinnamon
Directions:
Preheat oven to 350°F.  In large bowl, mix together eggs, sugar, and vanilla.  Stir in grated zucchini and pumpkin.  Add in all dry ingredients, and stir until combined.  Pour into two greased 5×9 loaf pans.  Bake 45-60 minutes until just starting to brown on top, and a knife inserted in the middle comes out clean.*
*The reason for the wide range of time is that the oven in our new place is not the correct temperature, and it has hot spots, so I kind of have to guess what the time and temperature may be, and check things accordingly.  Check it at 45 minutes and go from there.
Because this recipe makes 2 loaves, you can slice one up to eat right away, and wrap another one up for the freezer.  Twice the yumminess, half the work!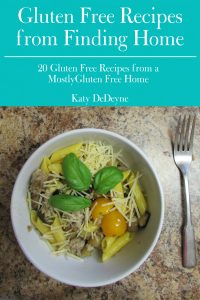 Want more yummy recipes?  Sign up below to get your copy of Gluten Free Recipes From Finding Home: 20 Gluten Free Recipes From A Mostly Gluten Free Home.