Can you believe it's almost back to school time? Some local schools have already started – in fact, my husband had his first day of class yesterday.
We start our homeschool year on Labor Day, because I like starting at the beginning of September, and that's usually how it works out. Who says you can't start on a holiday?
Here's what we are using for our lessons this year. We'll have Jonah in 3rd grade, Matthew in 2nd grade, and Hannah in kindergarten.  Elizabeth and Sarah will hang out with us while we learn.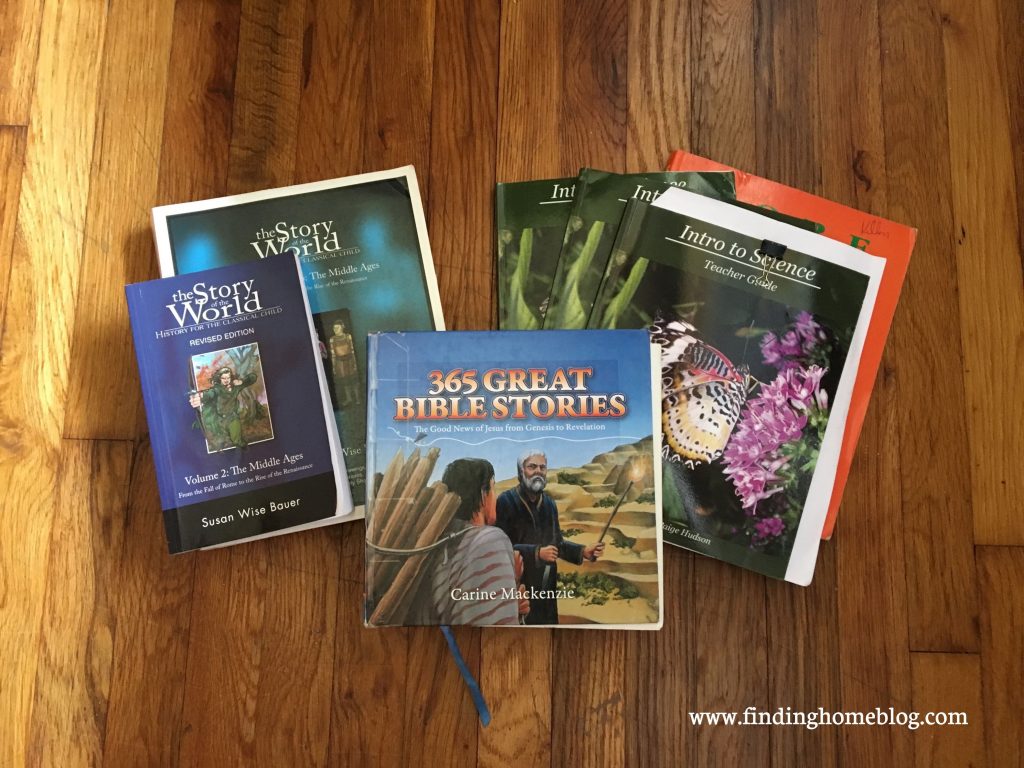 Bible Time. The same free Sunday School curriculum we've used for the past couple years. We are back to the Old Testament lessons this year. I'll be pulling activities from Level 2 for the boys and preschool to Level 1 for Hannah. And I supplement these with activities from Pinterest.
We'll also be re-reading the stories from 365 Great Bible Stories, which are short 1-page retellings of Bible stories (some stories are spread out through a few pages). We do 2 stories a week, spending 2-3 days on each one.
Bible time will also include memorizing part of our church's catechism and a hymn verse each week.
History. Story of the World Volume 2. We took a few years to get through Volume 1, but I'm hoping to be more consistent with it this year and get through this level. We do the readings, coloring pages, and maps, and then pick 1-2 other activities from each chapter. I'm planning on twice a week for History.
Science. Intro to Science from Elemental Science, with experiments from More Mudpies to Magnets.  We started this last year, and then it fell to the side. So we will be finishing it up this year. Science will also be twice a week.
After that, we'll have about 12 weeks left. I'm planning to spend 8 of those with the kids helping with our beginning garden, whether that's starting seeds, or planting outside, or researching soil. And I have a 4-week unit planned on the scientific method, which I will hopefully share in the spring when we do it.
Good Citizenship. This is a Texas state requirement, which is pretty broad. I'm using lessons from the Pre-K/K and 1st Grade levels here (although I switched some of them around to fit better around specific days), and then a 6-week mini unit on Texas state symbols. Again, I'll hopefully share that in the spring when we do it. We'll be doing this 1 day a week.
Art/Read Aloud. I don't have specific plans for this, other than that I want to have time at least once a week where we all sit at the table to do something creative, and either listen to music or I'll read aloud.
Those are the subjects we'll be covering all together.  And then each child will have some time one-on-one with me while the other kids play together.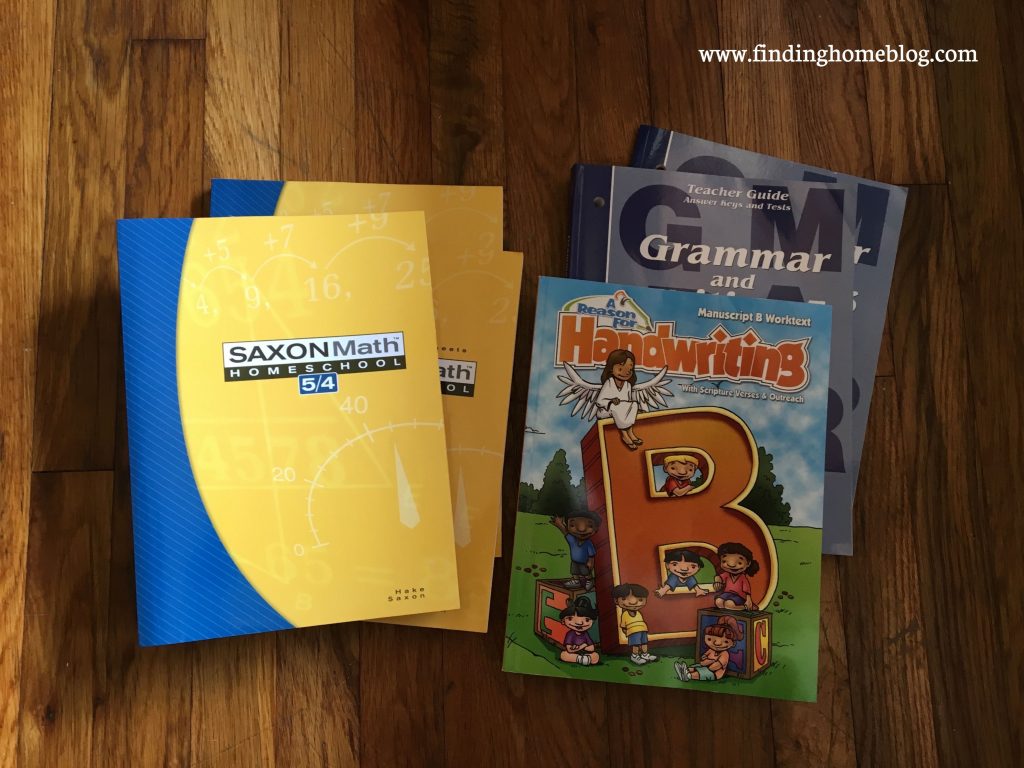 Math (Jonah and Matthew). Jonah and Matthew are all the way up to Saxon 54 this year. The format is a little different than the first few years of Saxon, but I think they'll be up for it. Even though they're on the same level, they'll be doing this separately, because they compete too much doing math at the same time, and it ends up with one child getting upset.
Handwriting (Jonah and Matthew). We were happy with A Reason for Handwriting last year, so the boys are continuing with Handwriting B this year.  Again, they're on the same level, but working separately.
Reading/Language Arts (Jonah and Matthew). The boys are finishing up The Ordinary Parents Guide To Teaching Reading. Jonah has just a few weeks' of lessons left, and Matthew has most of this year. Each week I usually do 3 lessons from the book and supplement with review activities I find on Pinterest, so it takes a few years to get through the book, but it provides a really awesome reading base for them.
After that, they'll start Hake's Grammar and Writing 3, which includes grammar, spelling, writing, and vocabulary.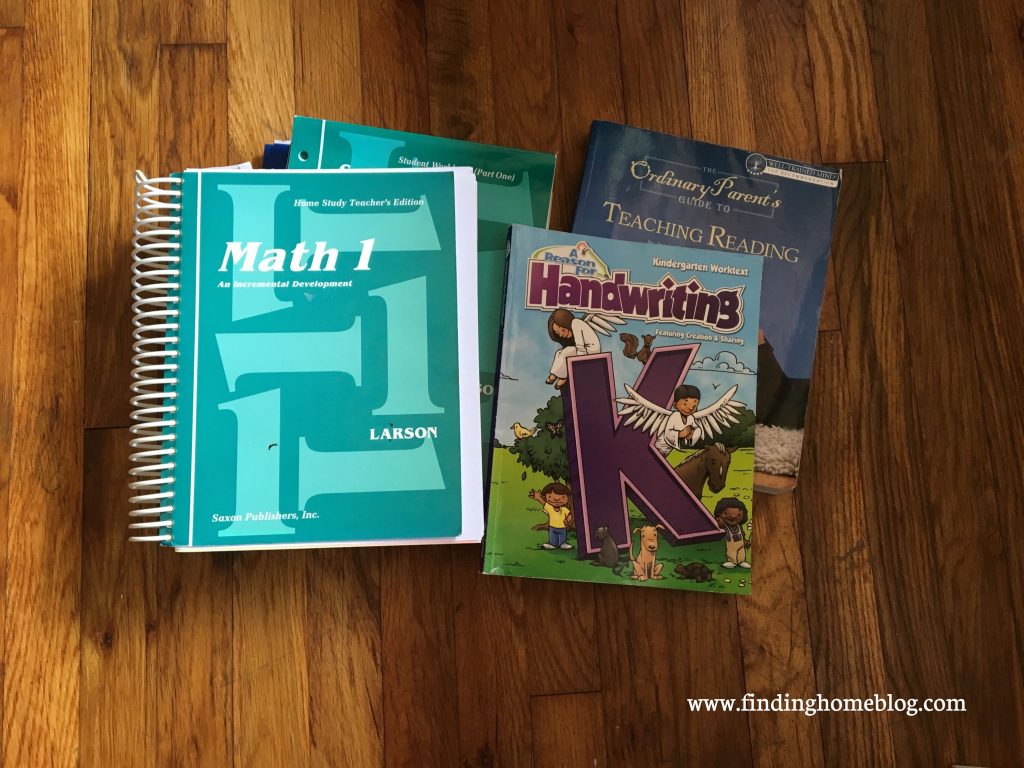 Math (Hannah). Hannah will be starting Saxon Math 1 this year.  Where the boys were already writing reasonably well when they started this, Hannah is not quite there yet, so initially she might do the worksheets orally instead of writing them down.
Handwriting (Hannah). We bought A Reason for Handwriting Level K for Hannah last year, and quickly decided she wasn't ready for it yet. So we're going to try it again this year.
Reading (Hannah). Hannah gets to start The Ordinary Parent's Guide To Teaching Reading this year, so right at the start of the year I'll actually have 3 students using this book.
Daily Weather and Calendar Time.  I still have to find a spot to hang our school calendar, but Hannah will be learning days of the week and months of the year, as well as keeping track of what the weather is like. I laminated the Days of the Week pages and Weather Chart from here four years ago and have used them with all the kids so far.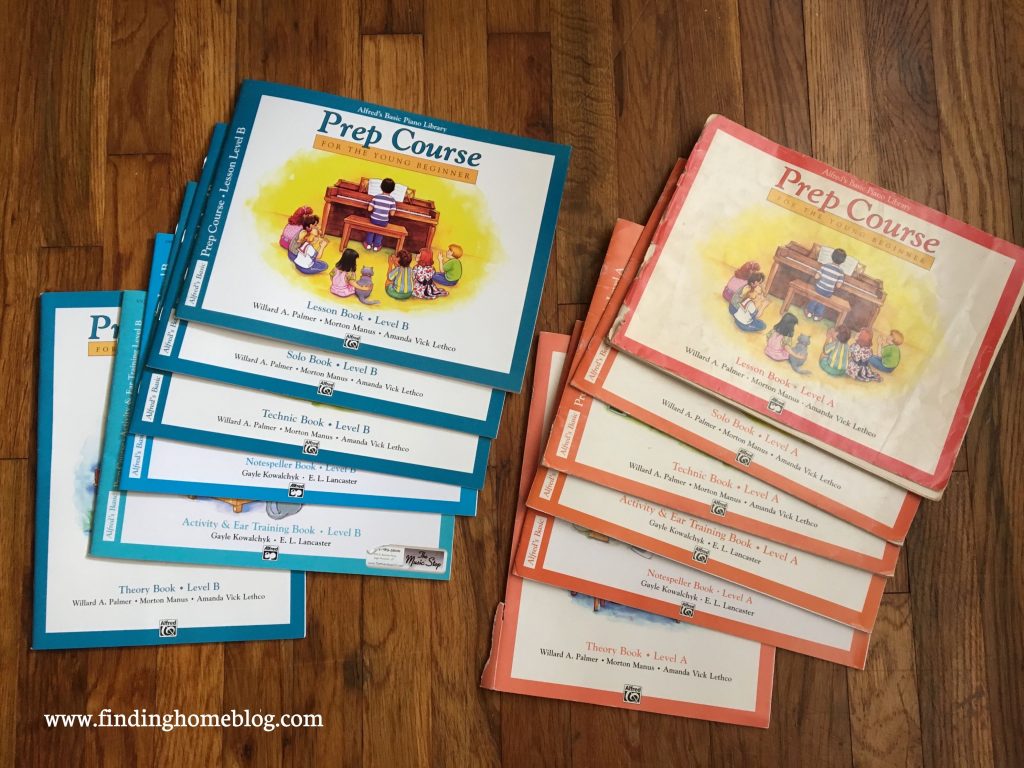 We will also have 3 kids in piano lessons this year. The boys will be starting Level B, and Hannah will start Level A. I use the lesson plans from here. I love the Alfred books – it's what I learned to play too!
And finally, we joined a local homeschool group, which has monthly meetings and activities, as well as field trips and events during the year. I'm hoping things will be at good times for us to participate, so we can make some homeschool friends in the area.
So that's the plan for this year. It gets a little bit more complicated each year, as we add more students and more subjects, but I do love the aspect of reusing curriculum. Makes life easier for me!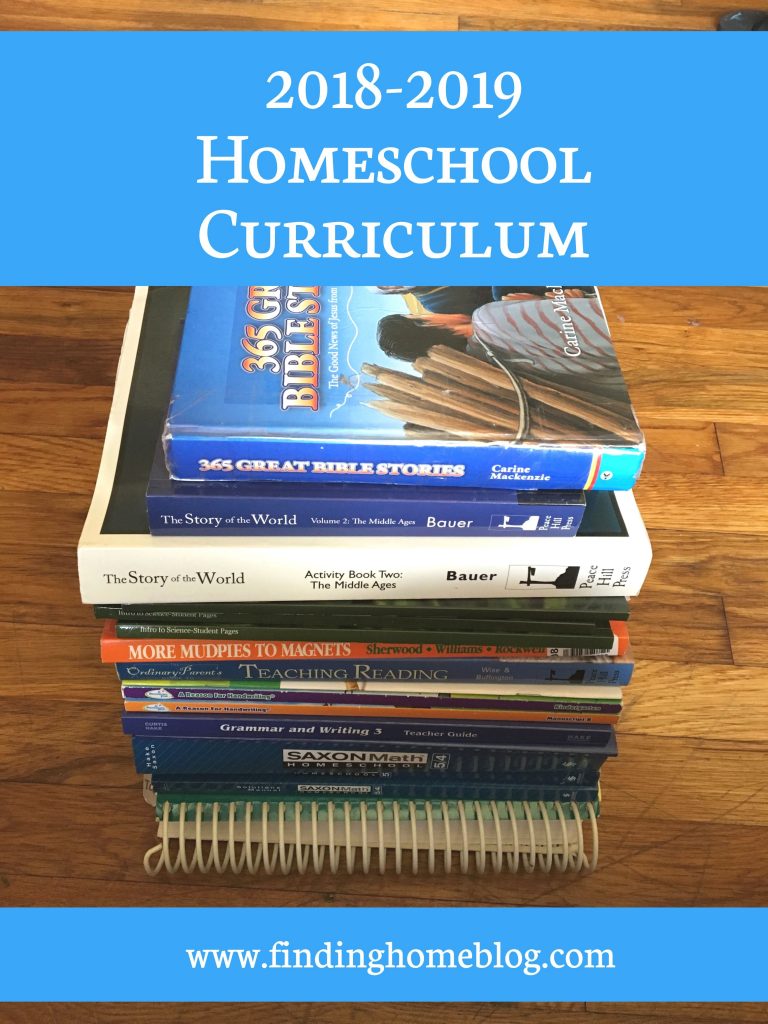 To see what we've used in past years, check these out:
Disclosure: Some of the links in this post are affiliate links. If you make a purchase through these links, I receive a bit of a commission at no additional charge to you.