Disclosure: Some of the links in this post are affiliate links. If you make a purchase through these links, I receive a bit of a commission at no additional charge to you.
It's time for another Day in the Life post! For those who are new here, we are a family of seven. My husband Jesse is a graduate student at Baylor University, and we have five kids. Jonah is 10, Matthew is 8, Hannah is 6, Elizabeth is 5, and Sarah is 2. Here's what our Thursday looked like last week…

6:00am. I wake up to noise from children. I scroll on my phone in bed for a few minutes. Jesse is already up with the kids, and I take the little quiet time that I can.
6:35am. I get out of bed. Time to get started with the day.
7:30am. We have cereal for breakfast instead of eggs and toast because I didn't feel like cooking this morning. I'm definitely having a slower day so far, but that's okay.
7:45-9:05am. Everyone gets dressed. It's Elizabeth's turn to help with the morning dishes. While I do that with her, I also get yesterday's schoolwork put away and get today's schoolwork ready. I end up taking over most of the kitchen counter, which is one reason adding this extra morning dishwashing session to our routine has been so helpful (this is basically our only counter).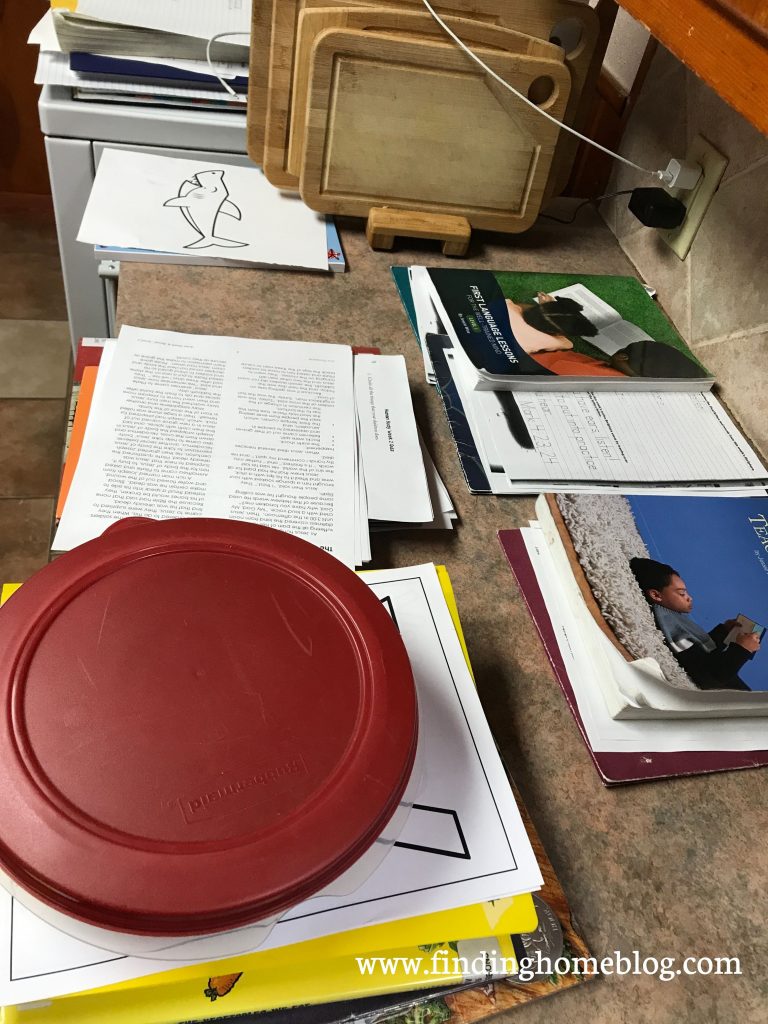 I also discover I accidentally left the coffee pot on since yesterday. Oops! I empty that out (at least it wasn't empty and burning) and get that ready for today. Since the kids are playing forts and games in the extra room, I check a bit of email before we get into our school day.
9:05-10:10am. Time for schoolwork together. We have Bible time, our science lesson on bones, and sing our hymn for the month and say The Lord's Prayer.
See our full 2019-2020 Curriculum choices here.
10:15-10:30am. I start the boys on their individual work, which they can do pretty much all on their own today, and then do Elizabeth's preschool work and read aloud to her a bit.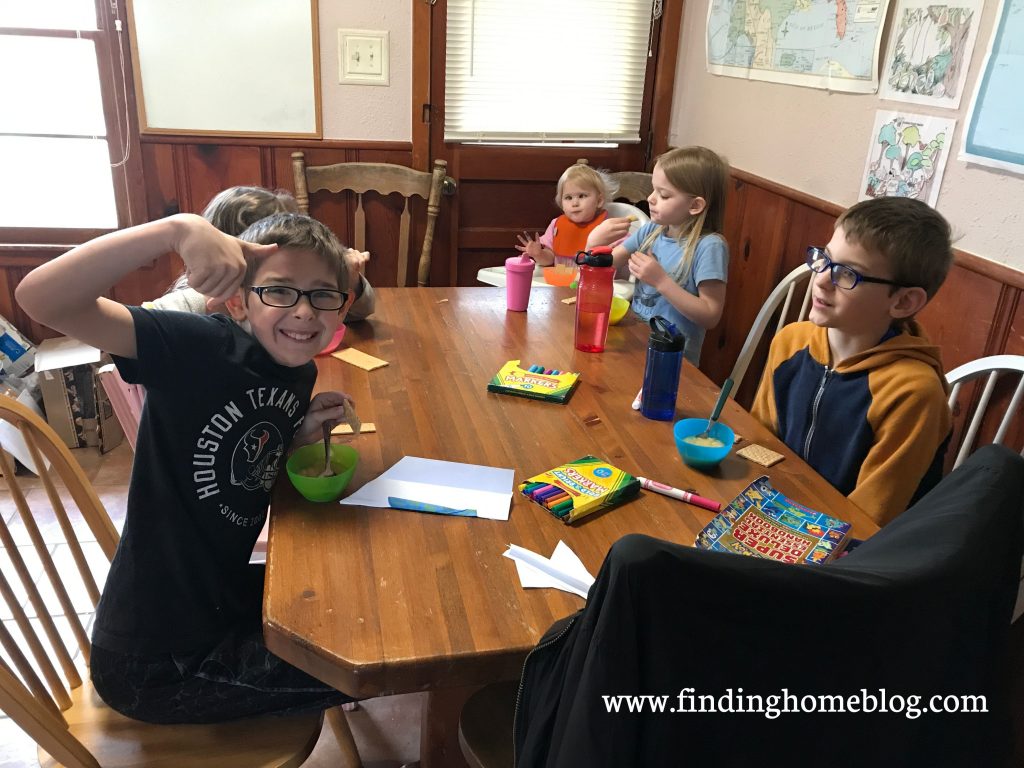 10:30am. We have a snack of graham crackers and applesauce. That's definitely a favorite around here.
10:45am. I get started working with Hannah. She's the last one for today. I try to rotate the order of the kids' alone time because some days they all want to be first and some days they all want to be last. So we take turns.
11:10-11:45am. I do piano lessons with the boys. Normally that's a Wednesday afternoon thing, but we hosted a play date yesterday so they got bumped to today.
11:45am. Lunch is leftovers today, and I'm thankful that it's something easy. We've had a full morning and Sarah is full of energy, so there has been lots of toddler wrangling along with everything else. She's managed to color the entirety of one of her hands blue with markers. Never a dull moment!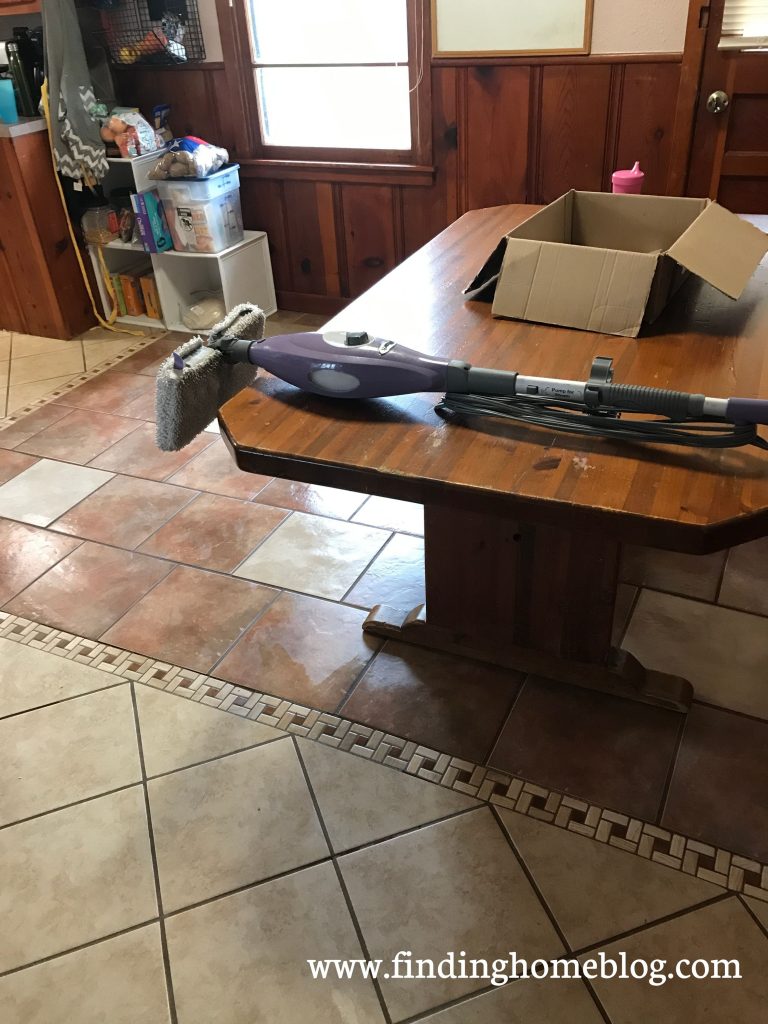 12:15-12:30pm. Quiet time for the kids – they're all in their rooms reading or playing quietly. I sweep and mop the kitchen. Thursday is my cleaning day, and this is something that's easiest to do while the kids are resting. I love my steam mop, which makes this a quick job.
12:30-1:45pm. Quiet time starts for real for me. I watch Instagram stories, listen to a Facebook live by Allie Casazza (it was a good one!), post on social media about my new gluten free muffins freebie, and do a few other little computer things. The kids are not actually being very quiet, so I opt to do mindless things instead of reading and getting angry at the noise interruptions.
1:45pm. I put on Toy Story 3 for the kids because I decide I do want to read my book after all. I almost gave up on it but decided to keep going with it and I'm glad I did – it ended up being pretty good.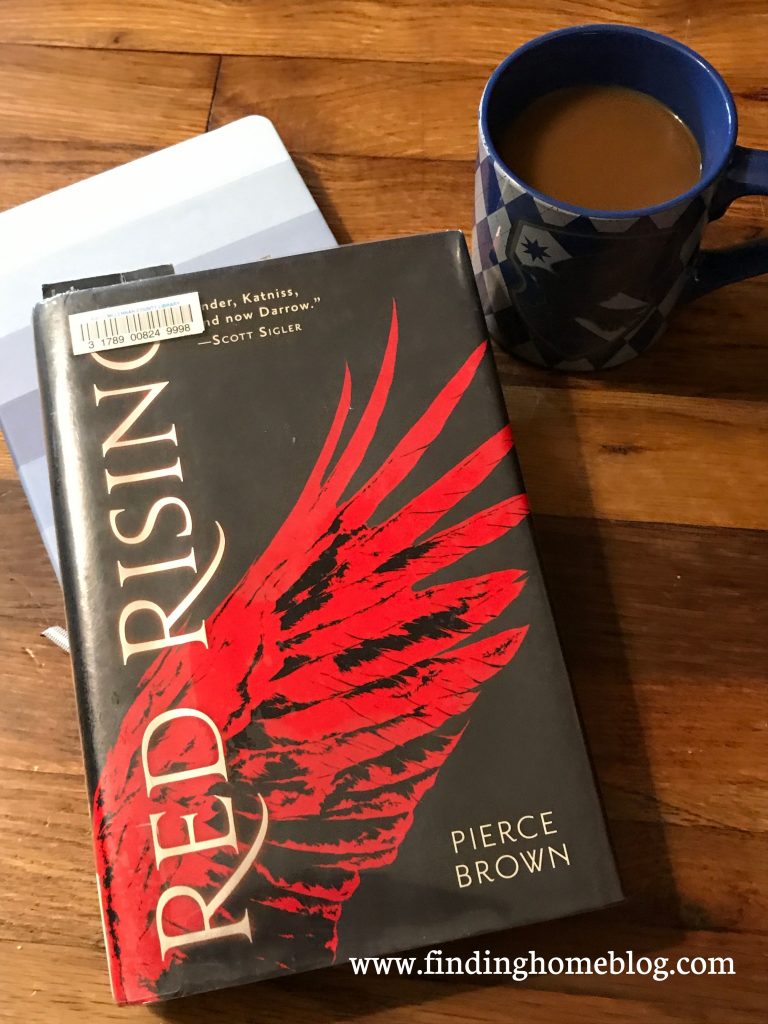 3:30pm. Snack is leftover gluten free pumpkin chocolate chip muffins. My favorite kind!
3:40-4:15pm. More cleaning in the kitchen. I tackle my dish strainer, microwave, and white board. Jesse gets home and we chat about the day.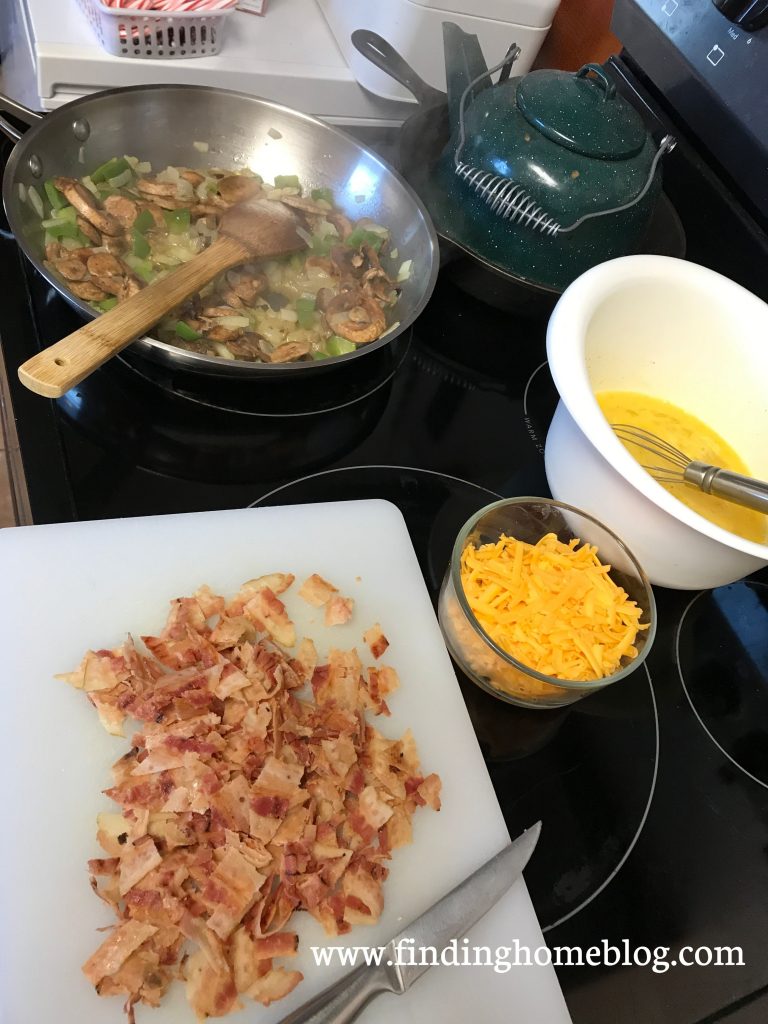 4:15-4:45pm: Dinner prep! It's the first try of a new recipe – tater tot breakfast casserole. I have Pandora playing my 90s music, and the kids are kind of crazy. They're wrapped up in blankets and chasing each other. I mostly ignore them because it's been raining the past 2 days and our yard is a giant mud puddle so they're stuck inside.
4:45-5:00pm. I do dishes. The kids are practicing piano and still causing mayhem. Jesse is hiding in the bedroom trying to read.
5:00-5:35pm. Waiting for dinner to bake and scrolling my phone. The kids are picking up the house.
5:35-5:55pm. Dinner is finally done! It took a little longer than I thought but it was worth it – it was delicious! I will definitely be making that again and sharing the recipe here. One child didn't like it because of the veggies, but 6 out of 7 is pretty good around here.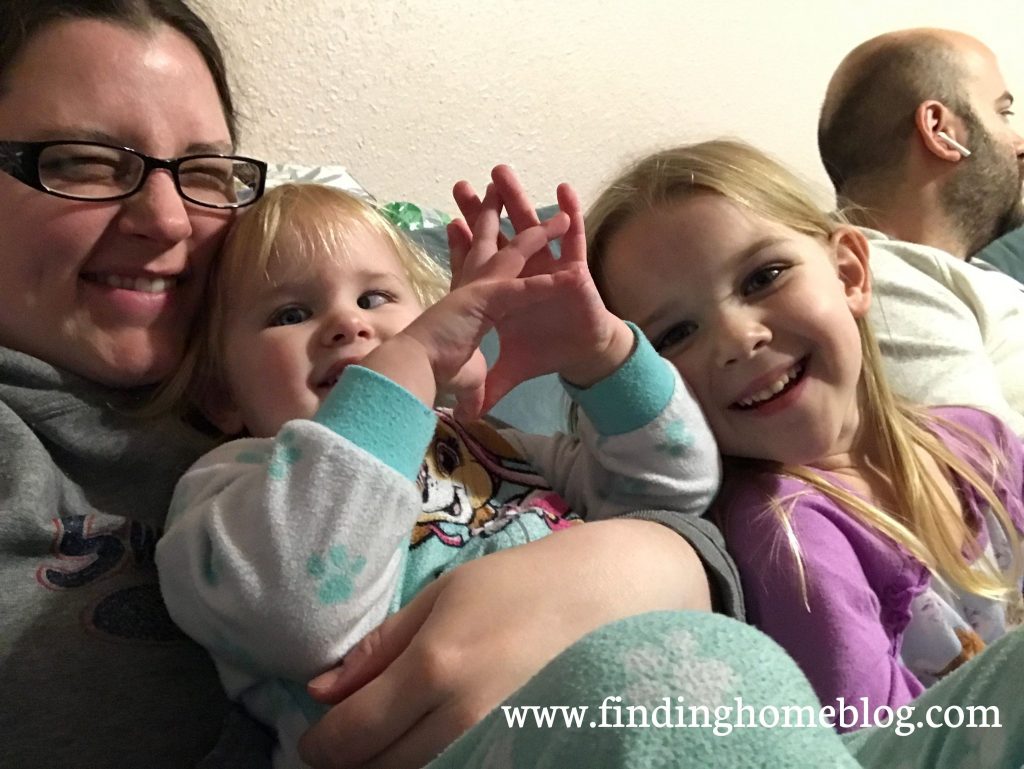 6:00-7:00pm. We hang out in the living room together. The kids all get pajamas on and get ready for bed. We have our family Bible reading time and prayers.
7:00-9:30pm. The kids go to bed and Jesse and I veg out on the couch. We're watching through How I Met Your Mother again right now, so we make it through several episodes and then go to bed.
This was a pretty typical Thursday for us. Sometimes we leave the house and do coffeeschool instead, sometimes we don't. But our rhythms are pretty much the same.
It's always fun to compare with past Day in the Life posts: