Ah, September.  The time when I realize that I don't have a lot of free time any more, but I still really want to read and watch all the things.  And all the library holds are in. And all the fall tv shows are back.  And…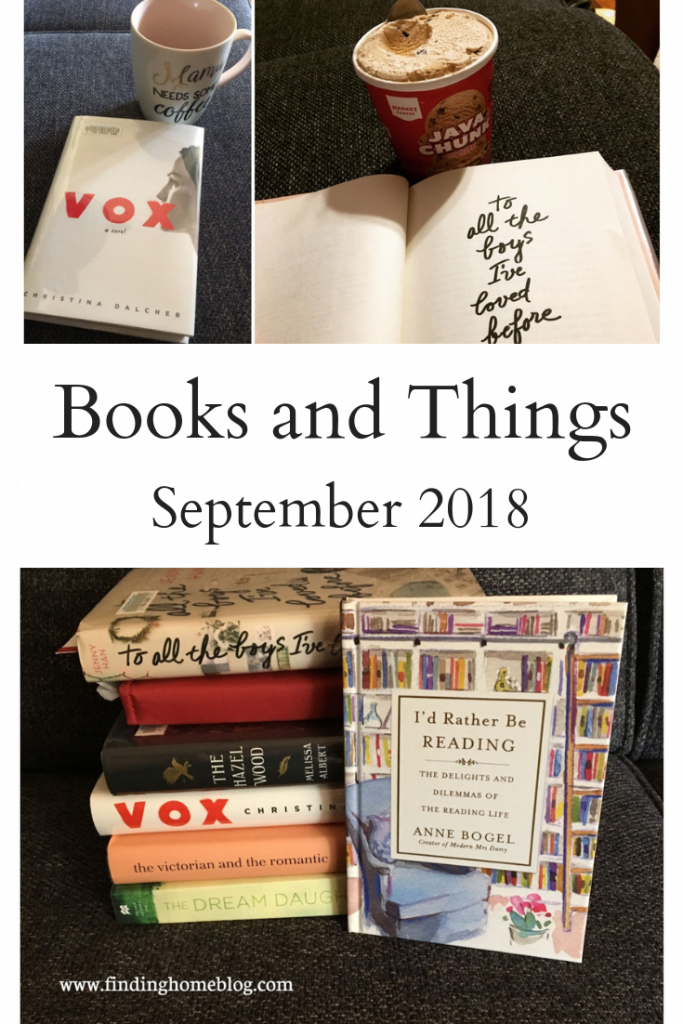 Books
Big Little Lies by Liane Moriarty. I almost finished this one in time to include it in last month's review, but I fell about 50 pages short. So here it is!  I had read one of Liane Moriarty's books before (this one), and while I liked the writing style, I wasn't in love with the characters.
This time around, I enjoyed both the writing and the characters.  This was a fun, easy read, and it made me curious to see the tv adaptation. I'd have to either sign up for a free weeklong trial of HBO and watch all 7 episodes, or pay for it. Neither of those is happening right now, but I probably will eventually watch it.  Because I knew of the tv show, I totally pictured Shailene Woodley as Jane the whole time I was reading it. I like her as an actress, so that was fun.
Now if only my library system would get more of Liane Moriarty's books!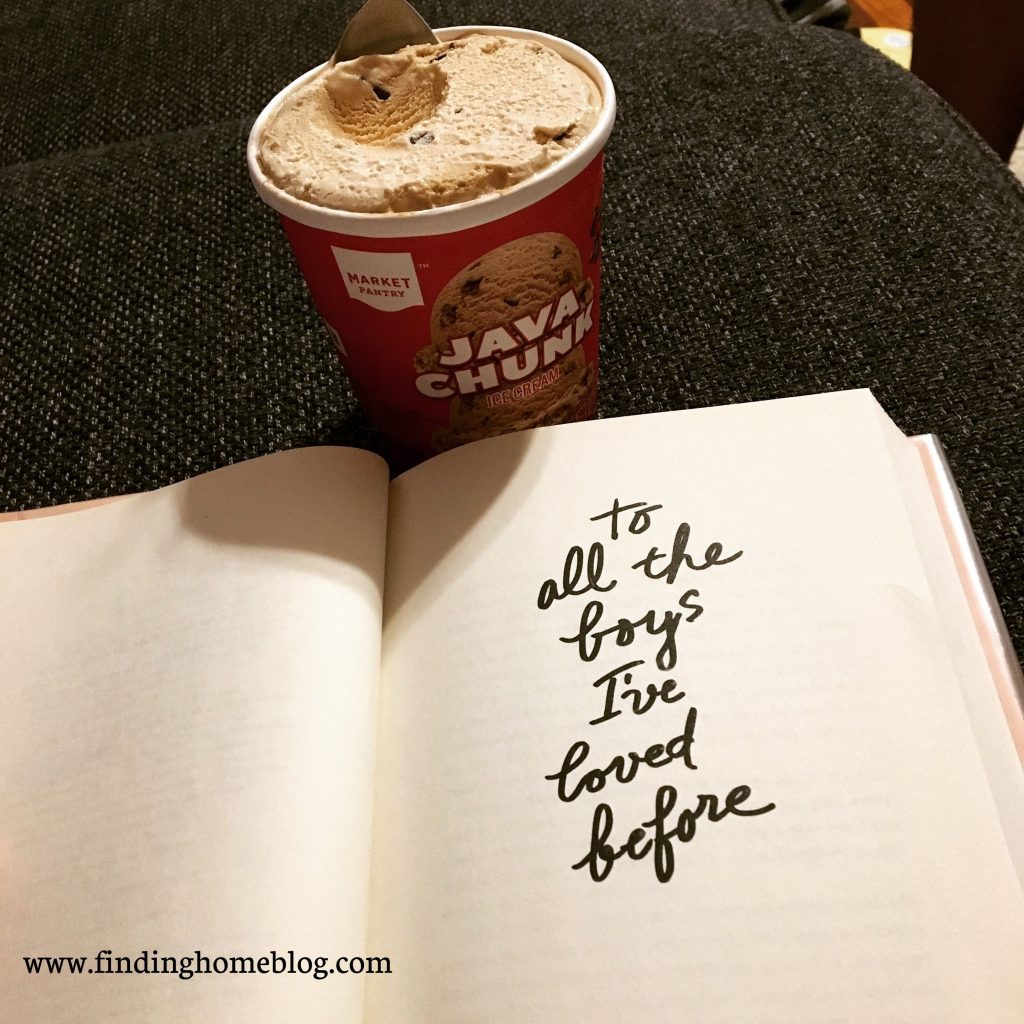 To All The Boys I've Loved Before by Jenny Han. I requested this at the library after it kept popping up due to the Netflix movie. It was a really cute little read, and it reminded me of all the big feelings you have during high school. I requested the next one from the library right away, even though I had a stack a mile high of other requests that had all come in at the same time.  It wasn't necessarily anything overly special, but it was fun to read, and I liked the characters enough to want to see where their story goes next.
I'm on a kick of reading books that have been made into movies/tv shows lately. I really like seeing how they're portrayed in the different formats.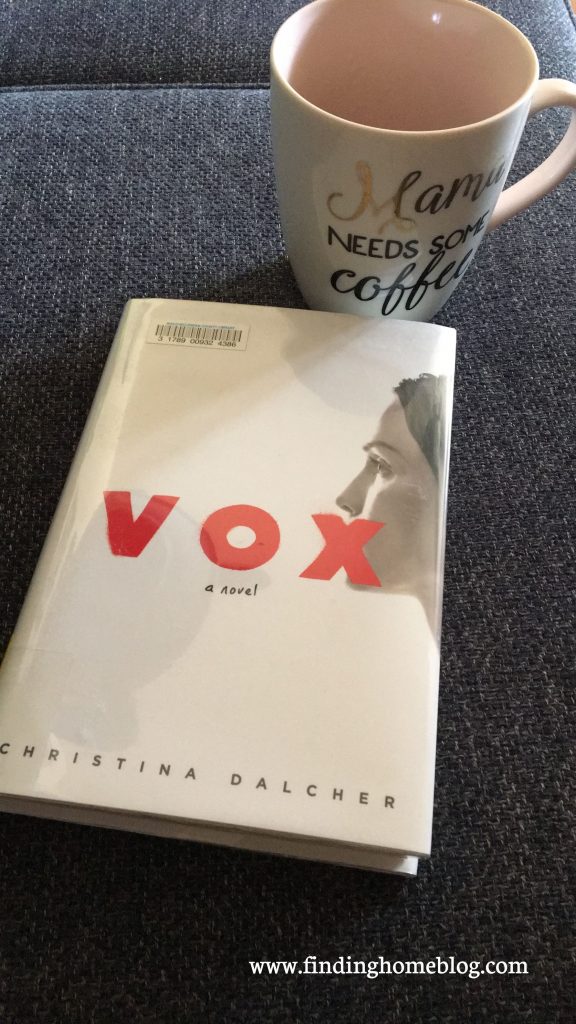 Vox by Christina Dalcher. I got this one from the library, and I was really excited to read it because I was intrigued by the idea of a dystopian world where women were limited to only 100 words a day, and what that would look like.  And guys, it was super creepy.
The way Dalcher portrayed this as coming about, starting out with seemingly innocent suggestions from things like a high school class and the subtle distribution of rhetoric that led to ultimately silencing half the population? I could see it happening. And that's the kind of taking-realism-six-steps-further writing that I love. Very reminiscent of Margaret Atwood.
Also like Margaret Atwood? You'll probably either really like or really dislike this book.  Whatever your political leanings (because this book is not scared of being political), it will make you think.
The only thing I didn't like about this one was that the ending felt very rushed.  The writing in the first couple hundred pages was deliberate, drawing out certain situations and details for suspense, and the pacing felt just right. And then the last fifty pages felt like she needed to quick wrap everything up. It's a sign of a good book that I'd like more details and descriptions because I don't want it to be over yet.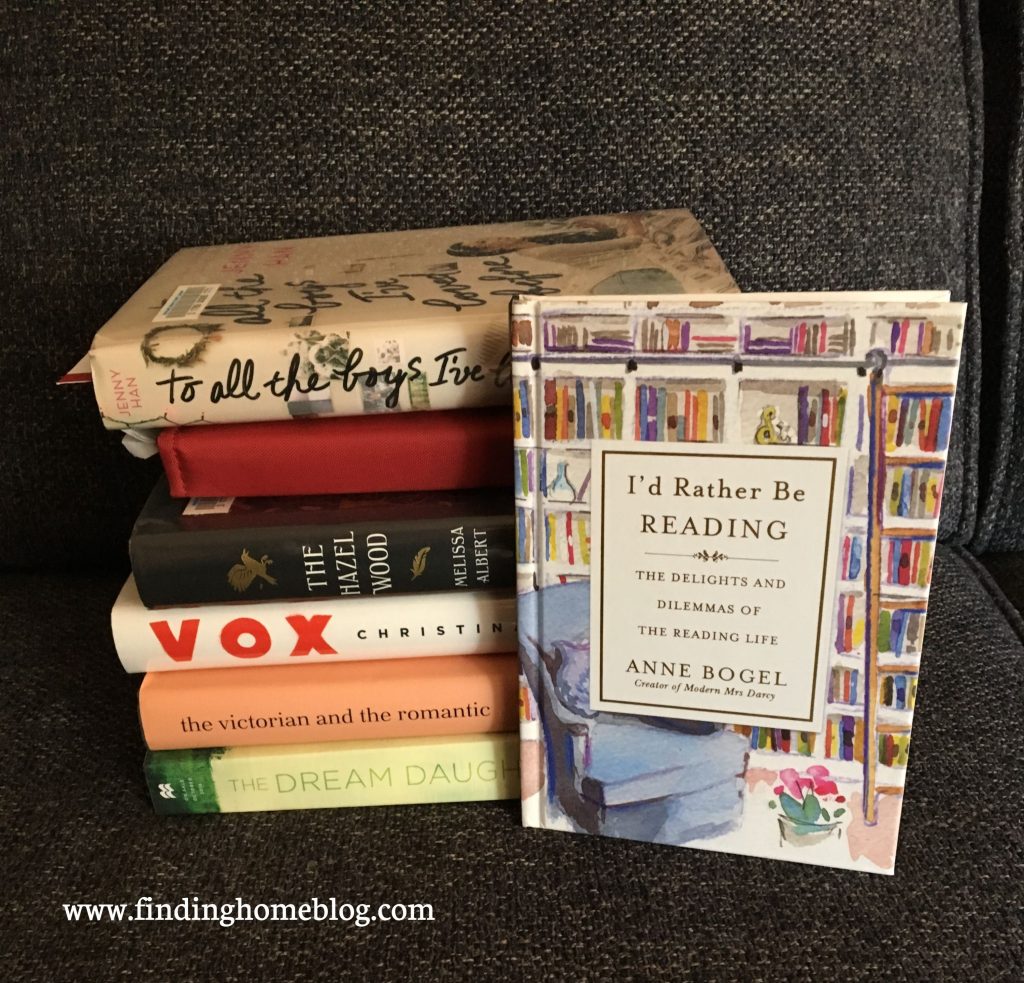 And I was ambitious about my reading for the month when I took this picture mid-September.  I have lots of books on my immediate TBR pile right now.  That's not a problem. What is a problem is that I can't stop myself from requesting more from the library even though I have all these.  #facepalm #sorrynotsorry
TV Entertainment
Anyways.  Fall tv shows also started up again.  I currently watch these:
The Big Bang Theory (last season this year! I'm interested to see what drama they drum up that can be interesting but still get wrapped up by spring)
NCIS and NCIS:LA (Jesse and I enjoy watching these together, although neither of us was that into the New Orleans version)
This Is Us (Because I love a good cry each week…ha!)
And there's a few new shows that have caught my eye too:
New Amsterdam (I like medical dramas, and this one looks promising, although the first episode having the cliche ebola scare made me laugh. For real, all medical dramas do that episode, but not usually as the very first one.)
Manifest (It's from the Lost people, it's got Josh Dallas from Once Upon a Time, and I'm intrigued by the question of where the plane disappeared to for 5 years.)
A Million Little Things (If only because it's been promo-ed as "If you like This Is Us, you'll like this one".)
I have resigned myself to the fact that I will probably be behind on all of these, except for This Is Us, which I watch on Wednesday afternoons during resting time, because it's my favorite.
Podcasts
Normally this doesn't even make my list of entertainment, because I only listen to two shows, and I'm massively behind.  But. It's worth a mention that I discovered that I could listen to podcast episodes on my way to and from work, and at not-quite-double-speed, I'm getting through them fairly quickly.  I may even eventually catch up on my two shows and start listening to some of the ones on my list of "this sounds interesting" that I have in my phone.
Anyways. I thought I'd mention it in case anyone needs that lightbulb moment of knowing that you can listen to these in the car while you're driving. Because I hadn't thought of it before, and it's such a "duh" thing that makes my 12 minute drive to work more fun.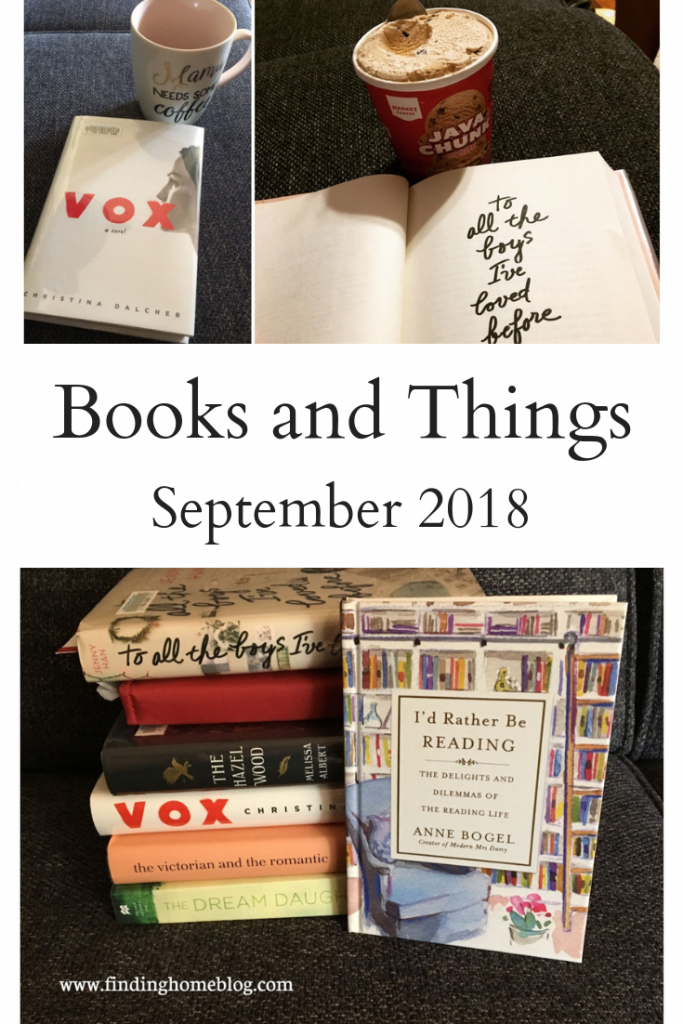 Are there any books or tv shows you're really excited about this fall?
Disclosure: Some of the links in this post are affiliate links. If you make a purchase through these links, I receive a bit of a commission at no additional charge to you.