May was a fun month for my reading life.  A friend handed me a book and told me she thought I would like it (and I did!), I read a book from my Year of Finishing book list that I've been meaning to read forever, and I grabbed a book from the local bookstore that was on my TBR.  I've got all sorts of nerdy goodness to talk about today.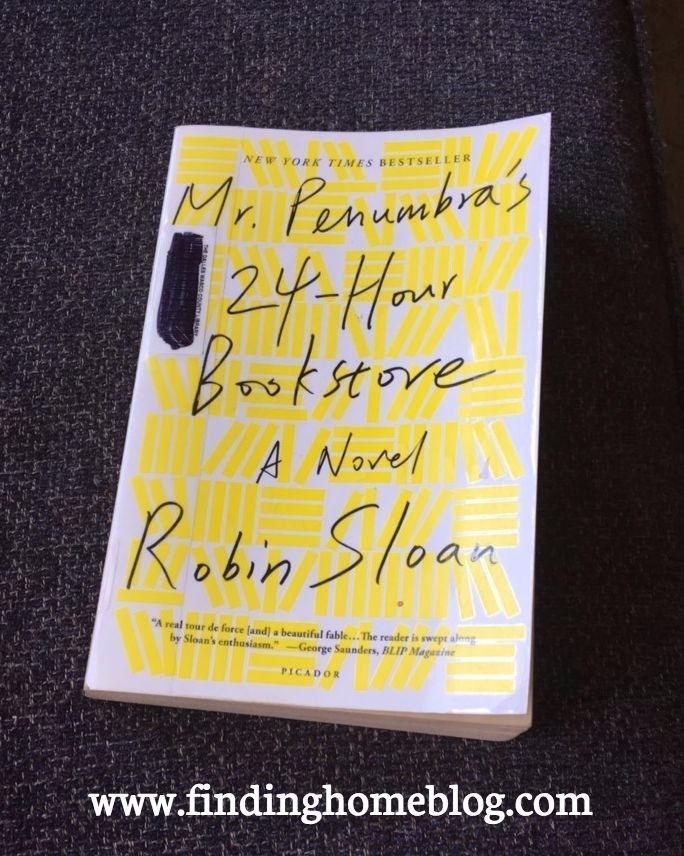 Mr. Penumbra's 24-Hour Bookstore by Robin Sloan.  I'd heard of this book in passing, but the descriptions online never really drew me in.  However, when someone hands you a copy of a book and says they think you'd like it, you read that book!  I always love getting book recommendations from friends, especially when we have similar taste in books.
I really like relatable characters in books, and I could totally relate to the main character Clay in this book, who has had some successes in a few jobs, but hasn't really figured out what he wants to do with his life yet.  And then there's Mr. Penumbra, who loves books and runs this bookstore that's not quite a normal bookstore.  Plus there's a slew of supporting characters who were really well thought out and added to the story, even if they only made brief appearances.
So this is where my nerdy side comes out.  I like puzzles.  I take sudoku books on planes.  I enjoy riddles.  I also always read the tech headlines to see what's going on in Silicon Valley because it's one of my pet interests, even though I'm far from tech-savvy.  I like to know what's up and coming, even if I'm years away from it being a part of my life.  So all of the Google references and the bits about the advertising for the bookshop and the mystery of what the bookstore actually is were just gold for me.
The whole story was a fun little trip into someone else's puzzle, and I thoroughly enjoyed it.  I think the only thing that would have made it more fun for me would be getting more into how the regulars were solving the puzzle of the bookstore, as opposed to how Clay and his friends did.  That felt like a bit of a missing piece.
But still, book love.  Tech love.  A little bit of a questing experience.  And a secret passage behind a bookshelf.  Yes please.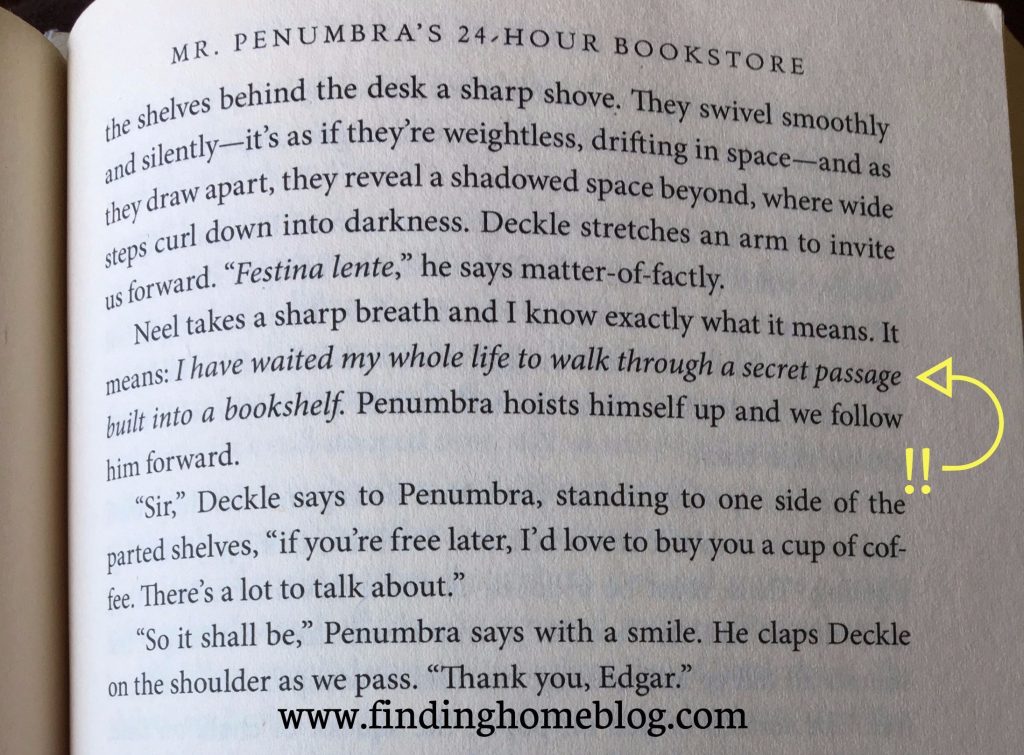 Ready Player One by Ernest Cline.  This one has been on my TBR for years, ever since it first came out and became hugely popular.  And yet I never made time for it.  That was silly of me.  I picked it up on a whim at the library, and I'm so glad I did!
This is easily my favorite book I've read this year.  I couldn't put it down, and I finished it in about a day and a half, which is saying something, considering I have 5 other people to pay attention to, and food to make, and housework to do, and I pretty much let the kids run wild while I read on the couch.  In all my history of doing laundry, I have never left a load in the washing machine so long that it needed to be rewashed, and there was a load in there for 2 days that I didn't realize was in there because I was reading.
I was born in the 80s, but I was not really a child of the 80s, because I was too young for most of the pop culture references.  So when I did actually know one, it was kind of a little treat for me.  Basically, if there was a 90s version of this book, I'd know a lot more.  Or at least I'd like to think I know a lot more.  My husband would probably laugh at me for saying that, because time and again he references something and I give him a blank stare because I have no idea what he's talking about.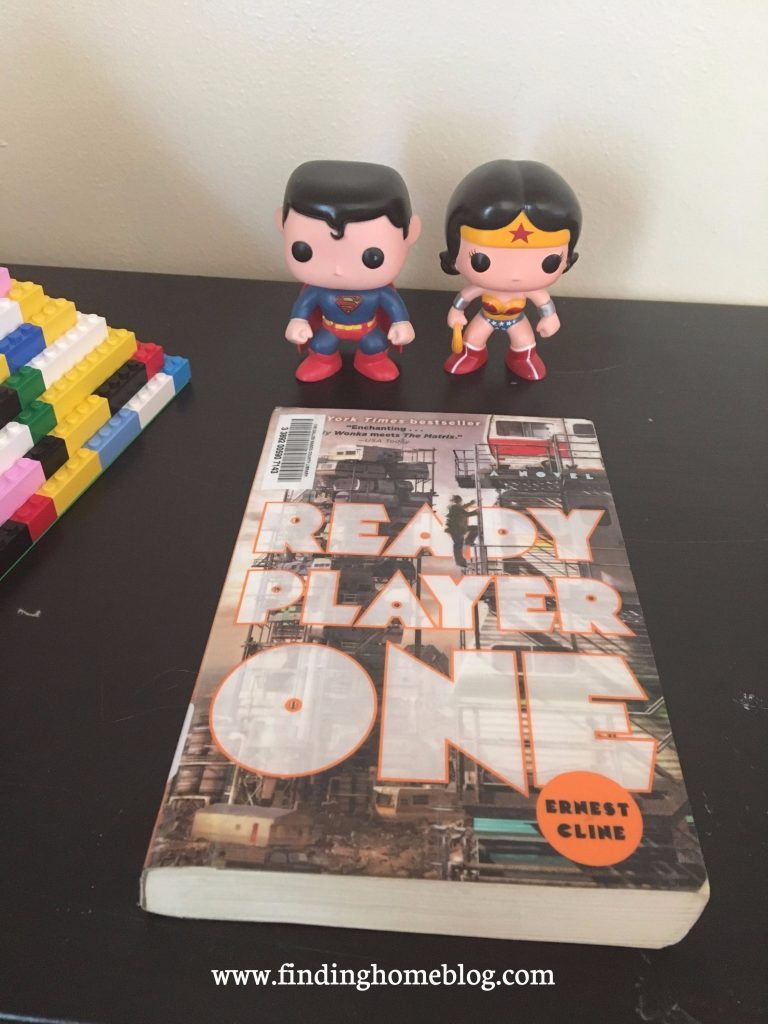 So. Wade is a loner, and that's putting it mildly.  He spends most of his time in the OASIS, a virtual reality of sorts that everyone can participate in.  One of the creators of OASIS has died, and he leaves his fortune to whoever can find the hidden Easter egg within OASIS.  The clues to find it are pretty vague, and there are plenty of people searching for it, but interest dies off after 5 years of no progress.  Until Wade figures out the first clue.
Again, I'm a nerd.  The idea of a fantasy world, going on quests, and figuring out puzzles is all something I can get behind.  The story moved along pretty quickly, and I loved the little group of characters that end up coming together.  They were totally believable and quirky and I saw the little twist about one of them coming, but I still enjoyed it.
This was a super fast read, and very un-put-down-able.  And I gave it 5 stars on Goodreads, which is a very rare rating for me, so you know it must have been good.  I save that for things like Harry Potter…
Eleanor by Jason Gurley.  I received this book from Blogging for Books in exchange for an honest review.  All opinions are my own.  I'm a fantasy fan, so the idea of something mystical and otherworldly in the description of this book intrigued me.  This is a story of one family over three generations, and at its core it's really a discussion of how one decision or action can change the course of not only your own life, but also the lives of those around you.
I mostly enjoyed the character development of Eleanor, the main character in the book.  She was strong in spite of all the really terrible things that happened to her, and that strength was tested throughout the book.  While I disliked some of the other characters, especially Eleanor's parents, I at least understood where they were coming from in their decisions, even if I didn't agree with them.
What threw me off a little bit was the abstractness of the rift.  A dream world with the same characters but different I can understand.  And I actually really enjoyed the scenes that took place there, because the details and the symbolism involved there was spectacular.  The rift was just a little bit too above my head.  I wanted to understand it, but it was murky.  That may have been intentional, but I just didn't enjoy it as much as the rest of the book.
Overall, this was a pretty good read.  Not spectacular, but an okay way to spend an afternoon.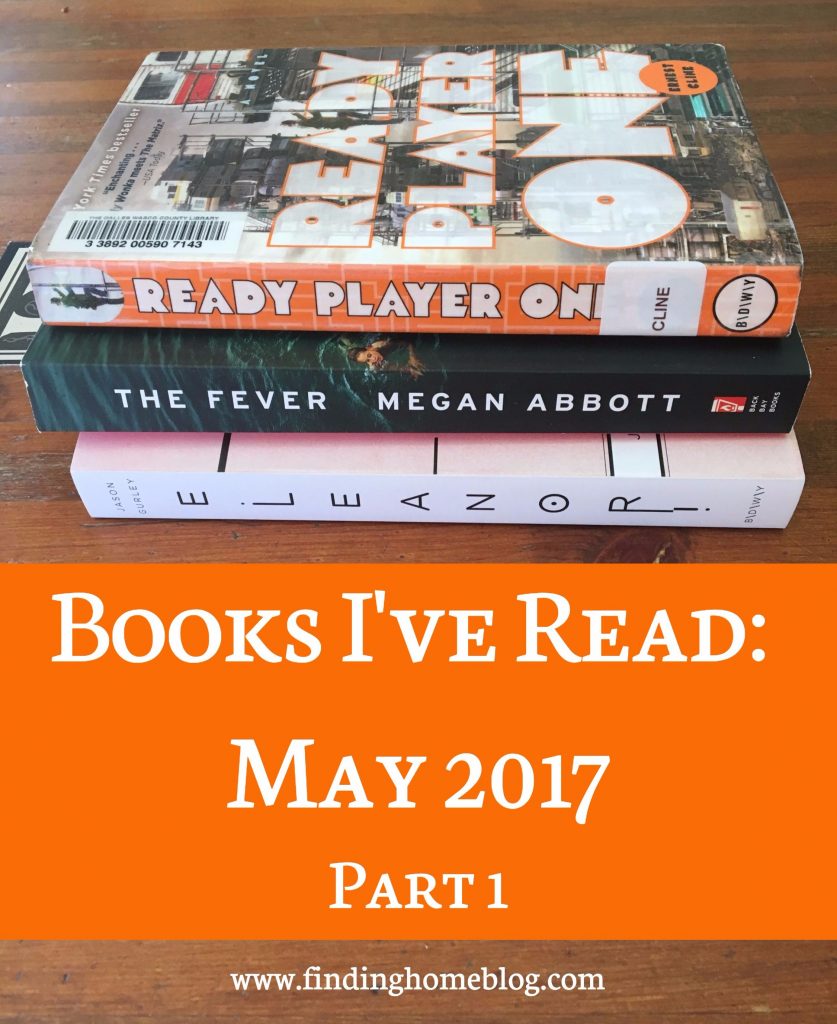 I read quite a few books this month compared to normal – so many that they don't all fit in one blog post!  And there's a reason for that.  But you'll have to come back on Thursday to find out!
Disclosure: Some of the links in this post are affiliate links.  If you make a purchase through these links, I receive a bit of a commission at no additional charge to you.  Thank you for your support!