Our evening routine is anything that happens between dinner and the kids' bedtime. We go through the same things pretty much every evening, which means we reset our house, we wind down, and we have family time.
It wasn't always calm. It still isn't always peaceful. But our kids know what to expect after dinner, and that makes a big difference in how the night goes.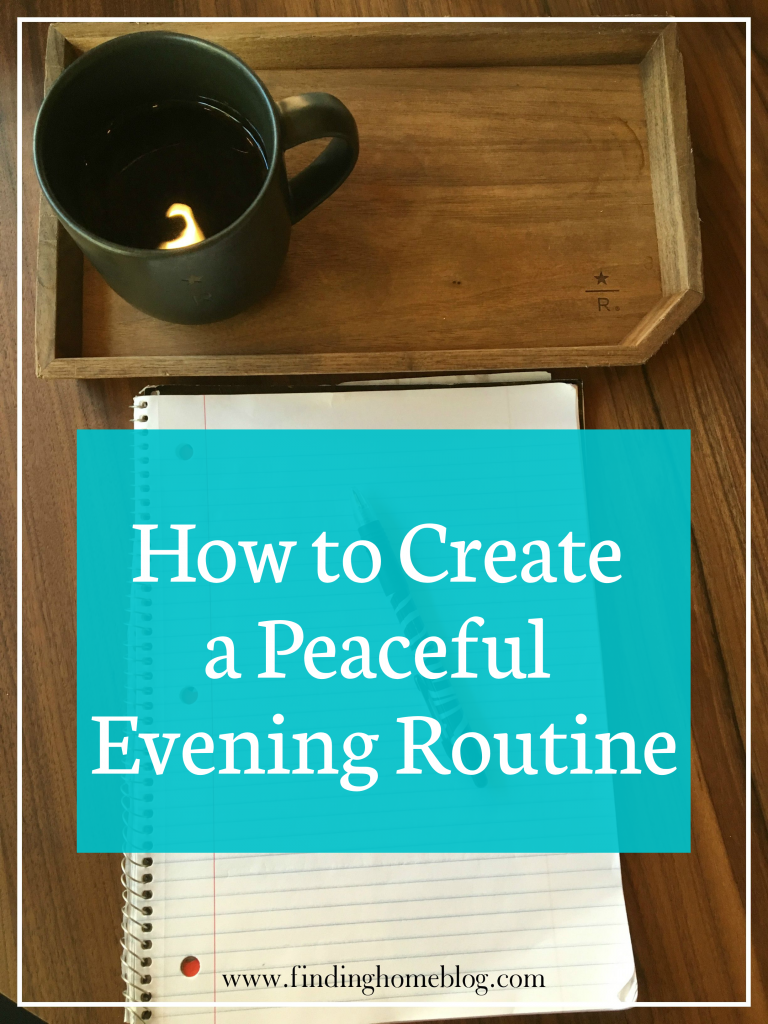 Here's what our evening routine includes.
After dinner, one of the kids is on dish duty. They rotate this chore, so they don't have to do it every day, but four of my five kids have now been trained to wash dishes. A different child is in charge of sweeping our kitchen and dining room.
While those kids are in the kitchen, the other kids are picking up toys around the house and tidying up. While we don't force our kids to keep their rooms spotless, we do have the family expectation that our common areas, like the living room, dining room, and entryway, are cleared of everyone's stuff by the end of the day.
Toys get put away, shoes are returned to their closets, craft supplies are stored on our shelf, and so on.
The kids all put pajamas on, brush teeth, and get ready for bed. We have Bible time as a family, and we almost always have time to read books or watch a tv show as a family before bed. Just like our morning routine, we have certain chores that we need to get done, but we also have things we enjoy.
After the kids go to bed, my husband and I can relax and spend time together in a clean house, and not have to scramble to get things cleaned up or ready for the day. We've all worked together to get things done, and then we can unwind.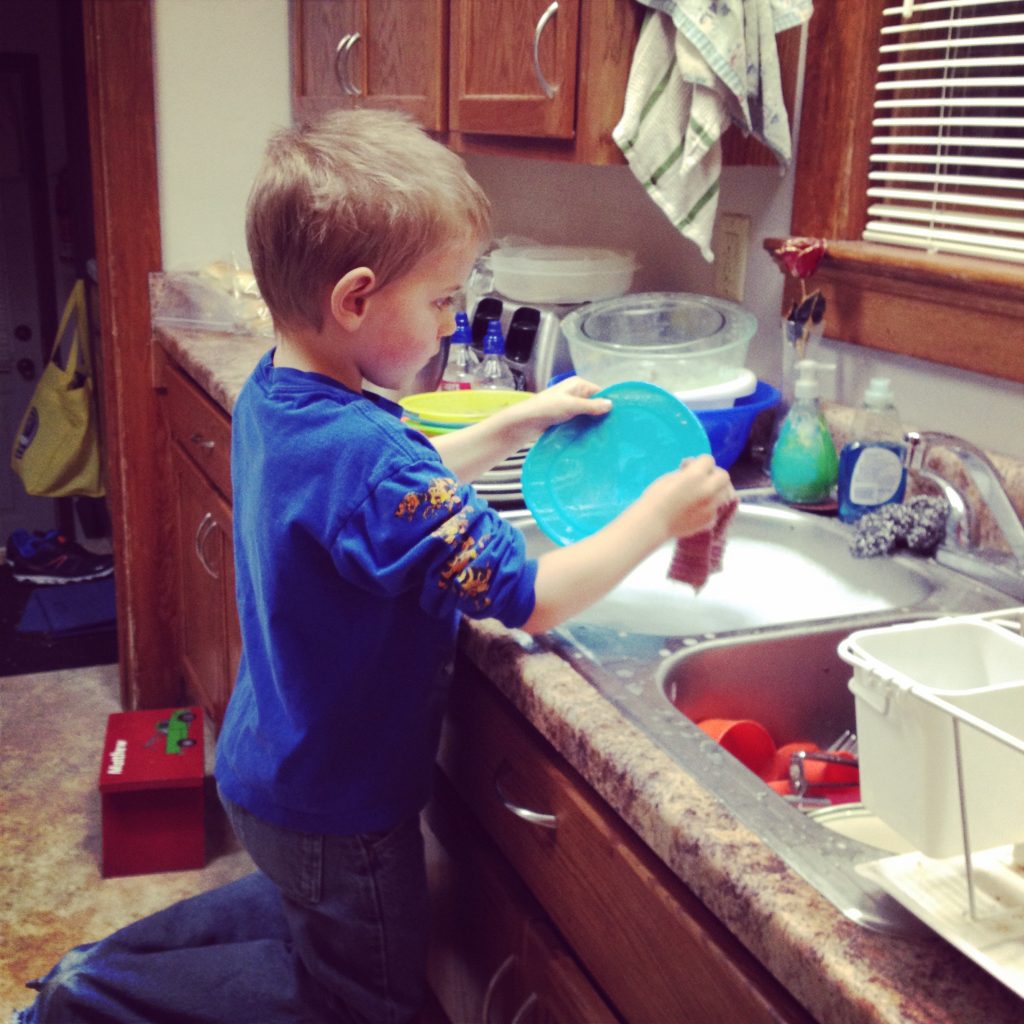 So what should your evening routine include?
How can you reset your house so that it's a peaceful place? How can you get things ready for the next day? What would your home ideally look like before you went to bed? And what thing(s) from your morning did you write down to do the night before?
How long do you typically have between dinner and when your kids go to bed? Just like with your morning routine, your evening routine needs to fit in the timeframe you actually have available.
First, what needs to happen at night with your kids? Do they need baths? Do you have to help them brush their teeth? Do they have a special lullaby that you sing to them? Chances are you already have a few things that you do regularly at night, but think about what needs to happen in order for everyone to be able to go to sleep.
What would make you feel calmer if it was done at the end of the day? When you look around your house, what is typically undone that can cause you stress? What would make your home a more peaceful place? If you wake up every morning and groan at the sight of dirty dishes all over the counter and piled in the sink, you might consider dishes as part of your evening routine. If kid toys in the living room bug you, have a family tidy up time.
Of the things you've listed so far, what can your kids or your spouse help with? What might you be able to teach them how to do, if they don't currently know how to do it? As we are always reminding our kids, they live here too, and that means they get some ownership of the responsibilities for the house too.
What is something you would enjoy as a family that you can include in your evening routine? I often play music while we're doing the kitchen cleanup, and we all like reading or watching a show together. What would make it fun? Most people don't necessarily love doing chores and cleaning up, but there are ways to make things better.
After thinking through the answers to these questions, you have a time frame. You know who can help with what tasks, and who needs some additional training. You have something fun included. If you need a place to write this out, I've got you covered!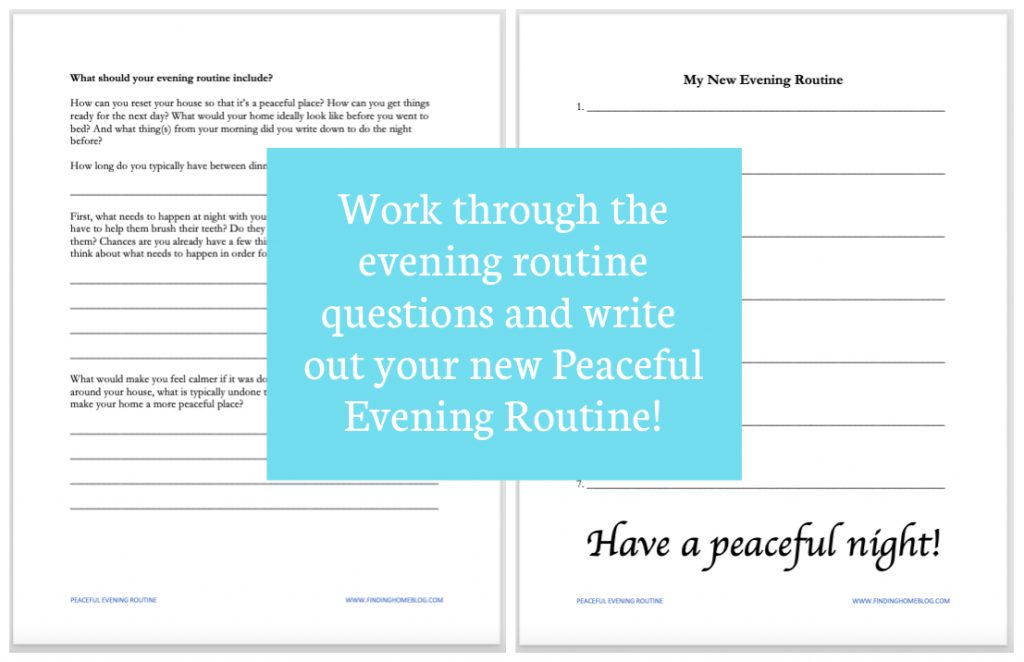 If you need a little help figuring out what to include in your evening routine, I've got a printable worksheet version of the steps in this blog post to help you walk through what needs to happen, what you want to include, and how to best do that with the time that you have. It's a quick 2 pages of questions, and then a page to write out your new routine!
To get that printable, you can head to the subscriber freebies page and enter the password. The subscriber freebies page is available to everyone on my email list, and the password is at the bottom of every email newsletter I send. If you're not on the list, you can sign up here to join, and you'll also get my 5 free muffins ebook!