The challenge this time was to create something from unexpected materials, with an interesting juxtaposition of two things you don't normally see together, or a hidden surprise. I didn't immediately have a project idea, but I did have a material idea: poker chips.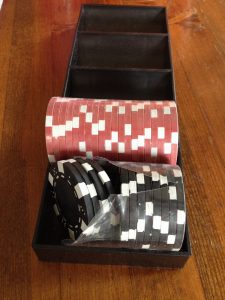 I had used about two thirds of a standard container of poker chips on these Wild Kratts creature power discs for the kids (still a hit, by the way). So I had a stack of them left. What could I make that would use some of them up, but wouldn't look like poker chips?
Of course I headed to Pinterest for some ideas. My search there was pretty evenly divided between things made with playing cards and dice for people who like poker, and jewelry made by mod-podging a pretty picture to a poker chip and hanging it on a necklace. Not completely what I was looking for. But then I found this one and I decided that would be perfect.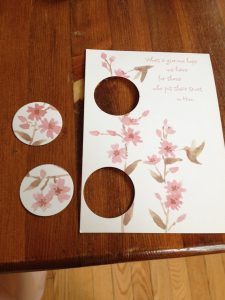 I punched some pretty flowers out of an old postcard.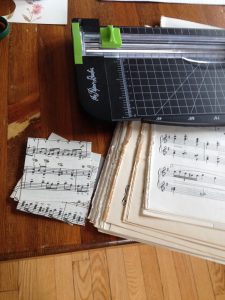 I sliced up a few squares from some sheet music.  I have a stack of this from some old magazines my mom had from the eighties.  I knew it would be perfect for crafting, so I saved it.  I'd much rather cut this up than actual music!
I folded the petals from the sheet music pieces.  It took 11 petals for each flower, and I made two of them.  Then I hot glued all of it together.  Here is your public service reminder that hot glue is really hot.  (Ask me how I know).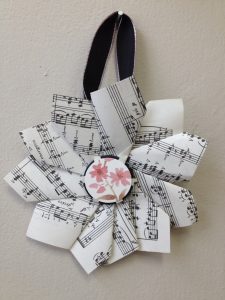 Yes, it's not anywhere near Christmas. But I've always said I needed to start my Christmas crafting earlier!  These were quick and easy to make, and I used up a bit of my random craft stash.