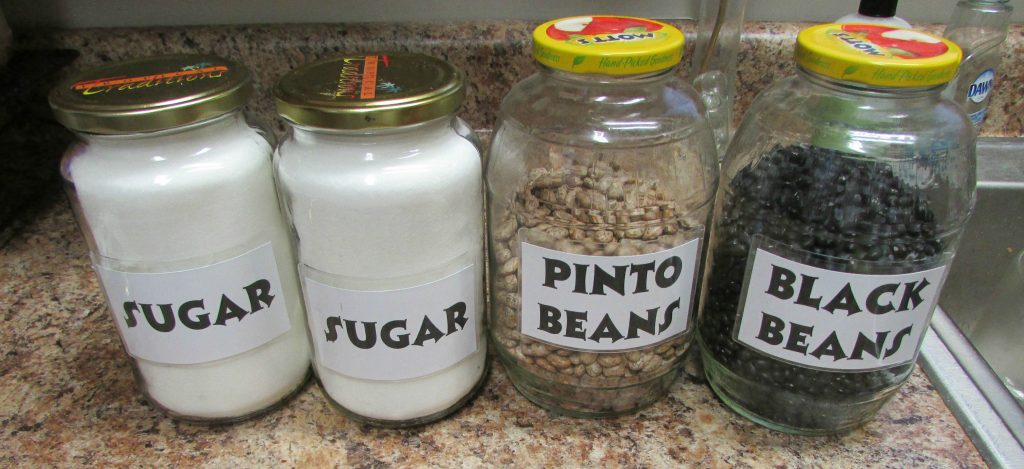 I love organizing.  When I have a block of time, and I have a drawer to go through, or some papers to file, or even some laundry to fold and put away, I enjoy the busywork of it.  Or at least I used to, before I had children.
Nowadays, it's more like a race to complete the project before little people want to help dump bins out or color on papers or pull all the cleanly folded clothes off the bed.  This is one of those areas of personal growth that parenting is working on me, and while I'm not as rigid as I used to be, I'm still quite a control freak about things.  I'm ever a work in progress.
This was a simple project, but it took me an entire day.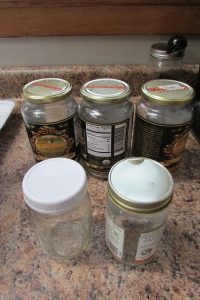 I've talked before about switching from plastic storage to glass, and one of the ways I do that is by reusing jars.  And some of my favorite jars are from Tropical Traditions Coconut Oil (one of the yummiest coconut oils I've tasted, by the way).  But it's kind of hard to see what's inside them.  And also, I use some jars for homemade broth, which leaves a bit of an odor.  Not bad, but not something you'd want to seep into sugar.  So I wanted a way to differentiate which jars were for which purpose.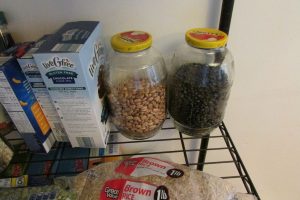 I'm all about using what I have, so I found a package of Avery Adhesive Pocket Labels in my label drawer.  (I won a gift basket of labels several years ago and I'm still using them up).  I followed the directions to print out several labels for my jars.  My plan is to keep the broth ones unlabeled, since those actually run through the dishwater when I'm done with them.  The dry goods just get rinsed out, so I'm not worried about the labels falling off.
And then I started using this trick to take the labels off.  Tiffany warns in that post that some labels are stubborn and might take extra long to soak.  These were definitely some of those.  And that's why this took me from right after breakfast until the kids went to bed.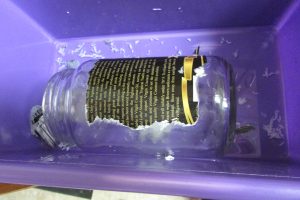 I had plans to do something to make the lids look nicer as well, but after spending so much time on the labels, I gave up.  I almost didn't post this either, because there's a little voice in the back of my head that says that I didn't actually do much.  But who says projects have to be complicated to be effective?  I like how the jars look all nicely labeled.  I still have a few more to soak and de-label.  But I'll save that for another day…
Disclosure: Some of the links in this post are affiliate links.  If you make a purchase through these links, I receive a bit of a commission at no additional charge to you.  Thank you for your support!