Growing up, I can always remember eating delicious treats from both of my grandmas' kitchens.  This is probably the best chocolate chip cookie recipe I've ever had. Seriously delicious.
1/2 cup butter (you can also do half applesauce and half butter)
1/2 cup sugar
1/3 cup brown sugar, packed
1/2 cup peanut butter
1 egg
1 tsp. vanilla
1/2 cup rolled oats
1 cup flour
1 tsp. baking soda
1/4 tsp. salt
1 cup chocolate chips
Directions:
Combine sugars, butter, and peanut butter. Add vanilla and egg. Mix in oats, flour, baking soda, and salt. Add in chocolate chips. Drop by tablespoonfuls onto cookie sheets. Bake at 350°F for 10-12 minutes. The recipe makes 2 dozen, give or take a few. I always double the recipe. Try not to eat them all in one day.
In the time it took to type up this post, I may or may not have eaten that plate of cookies pictured above…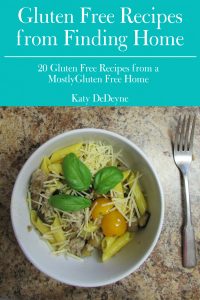 Want more yummy recipes?  Sign up below to get your copy of Gluten Free Recipes From Finding Home: 20 Gluten Free Recipes From A Mostly Gluten Free Home.