It was the best eggplant I'd ever tasted.  We were sitting in a small cafe, eating our first meal in Paris.  We had been awake for nearly twenty-four hours, and we couldn't check into our hotel until later that afternoon.  We ordered the eggplant lasagna.  The first bite was melt-in-your-mouth buttery delicious.  Jesse says that my memory might be a bit off because I was so sleep deprived.  He doesn't even remember ordering or eating anything with eggplant.  But the flavors stuck with me.
I've been trying to replicate that taste ever since that trip.  And what could be a higher compliment to a meal than that?  This wasn't Paris cafe good, but it was delicious.
First things first.  Preheat the oven to 375°F.  Chop your eggplant into little pieces and liberally toss with a few tablespoons of olive oil.  This is the part that makes the eggplant delicious.  Roast in the oven for 25-30 minutes, stirring once at about 20 minutes in.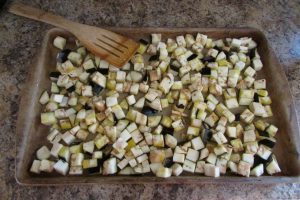 While the eggplant is roasting, cook 12 oz. of pasta according to the package directions.  We use the live Gfree brand from Aldi, and they come in 16 oz. packages.  So my secret is that I measure 4 oz. into a jar with our handy kitchen scale.  We buy 3 bags, but we get 4 meals.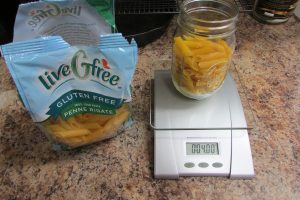 As your pasta is cooking, get out a big skillet and cook your sausage.  I used a full pound this time, but 12 oz. works just as well.  (Like with the pasta, save the extra 4 oz. and you'll have a "free" meal later on)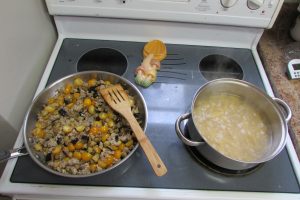 Once the sausage is cooked, the eggplant is done roasting, and the pasta is al dente, add a pint of cherry or grape tomatoes.  I cut them in half because it's easier for the kids to eat, but you could throw them in whole.  Jonah has asked me to buy the yellow tomatoes the past three trips to the store, because they had free samples one day and he liked them.  This week they were on sale at Aldi, so yellow it was!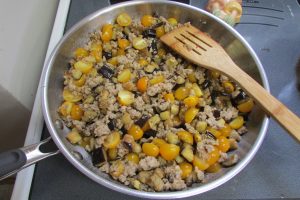 You don't want to add the tomatoes until everything else is done, because otherwise they'll cook down and fall apart.  Add the tomatoes, add the eggplant, and stir to combine the flavors.  Drain your pasta, but splash about 1/2 cup of the cooking water onto the sausage mixture first.  Then add the drained pasta as well, and mix it all together.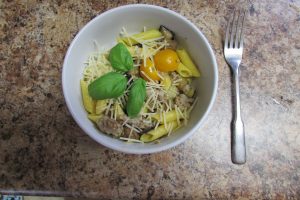 Garnish as you choose (there's whole list of options below).  I chose Parmesan and basil for mine.  I've managed to not kill my basil or parsley plants for almost a whole year now, which means they're pretty hearty herbs to have on your kitchen counter.  I love adding a few leaves of fresh herbs to my pasta!
Ingredients:
1 eggplant (about 1 lb.), cut into small pieces
2 Tbsp. olive oil
12-16 oz. sausage
1 pint cherry or grape tomatoes, halved
12 oz. pasta (I used gluten-free penne)
Directions:
Preheat oven to 375°F.  Chop eggplant into small pieces and liberally toss with olive oil.  Roast in a single layer for 25-30 minutes.
While eggplant is roasting, brown sausage in a large skillet, until cooked through.  Cook pasta according to package directions.  Once everything else is ready, add tomatoes to skillet with sausage.  Add roasted eggplant as well, and stir to combine.  Once pasta is al dente, drain, reserving about half a cup of the cooking water.  Add pasta and cooking water to the skillet with everything else and remove from heat.
Optional Garnishes:
Fresh basil
Fresh parsley
Parmesan cheese
Feta cheese
Kalamata olives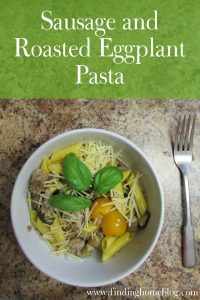 This recipe might not quite be Paris, but it sure is tasty!
Disclosure: The links in this post are affiliate links.  If you make a purchase through these links, I make a bit of a commission at no additional cost to you.  Thank you for your support!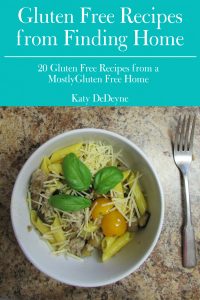 Want more yummy recipes?  Sign up below to get your copy of Gluten Free Recipes From Finding Home: 20 Gluten Free Recipes From A Mostly Gluten Free Home.