I like squash.  I like bacon.  And I like a little bit of sweet with my savory.  So this recipe was a natural combination of all of those.  And the fact that we have oodles of pears.  But really? This is just easy and yummy.
Also, totally a side note, but this works for breakfast, or for dinner, or if you're Whole 30-ing but want something that you can eat with or without eggs.  Because I totally get if you're on day 19 and you're sick of eggs.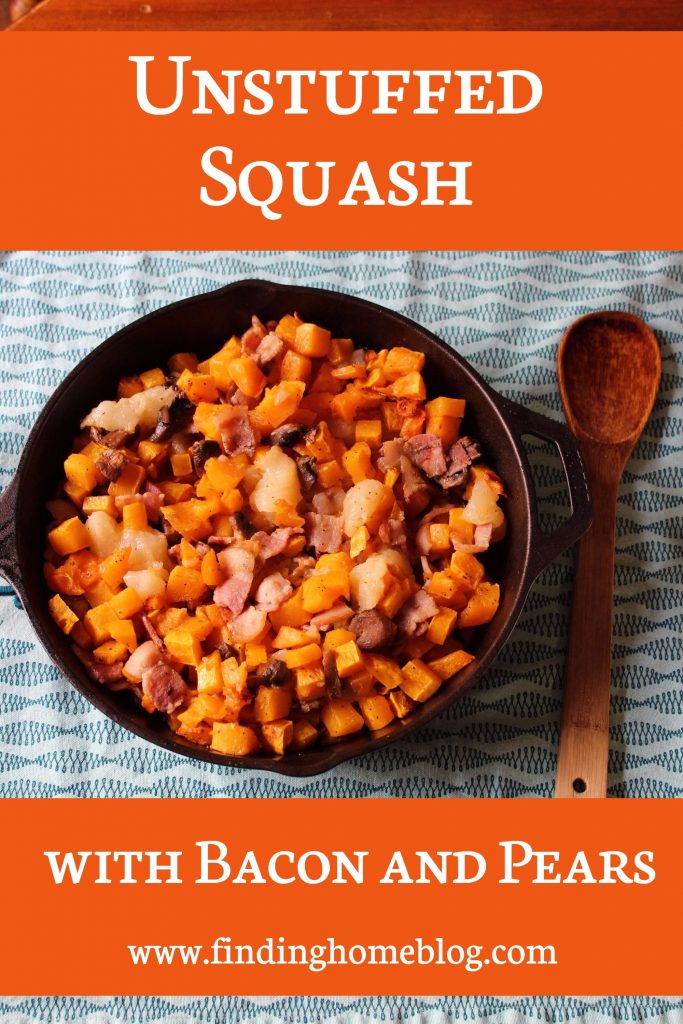 Unstuffed Squash with Bacon and Pears
Makes 4 servings
Ingredients:
1 butternut squash, peeled and cubed (2.5-3 pounds is a good size)
2 Tbsp. coconut oil, melted
salt and pepper
8 oz. bacon, chopped into small pieces
8 oz. mushrooms, chopped
1-2 pears, chopped (or 1 can of pears in juice, drained and chopped)
Directions:
Preheat oven to 375ºF. Chop squash and toss with coconut oil.  Spread onto a large baking sheet (this one is my favorite) and sprinkle with salt and pepper.  Roast for 45 minutes, stirring halfway through.
Meanwhile, chop bacon and mushrooms.  Cook bacon in large skillet over medium heat until nearly to your desired crispiness.  Add mushrooms and cook for 4-5 more minutes.  Add pears and cook until heated through.  I usually start cooking the bacon after stirring the squash at the halfway point and everything gets done around the same time.
Add cooked squash and stir to combine.  Serve as is, or top with a fried egg or two.
This is just such a yummy, easy, hearty meal.  My not-quite-eight-year-old was a bit hesitant about all the squash, but once he tasted it, he told me it was "actually pretty good, Mom." I agree.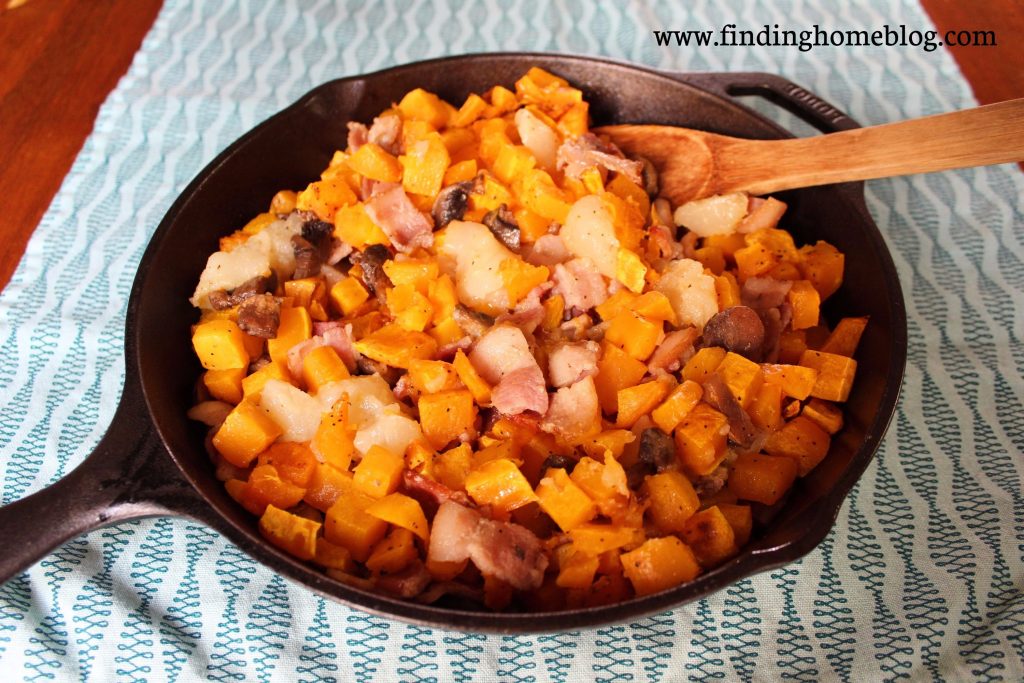 Disclosure: Some of the links in this post are affiliate links.  If you make a purchase through these links, I receive a bit of a commission at no additional charge to you. Thank you for your support!