For a long time, I resisted getting an Instant Pot.  I had several reasons. I didn't want to spend the money.  I didn't see the need for another kitchen appliance.  I didn't want to learn something new.  I hate buying things just because they are trendy. And then, I got one for Christmas anyways.  And guess what?
I actually like the thing.
My biggest reason for not wanting an Instant Pot was that I didn't see the point.  I have a crockpot, which I still love, even after the most recent episode of This Is Us.  I can cook up many recipes fairly quickly, and I always thought the "cook this thing in your Instant Pot in 5 minutes!" recipes were misleading anyways, because they don't account for the time it takes to get up to pressure.
But here's the thing.  I think the crockpot and the Instant Pot both have their place in the kitchen.  Sometimes I have more time in the morning to get things ready.  Crockpot it is.  Sometimes I need something more quickly.  Instant Pot.  Sometimes I like the bigger capacity of the Instant Pot – I can easily get 10-12 cups of vegetable broth as opposed to the 8-9 I get from my crockpot, in less time. Sometimes I have time, and it's nice to have multiple options.
Bottom line: I have both, and I use both.
I was worried it would be hard to use. I've heard many stories of people buying an Instant Pot, and then it sitting in the box for months because they didn't know what to do with it.  Mine actually did sit unopened for the better part of a week because of that feeling of not knowing what to do with it.
But finally, I opened the box and tried it out.  Yes, there are several steps involved in each recipe.  Yes, there are a lot of buttons.  But just like learning anything new, if you take it one step at a time, it's not that hard.
Check the seal and put the lid on.
Make sure the knob is pointing to "seal" and not "vent".
Press the buttons for what you want to make. Most recipes will tell you what to push, and the recipe guide that comes with it is very helpful too.
Know how full to fill it. This post has lots of helpful information.
Leave it alone for awhile.  It takes anywhere from 10-30 minutes to heat up and pressurize, depending on what's in there and how full it is.
The cooking starts – this is the low cooking time everyone brags about. It beeps when it's done.
Pressure release time!  Use a potholder to move the knob from "seal" to "vent" right away (it will shoot off a lot of steam), or let it sit for 20 minutes or so (it might still shoot off a little steam).
And don't be intimidated by all the buttons! So far I've mainly used the Soup and the Manual functions, but I'm slowly experimenting with more.
Bottom line: If you take it one step at a time, it's not hard.  And just like anything else, the more you just jump in and do it, the easier it becomes.  Also, kids can do it. So you can too.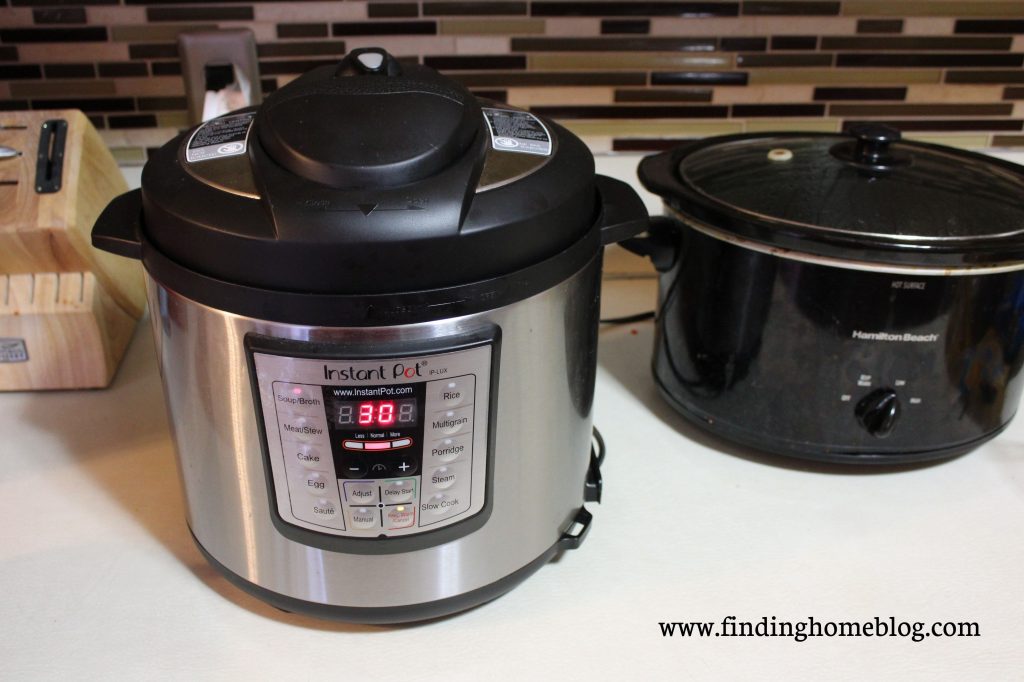 I don't like doing things just because they're popular. In fact, that usually makes me even more resistant to them.  Just ask my husband how long I had a flip phone after smartphones were pretty standard for everyone.
But generally, there's a reason things become popular.  And this is no different.
The Instant Pot is popular because it's quick and easy, and because it's versatile.  And my favorite?  It doesn't require baby-sitting like cooking on the stove.
Nearly every time I make rice on the stovetop, it boils over at some point because I forget to turn the heat down.  So far I've made it twice in the Instant Pot and it's turned out perfectly. Here's the method I used.
Bottom line: The Instant Pot is popular because it works well.
I didn't want to spend the money.  I have a really hard time spending money on things I see as extras.  (Except coffee.  I have no issues there.)  So even though I've seen plenty of reasonable deals on the Instant Pot, it still struck me as too expensive.
So I passed on buying it, over and over.
But here's the thing.  If it's going to save you time, that's worth something.  If it's going to be the difference between making food at home and eating prepackaged junk or going out to eat, that's worth even more.
I can't decide if it's worth the money for you, but I can tell you that I think it's worth the money for me, and I'm glad my husband is smart enough to just go buy things and ignore me sometimes. (This is the one we have.)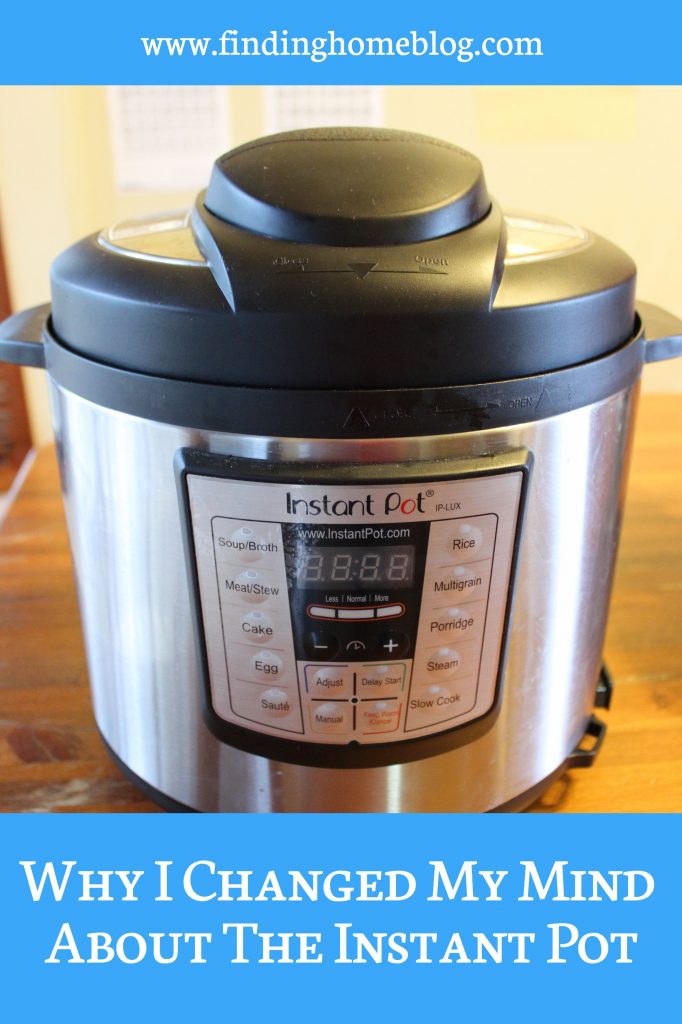 I like my Instant Pot.  I'm still a newbie, but I've been converted to the Instant Pot fan club.  I'd love to know – do you have an Instant Pot?  If not, why not?
Disclosure: Some of the links in this post are affiliate links.  If you make a purchase through these links, I receive a bit of a commission at no additional charge to you.