My last official day of work was March 25, 2011, just 3 days before my second child was born.  By then my back and my feet were killing me, and I was mostly just looking forward to being able to sit down for more than a few minutes of the day.
I didn't really know what staying home with my kids would look like, or how much I would love it.  And while I'll be the first to admit that the transition from working to being at home was a little bumpy, now I'm thriving in my role as a stay-at-home mom.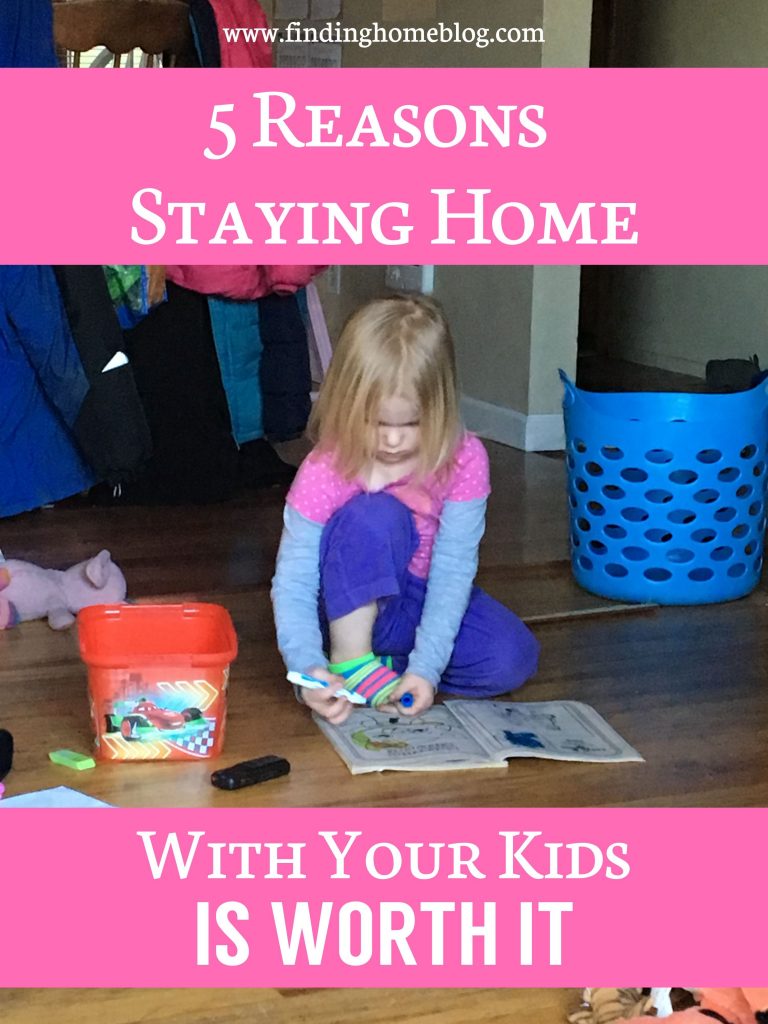 For me, there are 5 big perks to being a stay-at-home mom.
We have slow mornings.  I used to think of myself as a morning person.  There was a time when I would get up at 5:00am to go work as a barista, and I was completely fine with it.  I always signed up for the 8:00am classes in college because I enjoyed starting my day right away.
But as we've added more kids into the mix, and as I've had to deal with less sleep (or at least less consistent sleep), I've grown to appreciate that we don't have to rush out the door in the mornings to go to work, or school, or daycare drop-offs, or anything else.  Sometimes I don't get dressed until 9 or 10, and it's fine.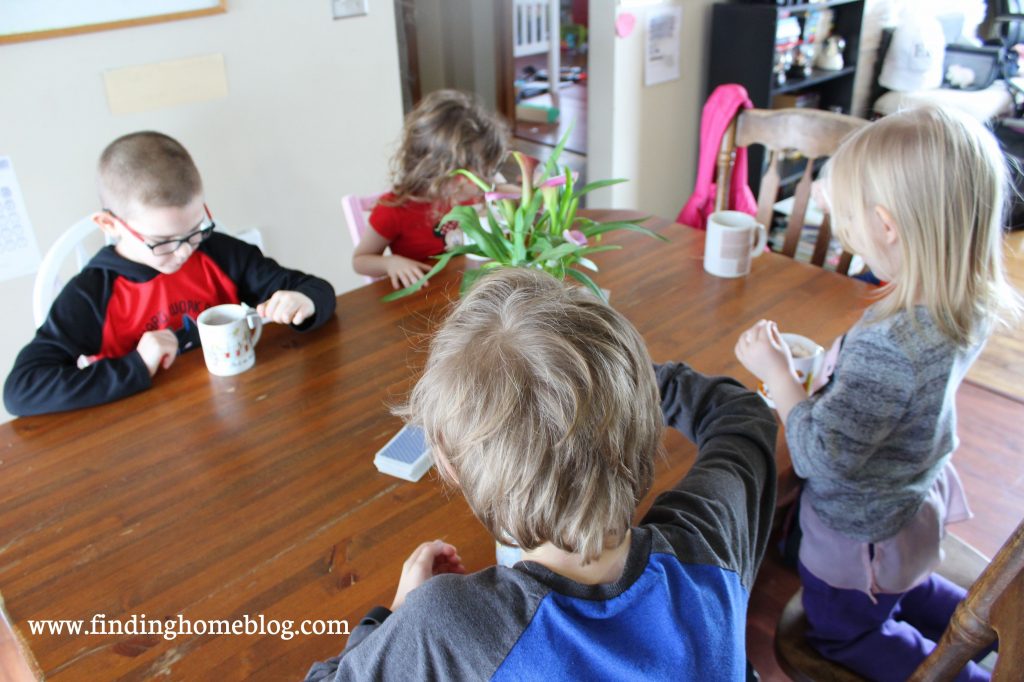 I can take care of the kids if they're sick, and I don't have to run around if I'm sick.  I don't know about you, but the last thing I want to do when I'm sick is drive people to where they need to be.  I don't want to use one of a limited number of days off stuck in bed, or cleaning up after someone else is ill.
And when my kids are sick, I certainly don't want to try to find someone else to take care of them, or scramble to get a shift covered.  Cozy blankets, tissues, and some extra tv solve most of my problems.  Sickness is enough to deal with without all the extra stress.
I can spend time finding creative ways to save money (and sometimes make money too!).  Yes, our income is smaller since I've started staying home, but we can still do quite a lot with the money that we have.  I used to run deals at the grocery stores and drugstores with coupons.  Now I've shifted to grocery apps and buying in bulk.  I've found all sorts of secondhand options for buying clothes.  I can take the time to sell things on Facebook garage sale sites or eBay.
While I don't have a ton of free time between caring for the kids and caring for the house, I'd have even less if I was working, and I certainly wouldn't want to spend it on all of these money-saving ventures – I'm pretty brain dead by the end of the day!  But because my stay-at-home schedule is a little more relaxed, I can include this in my day.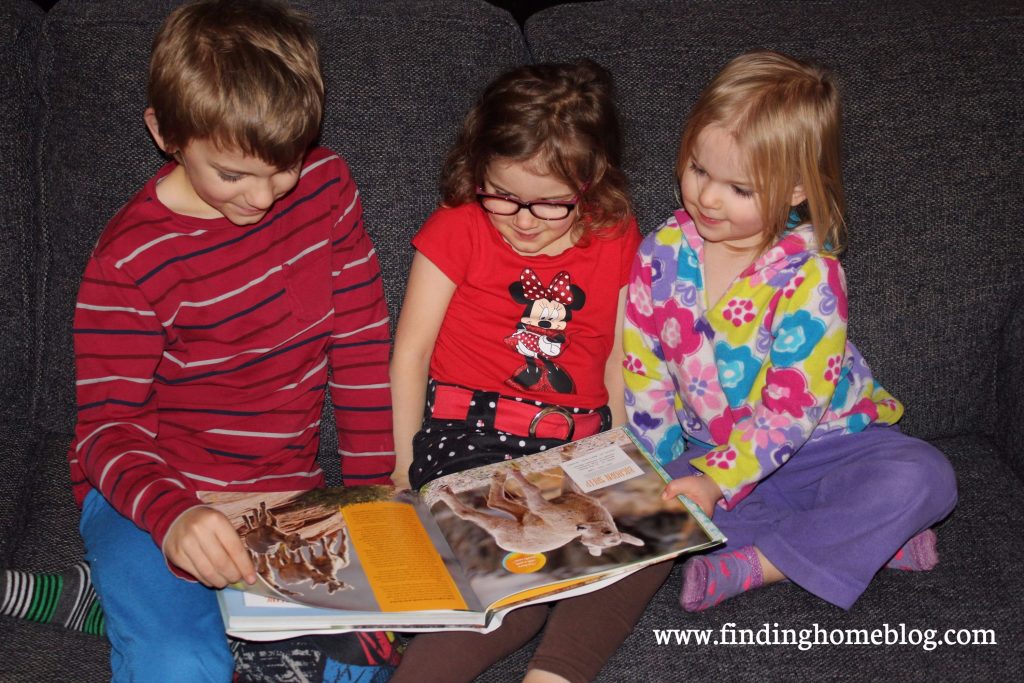 I can do fun things with my kids. I'm an introvert. If I was around people all day at work, making small talk at day care, and then trying to listen to everyone's stories from the day that I wasn't around them, I'd quickly retreat into my bedroom and never do anything extra.
But because I stay home, and because I build quiet times into our day, I can go do the fun things with my kids.  I have enough social stamina built up to take them to the library Lego building party, or the Easter egg hunt, or the park.
I'm present for the things I want to be present for. We homeschool our kids.  We have family outings on my husband's day off.  We do devotions, and church activities, and online art classes, and movie nights, and read books together.  And while we would still make time for some of those things if I weren't staying home, the reality is that there wouldn't be time for all of them.
This alone is worth everything when it comes to me staying home.  I get to be there for my kids' childhood.  For those special family moments with the ones I love.  I get to help them grow into the amazing people they're going to be.
Being a stay-at-home mom is not always easy.  It's not always fun.  But it is something I treasure.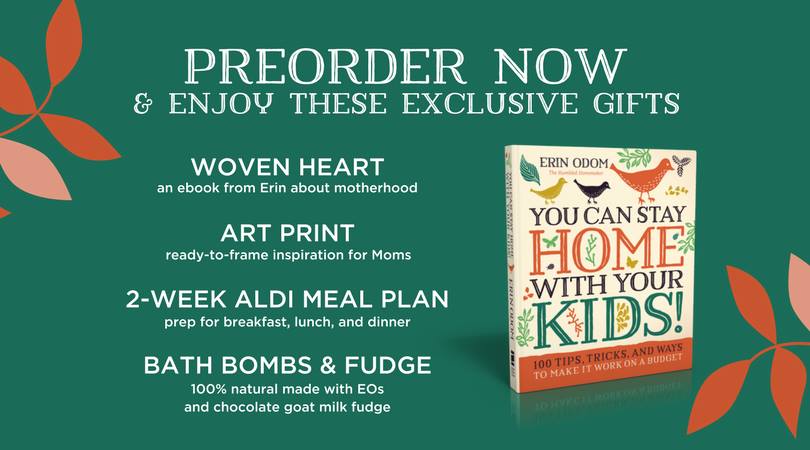 image from The Humbled Homemaker, used with permission
If you want to stay home with your kids, but you're not sure how you're going to make it work, You Can Stay Home With Your Kids is a great place to start.  This book is the friendly guide I could have used when I first started staying home with my kids.  Erin gives short, actionable tips on things you can do to save money while still living well. (Plus the book is just really pretty!)
While you could probably eventually figure out all of these things on your own, it's really helpful to get advice from someone who has been a stay-at-home mom for awhile now.  Having 100 different ideas in one place means that you'll probably find at least a few things you can do right away to help you save money! I've been staying home for 7 years and I still found new ideas.
If you order before the book releases on April 10, 2018, you can also claim some pretty awesome pre-order bonuses.  There's even fudge! Erin knows the way to my heart.  Order the book here, then head here to claim your bonuses.
You can also use your order number to enter this mega giveaway, with prizes worth over $1,000!  It's full of things a stay-at-home mom can use, plus some fun splurges.  I entered too, but if I don't win, I hope you do!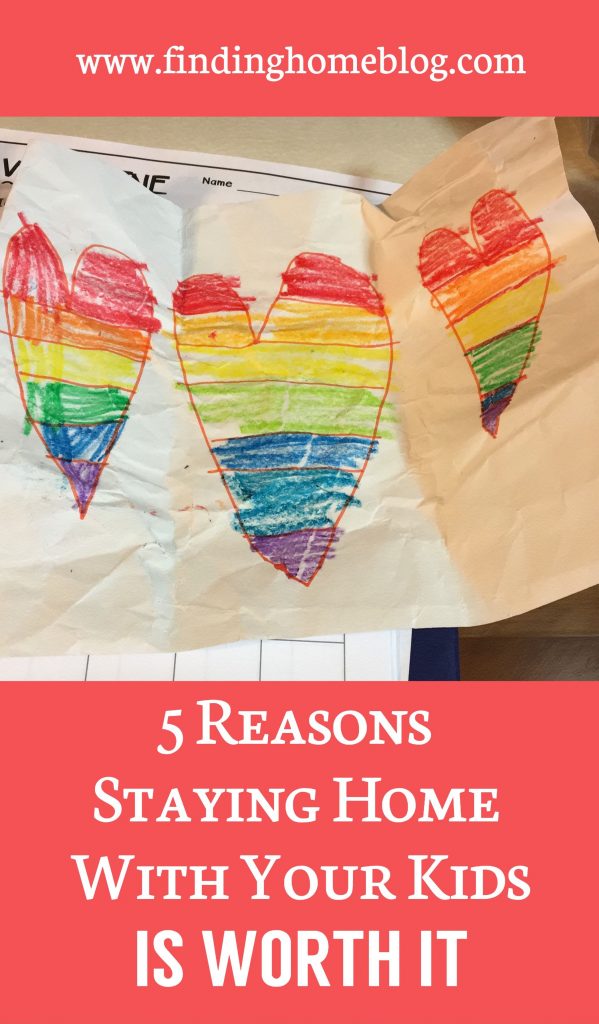 Disclosure: As a member of the launch team for You Can Stay Home With Your Kids, I received a free digital copy of the book.  However, all opinions are my own. I only promote products I truly use and love.
Some of the links in this post are affiliate links.  If you make a purchase through these links, I receive a bit of a commission at no additional charge to you.