It's time for another day in the life of our homeschool! This was last Tuesday. I had worked at Dunkin' the night before and didn't get to bed until late.
For those joining from Simple Homeschool, we are a family of 7. My husband Jesse is in his first year of a doctorate program, and our kids are Jonah (age 9), Matthew (age 7), Hannah (age 5), Elizabeth (age 4), and Sarah (age 1).
Somewhere around 5:30am: Sarah starts whining AGAIN. I pull her into our bed for the third time since my 11:30pm bedtime last night. Work went late last night and we need sleep!
6:45am ish: Jesse gets the big kids up (they've been awake for awhile). We're awake but still in bed. It's looking to be a sloooow start to the day.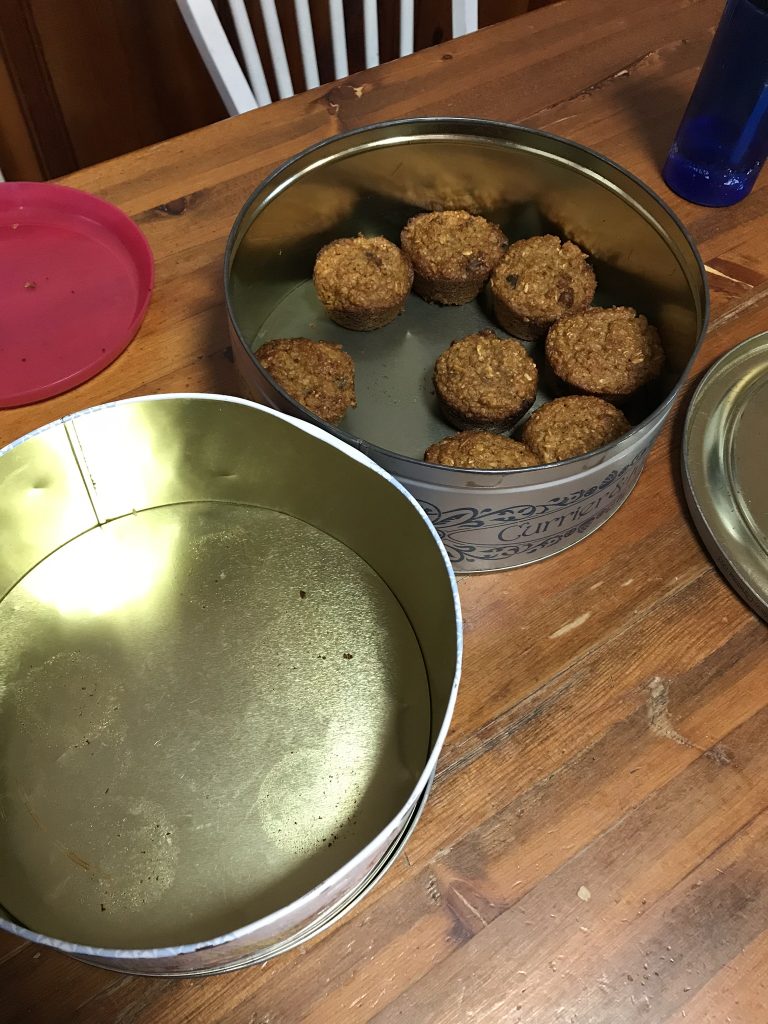 7:20am: I get up, and get Sarah's diaper changed. Matthew gets breakfast on the table – these muffins that I made yesterday. Jesse leaves to go work out with a friend.
8:15am: Breakfast is long gone, and I'm snuggling with Sarah on the couch. I can hear the big kids in our extra room, and I'm pretty sure they're jumping on the bed. But…baby snuggles!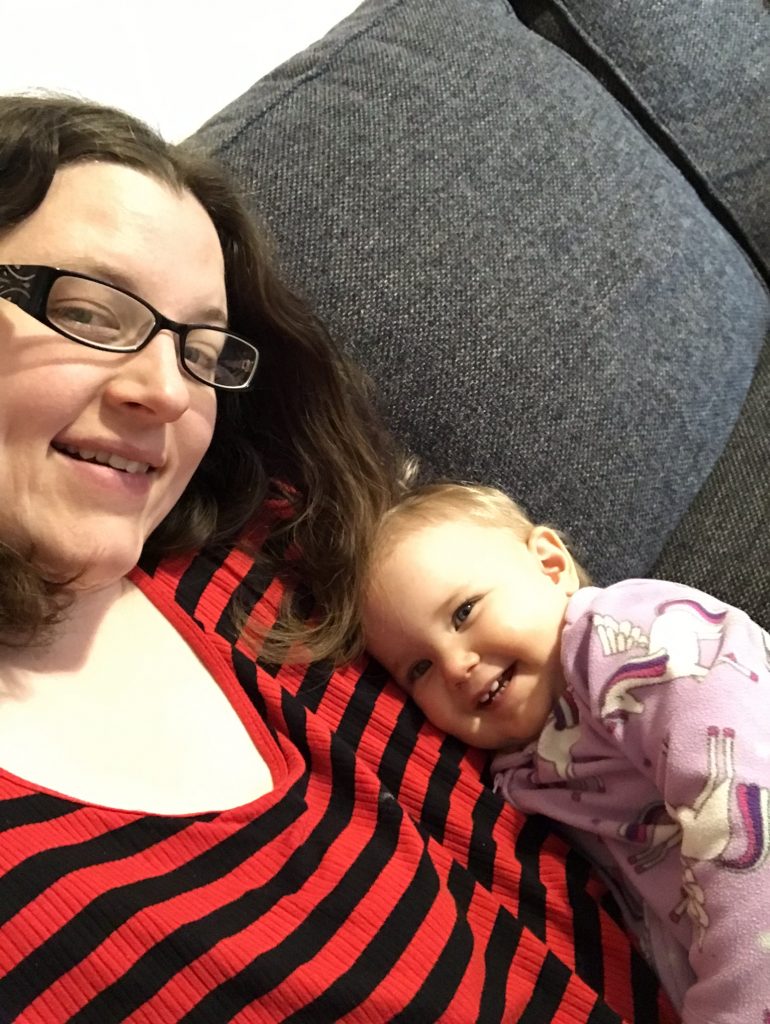 8:30am: I go kick the big kids out of the extra room (they were making a pillow fort on Jonah, whatever that means). I get everything ready for the day – put the clean dishes away, write down what we did for school yesterday and correct math papers, make sure the kids get dressed, and start laundry, because it's one of our two laundry days during the week.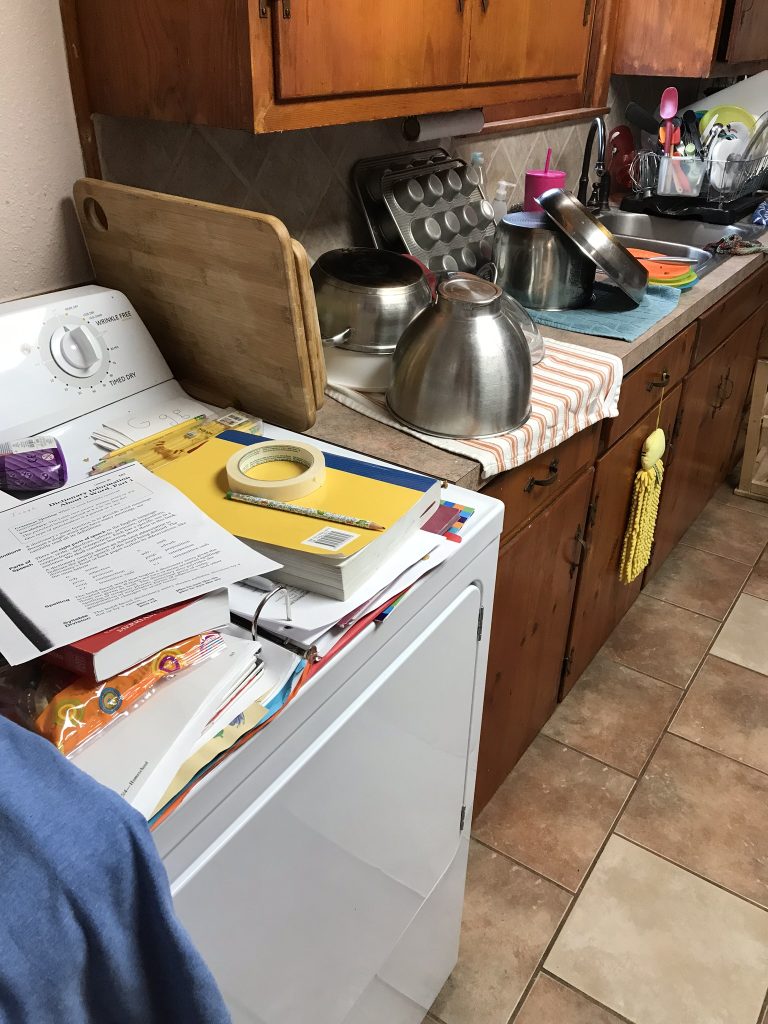 9:30am: Jesse is back, but just to shower and grab a bite to eat, and then he's off to school all day. I give the kids their 5 minute warning for school, because I have certain children who need that advance notice that change is coming. We rotate laundry loads, and I do a quick sweep of the bathroom and entryway, because the kids have tracked in dirt and grass over the past few days and my allergies are pretty bad already this year.
9:35-11:35am: Structured school time. We do Bible time and our hymn together. We do some science, learning about invertebrates, and we read a couple library books to go along with that. We also read a few books we didn't get to yesterday, one to go with our history lesson about matryoshka dolls, and one about Eleanor Roosevelt. Then we watch a Youtube video of an earthworm race and eat gummy worms!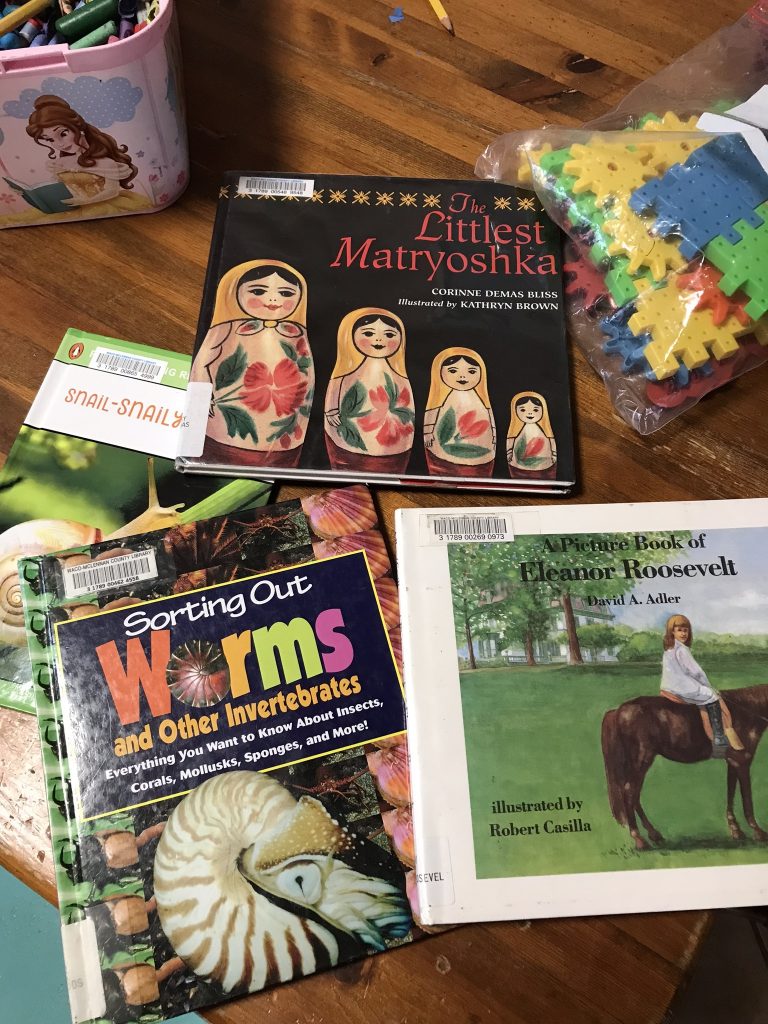 After our snack, the boys head off to do something Pokemon-related in their room while I have one-on-one time with Hannah. She's finally got her letter sounds down, but we're just starting our second attempt at putting them together into words, and it's honestly only going a little better than the first time. So I'll be on the hunt for activities to help with that before we continue with our reading curriculum with her.
You can see our curriculum choices for this year here.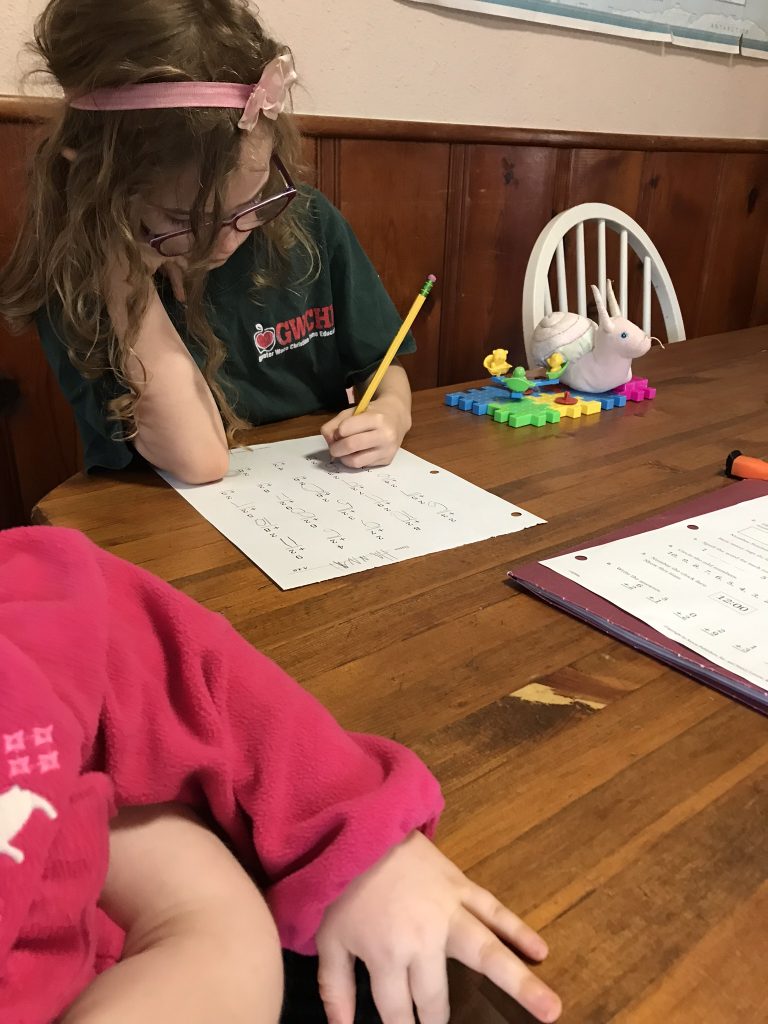 While I'm working with the other kids, Elizabeth will either join in or play with something near the rest of us. She's really excited to start school, but since she's still only four with a late fall birthday, we're not jumping in officially until we start preschool next school year, and even that is just letter of the week. And as you can see from the picture above, Sarah is always nearby too (or we have to pause and send someone to find her from whatever room she's wandered into to get into things!).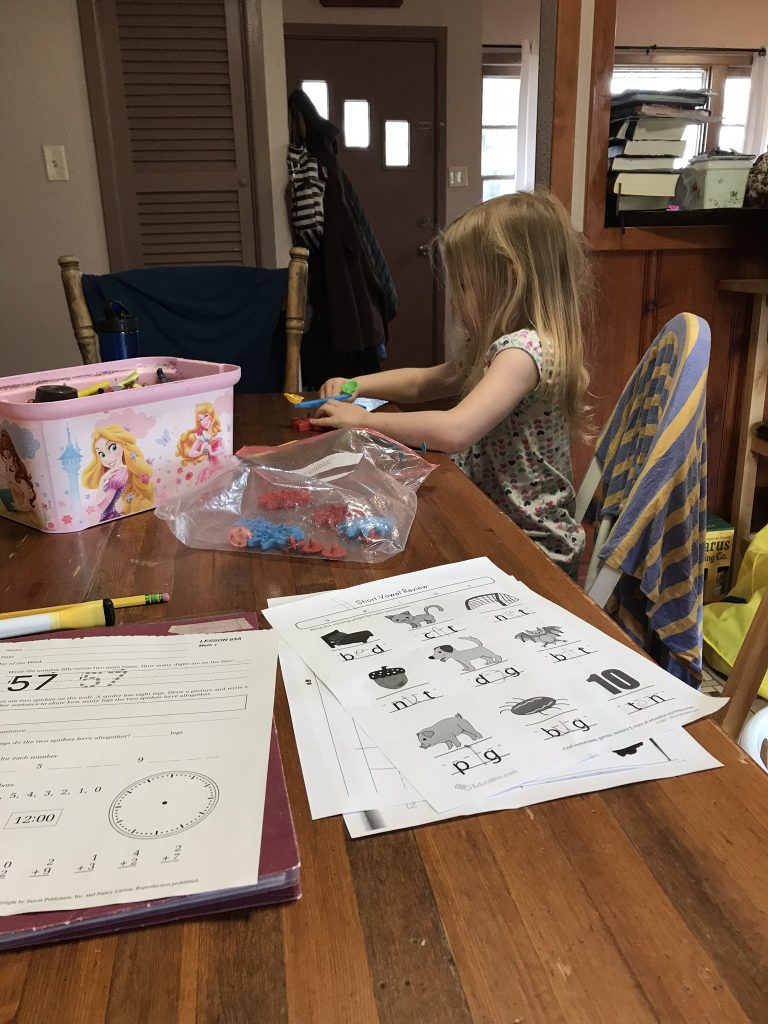 By the time Hannah is done, it's almost lunch time, but thankfully the boys can do most of their one-on-one work independently today. One heads to their room, one heads to the extra room, and I work on getting school stuff off the table and lunch set up. I also have to pause to change Sarah's pants because she discovered that the washing machine drain tube had come loose again when she sat in the puddle it made on the floor. Good thing I didn't wash the towels yet! I clean that up and change her.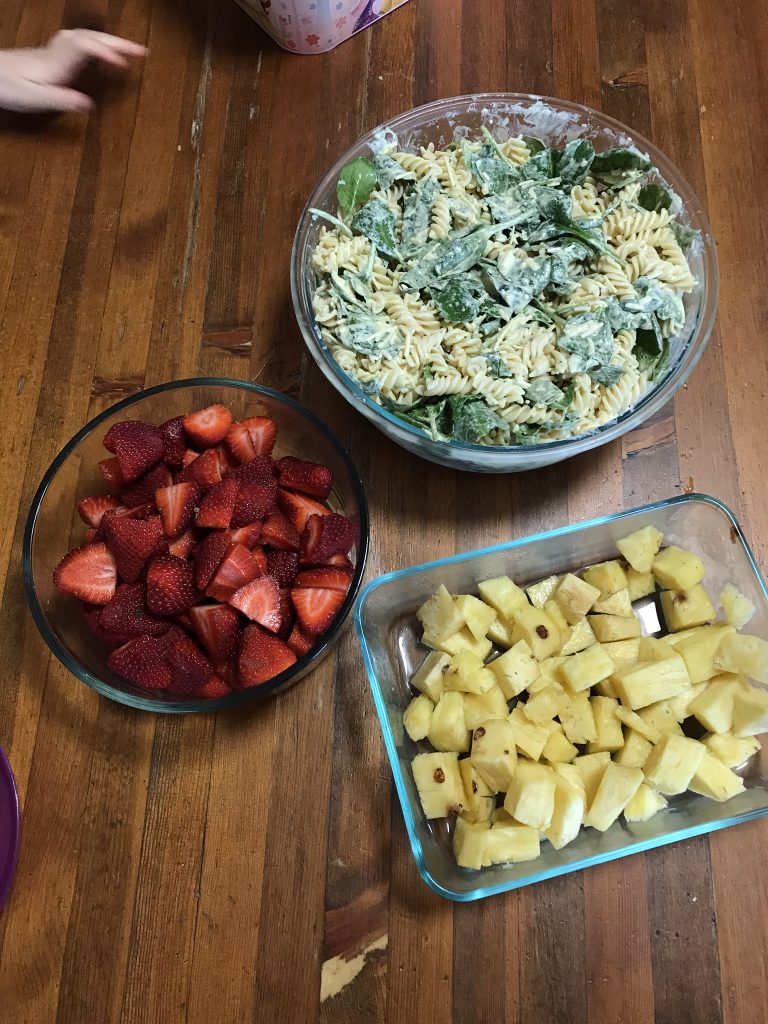 11:35am-12:00pm: Lunch time for the kids. We're having pasta salad that I made yesterday, along with fruit. I purposefully make food ahead for Tuesdays if I can, because after working most of the weekend, I'm ready for an easy day. We also go over a few spelling words at the kids' request, because our homeschool group is having a spelling bee at the end of March and they want to win. Jonah also has a bit of his reading work to finish, and I help him with the last part of his lesson after lunch.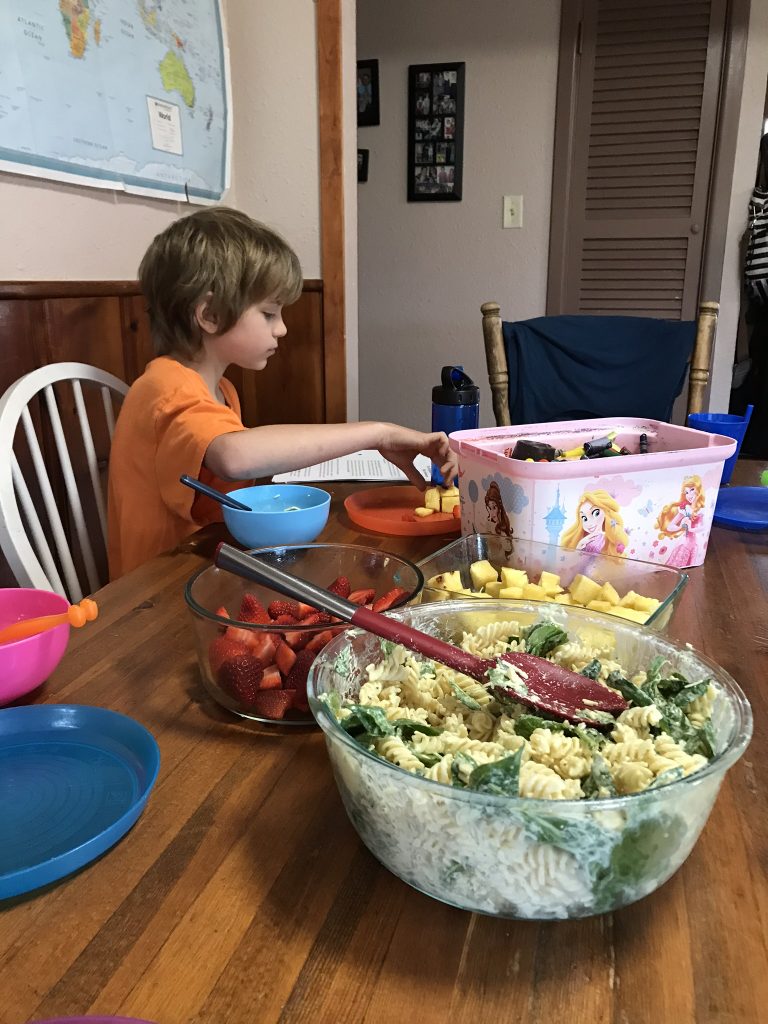 12:00-1:30pm: Quiet time. Sarah naps. Everyone else is in their rooms. The girls either look at books or just lie down quietly. The boys are doing whatever they want in their room as long as it's quiet. I don't have to be as strict with them nowadays because they're used to this break. It definitely took some training to get them there though!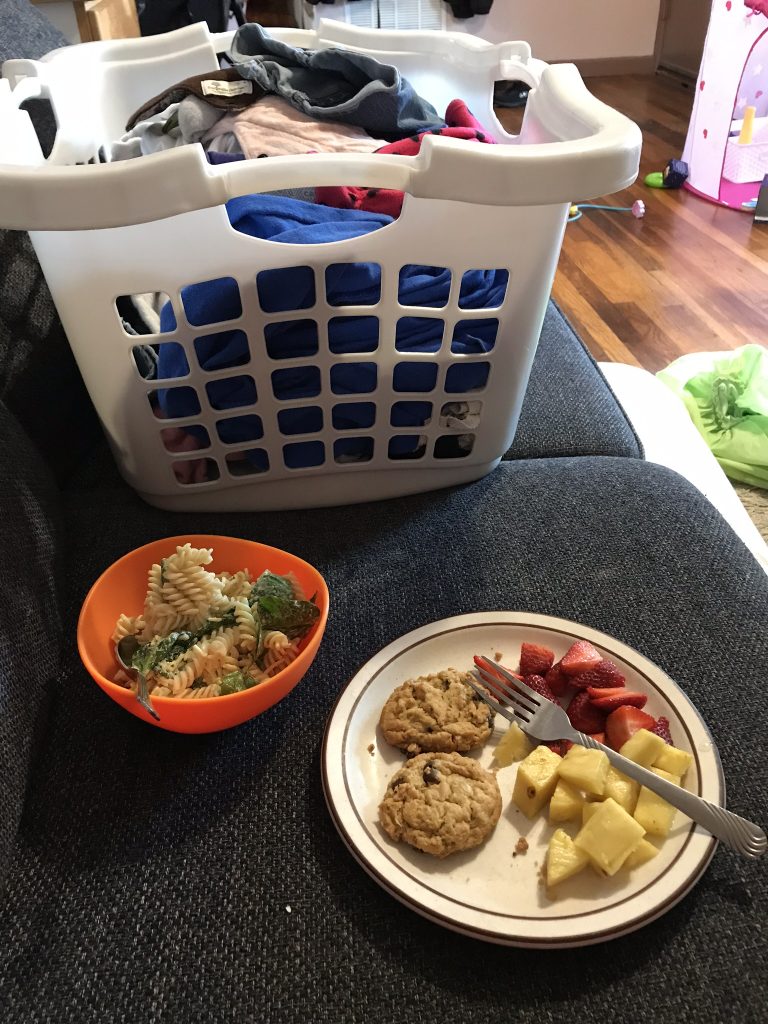 I eat my lunch in peace, ignore that load of clean laundry, and scroll Instagram for awhile. Sometimes I use this time productively, but most of the time it's just a built in break for me and I love it. I also finally get to my coffee, much needed.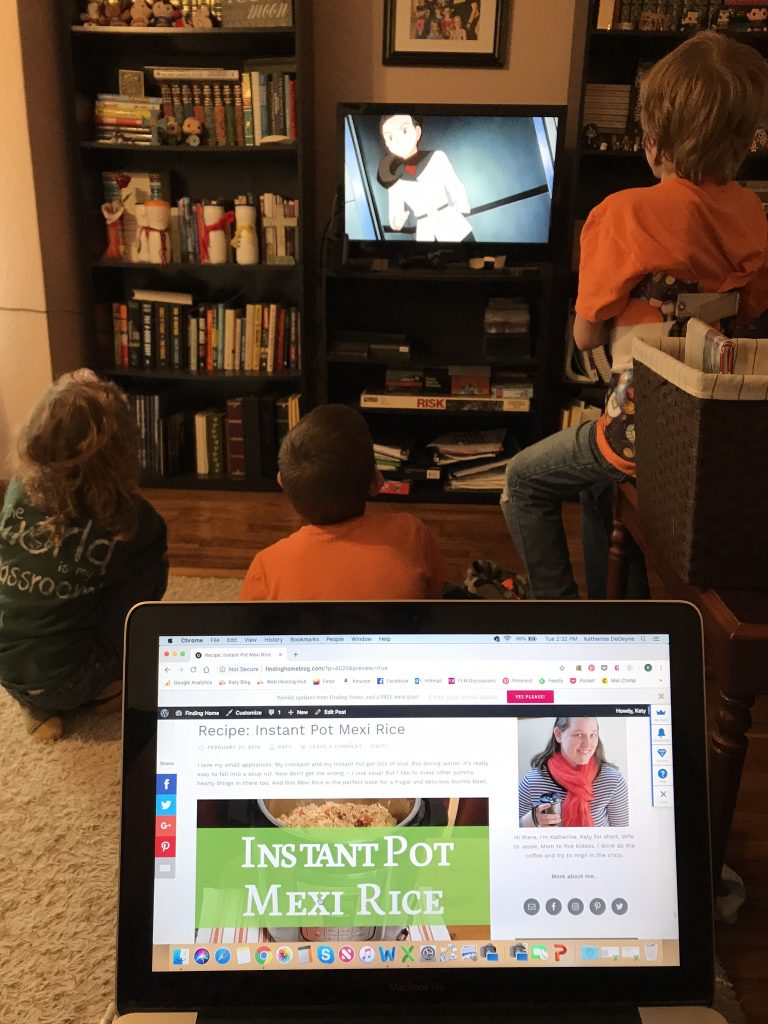 1:30-3:00pm: The kids switch their laundry loads and watch a movie. I let them pick a longer one today because they've had a good behavior day and I have a bunch of blog work to do. Everyone wins! I get several posts outlined and one finished and ready to be posted.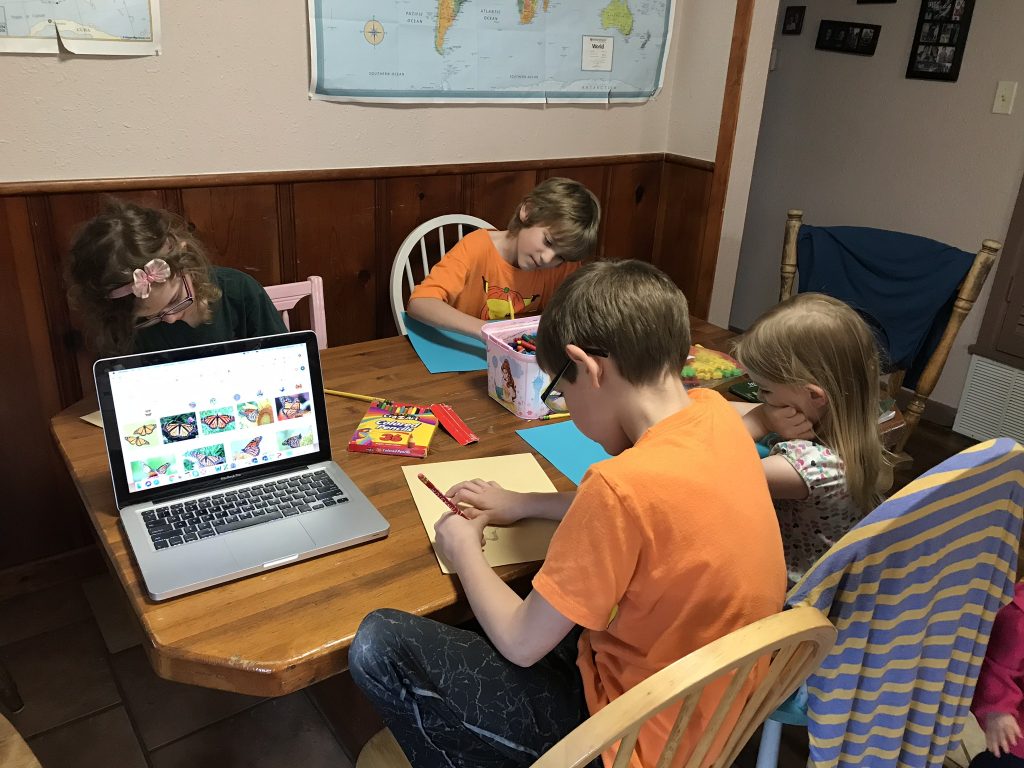 3:00-4:00pm: The kids play a little bit, then have a snack and start working on some drawings. Our homeschool group is having an art festival on Thursday and we've accidentally left this until the last minute. Oops! But they come up with some good pictures.
4:00-4:20pm: Laundry folding time! All the kids fold their own, except for Sarah. She tries to unfold hers. 🙂
4:20-4:45pm: I read aloud to the girls. They each pick 2 books from our library book bin.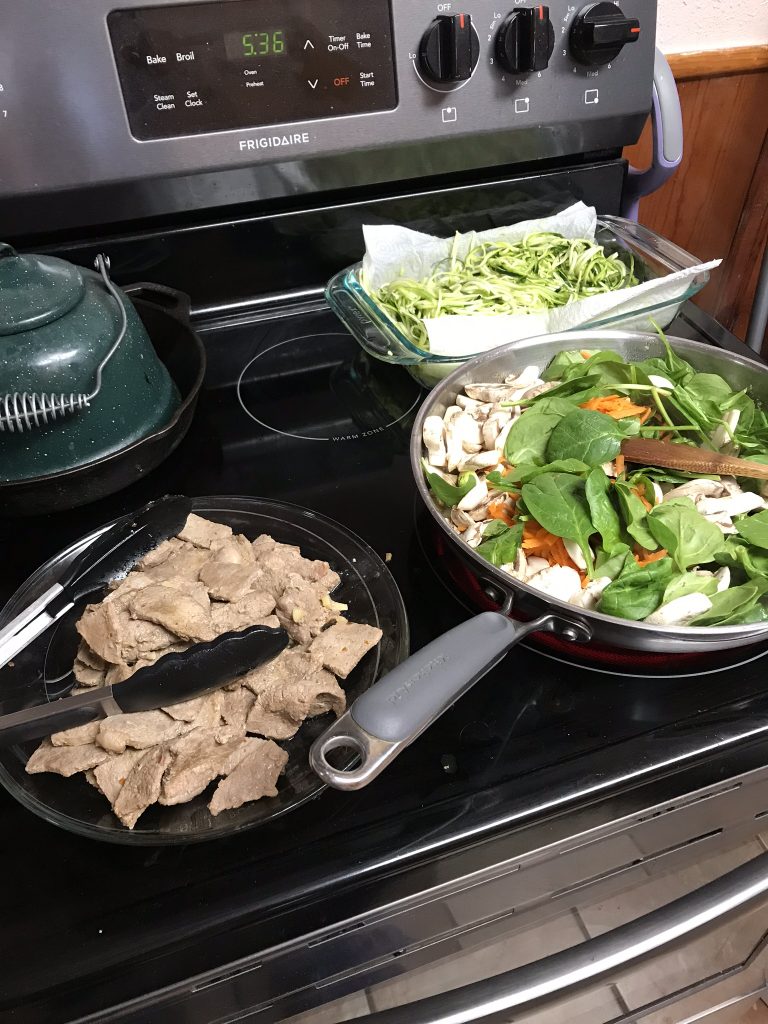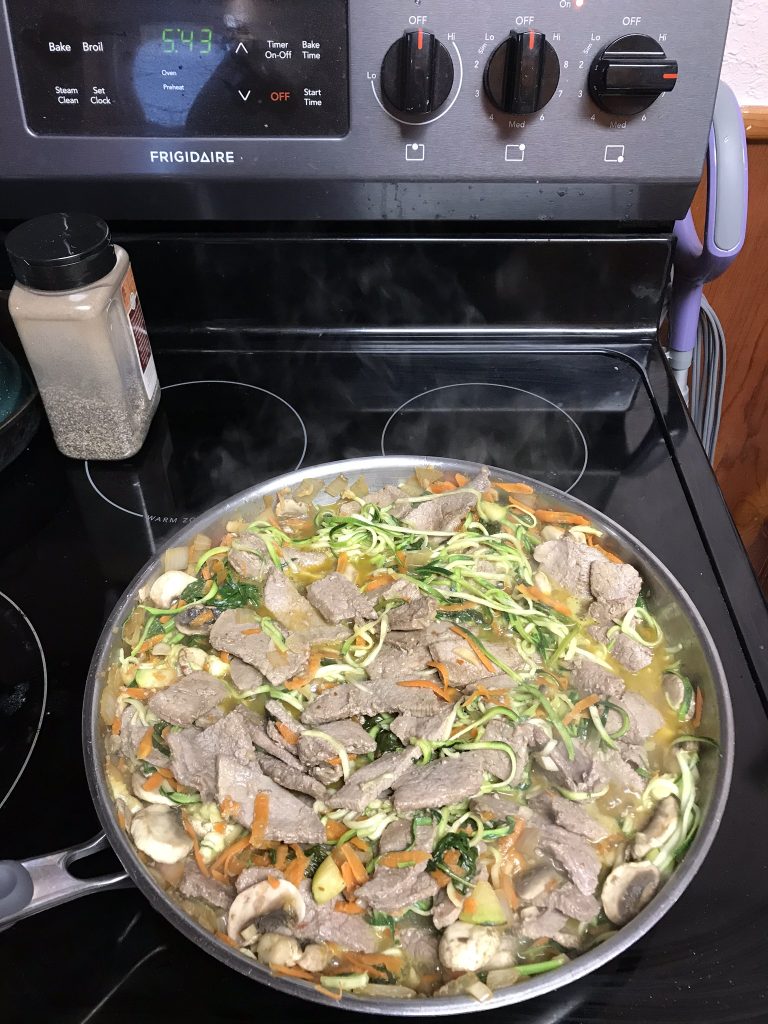 4:45-5:45pm: I make dinner and do a few dishes. We're having Korean Beef Bowls from this cookbook, which is a little more labor intense with the prep work, but they're amazingly delicious. The kids go outside for awhile to burn off some energy. Jesse gets back from school and we chat about our days.
5:45pm: Dinner.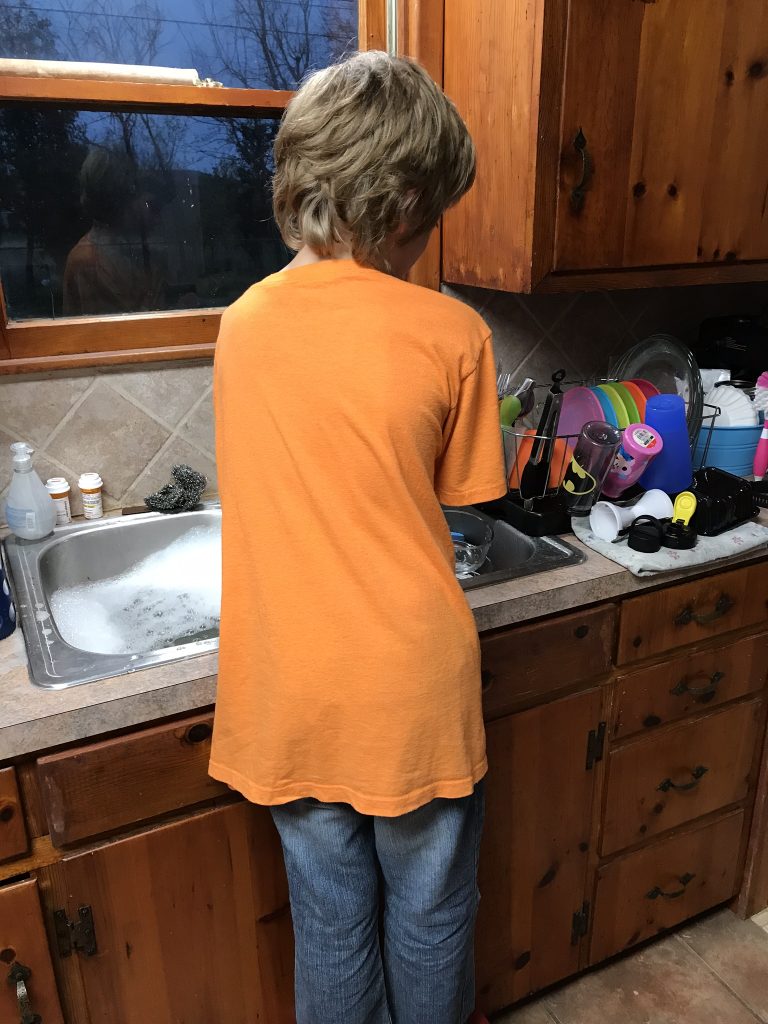 6:15-7:00pm: Clean up time! Jonah is on dishes, Matthew sweeps, and the girls pick up all of their stuff that has exploded throughout the house. Pajamas, brushing teeth, marking off chore charts, and all the getting ready for bed stuff happens. I oversee that and Jesse does yoga with whatever kids feel like it in the living room.
7:00-9:00pm: Jesse and I have a snack and watch an episode of Manifest and one of Victoria. And then we go to bed.
Today actually ran really smoothly and we were able to accomplish everything we set out to do. Honestly, that's rare. But it's really nice when it happens!
Disclosure: Some of the links in this post are affiliate links. If you make a purchase through these links, I receive a bit of a commission at no additional charge to you.
Previous Day In The Life Of Our Homeschool Posts: