In order to make the best muffins, you've got to have the best tools!  Here are some of my favorites.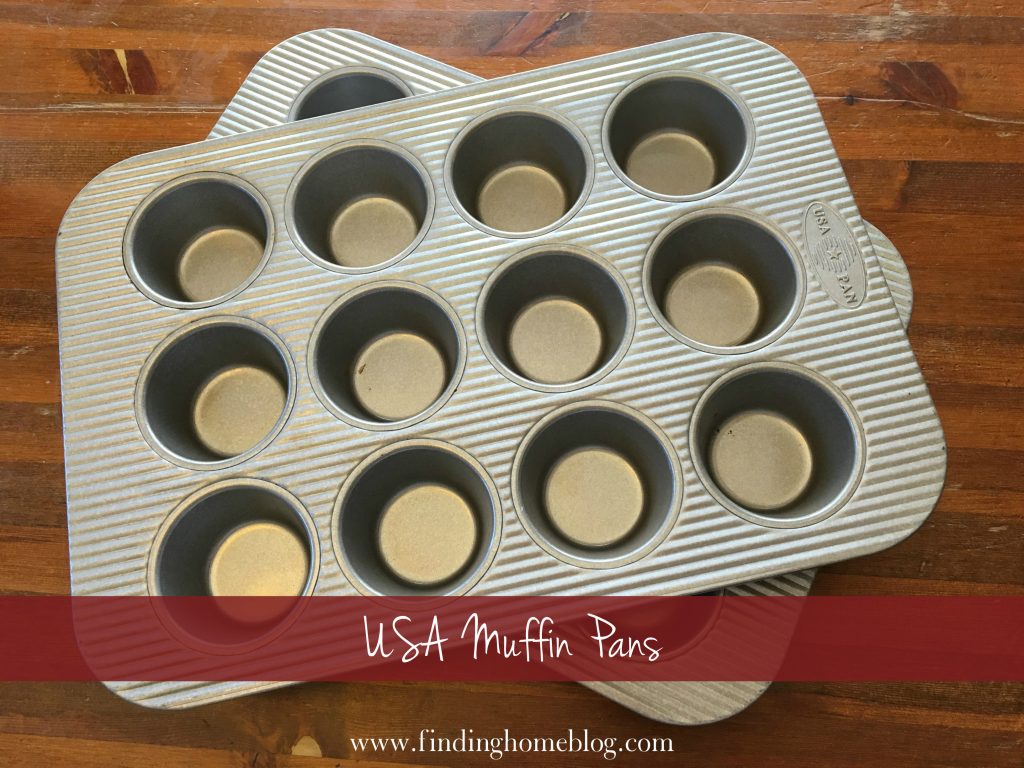 These are hands down the best pans I've ever used.  They're made of aluminized steel with a silicone coating, which makes them nonstick without all of the scary stuff that's in some of the other nonstick pans on the market.  They are also corrugated for strength and airflow.  This also helps with the nonstickiness.
Everything pops right out of these.  Muffins (obviously), but I've had chocolate chips and jelly spill in the empty spots and get really burnt on, and it still peeled right off!  Cleanup is a breeze – you just wipe out any residue on the pans with a damp cloth and you're good to go.
I haven't had a chance to try any of the other pans yet, but as I replace some of my other baking pans, I'm shopping for these first.  I have my eye on a bread pan and a cookie sheet next.  For more about USA Pans, visit their website or Facebook page.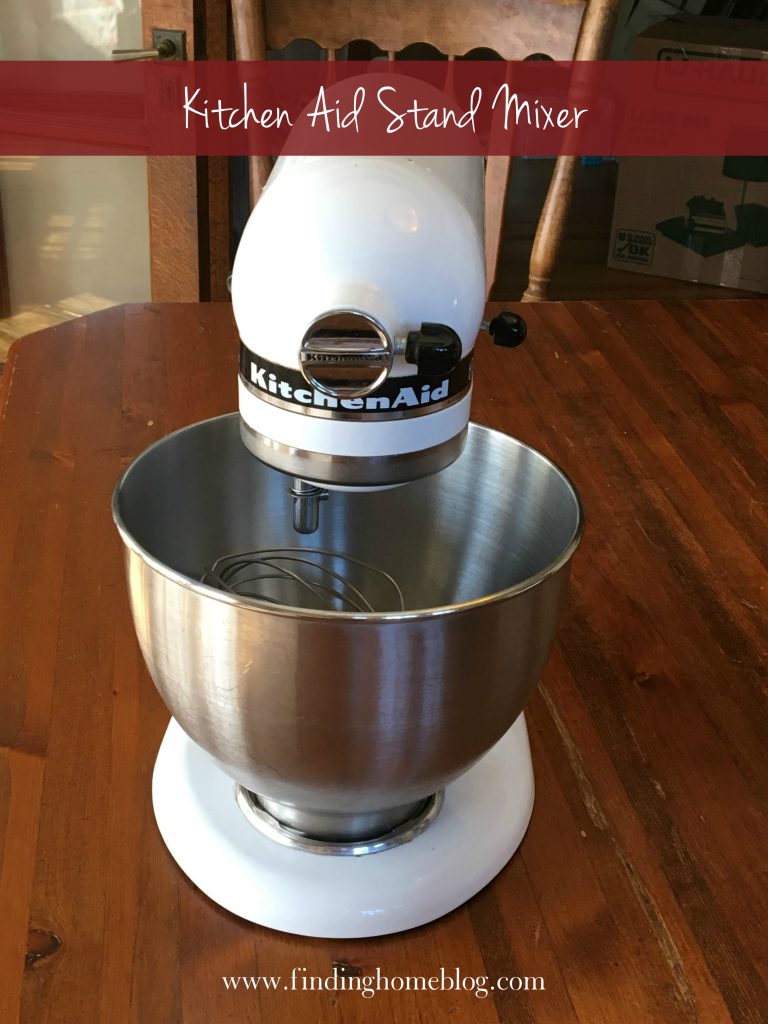 Jesse bought this for me for Christmas a few years ago during a Black Friday sale, and I use it all the time.  This is the most basic model, but it still comes with a regular mixing paddle, a wire whisk attachment, and a dough hook.  And there are plenty of attachments if you are interested in doing more!  Plus they come in all sorts of snazzy colors now too.
I use this mixer any time I want to make baked goods – muffins, brownies, cakes, cookies, bread, you name it!  I also use the bowl for shredding big batches of zucchini from the garden to freeze.  And it's great for stirring up homemade whipped cream.  Find out more about KitchenAid here.
Pampered Chef Medium/Large Scoop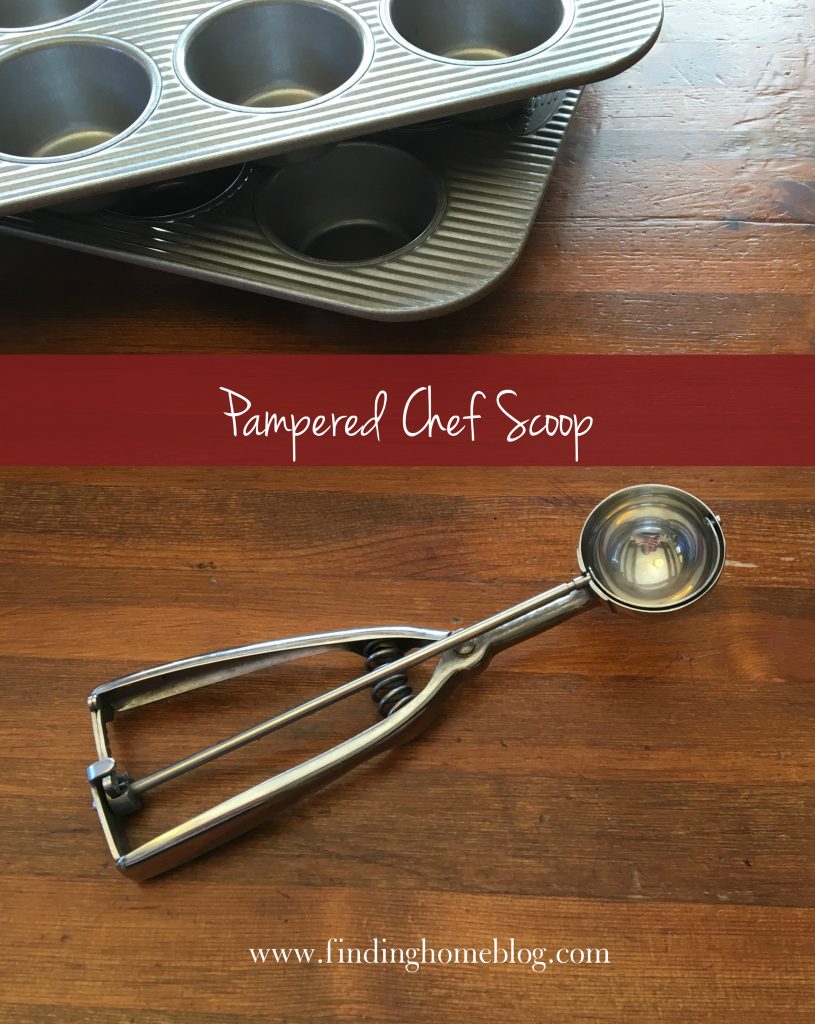 I have a medium scoop, but a large one would actually be a better size for muffins.  I usually have to do a full scoop plus a bit extra with the medium one.  But I still love that it's just about the perfect size for filling the muffin pan with batter without making too big of a mess.  Anyone else horrible at getting all of the batter in the muffin tins, or is that just me?
This is one of those tools that I put on my bridal registry list for my Pampered Chef shower years ago, and I didn't realize how helpful it would be.  I use it for muffins (of course), but also for cookies, bean burgers, energy bites, and meatballs!  You can find out more here.
Once the muffins bake, they need to cool off.  For the muffins in my Oat Flour Muffins cookbook, this step is especially important, because the muffins cool completely in the pans before you take them out – this helps them set up a little bit more and keeps them from crumbling in the pans when you remove them.  And the pans cool off faster if you set them up on a rack so air can move above and below them.
But sometimes, you just don't have the counterspace for muffins to cool off while you work on other things.  That's why I love this rack!  I can put it over the top of other things on the counter, like my meal planning notebook, half a loaf of bread, pictures from my kids, and whatever else has migrated to the kitchen, and then still use the open space for working on dinner.
One of the cool features about these racks is that if you have more than one, you can stack them.  Space saving!  Otherwise, they are the perfect size for fitting two muffin pans side by side.  You can find out more here.
Silicone Spatulas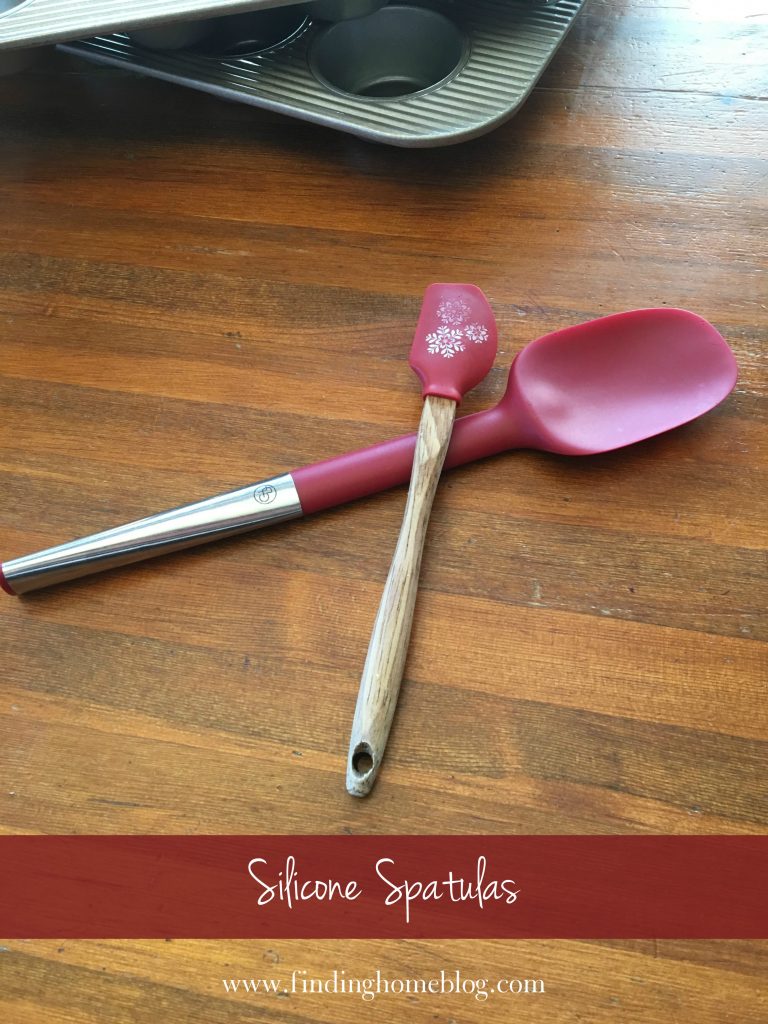 I use a large spatula spoon to help mix up the muffin batter and scrape the sides of the bowl.  I bought a 2-pack of these Rachael Ray "spoonulas" at Walmart, but you can also order them on Amazon.
And since you're not supposed to use metal utensils on the USA Pans, it's important to have a silicone or rubber spatula to help pop the muffins out without scratching the pans.  I got this red holiday spatula as part of a Christmas gift of baking supplies a few years back, and it's the perfect size for getting muffins out!  You can find similar spatulas on Amazon.
Disclosure: Some of the links in this post are affiliate links.  If you make a purchase through these links, I receive a bit of a commission at no additional charge to you.  Thank you for your support!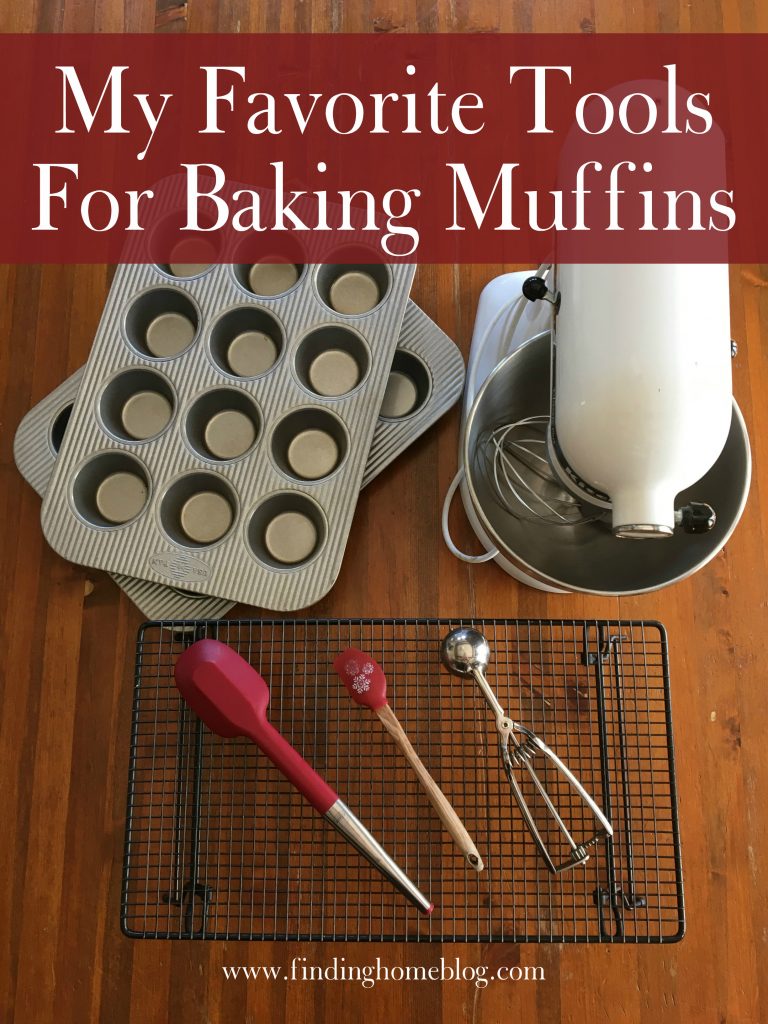 These are some of the baking tools that help me make delicious muffins, like those in Oat Flour Muffins.  That book comes out in a little over a week.  To make sure you find out right away so you can get your copy, sign up below!  You'll also get a copy of my current cookbook, Gluten Free Recipes From Finding Home.  And be on the lookout for a giveaway next Thursday featuring most of my favorite baking tools!