When we started eating mostly gluten free, I wanted to look for other options for getting grains in our diet.  Something to help round out the meal, and provide a filling option without breaking the budget.  But most of these were things I had never heard of, and there was one in particular that was growing in popularity, but I couldn't even pronounce it.  Luckily, I learned how to both cook and pronounce quinoa (KEEN-wah).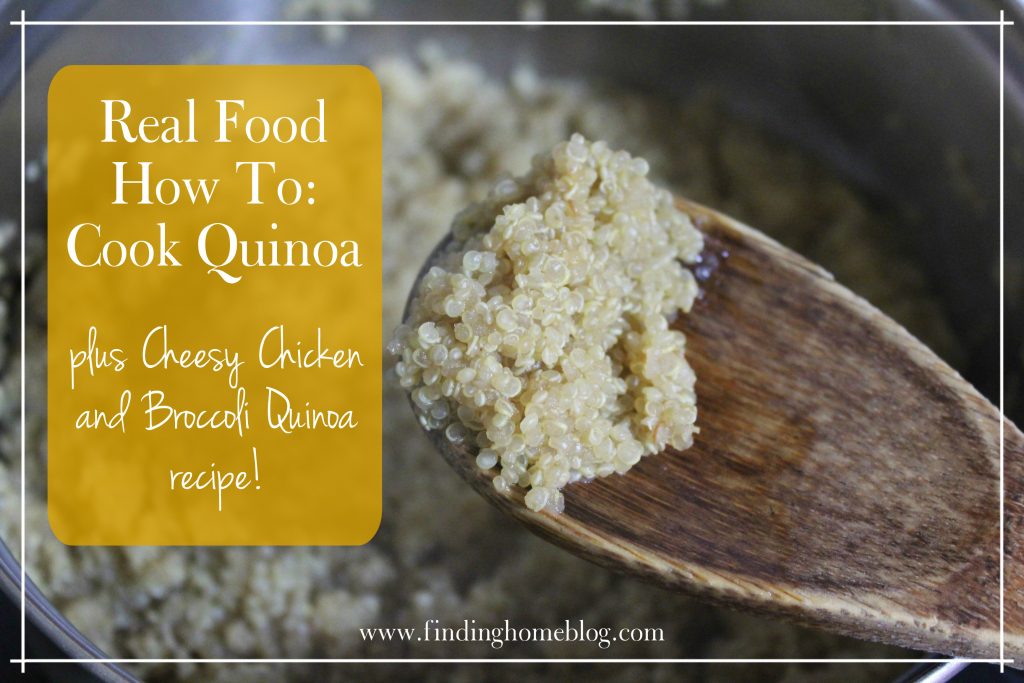 Quinoa is actually a seed, not a grain, but it fits in a lot of recipes in place of common grains like rice or pasta.  And it's just as easy to cook as rice, with one simple added step: you need to rinse it first.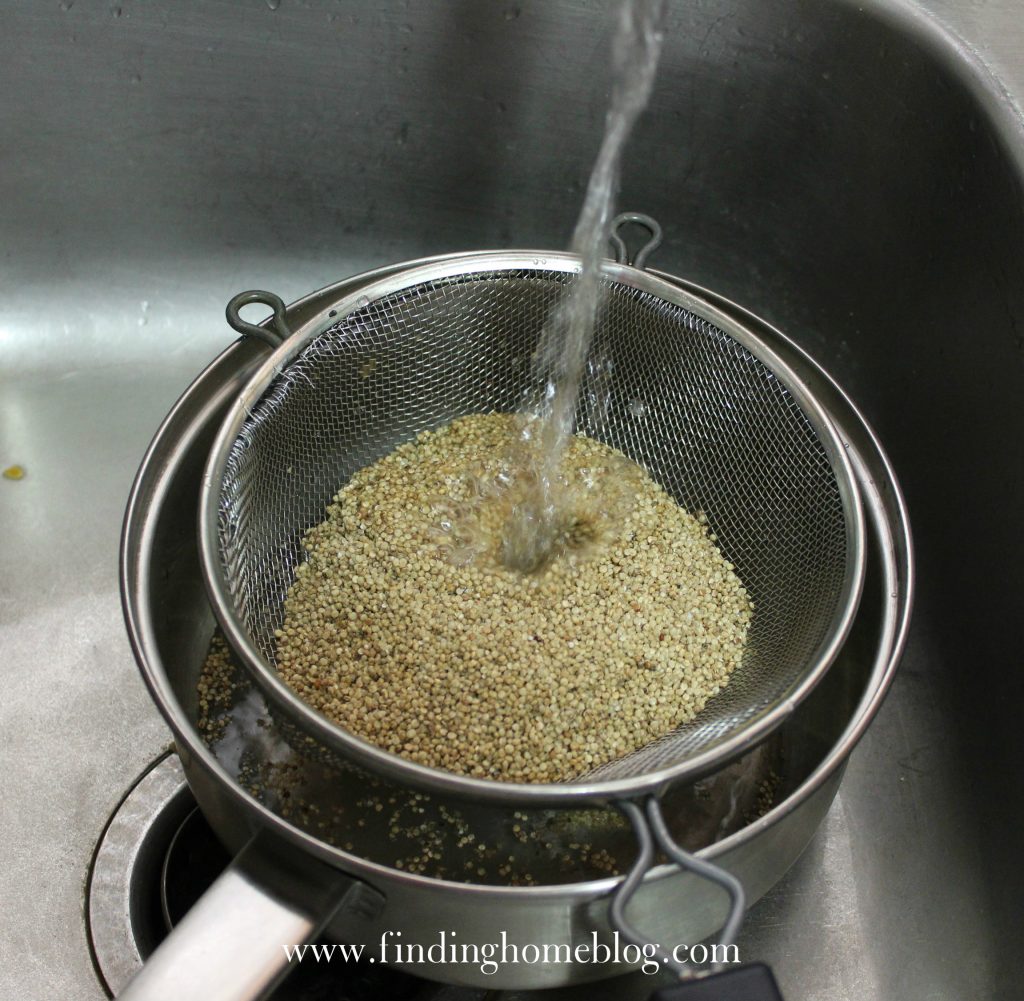 Quinoa has a coating called saponin, which helps keep bugs away, so rinsing first helps wash that off.  If you don't, your quinoa will have a kind of soapy, kind of bitter, weird taste.  (Ask me how I know that, and why my kids were super turned off by anything containing quinoa for a long time)
To rinse, simply place quinoa in a fine-mesh sieve and run water over.  My sieve is not as fine of a mesh, so I rinse it over my pot, then pour that water and quinoa back over the top so I don't lose too many grains.  If you have a finer sieve, you won't have to worry about that.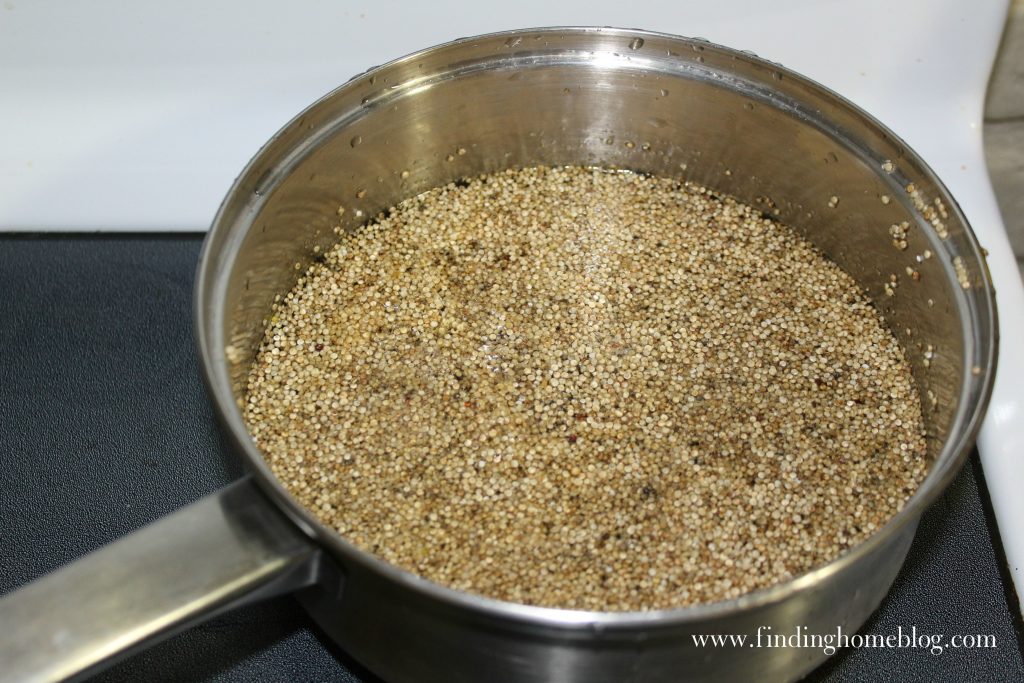 Put a cup of quinoa in a pot, along with a few cups of water or broth, and you're set.  Heat to boiling, then lower to a simmer for 20-25 minutes, until your quinoa is softer but not mushy, and you can see more of a separate ring around the center.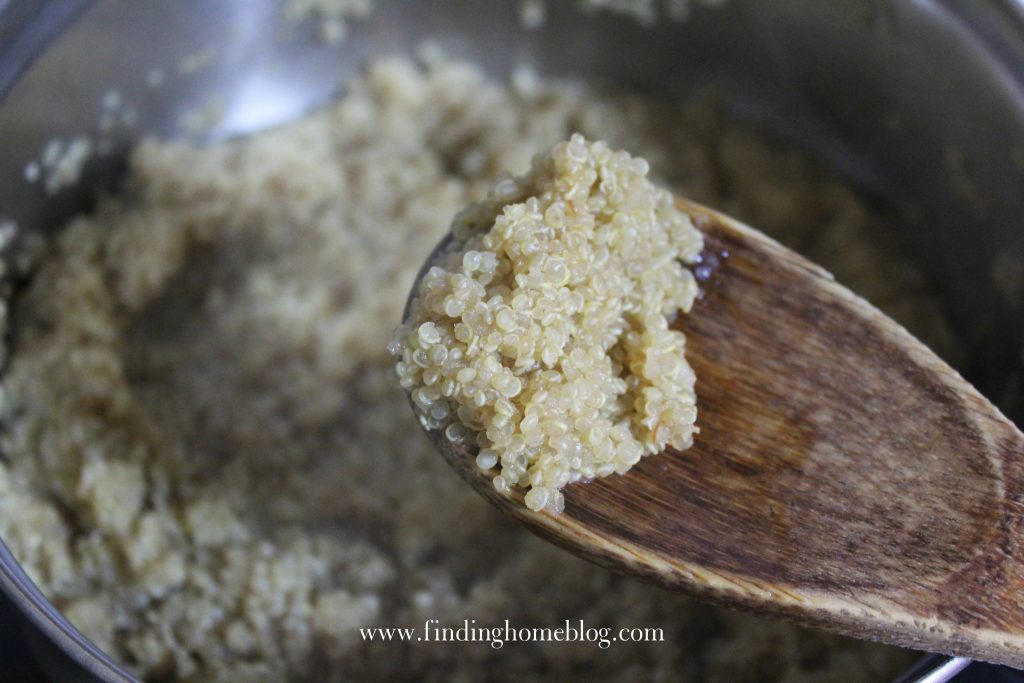 Cooked quinoa is a great addition to a salad, a side dish along with some meat and veggies, and even an ingredient in some baked goods!  It's also great in Cheesy Chicken and Broccoli Quinoa.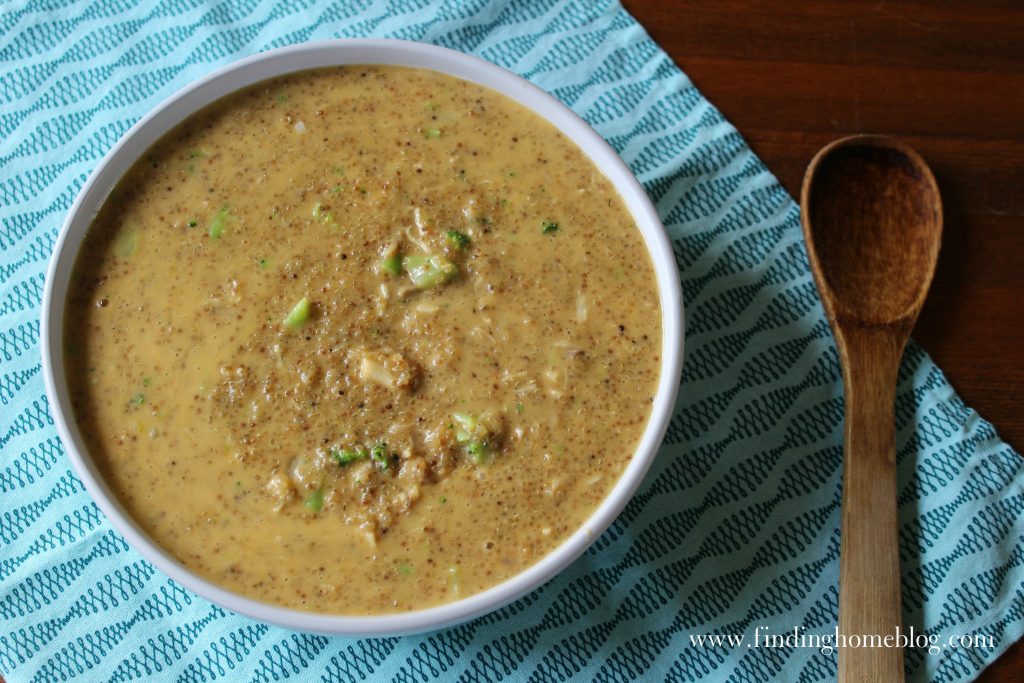 Cheesy Chicken and Broccoli Quinoa
Makes 6 servings
Ingredients:
1 cup quinoa, rinsed
2 cups chicken or vegetable broth (or water)
1 cup cooked shredded chicken
1 cup finely chopped broccoli
Cheese Sauce (recipe below)
Directions:
In small pot, combine 1 cup rinsed quinoa and 2 cups broth.  Bring to a boil, then lower to a simmer until cooked through, about 20 minutes.  Add more broth or water if necessary.  I usually cook quinoa with broth for a savory meal, but with water if I'm going to be using it in something.
Meanwhile, make cheese sauce.
Ingredients:
3 Tbsp. butter
2 cloves garlic, minced
1 cup chicken or vegetable broth
3 Tbsp. cornstarch
1 cup milk
1/4 tsp. pepper
1/2 tsp. salt
8 oz. cheddar cheese, shredded
Directions:
In large skillet, melt butter over medium heat.  Add garlic and saute until fragrant, about 1 minute.  Mix cornstarch, broth, and milk in measuring cup and pour into skillet.  Add salt and pepper.  Heat until the sauces thickens, stirring frequently.  Lower heat to low, and stir in cheese until melted.
Add cooked chicken and broccoli, and cook over low heat until warmed, about 5 minutes.  Stir in cooked quinoa.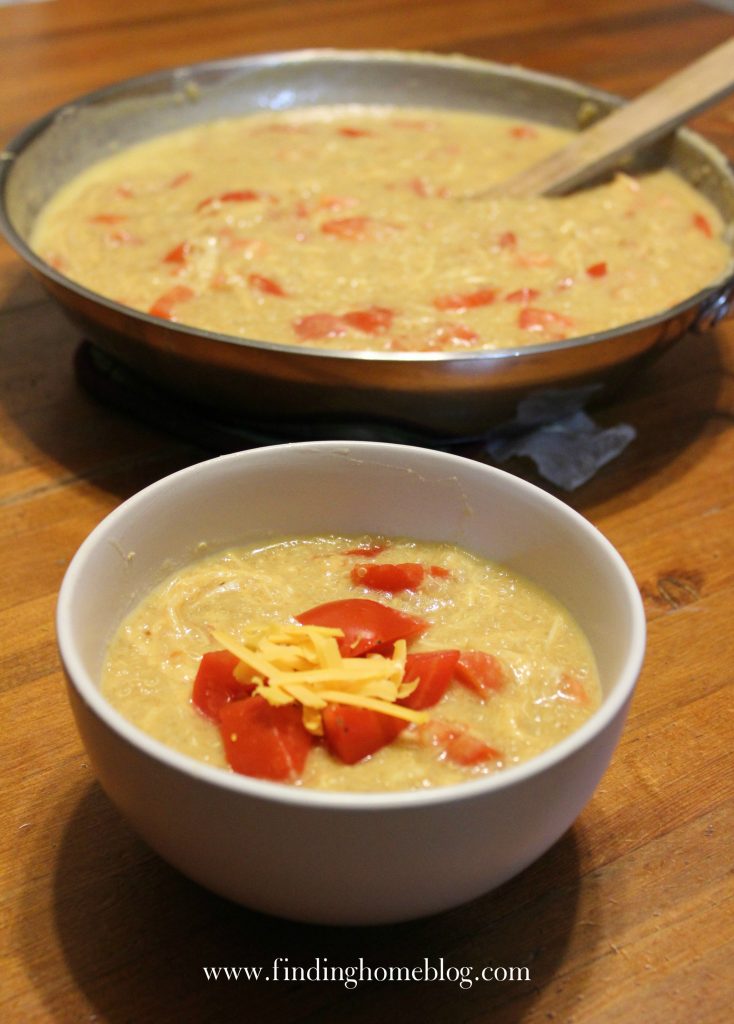 I get around the "my kids don't like broccoli" factor by chopping up the broccoli really small, and they're okay with it, but if you have some broccoli haters in the house, you can also replace the broccoli with an equal amount of diced Roma tomatoes.  Just add them after the cheesy quinoa is done cooking.  Both versions are delicious, and we have this meal often for a quick and easy lunch.  We even used up some of our Easter ham earlier this week and did a ham and peas version, which was super tasty as well!
Have you ever made quinoa? Now is the perfect time to try it!
Disclosure: Some of the links in this post are affiliate links.  If you make a purchase through these links, I receive a bit of a commission at no additional charge to you.  Thank you for your support!