I'm not sure where this recipe originated.  I think it was in one of those cookbooks put together by little old ladies and sold for $5 apiece in the back of church.  And it's one that I've made so many times that I had the recipe memorized.
Or so I thought.
As I went to check my copied down version of the recipe, I realized that the way I remembered the recipe and the way it was actually written were vastly different.  I'm sure this didn't happen all at once.  I probably gradually omitted some ingredients and made substitutions for other ones, until 7 Layer Casserole morphed from one dish to a completely different one that, while we still called it the same thing, wasn't the same at all.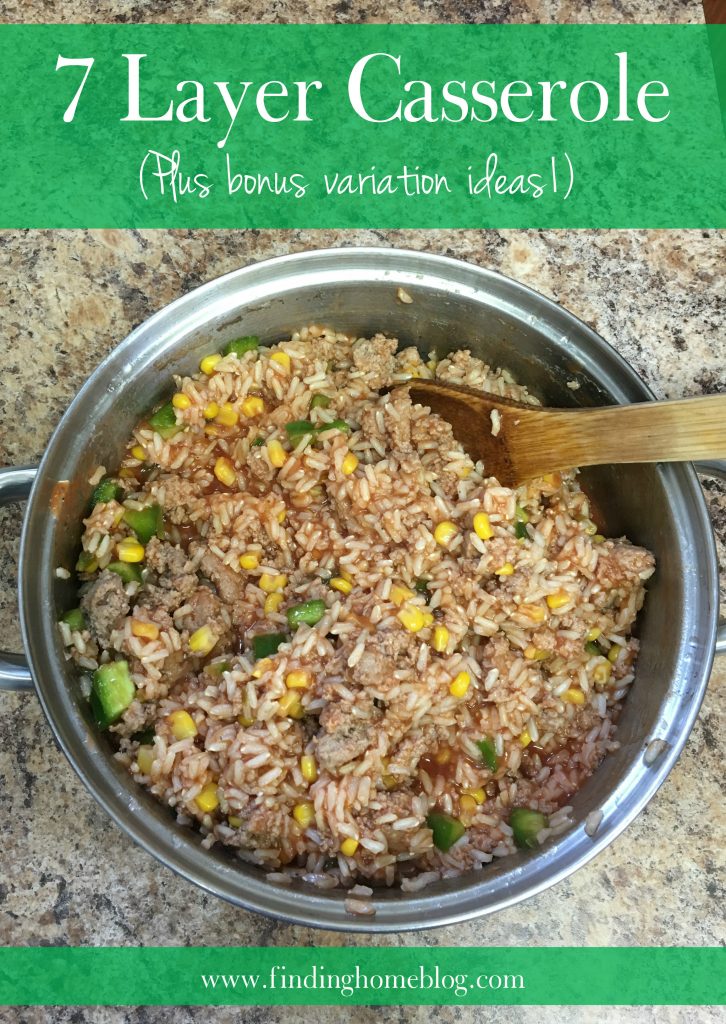 Here's how I make 7 Layer Casserole nowadays.
Ingredients:
1 pound ground beef or ground turkey, cooked and drained
4 cups cooked rice
1 onion, chopped (optional)
1 green pepper, chopped (optional)
1 Tbsp. olive oil (optional)
16oz. tomato sauce
1 cup frozen corn
salt and pepper to taste
Directions:
Ahead of time, cook ground beef.  Cook rice.  If you prefer, saute onion and pepper in 1 Tbsp. olive oil (otherwise just add them raw – they'll be a bit crunchier than if you saute them).  You can also leave the onion and pepper out completely.  Mix all ingredients together in 13×9 pan. This meal can then be refrigerated or frozen until cooking time.
At cooking time: Cook at 350°F for 20-30 minutes, until heated through. (If you don't get the chance to prep anything beforehand, and you're cooking your meat and rice right before dinner, you can actually just mix it all together in one of the cooking pots and just heat until the sauce and corn are heated up – skip the oven!)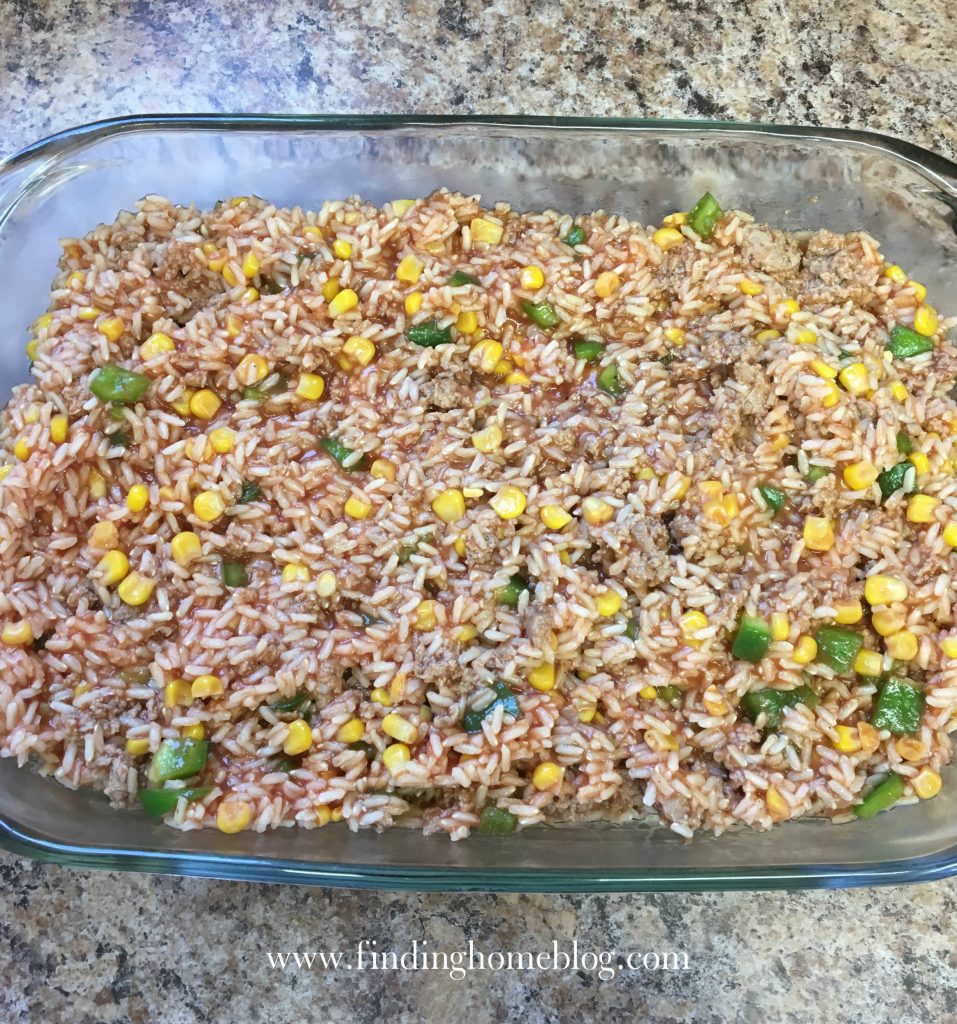 Even though there are several steps in preparing this meal, they can all be done ahead of time.  I love this idea of doing the prep work ahead.  So you can cook up the meat ahead of time on a freezer prep day.  You can cook a big batch of rice for this recipe and chicken fried rice later on in the week.  You can chop and saute your veggies.
I did this a few weeks ago on a Farmers' Market day.  When we got home from selling granola, all I had to do was pop this dish in the oven for 20 minutes and we had dinner.  Easy peasy!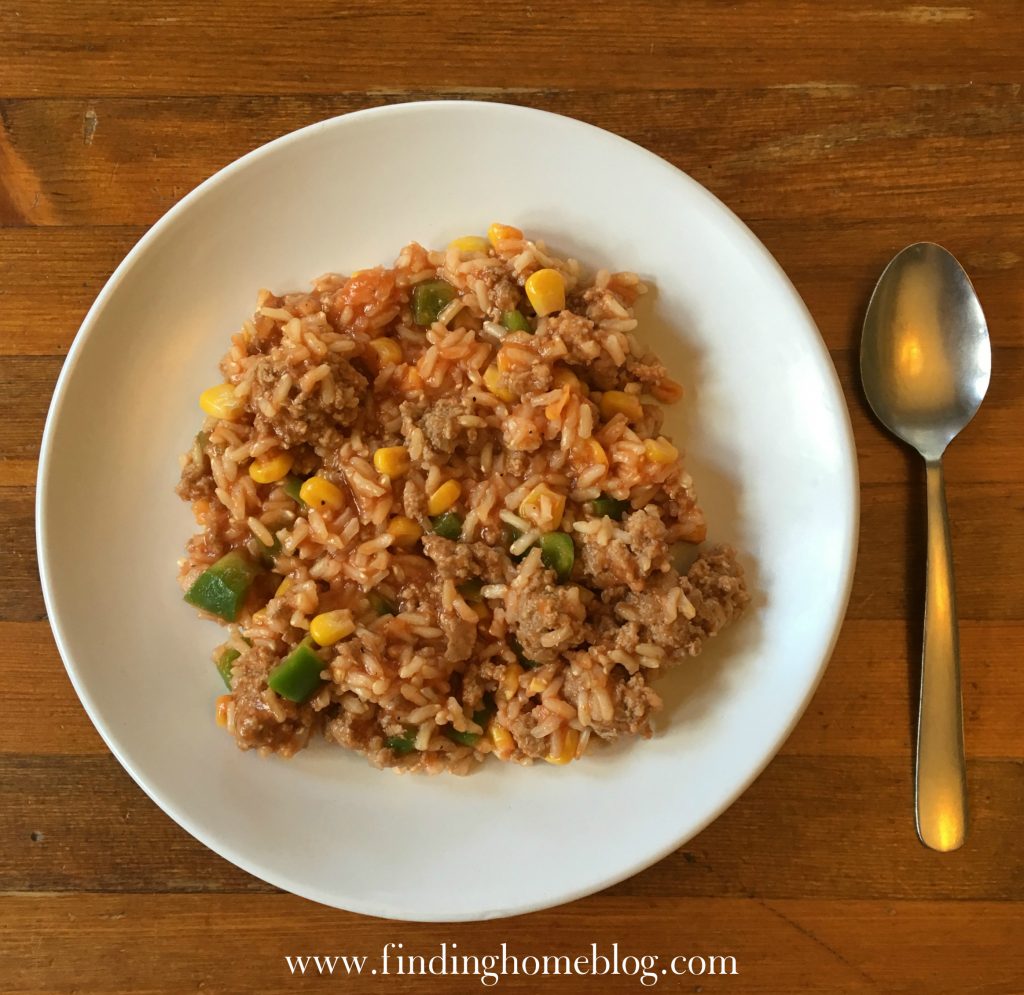 In case you were curious, here's the original recipe, written out as the 7 layers:
1 cup uncooked instant rice
1 cup corn (canned or frozen)
Sprinkle with salt and pepper.  Pour over one 8oz. can of tomato sauce and 1/2 can water.
1/2 cup chopped onion and green pepper
3/4 cup cooked ground beef
Sprinkle with salt and pepper.  Pour over one 8oz. can of tomato sauce and 1/4 can water.
Cover all with 4 strips of bacon (cut in half).  Cover and bake at 350ºF for 30 minutes. Uncover and bake for 10 more minutes.
So that's not the same at all!  Also, I still remember looking back at this recipe after quite a few months of making it the way I thought was correct and going, "There's bacon in this?!" I had no idea.
You really have tons of options with this recipe if you feel like switching things up.  Don't like onions and peppers?  Leave them out.  Have some extra green beans or peas? Throw those in instead.  Leave the bacon off to make it cheaper.  Or don't, because bacon.  Vary the amount of ground beef or ground turkey depending on what you have.  This becomes a very budget-friendly meal because it's so flexible.  Any way you make it, it's super delicious.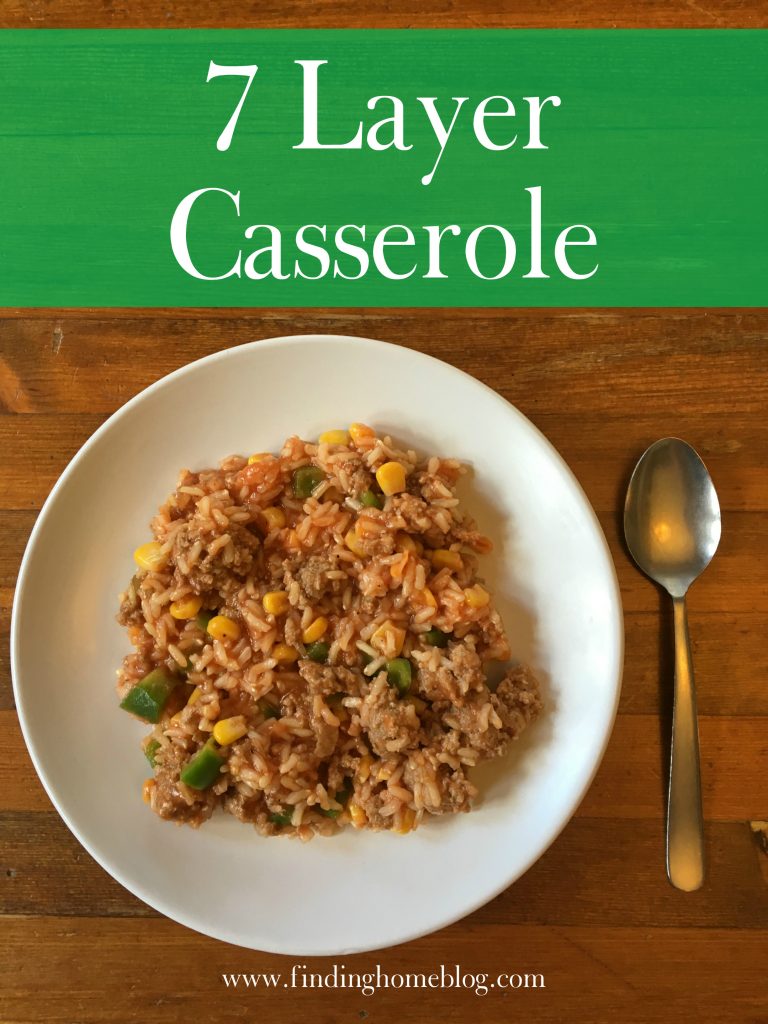 ---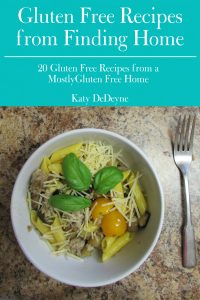 Want more yummy recipes?  Sign up below to get your copy of Gluten Free Recipes From Finding Home: 20 Gluten Free Recipes From A Mostly Gluten Free Home.