I had a few bananas getting ripe on the counter, but I didn't want to just make plain old banana bread again. It's good, but I wanted something different. So…Cinnamon Banana Bread Mini Muffins!
Please excuse their massive muffin tops, as I filled the pan a wee bit too full.
Ingredients:
2-3 bananas, mashed
1/3 cup butter, melted
1 cup sugar
1 egg
1 tsp. vanilla
1 tsp. baking soda
1 tsp. cinnamon
pinch of salt
1-1/2 cups flour
1 tsp. cinnamon (for topping)
2 tsp. brown sugar (for topping)
Directions:
Melt butter and mix in mashed bananas. Add sugar, egg, and vanilla, and stir. Add baking soda, 1 tsp. cinnamon, salt, and flour, and mix just until combined. Spray a mini muffin pan with non-stick spray (or line with mini muffin liners), and fill 3/4 full with batter. Not all the way full like I did. In a small bowl, mix 1 tsp. cinnamon and brown sugar. Sprinkle on top of batter. Bake at 350 degrees for 16-20 minutes. Makes 22-24 mini muffins.
I basically took my standard banana bread recipe, added cinnamon to it, and added a topping. I did have to baby-sit the oven to find out how long they would take to bake, but otherwise, this was an easy kitchen experiment, and now I have another option when I get some older bananas!
Also, thank you to Mr. and Mrs. Probst, who brought us back freshly ground cinnamon from Mexico, which inspired this recipe. Thanks!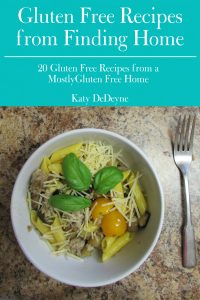 Want more yummy recipes?  Sign up below to get your copy of Gluten Free Recipes From Finding Home: 20 Gluten Free Recipes From A Mostly Gluten Free Home.