We have been enjoying this Southern Stew recipe for quite awhile, but as the kids have grown and started eating more, that recipe just wasn't filling enough for our whole family.  So I kept adding things to it to make it a more substantial meal, and came up with this version, which makes enough to feed our family of six plus leftovers.
Ingredients:
16-20oz. chicken breast, cut into small pieces
1 onion, chopped
2 stalks celery, chopped
6 carrots, chopped
4 potatoes, chopped
1/2 cup frozen green beans
4 cups vegetable or chicken broth
1/2 cup frozen corn
1/2 cup frozen peas
1/2 cup half and half
salt and pepper to taste
Combine all ingredients except corn, peas, and half and half in crockpot.  Cook on low 6-8 hours, until chicken is cooked and potatoes are soft.  Add corn, peas, and half and half for last half hour of cooking time.  Serve alone or with biscuits.
This stew is perfect for a cold winter day!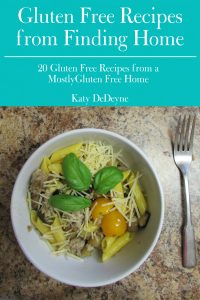 Want more yummy recipes?  Sign up below to get your copy of Gluten Free Recipes From Finding Home: 20 Gluten Free Recipes From A Mostly Gluten Free Home.