Planning a menu for a Whole 30 challenge can be difficult.  So I've done the work for you!  Here is a sample plan, which should feed a family of four.  Adjust amounts according to your family's hunger levels…We followed a similar plan at the beginning of March for our Whole 30 challenge, although the kids occasionally ate different things for breakfast and lunch, and I adjusted the amounts to make it work for our family of six.  If you find you're having a ton of leftovers, skip a lunch or dinner and have a leftover buffet, or eat the leftovers for snacks.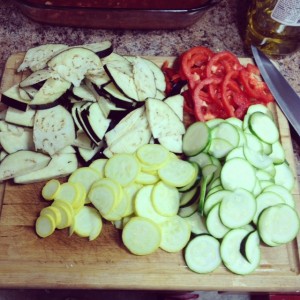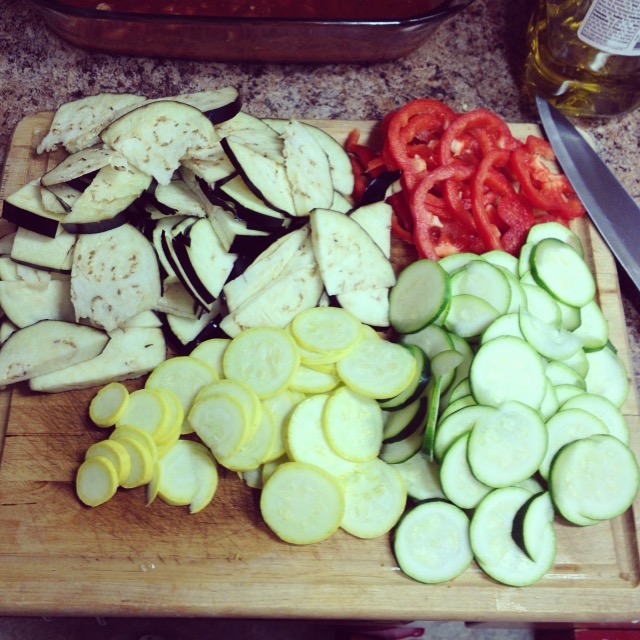 Monday
Breakfast: Eggs and Bacon
Lunch: Layered Ratatouille (recipe x1.5)
Dinner: Veggie Stir Fry with Cauliflower Rice
Tuesday
Breakfast: Eggs with Ham and Broccoli (similar to this, but leave out the cheese)
Lunch: Leftover Ratatouille
Dinner: Grilled Chicken Breasts, Italian Roasted Mushrooms and Vegetables
Wednesday
Breakfast: Fruit Salad with Coconut Cream and Nuts
Lunch: Crockpot Tomato Turkey Vegetable Soup
Dinner: Spaghetti Squash with Sausage Tomato Sauce
Thursday
Breakfast: Omelets with veggies (clean out the fridge! peppers, onions, mushrooms, and spinach are our favorites)
Lunch: Burgers (no buns), Carrot Fries
Dinner: Crockpot Mexican Chicken Soup
Friday
Breakfast: Smoothies (use fresh or frozen fruit, coconut milk, bananas, spinach, etc.)
Lunch: Leftover Mexican Chicken Soup
Dinner: Southern Stew (use coconut milk instead of half and half)
Saturday
Breakfast: Eggs, Roasted Butternut Squash, Bacon
Lunch: Leftover buffet! If there are no leftovers, have a Chicken Salad with a simple Italian vinaigrette (recipe below)
Dinner: Cauliflower Dirty Rice (you can freeze cauliflower rice, so you can shop at the beginning of the week and still have cauliflower rice near the end)
Sunday
Breakfast: Eggs, Cinnamon Apples (just leave off the butter and cook in a bit of water)
Lunch: Mushroom Barley Soup (use olive oil instead of butter, leave out the barley, and use coconut milk in place of the cream)
Dinner: Pork Chops, Green Beans cooked with this method, Roasted Potatoes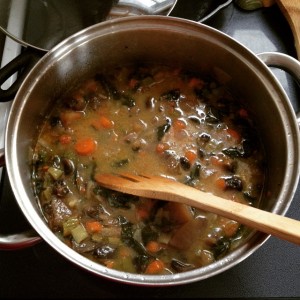 Recipe: Simple Italian Vinaigrette
In small bowl, mix together 2 Tbsp. olive oil, 1 Tbsp. white vinegar, 1 tsp. Italian seasoning, 1/2 tsp. salt, and 1/4 tsp. pepper.  Makes 2 servings.
Prep Notes for This Whole 30 Meal Plan
Crockpot Tomato Turkey Soup and Crockpot Mexican Chicken Soup can be prepared ahead of time and frozen until needed.  (See recipe links for more details) You can also chop and freeze all of the vegetables for Mushroom Soup for Sunday's lunch.
If you don't want to buy both bacon and ham, use bacon for Tuesday's breakfast as well.
In a similar vein, if you want to use the rest of the butternut squash, slice up matchsticks and roast them for squash fries instead of carrot fries for Thursday's lunch.  Go ahead and roast both your fries and your diced up pieces for Saturday's breakfast at the same time.
Other Notes
To make cauliflower rice, you'll need some sort of food processor.  I use this one, which came with my immersion blender.
You may will want snacks!   Make bulletproof coffee using that immersion blender, or order a big case of these.  Fruits, nuts, and raisins are also good.
If you try this meal plan, come back and let me know what your favorite recipe was!

Disclosure: Some of the links in this post are affiliate links.  When you make a purchase through one of these links, I receive a bit of a commission, at no additional cost to you.  Thank you for your support!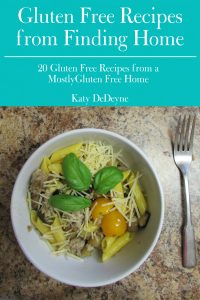 Want some yummy recipes, including several that are Whole 30 compatible?  Sign up below to get your copy of Gluten Free Recipes From Finding Home: 20 Gluten Free Recipes From A Mostly Gluten Free Home.