Whether or not you're a fan, chances are when you think of casseroles, you might picture tater tot casserole. This has always been a favorite in our house, and we've made many versions of it, starting with the canned-vegetables-and-cream-of-something-soup version, and moving on to a more real food version, and then a gluten free version, and now a frugal large family version that I want to share with you today.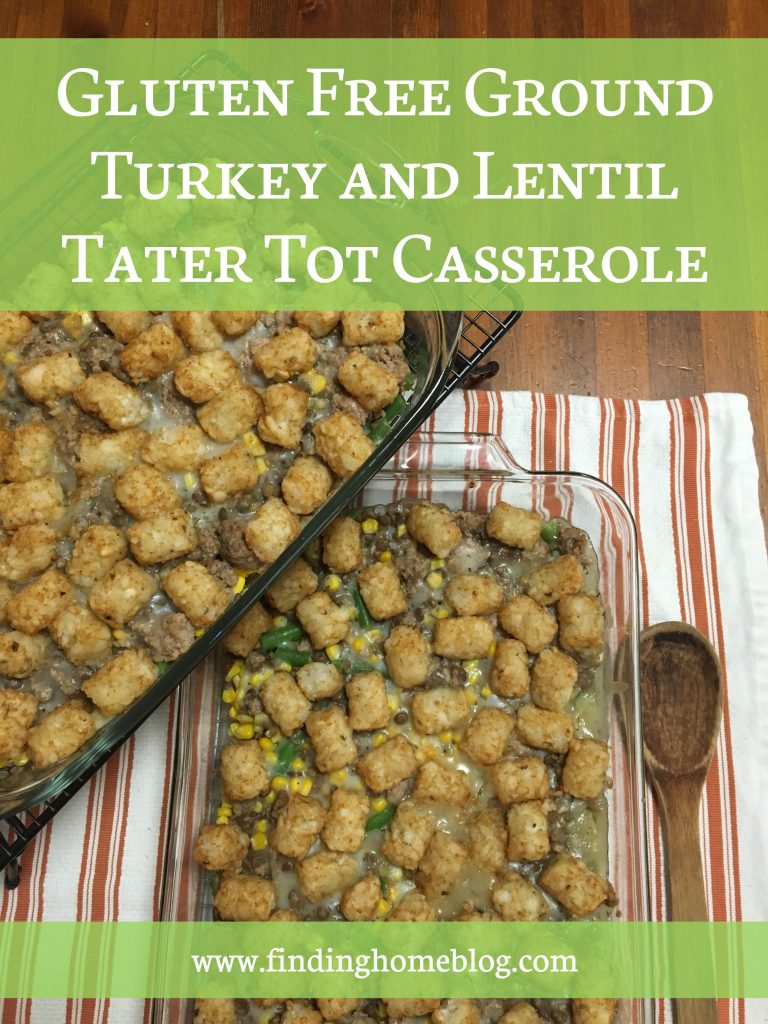 Just like taco night, I found that tater tot casserole night was starting to run low on food. Our family can easily eat through one pan and still need more food.
And just like my taco recipe, I wanted to add more to it without adding too much of a cost. So I added lentils. And thanks to pretty inexpensive frozen veggies, tater tots, and ground turkey at Aldi, we can now make TWO pans of this yummy meal for a pretty low price.
If you're not feeding a horde of people, this is a great one to make 2 pans and freeze one for a future meal. You'll just need to thaw ahead of time or add more cooking time. That's easy enough though.
Gluten Free Turkey and Lentil Tater Tot Casserole
Serves 12 (6 per pan)
Ingredients:
1 lb. ground turkey
2 cups cooked green lentils (I like to cook mine in the Instant Pot for 10 minutes on manual)
2 cups frozen corn
2 cups frozen green beans
2 cups frozen peas
6 Tbsp. butter
2 cups chicken broth (how to make your own)
4 Tbsp. corn starch
1 cup milk
1/2 tsp. thyme
1/2 tsp. parsley
1/2 tsp. salt
1/4 tsp. pepper
32 oz. package tater tots
Directions:
Cook ground turkey. Mix with lentils and divide between two 13×9 pans.
Divide frozen vegetables between the two pans.
In medium skillet, melt butter over medium heat. Mix corn starch with broth, and add to butter. Stir in milk and seasonings. Heat until thickened, stirring constantly. Remove from heat and divide between the two 13×9 pans.
Top each pan with half of the tater tots. You choose if you want them in fancy rows or just dumped on top. My pictures tell you how I do it…
Bake immediately at 400ºF for 30 minutes, or cool completely and freeze. If cooking from refrigerated temperature, cook for 35-40 minutes. If cooking from frozen, you will likely need longer than that.
I like to make this recipe, have one pan for dinner one day, and the other pan the next day for either lunch or dinner, depending on our schedule, but we're just about to the point where I'm going to have to admit that we eat some of the second pan right away because everyone wants seconds. But hey – kids are eating plenty of vegetables, so that's a win, right?
Are you a tater tot casserole fan?