Making your own vegetable broth is easy.  But making your own chicken broth is just as simple!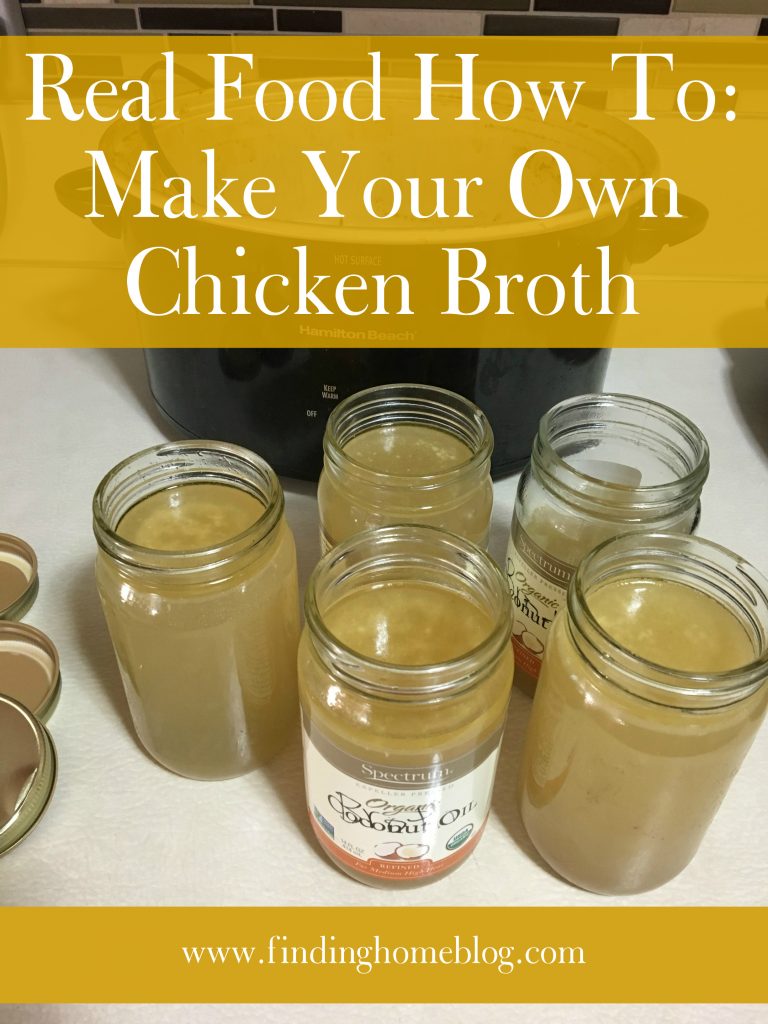 My favorite way to start is by cooking a whole chicken in the crockpot.  Just put the chicken in there, breast side down, and add about 1/2 cup of water.  Cook on low for 6-8 hours, until cooked through.  Remove chicken to a plate to cool.  Turn crockpot off, but leave it plugged in – you'll be using it again.
Strain remaining liquid through a fine mesh sieve.  You've got some really gelatinous broth right there!  But we're going to make more.
After the chicken has cooled, pick it apart.  Put all of your cooked chicken in another bowl (you can use that right away, or freeze it in one-cup portions for later on – a fabulous addition to your ingredient freezer cooking!).  Put the bones and skin and random bits back in the crockpot.
Fill the crockpot 2/3 full with water, and turn on low for another 6-8 hours.  Cool slightly and strain.  Keep in the refrigerator for 2-3 days or freeze for later use.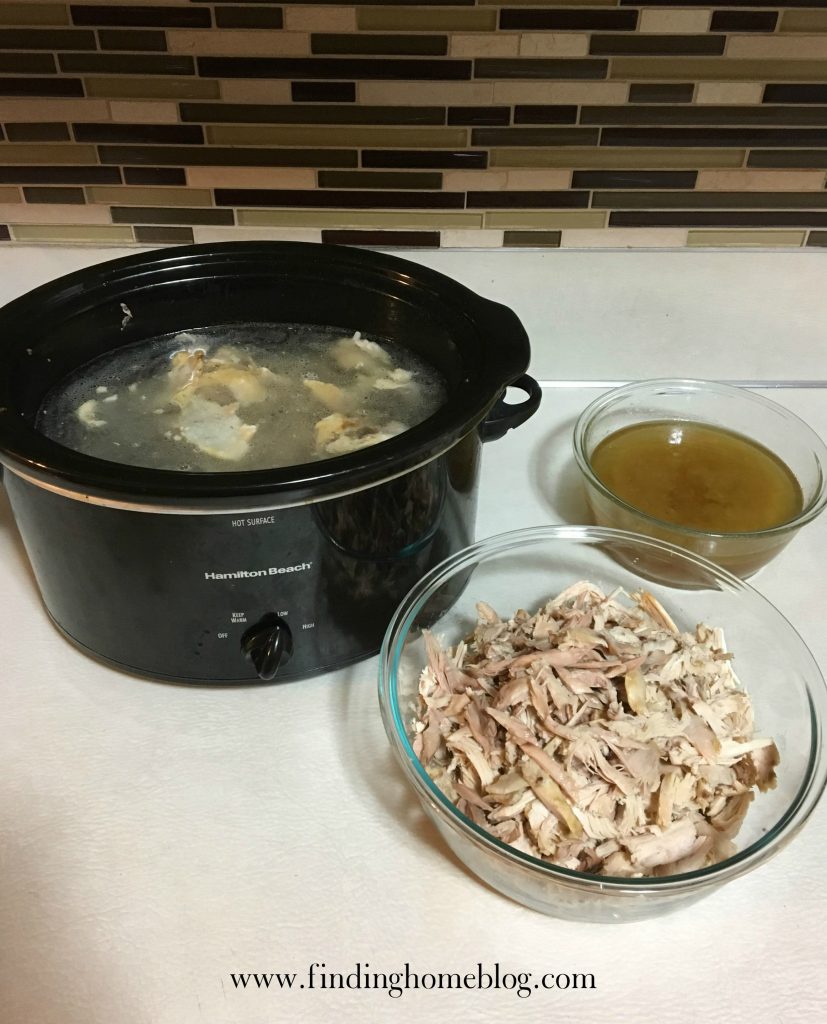 I like to start the chicken cooking in the morning after breakfast, pick it apart while I'm getting dinner ready, and run the broth overnight (a few extra hours don't hurt).  Then I'll strain that the next morning.  While it takes a lot of time, most of that is hands off work, and you get chicken and broth ready to go.
You can also make chicken broth on the stovetop: Just gather any chicken bones and skins and put them in a big pot.  Fill almost to the top with water, leaving 1-2 inches of space.  Heat to boiling, and then lower to a medium simmer for 1-2 hours.  The longer it simmers, the better the broth.  Again, this is where I prefer the crockpot method, because there's less baby-sitting involved.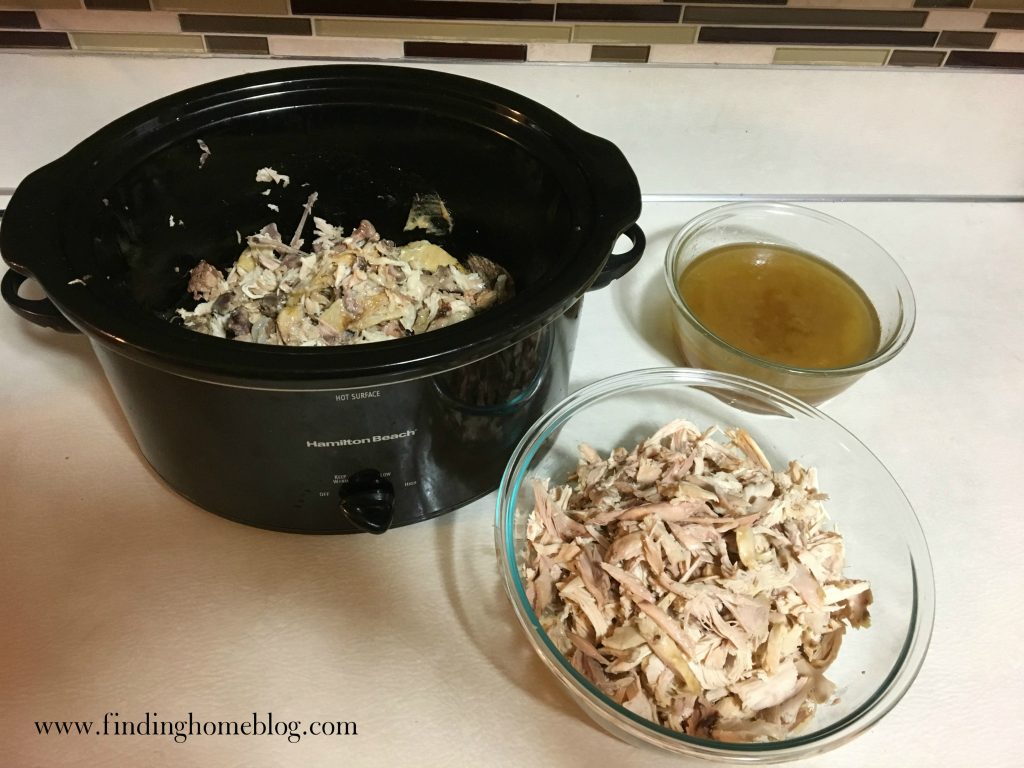 If you aren't cooking a whole chicken, but occasionally eat bone-in chicken, you can save those bones in the freezer until you have a full bag, just like the veggie peels for the veggie broth!  (It's okay if people have eaten off the bones.  You'll be cooking them long enough to kill any germs that might be on them.)
Or if you just had a big turkey dinner, make sure you take the bones and pan drippings and make a big batch of delicious turkey broth!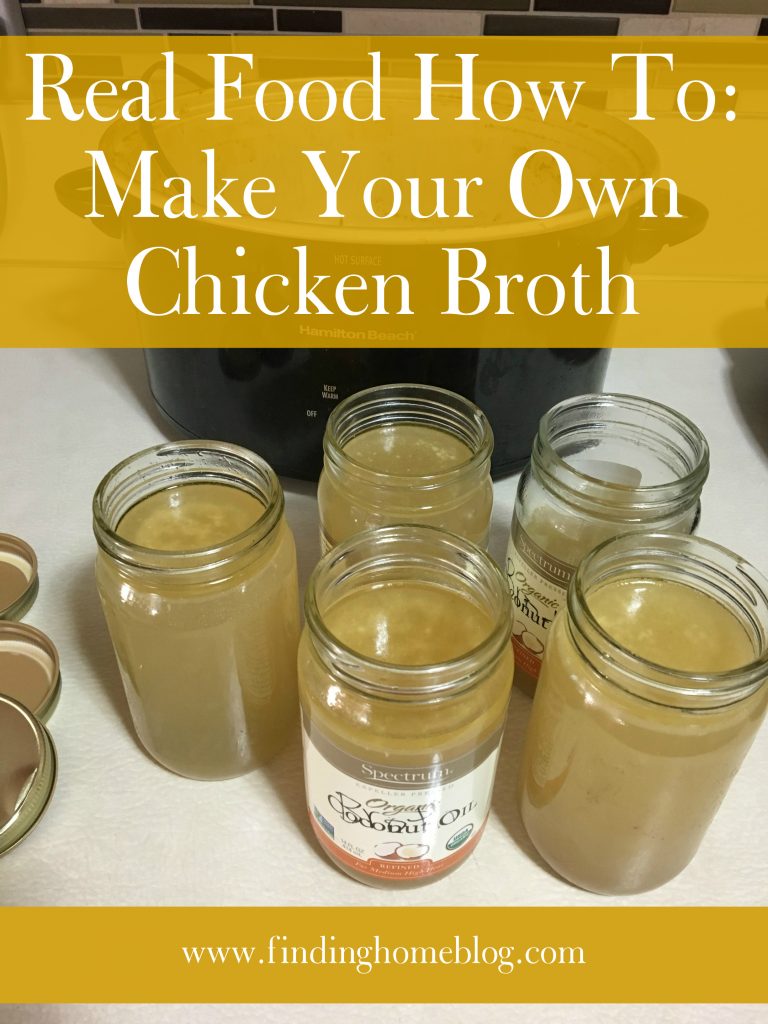 Have you ever made your own chicken broth or turkey broth?  Now is the perfect time to try!