Earlier this week, we had Matthew's soup for dinner.  He came up with a list of ingredients, and I helped with the amounts.  It was similar to a few different soups we've had in the past, but the combination was all his idea, and he was very proud of the result.  Also, this kid doesn't always willingly eat all his veggies, and he gobbled down the whole bowl!  If that's not an argument for getting kids in the kitchen, I don't know what is.
Ingredients:
3 cups cooked shredded chicken
5 carrots, chopped
1 onion, chopped
8oz. mushrooms, chopped
1/3 cup barley
6 cups vegetable broth
2 garlic cloves, minced
salt and pepper to taste
Mix all ingredients together in a large stock pot.  Heat to boiling, then lower to medium low heat and simmer about 40 minutes, until barley is cooked through and carrots are tender.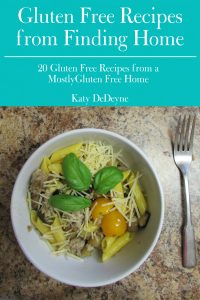 Want more yummy recipes?  Sign up below to get your copy of Gluten Free Recipes From Finding Home: 20 Gluten Free Recipes From A Mostly Gluten Free Home.