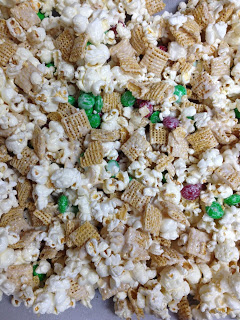 When we visited my parents over Thanksgiving, my mom gave me some extra almond bark that she wasn't going to use.  I knew I wanted to make some sort of treat, and one that the girls could actually eat (although we'll probably still make some more of these!).
So we came up with a popcorn Chex mix that is easy to make and really tasty.
Ingredients:
about 10 cups popped popcorn
about 3 cups Chex cereal
about 1/2 cup M&Ms or candy of your choice
about 1/2 package almond bark, melted
Mix the first three ingredients in a large bowl.  Dump almond bark on top and stir to coat.  Pour onto a parchment lined cookie sheet (or two) and let cool/harden.
You'll notice all the ingredients are approximate.  This is what I used for this batch.  You could add in other things to this mix too.
pretzels
peanut butter chips
any kind of nuts
chocolate chips
small candies like rolos or mini reeses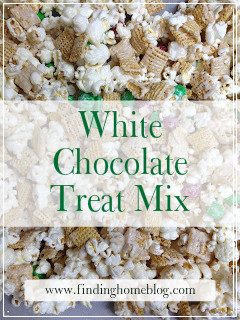 You'd need more almond bark depending on what and how much you add.  The possibilities are pretty endless though!  What would you put in your treat mix?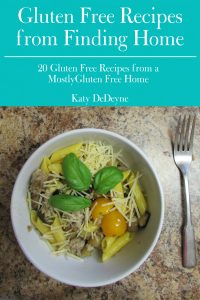 Want more yummy recipes?  Sign up below to get your copy of Gluten Free Recipes From Finding Home: 20 Gluten Free Recipes From A Mostly Gluten Free Home.