It's time for another Whole 30 Menu Plan!  For another seven days of meals, check out Whole 30 Menu Plan #1.  This is another menu plan set up for a family of four.  You may want to adjust amounts based on your family's size, or include a leftovers buffet for a meal if you find you have a lot of extra food.  I try to use repeating ingredients without eating the exact same thing every day.
Monday
Breakfast: Eggs and Potato Vegetable Pancakes (omit flour)
Lunch: Chicken Apple Salads with Apple Cider Vinaigrette
Dinner: Sausage Stuffed Peppers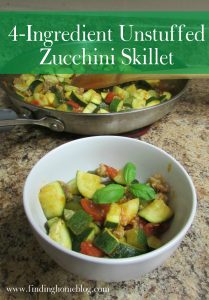 Tuesday
Breakfast: Eggs and leftover Potato Pancakes
Lunch: Leftover Sausage Stuffed Peppers
Dinner: 4-Ingredient Unstuffed Zucchini Skillet
Wednesday
Breakfast: Fruit Salad with coconut cream, raisins, and nuts
Lunch: Crockpot Salsa Pork, Cilantro Lime Cauliflower Rice
Dinner: Polish Sausage Stew (pictured below)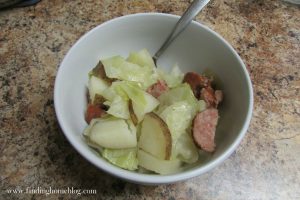 Thursday
Breakfast: Paleo Breakfast Muffins (make a double batch)
Lunch: Leftover Salsa Pork Mini Pepper "Nachos" (leave off the cheese – I promise they're still delicious!)
Dinner: Mini Meat Loaves, Green Beans, Mashed Potatoes
Friday
Breakfast: Leftover Paleo Breakfast Muffins
Lunch: Skillet Chicken Fajitas with Leftover Cauliflower Rice
Dinner: Chicken Vegetable Soup
Saturday
Breakfast: Eggs, Bacon, and Cinnamon Apples
Lunch: Chicken Zucchini Poppers, Sweet Potato Fries
Dinner: Crockpot Chicken Cacciatore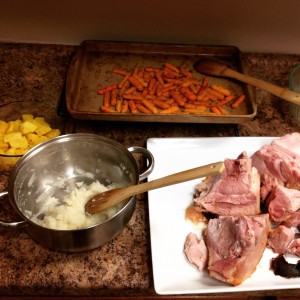 Sunday
Breakfast: Fruit Smoothies
Lunch: Texas Sweet Onion Soup, Paleo Coleslaw
Dinner: Roast and Potatoes (cook in the crockpot on low all day), Easy Ranch Baby Carrots (pictured above)
Prep Notes For This Whole 30 Menu Plan:
The apple cider vinaigrette has a bit of maple syrup, and the paleo coleslaw has a bit of honey. These are paleo, but not Whole 30 approved.  For me, 1 tsp. of maple syrup in my dressing is acceptable during the challenge.  Progress, not perfection.  If it's not for you, omit those ingredients.
My kids aren't big zucchini fans.  I shredded the zucchini for the potato vegetable pancakes (Monday) and the chicken zucchini poppers (Saturday) ahead of time.  They still noticed, but didn't fight it as much as they would have otherwise.
Don't forget you can freeze the cauli-rice until you're ready to cook it!
You can make creamy mashed potatoes by adding a bit of unsweetened almond milk when mashing.  It does add a bit of nuttiness, but it is the familiar mashed potato consistency.
Other Notes
To make cauliflower rice, you'll need some sort of food processor.  I use this one, which came with my immersion blender.
You may will want snacks!   Make bulletproof coffee using that immersion blender, or order a big case of these.  Fruits, nuts, and raisins are also good.
If you try this meal plan, come back and let me know what your favorite recipe was!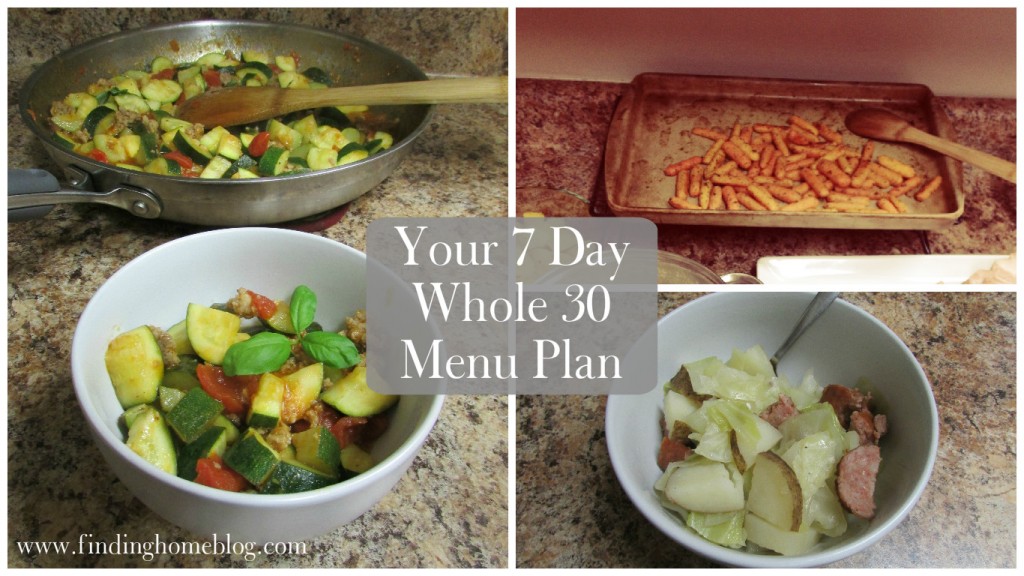 Disclosure: Some of the links in this post are affiliate links.  When you make a purchase through one of these links, I receive a bit of a commission, at no additional cost to you.  Thank you for your support!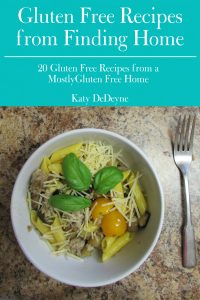 Want some yummy recipes, including several that are Whole 30 compatible?  Sign up below to get your copy of Gluten Free Recipes From Finding Home: 20 Gluten Free Recipes From A Mostly Gluten Free Home.