If you ask my favorite kitchen appliance, I'd have to say my coffeemaker.  Because coffee.  But aside from that, my favorite is my immersion blender.  I use this thing pretty much every day.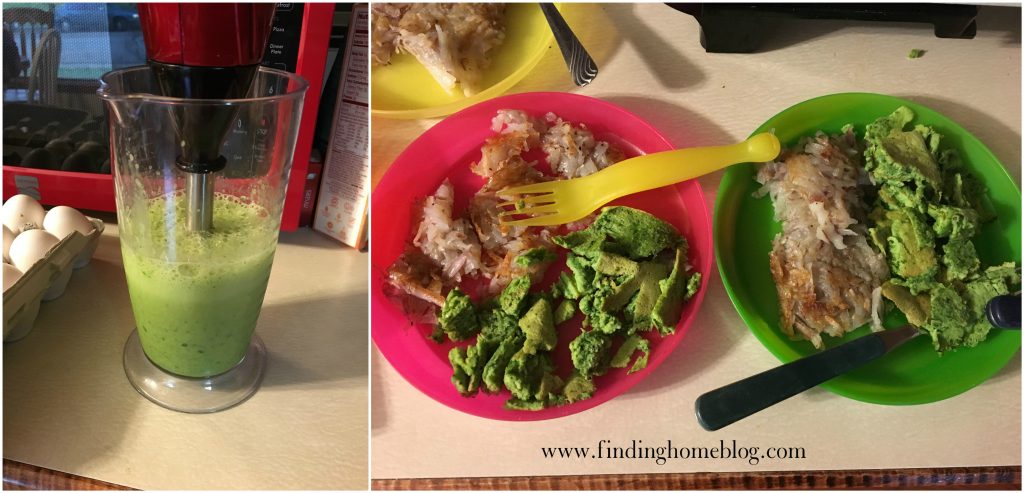 1. My kids request green eggs.  Yes, they know what's in them.  And they don't care.  For some reason, having eggs that are a different color is really cool.  I'm okay with that.
2. Pesto.  This one is only for me.  Even though the kids like green in their eggs, they don't like pesto.  But I don't really mind too much, because I love it.  I'll make a batch using my food processor attachment that came with my immersion blender, and eat it over the next few days in sandwiches, on tortillas or chips, and add it to soups.  It's delicious and easy!  This is my favorite recipe, and I keep it even cheaper by growing parsley on my dining room table. I've managed to keep this plant alive for over a year and through a move, so I would have to assume that parsley is a very hearty plant and you can't kill it too easily, even with a brown thumb.
3. Hiding veggies in soup.  I'd much prefer that my kids would just get used to eating certain vegetables and even grow to like them, but there are definitely veggies that I didn't get used to until I was an adult, so I don't expect miracles.  Sometimes I'll hide some extra veggies in pureed soups, like putting a couple cups of cauliflower in my homemade tomato soup. They don't notice, and they get some extra goodness.
4. Avocado chocolate pudding.  None of my kids like avocados.  But they'll gobble up this chocolate pudding and ask for seconds.  So will I. (You can also freeze this into pudding popsicles, but ours never seems to make it that far).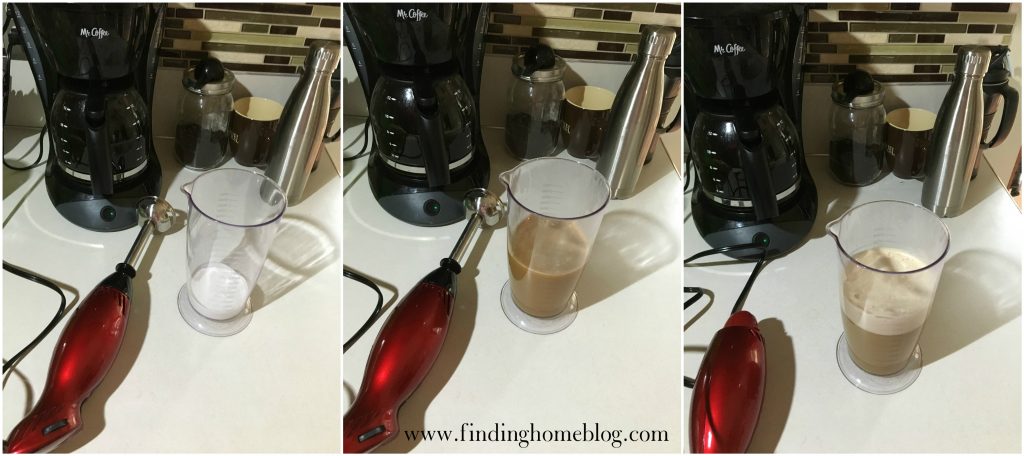 5. Bulletproof coffee. Remember how I said I use my immersion blender pretty much every day?  Here's one place that's always true.  I love adding coconut milk to my coffee (or coconut oil, depending on what I have in the pantry).  I'll put some of that in the canister container that came with the immersion blender, pour over my coffee, and blend for about 15 seconds.  It's like my own personal latte without the coffeeshop price.
6. Smoothie for one. Speaking of beverages, sometimes I want a smoothie.  But cleaning the blender is a pain.  So I'll just make myself a smoothie with my immersion blender.  Easy peasy.
7. Homemade Larabars. Larabars are one of my favorite real food snacks, especially when we're eating paleo.  But they're more expensive than I'd like.  So a lot of the time, I'll make the simple version using the food processor attachment.  It takes about 3 minutes total and then I have snacks.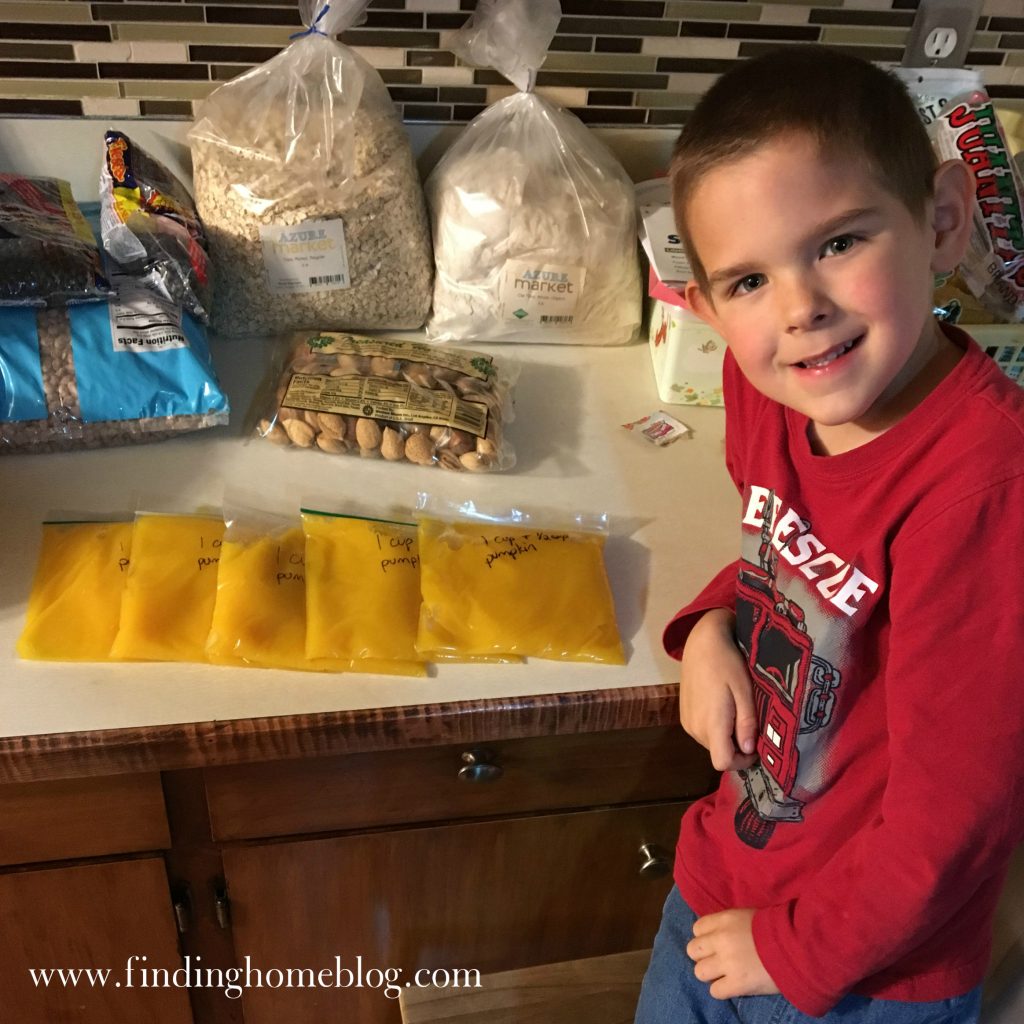 8. Fruit sauce.  Homemade applesauce?  Apples and water blended up.  Pumpkin puree to freeze for future muffins? Done.  Cooked carrots or sweet potatoes for baby food? My babies approved.  Pretty much any pureed produce item is now DIY.
If you're ready to go get your own immersion blender right now, here's the one I use.  It comes with the canister and lid, as well as the food processor and lid.  And it's not that expensive!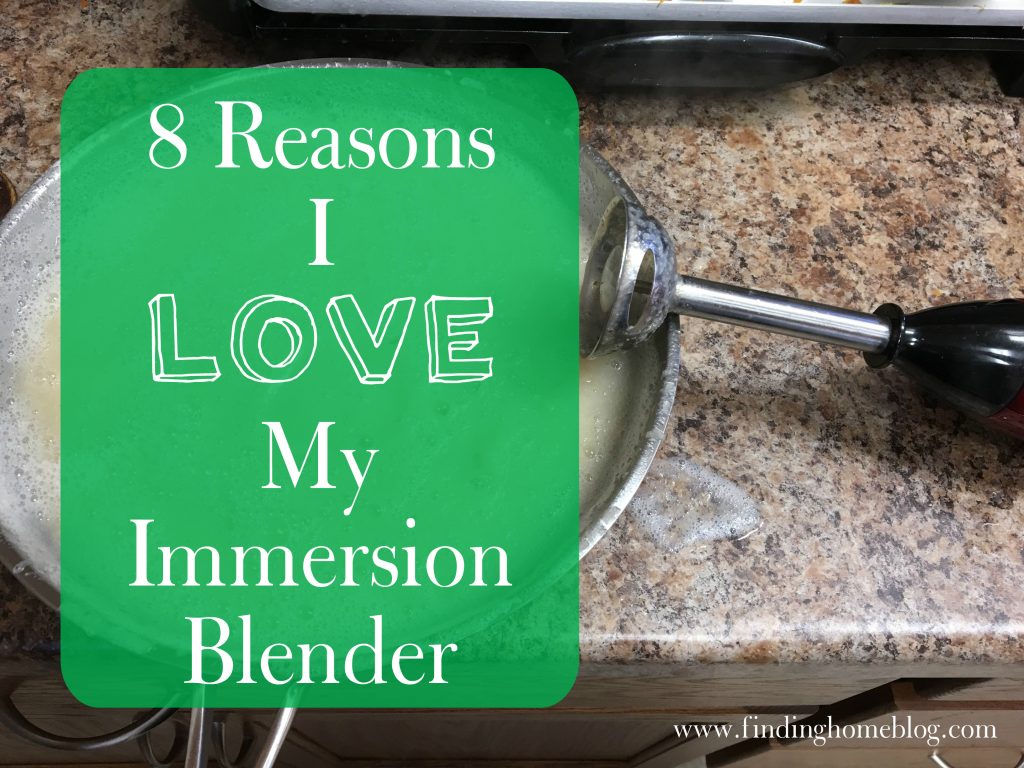 Is the immersion blender your favorite kitchen appliance, or is there a different hidden gem in your kitchen?
Disclosure: Some of the links in this post are affiliate links.  If you make a purchase through these links, I receive a bit of a commission at no additional charge to you.  Thank you for your support!