March was a really busy month for our family.  Lent heading into Easter usually is. But I still managed to find time for a few books and a couple other things! And I even got to go on a reading and coffee date with Jonah.  We both enjoyed that quite a bit.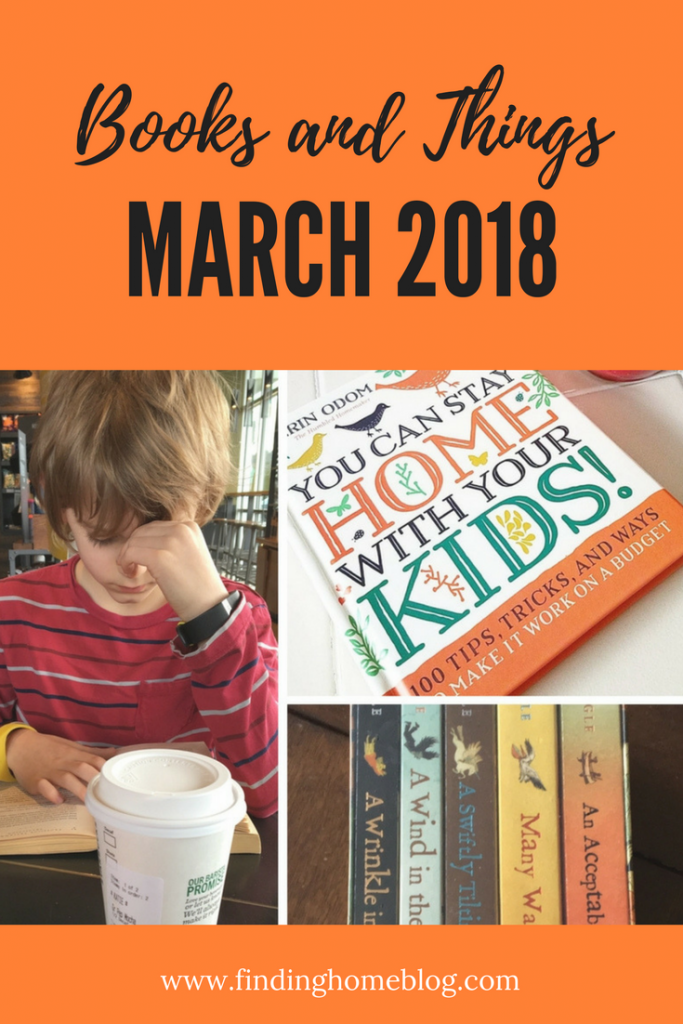 A Wrinkle In Time and A Wind In The Door by Madeleine L'Engle.  I read the first two books of this series, and I started out thinking that I was rereading them, but I don't remember anything that happened in them.  So now I'm not sure.  I know I read another of L'Engle's series – the one that starts with Meet the Austins.  But if I read these, I've forgotten plot points and characters and pretty much everything.
These are really easy to read, and they're fast-paced with lots of action.  But they're a little abstract for me.  I kind of get it, but I also finished with the feeling that some things were just a bit above me.  I think these are supposed to be kid books, so maybe they're kid books like The Chronicles of Narnia, where kids just have fun with the adventure in the story, and adults actually see the deeper meaning behind it all.  Does that make me a kid? Hmmm…
I really enjoy L'Engle's mix of ordinary family life and complete fantasy.  She's somehow able to make these two completely different worlds combine effortlessly.  Props to her.  I just leave these feeling like I missed something, so I have mixed feelings about them as a whole.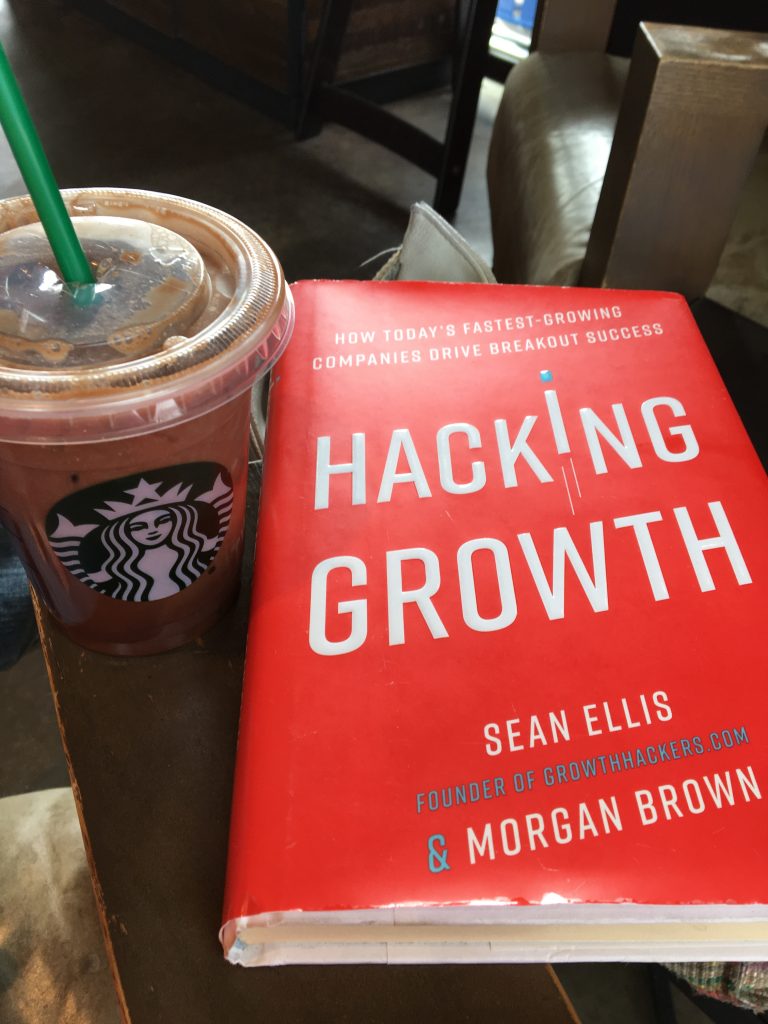 I also started reading Hacking Growth by Sean Ellis.  I received a copy of this book from Blogging For Books (a fun free book review program that sadly is ending). This one ended up being my first DNF (did not finish) for the year.  I usually enjoy business and marketing books, but I just couldn't get into this one.
For one, it kept citing studies from 2016 and previously, which makes sense, because it came out in 2017.  But I feel like if you're writing a book that involves a lot about the Internet and life online, you have to know that it's going to sound outdated by the time it publishes.  It's one of the rare instances where broad strokes are better than specifics.
And also, this book is definitely aimed more at small to medium companies.  Especially as it kept talking about the marketing team and the growth team.  You know, with more than one person involved.  So not me.  Ellis is behind Growth Hackers, which has been really successful, and I did enjoy the accounts of how some companies used these concepts to drive growth.  Case studies = good.  But also, it made me feel like I was back in my college marketing classes doing homework, rather than reading a book for fun.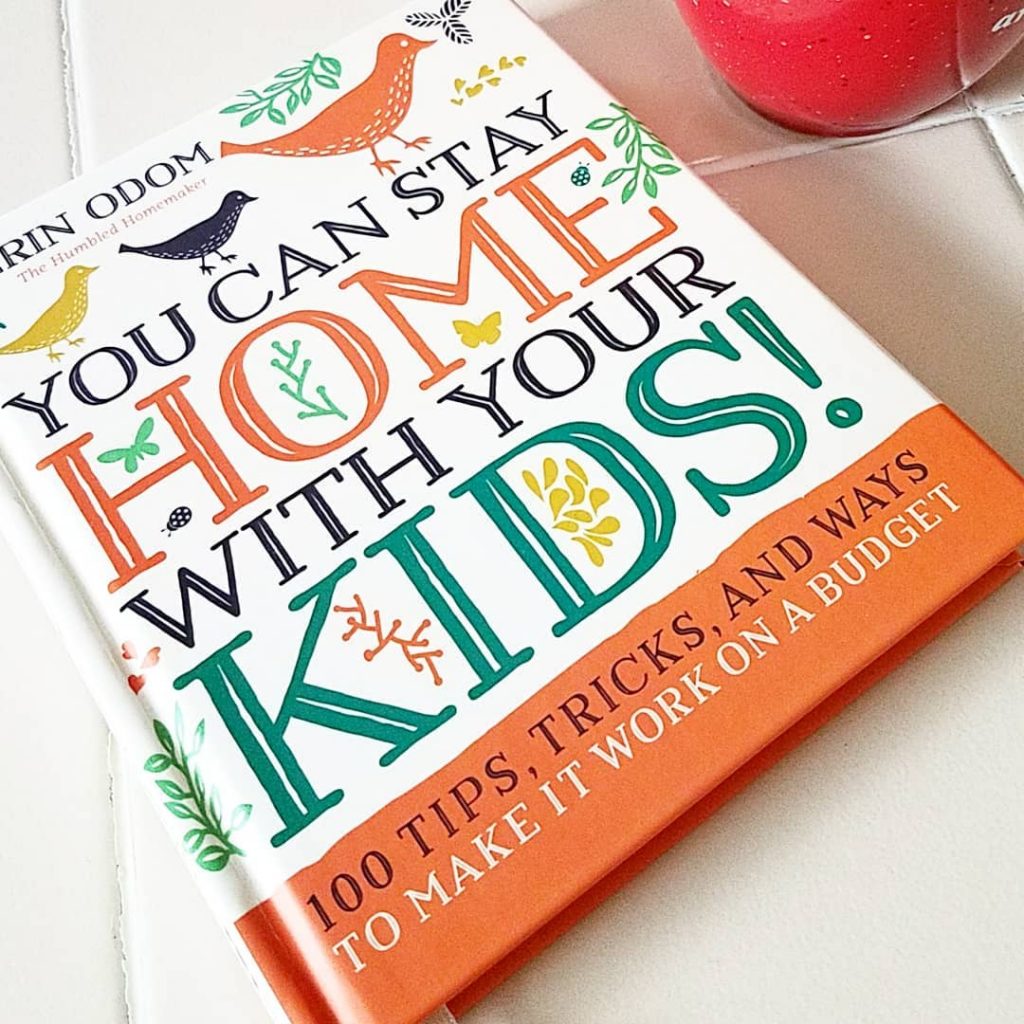 image from Victoria Wilson, used with permission
You Can Stay Home With Your Kids by Erin Odom.  I talked about this one on Tuesday a little bit, but I was really excited to be on the launch team for this book.  I really enjoyed Erin's first book, and she brings the same spirit of encouragement and inspiration to this book.
If you're looking to stay home with your kids, but you're not sure if it fits in the budget or how to make it work, Erin has 100 tips and tricks with actual specific steps you can take.  Some are little, like making your own cleaners.  Some are big, like features to look for in a house, or how to shop for health insurance.  But whether you've been a stay-at-home mom for years, or you're just starting out, something in this book will be helpful for you.
Psst! If you order the book before April 10, you can also grab some pretty snazzy preorder bonuses here.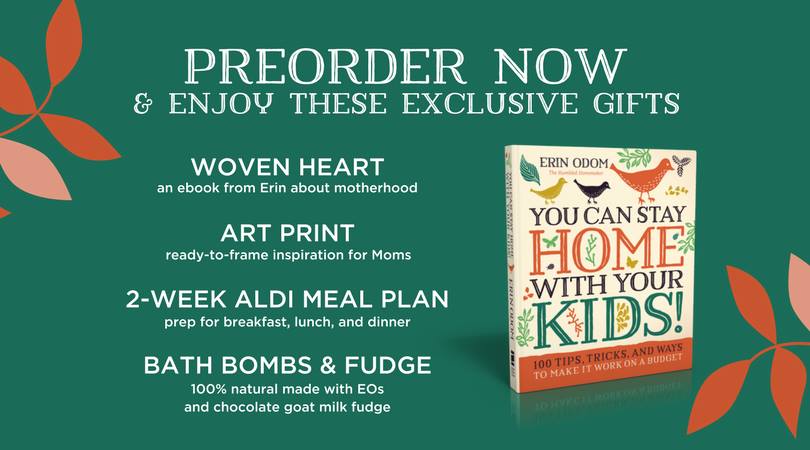 Another fun thing I read was the short story "Mr. Thursday" by Emily St. John Mandel.  (You can read it here.) Last year I read Station Eleven and was really impressed by the world building but disappointed by the story.  This story, I was just getting into the world building and then the story was over.  The whole thing left me really intrigued and wanting more details, a continuation of the action.  So to me, that says it did its job.
At the beginning of the month, I spent some time listening to the free content available from Ruth Soukup about blogging.  She put on a webinar about 4 Steps Every Blogger Needs to Take for Success (or something like that – I forget the exact name).  And she had a free 5-day Blogging Bootcamp that was also full of good information.
I've been on the fence about enrolling in Ruth's course Elite Blog Academy for the past 2 years, because it's quite an investment.  I've decided to dedicate more of my time and effort to saving for it for when enrollment opens next year.  But even the free content that was available was helpful in giving me direction for where to spend my limited time devoted to blogging.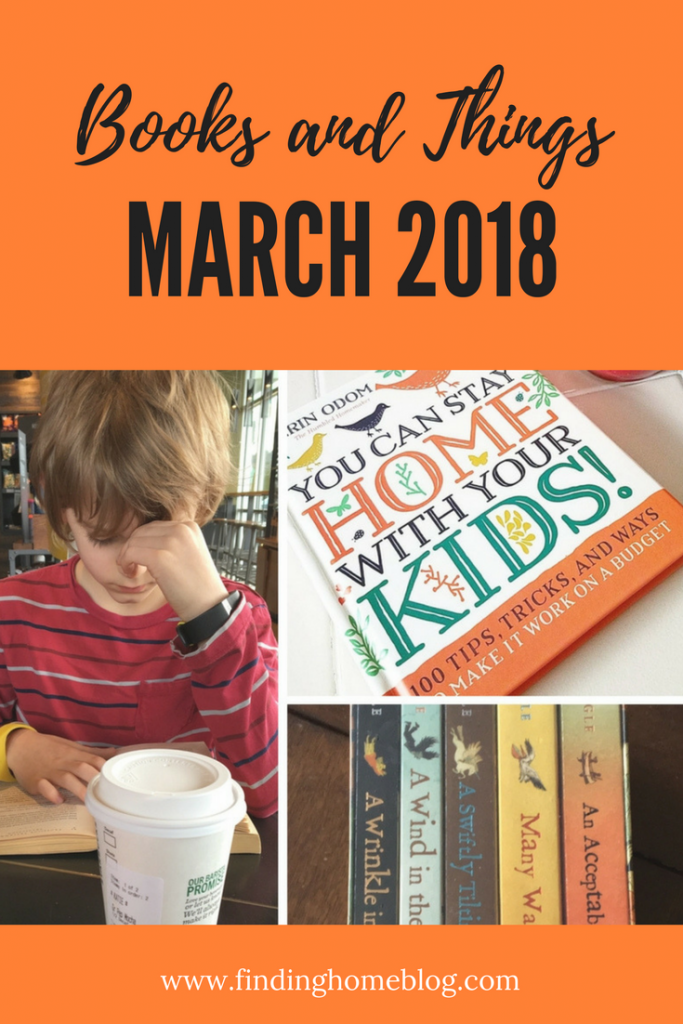 So that's what I did for entertainment in March.  For April, I want to finish the Wrinkle in Time series, plus I have a few books on hold at the library that will hopefully come in soon!
Did you read anything fun in March?
Disclosure: Some of the links in this post are affiliate links. If you make a purchase through these links, I receive a bit of a commission at no additional charge to you.