We all have those busy weeks. The weeks where we are constantly running around to activities, where we have family get-togethers and church functions and piano lessons and basketball games and you-name-it. Weeks where we'd love to have quick and easy meals ready to go, but we just don't have time. These are the weeks we need ingredient freezer cooking.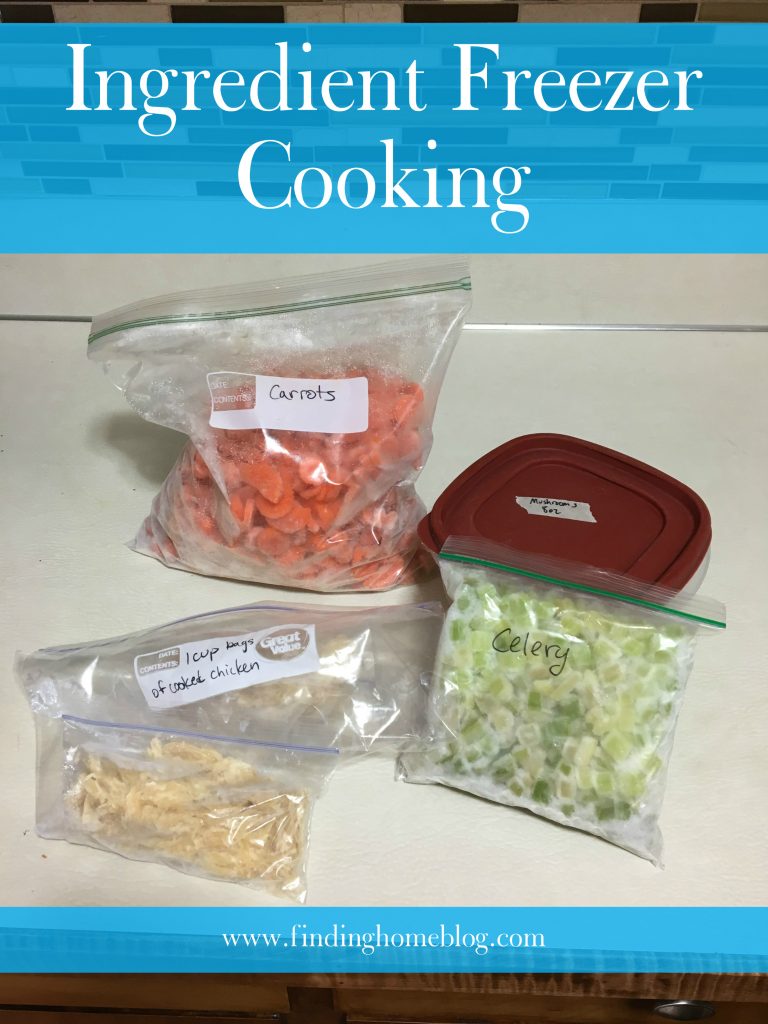 You've probably heard of freezer cooking before: make up a bunch of different meals, from casseroles and lasagnas to ziploc bags full of crockpot ready soups. But ingredient freezer cooking is different.
Instead of planning out specific meals and preparing those, you're just preparing some of the ingredients you use most often, and putting them in the freezer.
For our family, some of those ingredients would be carrots, celery, onions, and peppers. I'll chop up an entire bag of carrots and put them in a freezer ziploc. Same with a package of celery. Since we commonly have onions and peppers together, I sometimes do a few smaller containers with one pepper and one onion each.
I'll label them all and stick them in the freezer.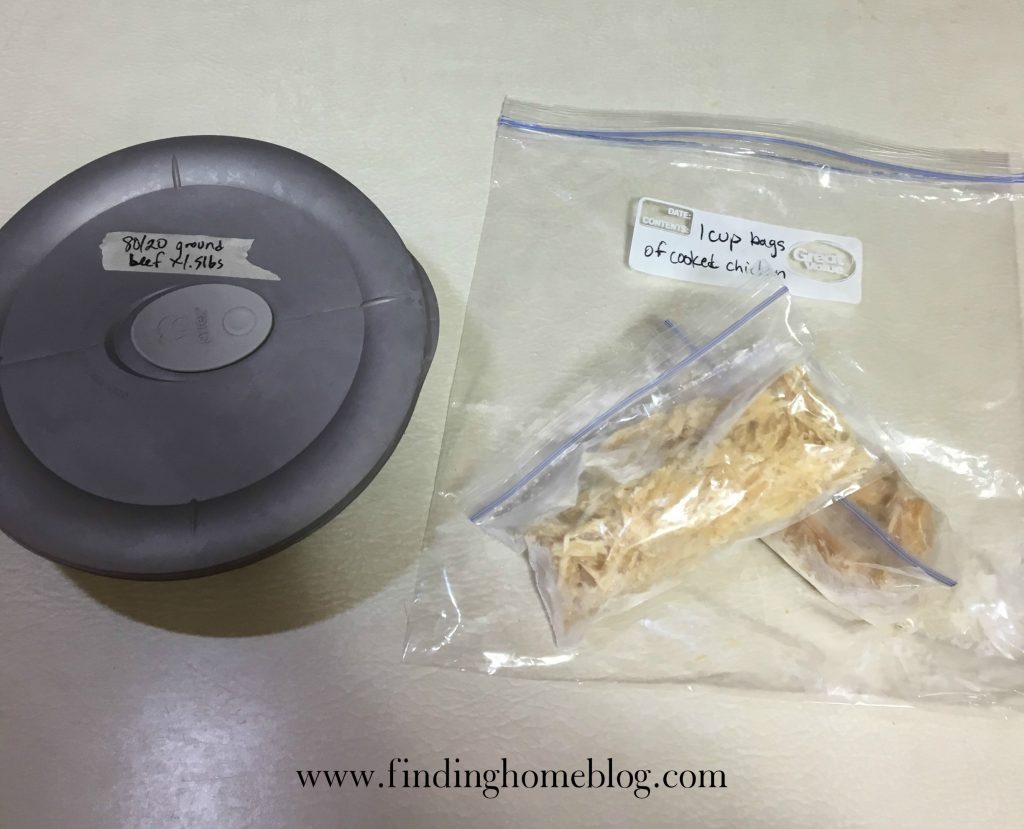 I do the same sort of thing with meats.
I'll cook up a few pounds of ground beef and add taco seasonings. Once the meat has cooled, I'll separate it into a few containers and put those in the freezer for a quick and easy taco night.
I'll cook up a whole chicken, and shred the meat. I put about 1 cup in a snack size baggie, repeating until I've used all the cooked chicken, and put all of the small bags in one big bag in the freezer. These are perfect for pulling out for Chicken Fried Rice, Chicken Quesadillas, or topping a quick salad for lunch.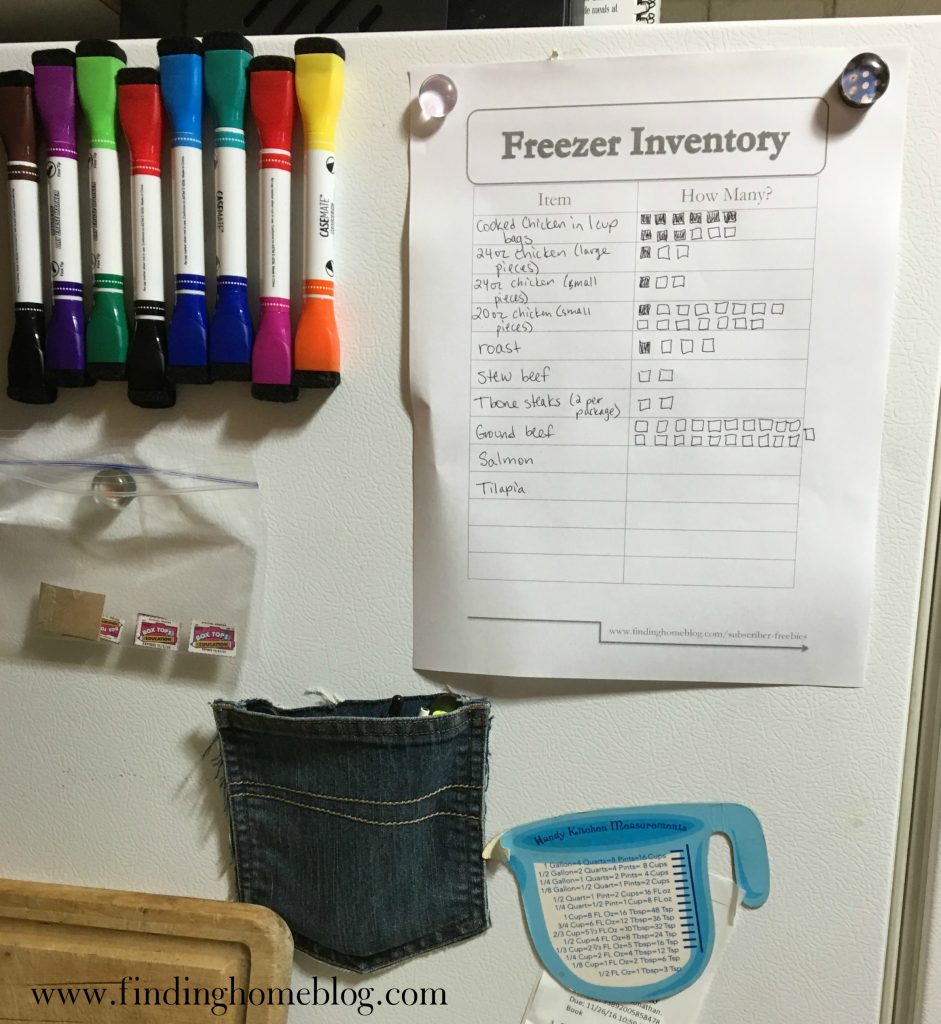 Don't forget to add your prepared ingredients to your freezer inventory sheet! If you're already on my email list, you got to hear about this handy printable last Sunday. But it's especially helpful for ingredient freezer cooking! Because if you have a bunch of different ingredients in your freezer, it's helpful to know what's up there so that you can remember to use what you've saved. (You can grab this printable absolutely free by signing up at the end of this post.)
When you're just starting out, ingredient freezer cooking might take a bit of extra work. You may need to set aside an hour to chop up some extra veggies or cook some extra meat. But after that? Maintenance is all it takes.
Maintenance for ingredient freezer cooking looks like this:
When you buy a package of celery for a new recipe, but only use about a third of it, chop up the rest and put it in the freezer.
When you meant to cut the carrots into sticks for snacks, but you didn't get around to it, and now they're going limp in the refrigerator, peel and chop them and freeze them to add to soups, stews, and this beef and broccoli.
When you see that green peppers are on sale at the grocery store for $0.50 when they're normally almost a dollar, buy several extra and slice them up for your next fajita night (bonus points if you chop up the onions right away and freeze the whole thing together).
Got half a bag of spinach and some browning bananas? Make smoothie packets for future breakfasts. Even if you don't currently have the berries or peaches you may want to add to them later, you'll have this part of the work already done.
Same goes for meat: check the meat markdowns, and if you find a package of ground beef or chicken thighs that need to be used in the next day or two, why not grab those, prep them now, and have easy meat for a later meal?
Not only are you helping your future self by doing some of the work now, but you're also saving money. Buying ingredients at their lowest price pads your bank account. And finding a way to freeze food you've already purchased means wasting less.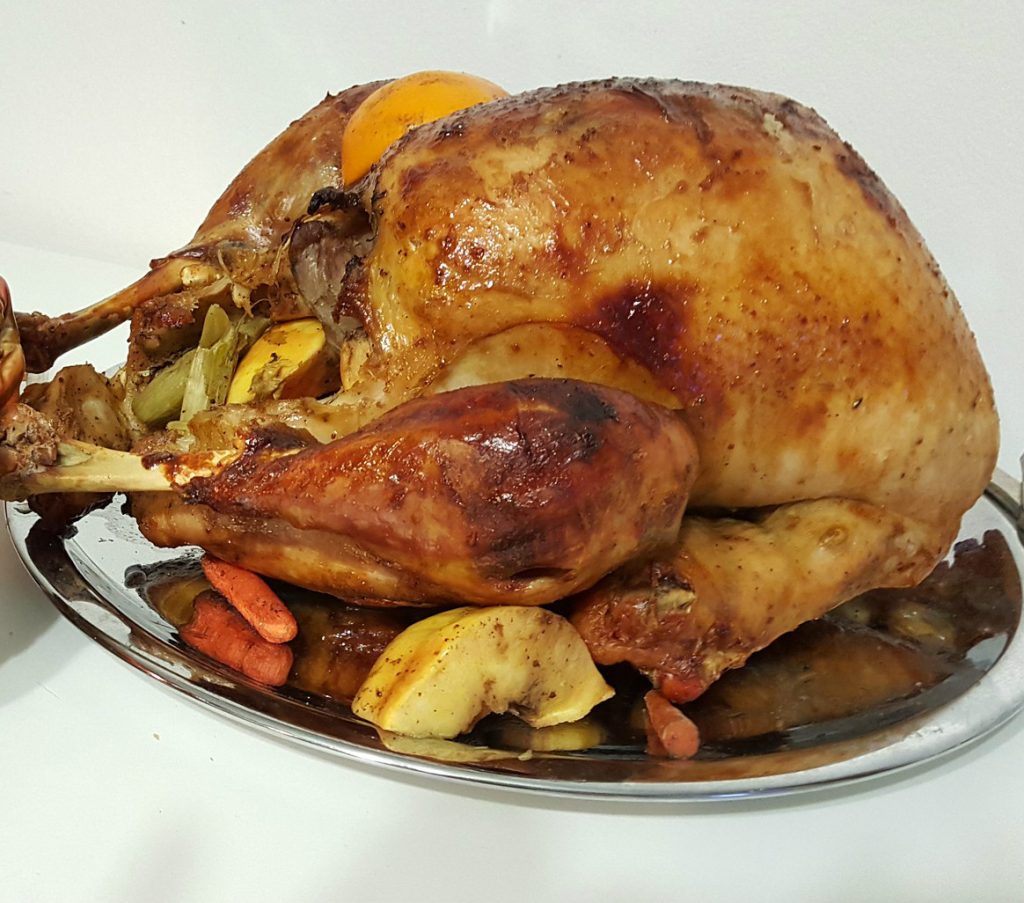 Next week is a big week for food. Whether you're cooking up a big turkey, or making a few sides to bring to a family get-together, you're going to need some extra room in your refrigerator. If you're going out in the wee hours of the morning on Black Friday, stopping at a few local businesses on Small Business Saturday, or just checking out the latest cyber deals in your pajamas, you'll want quick and easy food ready for you. This is where ingredient freezer cooking can help you.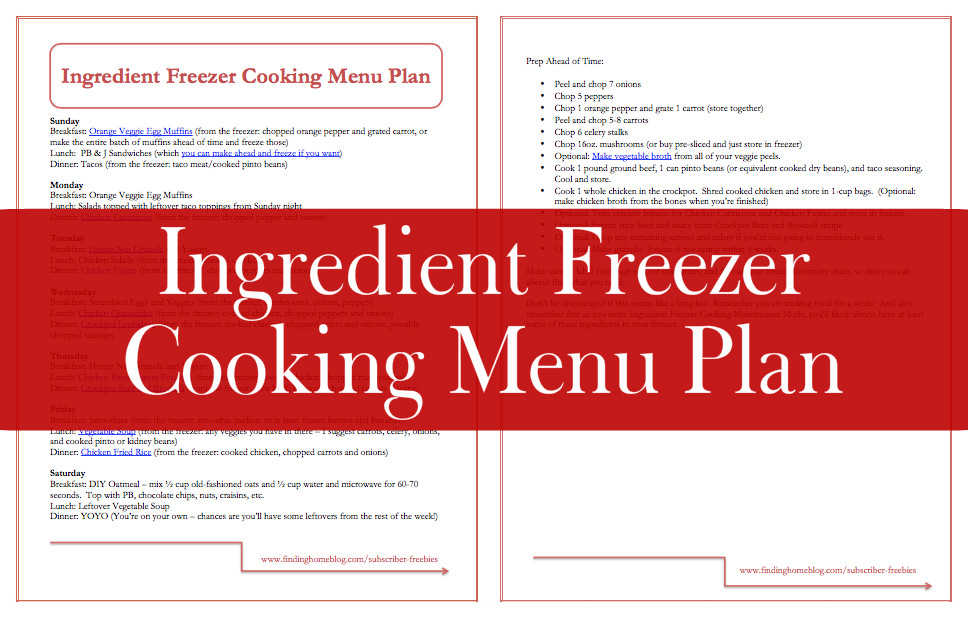 I've created a sample ingredient freezer cooking meal plan to start you out. This plan shows you what steps to take this week to have easy meals next week (or whatever busy week you need it for!). To grab that plan, as well as the freezer inventory sheet I mentioned above, simply enter your email below. You'll get an email directing you to the subscriber freebies page, where you can download all of your goodies, including my free cookbook with 20 gluten free recipes. (Psst! If you're already a subscriber but you don't remember how to access those freebies, just email me at katy@findinghomeblog.com and I'll remind you.)
Don't forget that if you have leftover cooked turkey, you can also portion that out and freeze it, just like the chicken I talked about earlier. You can also make turkey broth with the bones, and freeze that for future soups. The holiday won't even be over and you'll already be on your way to a freezer full of ingredients!
What ingredients will you put in your freezer first?
Disclosure: Some of the links in this post are affiliate links. If you make a purchase through these links, I receive a bit of a commission at no additional charge to you. Thank you for your support!